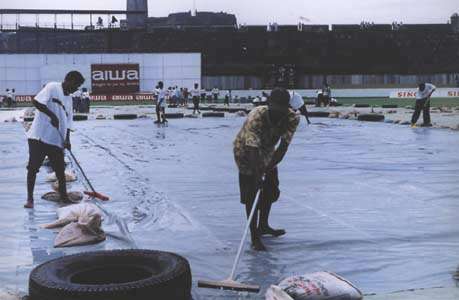 Mopping up operations in Galle. Pic by Dunstan Wickremaratne
---
Second Test at Galle
Rain a spoiler
Bernie Wijesekera reporting from Galle
Rain proved a spoiler on the fourth day in the five day second Test between Sri Lanka and Australia here today.
Not a ball was bowled. The weather cleared somewhat and an inspection was on the cards at 1.30 p.m. despite fickle conditions. But it started raining again and play was eventually called again off.
Sri Lanka leads 1-0 in the three Test series with intermittent showers prevailing here the final day's play today (Sunday) will depend on favourable weather for the match to start on schedule at 10 a.m.
The third Test starts on September 30 at the SSC Grounds. Sri Lanka has a very good chance of winning or drawing the series against Australia, for the first time.
Last year the Aussies lost a series to India 2-1. In 1986, after a tied Test they drew the next two, Tests, also against India in India. It was in 1969, that the Aussies won a series, also against India 3-1 in the sub-continent.
The sub-continent has not been happy hunting grounds for the Aussies, barring the World Cup win in 1987, against England, at Eden Gardens. In 1996, the Aussies lost the World Cup final to Sri Lanka at Lahore.
A torrential downpour in the wee hours on Saturday morning lasting four hours lost any chances of play starting on time here today - on the fourth day in the second Test match between Sri Lanka and Australia. Despite the square being covered, the outfield resembled a paddy field. No rain fell in the morning. The ground staff made a valiant bid to mop the water out, but dull and dreary conditions prevailed with no chances of sun peeping out to dry the area.
Much will depend on the weather, for play to commence before tea. The match was heading Sri Lanka's way, with a lead of 112 runs. In the first innings Sri Lanka snatched a 68 run lead - thanks to left-arm spinner, Rangana Herath, a lad from Maliyadeva Kurunegala, who bamboozled the Aussie lower order with his left arm wiles. The Aussies resumed on 188 for 5, with Ponting and Steve Waugh at the crease. The Aussies proved vulnerable to high class spin on a slow turner. Earlier, it was "Murali" who caused the slide capturing 5 for 50. Young Herath, who had a good stint in England with the Lankan 'A' team made a dream debut - getting the prized scalp of Ricky Ponting. Herath finished off with 4 for 97.
---
Susanthika picked for world relay quartet
By Annesley Ferreira
Sri Lanka's sprint queen Susanthika Jayasinghe, back on a month's holiday, denied rumours that she will run for USA and stressed that she has not forgotten that she is a Sri Lankan and will never run for another country other than her motherland.
"I am happy at the way my training is going with my coach Tony Campbell, who has helped me to gain vast strides, a facility which I badly lacked in Sri Lanka. It is with pride that I state that I have signed a contract with Nike through the help of my coach and has been picked to run in the world relay quartet together with top sprinters such as Marlon Jones and Eager Miller.
Susanthika also said that she admires her coach and manager for understanding the plight she has fallen into and thanked them for looking after her until she is in a position to pay back the monies spent on her. She said that she will pay them back once she receives her money from Nike.
Susanthika stated that her American training enabled her to run the 60 metres in 7.09 sec. which was the fastest in Asia and clocked 11.17 sec., her fastest in the 100 metres sprint. (More next week)
---
Soccer boss under fire
Channaka de Silva reporting from Nepal
Sri Lanka chairman of national selectors (for all sports) Torry Jayewardena was visibly angry over the football team's humiliating 0-4 loss in the Game's curtain-raiser against Maldives when he spoke sternly to football team manager M.Farook at a press conference here yesterday.
"If you had told us you were not going to pick the best available team to represent the country we wouldn't have allowed the team to come," Jayawardena who chaired the conference told Farook who was also at the head table.
He was responding to Farook's comment that most of the Lankan players lacked exposure and were young. Farook said this in reply to a question by journalists about the absence of experienced players about whom Nepalese on the streets were inquiring.
Farook said though the team was young and inexperienced, it was the best available team. He said they played much below par, having performed superbly at practice games.
Sri Lanka now have a must-win situation against a strong Bangladesh side who won the sliver medal at the last SAF Games in India. Even if Sri Lanka win, which is a far cry, under current form, their entry into the next round will depend on the results of the other matches.
The eighth SAF Games got off to a spectacular start yesterday with a colourful opening ceremony at the main Dasharth Stadium where Nepal's King Birendra declared the Games open
Action begins today (September 26) with the men's marathon starting at 6.30 a.m at the main stadium. Sarath Prassana Gamage and N.Mano will compete for Sri Lanka while Mallika Chandrakanthi and D.A.Inoka will run the women's marathon starting 10 minutes after the men's event.
Sri Lanka's main hope and overall contingent captain Damayanthi Darsha has recovered fully from her hip injury and will be competing in all five events.
She has entered the 100m. 200m, 400m, 4x100m and 4x400m. Her coach Sunil Gunawardena said there was a schedule clash in the 400 and relay events, but organizers agreed to change the schedule for her.
He said events won't be a burden as her five events are held on four different days. Both men and women's 800 metres, 1500 metre and the100 metres sprint finals will be held today. Steeple- chase and men's put shot finals are also on the cards.
Several finals in karate and swimming events will be worked off today. The rifle shooting team had severe problems without practice facilities and they also accused the organizers of deliberately depriving Sri Lanka of medals by changing schedule arbitrarily.
---
Front Page| News/Comment| Editorial/Opinion| Business| Plus | Mirror Magazine