Healy scales 'Keeper's Everest'
By Bernie Wijesekera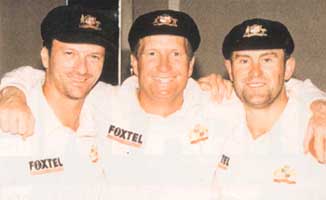 Ian Healy a key member of the Aussie team who is still surviving among the old Brigade along with Steve and Mark Waugh, is back in Sri Lanka to bring back nostalgic memories of his trail - blazing career on and off the field.
Like Steve Waugh - the ice-cool captain he never gives up in a hurry when the chips are down. This was evident here in 1992 when the Aussies pulled off a sensational win over Sri Lanka by 15 runs at the SSC grounds under all-time great Allan Border. Healy behind the fence inspired Warne to bamboozle the Lankan batsmen after a healthy start chasing a modest 181 runs to win with plenty of time to spare.
Fortunate to have seem him at home and abroad - a player who puts everything for the game with his unyielding approach. This has won for him respect from his team-mates and the cricket loving Aussie crowds be it from his hometown fans in Queensland, or otherwise.
Undoubtedly, a self-made cricketer, who came up the hard way with his parents especially his mother Rae, being the beacon light to Ian, like to most others 'Mother is the Queen of their Hearts". Coming up the hard way he knows what life and suffering is all about.
"When one is suffering one becomes miserable. When you are miserable then you are suffering." This is where at the start your mother and wife later plays a decisive role.
His ability
Ian has faced ups and downs in his cricketing career. In India, he showed his ability to bat courageously on a pitch that was not conducive for batting, where the Indian spinners called the tune in the First Test. He made 90 and 32 not out, while the others failed to impress. With all this he was left out of the one day series and sent home. Well, it was a blessing in disguise for Ian to join his family and to spend some time with his two children.
He also successfully led the one-day side against South Africa. He has a very good one-day batting record, but still was dropped from the team. Ian, never sulked. He trained hard and maintained his vim and vigour. He has similarities in his approach like that of the legendary Sir Donald Bradman.
Bradman to improve his reflexes used a golf ball and stick to bang on the backyard wall in Bowral. Unlike today's batsmen who are afforded to shield their head with a helmet, Don was quick to get in line to whip bowlers like Larwood and Voce over mid-wicket.
Healy the early bird even on tour never believes in enjoying a long siesta.
If there was a concrete squash court in the hotel he was quick to make use of it by making a beeline to bang a golf ball off the walls to sharpen his reflexes which is part of his glovework. How many of our young keepers, be it here or away show such dedication and application. If he has reached the Everest in 'keeping it's due to his commitment to maintain consistency.
He is one of the cogs in the wheel in Australia's dominance in this game of chraracter building. Be it for Queensland or for his country he plays in the same vein and an ispiration to the young members of the team. After David Boon retired he was given the job of keeping the team alive. For Ian meek does not mean weak, but he means business and makes others happy. He too believes that form is temporary, but class is permanent.
Ironically
Sir Edmund Hillary climbed the top of the slippery Everest, courageously despite suffering constant hiccups. Ironically Ian, too achieved the objective to reach the gloveman's Everest to break his idol Rod Marsh's feat - 356 Test dismissals in the chilly month of October 1998 in the Rawalpindi Test against Pakistan - that too in the sub-continent where Mt. Everest is. He's another pride of Australia's cricketing history. It was a great team effort for the Aussies under genial Mark Taylor to beat the Pakistanis. There were many firsts etched in this historic win. Colin Miller coming in late got his first Test scalp in this Test.
Stuart McGill came of age as a Test leggie in this Test, too. He had a haul of five in the first innings and followed it up with 4 for 47 in Rawalpindi. Emotionally it was Mark Taylor's swan song tour when he announced his retirement that too when he was in peak form. Mark, made his way to Steve Waugh to continue his good work, which he did by winning the World Cup. Both Miller and McGill are here along with Healy as members of the Test squad.
There are bowler-keeper partnerships - Lillee and Rod Marsh. If Shane Warne has achieved much success as a wily leg-spin bowler, he owns a debt of gratitude to gloveman Ian Healy for his agile work behind the sticks.
This is Ian's second tour to Sri Lanka and a memorable one to be remembered for a long time. Last time (1992) along with his team-mates headed by humanist Steve Waugh, Healy with his healing hands helped groundboy Siripala with a donation to redevelop his abode after seeing him suffering silently.
He is eager to go on till the year 2001 Ashes Series. But if his form deteriorates, then he will bow out with grace. He works hard on his fitness. If it becomes tough and unable to stand the stress of Test cricket, then he will call it a day. His sole ambition is to reach the high wall of 400 Test dismissals before he gets stumped.
There is a lasting Stand to Ian one of Queensland's finest product - born and bred from this tropical region - a Test cricketer par excellence. They have put an Ian Healy Stand. There are many legends who have been honoured by their respective States for doing proud for the country and for the States they represent, with their exploits on the playing fields. There is something unique when you achieve in your home grounds. Healy has done it at the Gabba in 1996 - '97 Test against the West Indies - 161 not out. There were lots of people to cheer and encourage him. There are also personal touches in its wake. Coming in for lunch with a century to his credit his mother Rae and the others in the Healy fraternity watching. Healy knows, too well he was nursed and nurtured initially by his parents. Healy, too believes in faith and the ones who put him on the track. If there is a precious gem that money can't buy - then it's your mother.
Healy, in Sydney in 1996 had a verbal stiff with former Sri Lanka captain Arjuna Ranatunga who also fights to the bitter end on the field like Healy. There was unwarranted time delaying on the field with Arjuna at the middle. Healy had verbal exchanges which stirred a hornet's nest and the media went to town - including the world-renowned journalist former Cambridge and Somerset captain Peter Roebuck, who is now here to cover the Test series for the Melbourne Herald. Roebuck who was there in the media box brooks no nonsense from whatever quarter. To him truth is the greatest religion. Peter, always believes in justice and fairplay. He was sympathetic and fought for Muralitheran's cause. But in Sydney he was not happy the way things went about and was critical for this unwarranted delaying tactics. You can't write this but I'll write and quote me. Of course I was there too.
He knew the repercussions. It was written 'Ill-tempered Sri Lanka team headlined in another paper. You need two hands to clap. It dented my career somewhat for writing the truth. I saw from my own eyes and not from the electronic eye. My 'Guru' late A.V. Fernando in the Times of Ceylon taught me to write what I see from whatever quarter, apparently unlike some present day bootlickers, who shudder to give the correct picture for the greater good of the game.
In the end justice prevailed and I'am happy to continue with my constructive reporting for the Sunday Times from where I started my career for the future betterment of sports.
For Healy life is too short to have enemies. The SCG episode with Arjuna is all forgotten. He never orchestrated the crowd with exercise to draw their attention. He plays with the youngsters in the meadows of Queensland and shares V.B. after the match in the bar.
He has five top dismissals - one of them in Sri Lanka's Ravi Ratnayake (Bellerive Oval, 1989-90). A one handed grab in the righthand to intercept a leg glance from a lefthander. He rates this as No. 1, because he had to really move the feet quickly to have a chance. It was low down and came pretty fast. He had to dive and held on to it.
Once he retires he's sure to spend much time with his family and help the youngsters in Queensland and in Gold Coast famous for fishing where Andrew Symonds hails from. The gloves will bear the Ian Healy autograph that will stand for that record of all that was achieved through sheer hard work.
---
It's all in the mind
Cricket - with Ranil Abeynaike
Cricket revolves so much around training and tuning your mind in order to achieve maximum success. At the highest level it means training hard to perfect the skills of the game.
The batting slump at Kandy was one big example. A whole lot of limited overs cricket, then a different game with pressure from fielders around the bat and also the spinners getting assistance off the pitch. The brain must send different messages to the body. lts a different approach that is required. That dosen't come easily when attack has been uppermost in the mind suddenly more defence is required. Patience, wait for the loose delivery, push the singles and twos.
On day one of the second Test at Galle Arvinda de Silva did just that. Of course he did that twice in Kandy. He did not play in the one-dayers. His mental preparation was 'graft' and played a long innings.
Shane Warne's mind issue was that he did not have a good run in the Caribbean. Since McGill who is also in the same trade got amongst the wickets Warne lost his play for the final Test match. He was even talking of throwing in the towel. Then the World Cup changed all that. He withstood that well, got amongst the wicket of the Sri Lankan second half batting order and finished with five wickets. That would have taken a massive load off his mind. He was a different bowler in Galle. His rhythm was good, much of the known spin was to be seen bowled with confidence and purpose. Now he's back in the seat of best spin bowler in Australia and amongst the best in the world.
Arjuna Ranatunga has a battle going with Shane Warne. Warne has won rounds one and three and nearly won the second too. Obviously Ranatunga wants to get on top and he has opted to attack the Australian leg spinner. What has got him out is that he has picked the wrong delivery to play the big hit to mid wicket. He has to get the formula correct to mix caution and aggression when playing Warne and that is where the mind games begin and end.
Mark Waugh has failed miserably in the past half dozen Test innings in Sri Lanka, failed to open his account in a majority of those visits to the crease. That is going to be lingering somewhere at the back of his mind. What he did not do in the Kandy Test was move his feet. Dismissed both times by the left arm pacemen, firstly he was caught and bowled and then he dragged it on to the stumps, gone twice without foot movement. There is no reason that the classy Australian batsman will think positive. When a player falls into such a rut one comeback innings is ever so vital. Our performance and then off you go again.
To get to the top level players possess nerves of steel and willpower to match. Couple that with mental discipline and then temporary difficulties will be overcome. There is no doubt that the players currently going through will set their minds positively looking for another lease of life.
---
My Police Memories
Police dump the champs
By S. Sivendran (Retd. Snr. Supdt. of Police)
The Police who downed the strong Dickoya planters in the quarter finals of the Clifford Cup knockout tournament the previous week took on the reigning champs - CR & FC in the semi finals on 18.8.67 at Havelock Park before one of the biggest crowds seen at a rugby game as everyone wanted to see how the giant killing "B" Division Police team will fare against the kings of local rugby CR & FC.
The 'SUN' had the headline "CR take on unbeaten Police today" "A confident Police fifteen after their successful raid over Dickoya come up against Clifford Cup holders CR & FC in the first semi final of the current tournament at Havelock Park. The Policemen have trained hard and sheer guts and determination have brought them close to the trophy. Their strength is against an uncertain CR XV and as such a verdict in their favour is no surprise".
The CR & FC had some of the best players in the country from the leading rugby playing schools playing for them in this match. The captain of the team was centre Mohamed Azain from Trinity College, Elmo Joachim from St. Anthony's College, Katugastota was full back. Wingers were T.B. Wijesinghe of Vidyartha College, Kandy and G. Thiruchittampalam of Royal College, M. Jaldeen of Wesley College was the skipper's co-centre, fly-half was Mohan Sahayam of Trinity College pairing off with his schoolmate M. Zarook as scrum half, Props were Hadji Omar of St. Peter's College and Dusantha Samarasekera from Thurstan College. Hooker was "Bumpy" Jayasekera, a Thomian. Locks were Kamal Ratnapala (of Royal) and Eric Roles from Trinity College. Flankers were brothers Sari de Sylva and Tony de Sylva from Trinity College. No: 8 was Hiranjan Perera from St. Joseph's College. This team was coached by the famous centre Kavan Rambukwelle of Trinity College, CR & FC & Ceylon fame.
The Police team for this match was Bagoos Sourjah as full back, wingers Bandula Wijesinghe and P. Samaraweera. Centres M. A. Majeed and Nizam Hajireen. Fly half D.V. Buddhadasa, scrum half T. Samath, Prop Forwards T.M.I. Hamid and E.K.R. Wijewardena. Hooker S. Sivendran (skipper), Locks Anton Sheddon and K. Banda. Flankers A. Thirumani and S. Ratnasingham, and No. 8 Anton Benedict. The coach was Summa Navaratnam.
The match began with the CR supporters, especially the ladies shouting "Come on CR show the Police how to play rugger" and true enough the CR dominated play from the beginning with Eric Roles and Hiranjan Perera dominating the lines out and Bumpy Jayasekera hooking well in the scrums with Sari de Sylva and Tony de Sylva excelling in the loose. The first half saw CR & FC in full control. Police full back Sourjah missed two long range difficult penalties and the CR full back Elmo Joachim missing one penatly. But the second penalty Elmo Joachim put over from 35 metres to take CR to a 3- nil lead. This was followed by a try by CR winger G. Thiruchittampalam by the corner flag which went unconverted, for CR to increase its lead to 6-nil till lemons.
In the second half Joachim missed another penalty for CR & FC. Mohan Sahayam the CR & FC fly half who was famous for his "Sahayam Specials" did a solo from mid field slicing through the police territory but was tackled inches from the Police goal line by the alert Police defence. Then the Police was sparked off by centre Samaraweera who ran from his own 25 deep into the CR half and spurred the Police to attack relentlessly with the CR goal line in sight and the Police was rewarded with a penalty which Sourjah converted to narrow the CR lead to 6-3. With this the shouts of the CR supporters began to die. Thereafter Police was awarded another penalty and Sourjah attempted this from 45 metres out and missed, but Tony de Sylva the CR flanker whilst collecting the kick knocked on under the posts. Off the ensuing scrum CR & FC penalised and the reliable Sourjah gleefully goaled this for the Police to equalise. With the scores at 6-6 Referee Miles Christofelz blew full time.
Then began the extra time with Police in full cry and on the attack. Sari de Sylva the CR flanker made a desperate run which the Police defence thwarted and took play to the CR half and scrum was awarded mid field for the Police. Hooker Sivendram won the ball for No: 8 Anton Benedict to hold the ball in the third row. CR flanker Tony de Sylva in desperation broke too early and was penalised 45 yards out. "Skipper Sivendran calls full back Sourjah and gives the ball and says" "It is your day boy, do it" "Full back Sourjah places the ball measures his run up and boots his in step kick. The ball sails dead centre between the posts from midfield, and in semi darkness the touch judges' flags signal the conversion. What a sensational match, what a fantastic kick and what a memorable finish to a pulse quickening semi-final. Police came from nowhere to enter the Clifford Cup final with this 9 points to 6 victory". Wrote Eustace Rulach in the Ceylon Observer. He further wrote "Skipper Sivendran led them admirably and late in the game countered CR's line-out play by getting his forwards to mark them more closely. This worked and they began seeing the ball. It was here that the Police teamwork and fitness told.
After Sourjah had reduced the lead off a penalty they pulled out all stops and tore into the attack booting, dribbling, hacking, tackling, and rattling, the CR in their own half. So shaken were the CR under this onslaught they were forced into making mistakes and Police stayed long enough in the attack to get another penalty and equalise". "The match winning conversion was a real beauty and only a kicker of Sourjah's calibre could have put it over. Fifty five yards out, a tense moment, yet he goaled it with effortless ease." He was carried off the field for his conversion with the rest of the team and the entire crowd swarmed into the field like a storm let loose and the entire grounds exploded. The Police fans were seen celebrating the Police victory and were dancing along the streets in joy.
The headlines in the following day papers screamed "POLICE KICKED INTO CUP FINALS" said The Observer. 'CRrushed by POLICE' said the Daily Mirror.
"POLICE TOPPLE CR & FC - excellent kicking by Sourjah" said the Times of Ceylon and Third Row reporting on the match read "Bagoos Sourjah, the Police full back put over a 49 yard penalty kick in extra time to give the Police a memorable 9 - 6 win over the CR & FC in a thrilling semi final tie played at Havelock Park yesterday. With CR leading 6 - 0 at half time it seemed that the match was in their bag. But the Police fought back grimly and levelled scores to 6 - 6 at full time. Then during extra time a CR forward was spied off side and Sourjah kicked correct to give the Police a place in the final. For the Police it was a dream come true to enter the final after a decade of striving. It also proved their invincibility this season with the team of spirited and valiant players who played the game with ruthless determination against the more experienced Red Shirts."
The Daily News headlined "POLICE (led 0-6) TURN FURIOUS CR TIDE AND WIN, 9 - 6" and Penalty kick N. E. Thangarajah reporting on this match said "It was an epic battle. There was a fantastic semi-final which will be recalled for many years to come. It had the shock, excitement and electrifying end to make it a thriller and the men who made it such a memorable match were 15 black jersied Policemen. They were the underdogs for theirs was a "B" divison team: the only reputation they had was that they were unbeaten. But against a team like that of CR's rated the glamour boys of Ceylon rugger. - police side could hardly hold on to any reputaton and what more, they were downed - 0 - 6 with half the game over. There were many who sat by the sidelines and said that the Police side was just not good enough to beat CR. Still undaunted and unperturbed they fought on. They came into the second half with almost new life. Skipper Sivendran shouted "Go boys go, we can still do it" and everyone of them went into the fray with grit and determination - they were not worried about the reputation of their opponents nor the lead they had chalked up. Fight they did till the last until victory was signalled, and the way it came is something that rugger fans, spectators and every Policeman will talk about for many years to come."
The Police celebrations after the match was held at the Police Inspectors' Mess, Bambalapitiya for the victorious Police team who had entered the Clifford Cup Finals for the first time in Police history. Didacus de Almeida, the former St. Peter's College, CR & FC, and Ceylon player who later played for Kandy Lake Club and who was refused permission by the Rugby Union to play for CR in the semi finals against us too joined in the celebrations. I took Dida on my motor cycle followed by Majeed on another mobike to order dinner for the Police team at Mayfair. On our way along Lauries Road a dog jumped at us opposite the St. Mary's Church and I jumped off the bicyle leaving Dida on the pillion and the dog got entangled into the mobike and the dog, Dida and the mobike ended in the drain with Dida shouting for his dear life. I escaped unscathed and picked up Dida who ended up with bruises all over his body. We placed the order for dinner at the Mayfair and went into the CR & FC as Kavan Rambukwella, the CR coach had invited the Police team to the club after the match. When Majeed and I entered CR we were first met by Sydney de Zoysa who was a former Deputy Inspector General of Police and a CR stalwart who congratulated us and bought us drinks. Then Percy de Zilva who was then the Legal Draftsman and a former Trinity and CR rugby player was full of praise for the Police team and ordered a bottle of whisky from the CR bar keeper Rasiah and presented it to me. We shared the whisky with the CR team who were with their coach Kavan in a depressed mood and later returned to the Police mess to join in the celebrations.
Our coach Summa Navaratnam having done all the good work for the Police team as usual shied away after our victory. But he was there on Monday to prepare us for the Cup finals against the Havelocks the following Saturday.
---
Derryck Murray breaks world record
Contd from last week
Statham came, took guard, and leaned on a bat, that looked a most inadequate weapon to prevent a Hall hat-trick. But not only did he prevent the hat-rick, but also sliced the first ball received from Hall for 4 and brought up the 200. He then drove Sobers for 2 more fours, before Hall re-arranged his stumps. England 218 for 9 and Sharpe still there with 78.
However, amid the drama, a more personal one had not beenforgotten. Derryck Murray the wicket-keeper who had kept wickets so splendidly throughout the series had earlier in the day equalled the world record jointly held by Alexander, a predecessor of his, Grout of Australia and John Waite of South Africa. And now with only one wicket to fall, he needed only one more victim to break the record. Sharpe now throwing his bat at every ball took a couple more runs and then faced Hall. Hall bowled him a bumper outside his off stump. Sharpe flashed at it, got an outside edge and Murray without moving a foot caught it in front of his face. The record was his. England all out for 223.
The series then, that had twisted and turned all through those glorious months was now to be decided on one last issue. Could the West Indies make 253 to win the match? On the last day of the Test, Worrell took one look at the wicket and knew that he would not be required to stir a limb on his last day in Test cricket. Trueman opened from the Vauxhall End and broke down in the middle of the over. England were now without their main strike bowler and the wicket a batting paradise.
The West Indies set out slowly. 41 in the first hour, 71 in the two hours before lunch. the first critical phase had been completed. Statham and Shackleten had beaten the bat more than a dozen times without either batsman getting an edge. The breakthrough came at 2.30. But then it was not a breakthrough but only a change of scenery. Dexter came on for his first spell and Rodrigues hit him to mid wicket where Lock took the catch. For England had they known the monstrous savaging that was to come hurtling down on their heads, the departure of Rodiguesz would have been a matter for regret. Because the coming of Kanhai was to bring, fearful, fateful retribution.
Kanhai came in to play his greatest innings of the .summer. 77 runs made in 90 minutes, with shots hit to all parts of the Oval. He started with a glance and then shot by shot, he moved round the compass, then he came back again, only to linger over the sheer joy of smashing ball after ball into the covers. His fifty came in an hour. In the meantime Hunte was moving closer to his hundred. Kanhai had given him a two and a half hour start and caught up with him in only seventy eight minutes. The shot that brought their score level was his famous falling hook shot. He was lying full length in his crease as the ball crashed forty yards beyond the boundary. Two balls later he tried it again and was caught by Bolus at mid wicket and he went laughing his side out. West indies 191 for 2. The first hundred had taken 3 hours and the next hundred only 64 minutes.
There remained only Hunte's hundred before the West Indies cruised home and he reached it with Butcher. But already thousands had climbed over the boundary boards ready for the most spectacular charge in the history of English cricket. Ten runs to go, then five and then two. Statham bowling to Butcher. The batsmen and fielders looked at the circle of humanity that was closing in on them. There was no point in wasting anymore time. Statham bowled and Butcher moved across and lashed it towards mid-wicket. It was not the most handsome, fierce or vital shot of the summer, but it brought the sky falling around his ears. The West Indies 255 for 2. Butcher instantly disappeared beneath hundreds of his countrymen while Hunte was brought down rugby style and then carried on willing shoulders as the country's hero.
- Bruce Maurice
---
Briefly
Invitation Schools football
Twenty two schools will participate in the Don Paul Henry Patrick memorial trophy invitation schools foot ball tournament 1999 organized by the Old Mazenodian Football Association from September 27 to October 9. All matches will be played at the De Mazenod College grounds, Kandana. Group A - De Mazenod, D.S. Senanayake, Hindu College, Royal, St. Peter's, St. Joseph's, St. Mary's St. Aloysius, Sri Pada MMV Hatton, Thurstan and Zahira, Colombo. Group B - Hameed Al Hussaniya MV, Isipatana, Joseph Vaz, Kalutara MV, Maris Stella, Prince of Wales, St. Benedict's. St Anthony's Wattala, St. Joseph's Trincomalee, St. Sylvester's, Wesley . The quarter finals will be played on October 4 and 5, the semi finals on October 6,7, and the final will be on October 9.
Scrabble champs
S. Thomas' Mount Lavinia emerged champions in the inaugural Inter Schools Scrabble championships organized by the Zahira College Scrabble club at the Zahira College Hall at Maradana. The champions were awarded the M.T.A. Furkhan challenge trophy. Hindu College Colombo finished as runners-up and were awarded the M.T.M. Hamza Trophy. Twenty four schools participated in this inaugural championships, with the hosts Zahira college not fielding a team. Dr. Lalantha Amarasinghe, President of the Scrabble League of Sri Lanka was the chief guest with Professor M.T.A. Furkhan.
World's best spinners to play county cricket
Four of the World's Finest Spinners will be seen in action during the English county season next year. Australian Leg Spinner Shane Warne will make his debut in the county circuit for Hampshire while his Indian Counterpart Anil Kumble will return to county cricket when he represents Leicestershire. Sri Lanka's leading wicket- taker Muttaih Muralitharan will return to Lancashire while Pakistana's Saqlain Mushtaq will continue with county champions Surrey. It was also reported that Shane Warne was contracted with Hampshire for a staggering fee in the region of 150,000 sterling pounds, which is the highest for a county player. Hampshire has plans to increase membership fees and the gate money in order to meet Warne's contract fee. (MF)
Srihar's team victorious
Srihar's team comprising, M. Chelliah, K. Bakaran, Paul de Neise, Dr. Keerthisena and Mrs. Srihari Saravanapavan won the Board a match team event played at the Bridge Federation Headquarters at the Race Course.
The champions were awarded the Captain Gunasekera memorial trophy sponsored by Empire Trading Agency.
Cera's team finished as runner-up comprising: Mrs. Cera Fernando, Mrs. Mallika Wijekoon, T. Shanmugaligam, Fritsz Perera.
Weera's team comprising: H.A. Weerasooriya, Rex Perera, Mrs. Anthea de Alwis, Mrs. Rasiah, Finished 3rd seven teams participated in this event.
Whitaker-Manager, Boon-Coach
Former Leicestershire captain James Whitaker has been appointed manger of England's under-19 team for next year's youth World Cup in Sri Lanka.
The 37-year-old Whitaker who captained Leicestershire in 1996 played very little cricket in the last two years due to a niggling knee injury. After scoring over 17,000 first class runs and winning one England cap in Australia (1986/87) Whitaker announced his retirement.
England's Youth World Cup team will have Tim Boon as Coach, Kirk Russel as physiotherapist and Nigel Stock as physiologist. The teams are expected to play a couple of practice games in Malaysia before arriving in Sri Lanka for the World Cup. (MF)
Kelaniya CC
Kelaniya CC led by Lasantha Perera entered the semi-finals of the Division 3 cricket tournament organised by the Board of Control for Cricket. Kelaniya CC won three games and drew one. It was allround team work which enabled Kelaniya to enter the semis.
At Katunayake - Kelaniya CC beat Biyagama CC by 6 wickets.
Biyagama CC-126 and 110 all out. (M.Porage 46, Indika Ruwanpura 5 for 30, Ruwan Dissanayake 5 for 30.)
Kelaniya CC-135 (T. Anuradha 51) and 104 for 4 (T. Anuradha 53 not out).
At Kegalle - First innings win for Kelaniya CC.
Kelaniya CC - 273 all out. (Lasantha Perera 64, Laksiri Costa 51, Ruwan Dissanayake 46) and 100 for 4.
Old Marians 226 all out (I. Dharmasena 42, A. Saman 36; Indika Ruwanpura 4 for 52.)
In Kandy- beat Old Sylvesterians by an innings and 26 runs.
Old Sylvesterians - 155 all out (Gihan Perera 59, Indika Ruwanpura 3 for 35, Ruwan Dissanayake 3 for 14) and 96 all out (Indika Ruwanpura 3 for 21).
Kelaniya CC - 278 for 9 (Lasantha Perera 56, Lanka Chinthana 72).
In Puttalam - beat Springbook SC by 9 wickets.
Kelaniya CC 175 all out. (Sanjeewa Nimantha 44, Deepal Dassanayake 28, A. Manjula 4 for 34, and 36 for 1).
Springbook SC-66 all out (S. Thanugin15, Lasantha Perera 3 for 15, Indika Ruwanpura 4 for 17, and 141 all out (Thanugin 27, Ruwan Dissanayake 3 for 25).
Janaka, Bandara top Sailors
W.P.K. Janaka the Asian Games Bronze medalist at the helm and supported by W.N.D. Bandara as crew won the Enterprise National Sailing Championships conducted by the Yachting Association of Sri Lanka held at the Ceylon Motor Yacht Club at Bolgoda.
The Navy duo won both races in the 1999 championships with Joseph Kenny at the helm and Reshan Muthukrishna (crew) won the second place in both races, followed by brothers S. and A. Tennekoon, Navy's Gunatilleka and Upul, Newton and Rajapaksa.
Top sailors from the Navy, Ceylon Motor Yacht Club and the Royal Colombo Yacht Club participated.
In the optimist race organised by the Yachting Association of Sri Lanka for children in the age groups from 5 to 12 participated.
Graham Durham won this race with Andrew Sagar second and Rehan Dias third.
The race officers for the day were Ranil Dias and Asitha Tennakoon.
The Airways Sailing Regatta will be held today at the Bolgoda Lake.
Ports Authority champs
Sri Lanka Ports Authority beat the Sri Lanka Army by 3 sets to 1 in their exhibition women's volleyball match played under lights at the Tisaweva Waggoners Courts at Anuradhapura.
This match was organised by the Sri Lanka Army Volleyball Association with a view to promoting volleyball in the North Central Province.
Ports Authority won the first set 25-20, 25-23 and 25-19 with Army winning the third set at 25-15.
Rasika Tennakoone and Nishanthi Jayasundera played best for the winners with Thakshila Niranajali and Nedeeka Sammani being outstanding for the losers.
Lt. Col. K.W. Edama the Vice-President of the Sri Lanka Army Volleyball Association was the chief guest.
Thomians to defend
S. Thomas' will defend their boys' under 20 and 15 water-polo titles at the 9th Sri Lanka Schools championships to be worked off today, at the Sugathadasa Indoor Stadium Pool, commencing 8 a.m.
The Secretary of the Sri Lanka Schools Aquatic Sports Association states that five's teams will battle it out for supremacy in the boys' under 20 and 15 age groups, with S. Thomas entering two teams each, Royal, Nalanda and Ananda one each.
It will be a three cornered battle in the girls' under 20 age croup between, Visakha, St. Bridgets and Ladies and Ladies are likely to be declared under 15 champs, since only they have entered for this particular age group.
Zonal bridge on Oct. 2
The 10th Asia Africa & Middle East Zonal Bridge championships will be declared open by the Minster of Youth Affairs and Sports S. B. Dissanayake on Saturday October 2, at the Taj Samudra Hotel at 7.30 p.m.
This championships will be hosted by Sri Lanka and conducted by the Bridge Federation of Sri Lanka.
The guest of honour will be the Deputy Minster of Youth Affairs and Sports, Jeewan Kumaratunga.