In chess, she's the queen
By Roshan Peiris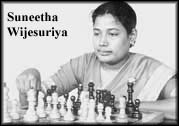 There was no chess board at home so Sri Lanka's current woman chess champion drew 64 squares on the floor with chalk and using paper clips and rigifoam piece cutouts taught her siblings the game. She has held the title for ten consecutive years.
So much for innovation. Suneetha Wijesuriya also coached her brother and sister to win international chess events. Suneetha was also the first woman to win the 30th World Chess Olympiad in Manila. She won the gold medal in 1992.
Asked why she took to playing such a difficult game she said she found it fascinating.
"I knew nothing about chess nor had I even seen a chess board until I was in the A' Level class at Kotikawatte, Rajagiriya Maha Vidyalaya where the English teacher introduced me to chess. I took to it spontaneously. The secret of playing chess is absolute concentration. I read no books on the subject. But by my own effort and watching and thinking I learnt to play chess and took to it– like a duck to water." Today Suneetha spends a good deal of her time outstation trying to popularise the game among the people in the villages.
"In Sri Lanka chess is not recognised so I want to popularise it as in Russia. For many many years Russia has produced Grand Masters in chess," Suneetha observed.
"I hope to make chess popular so that children while still young, will learn to play and with it learn the art of concentration so necessary in anything one hopes to do and achieve.
"Recently chess enthusiasts have formed a chess club at the Russian Centre at Torrington Square. It is named after Anatoly Karpov who has been the chess champion of Russia six times. She finds time for cooking too. "I like Sinhala cooking rather than 'esara kame' (courses) and I love to read history books. I have a son and daughter both of whom I hope, will play masterful chess." Her husband Bandula, working in the C.G.R., is also interested in game.