---
Is our education good enough?
By Ruhanie Perera and Laila Nasry
We spend a major part of our lives in school, but before we know it, it's time to leave the four walls of the classroom and venture out into the world. What students will recall are the tons of homework, endless hours of studying, last-minute cramming, tuition classes, and on top of it all, new reforms to adjust to.
Yet, is the knowledge gained in school sufficient to stand us in good stead in the big world or are there things we didn't have the opportunity to learn but wished we did. Here's what present students say about our education system.
Ian Van Hoff, (19):
The new system is more practical and makes life easier for the students. In the old system it's basically learning the notes the teacher gives. Our syllabus is limited. Also, you don't get much of a choice when you are in the A' Level class, for example, of doing English in the Maths section.
The system should cease to be a test of memory and should be made more creative. We should have a wide choice of subjects. Computer science should be introduced either during the O/L or A/L classes. Also students should be encouraged to do drama, debating and other extra-curricular activities within the school. These help mould a person.
Sanlakshi Liyanagama, (17)
I feel that our education system does not meet with the demands of the modern world. It is also very teacher oriented, dependent on the textbook and has no room for practical lessons, which I feel are very necessary especially when it comes to subjects like science.
The reforms are inadequate. I feel we need much more, but it is a start. I hope the reforms will be enhanced or improved gradually so that it encourages a student to learn. There is more to life than becoming a doctor, a lawyer or an accountant; the problem is that our system has not yet realised this fact.
Dinal Edirisinghe, (17)
I think our education system is of a very high standard and it is one that pushes the student to develop.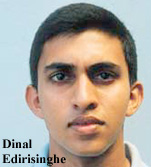 For example, students who sit for international exams or those studying abroad are allowed to use calculators if they are doing a maths paper. Our local exams don't allow that - and therefore the student has to be extra proficient.
Of course the system does have its drawbacks, mainly, that students feel a lot of pressure. The fact that the new reforms require only three subjects instead of four in my opinion leads to a dropping of standards. The major plus point in this system is that it strives to eliminate the 'tuition class' syndrome. There is also a lot more room for creativity that goes beyond the textbook.
Introducing practical work and project work is also a plus point because the student can't afford to cut school and has to study daily - you can't exactly cram with this system.
Shehara Karunaratne, (14):
The education system (old) is a good one because we learn a lot and in great detail. But we have to study the text book and all that the teacher gives, which is a lot. The new system is better because it is easier and more creative. But in my opinion it doesn't matter which education system we have, it is up to us to make it creative. Subjects like English Literature allow us to be creative but subjects like Science and Social Studies too can be made more interesting by doing more experiments and going on more field trips.
Those under the new education system are really lucky. The work is extremely interesting.
Upul Weerasinghe, (17):
In my opinion the education system is basically o.k. You've got to just study your books. General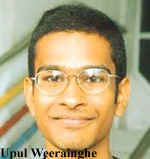 Knowledge doesn't count for much within this system. Except for a few subjects like Maths and Science there are no subjects that test us intellectually. I'm also against the teaching of religion in school, because it is not learnt for the greater understanding of the subject but just to accumulate an added distinction.
Our exams are a test of memory, not intellect. Three years work at the O/L or two years work at the A/L should not be tested in three hours_ it's unfair. There should be an evaluation system like in the U.K. To make the education system more effective, the standard in English should be improved, after all it's really important for jobs. Further reading material of a high standard for English should be introduced. Once introduced, the students will learn to cope and after sometime the standards will improve. It would be great if French or any other foreign language and computers could be part of the curriculum.
Priyanka Weragoda, (15):
I'm under the old education system and it's quite o.k. All you've got to do is study the textbooks and the teachers' notes. What is hard however, is the fact that there is a lot to study. The new system makes you want to find out more about the subject for when you do practical work it gets you interested. But in the old system the facts are just presented to you and you accept them.
The education system can be made effective by making it more active through experiments and projects.
Those under the new system are lucky because they have projects, computers, etc. Though it's a lot of work they are really enjoying themselves and having a good time.
Thushan Hemachandra, (17):
Our education system is one that is known to stifle creativity, encourage memorizing notes and attending tuition classes and discourage practical work. I feel that there is a higher standard of education in the International Schools. Especially where language and modern technology is concerned.
Teaching English, in my opinion is something the education system should give a lot more importance to because you can't get very far in the modern world if you are not familiar with the language. I also think that we should be taught some computer skills because that too would help us to get on in today's world.
Suren Gnanaraj, (16):
The old system did not cater to the changing times. I think that the new reforms really tries to make a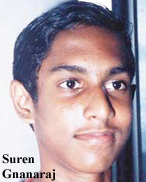 difference. It gives us more independence because we have to go out and find out things for ourselves.
There is also a lot of group work and that makes studies fun. The extra maths and science papers they have introduced for O/Level students are also good. This way students who are sure they want to study Arts and don't really like maths can do the extra maths paper, which is easier. One bad thing is that they are going to let us use calculators for our studies. I feel that we should be allowed to figure things out for ourselves.
---
Front Page| News/Comment| Editorial/Opinion| Business| Plus |Sports