'I want to be a teacher, I want to be a doctor'
These are the big dreams of the little children whose fathers sacrificed their 'todays' for the country. The Ranaviru Doo- Daru Rekawaranaya - a scholarship scheme aims at giving these children a better tomorrow.
By Nilika de Silva
Military manoeuvres necessarily result in multiple deaths. The general public is provided with statistics of the KIA, Killed in Action. But the figures of those suffering in the wake of the KIA are never really known. At best they remain a column in a ledger maintained by the Forces.
The Ranaviru Doo-Daru Rekawaranaya is a programme which aims to give the children of those who sacrificed their 'todays' for the country a better tomorrow. So far under the first three phases of this scheme, 453 children have been provided with scholarships, said Ven. Kusaladhamma Thera, a Buddhist monk attached to the Sambodhi Viharaya which is used as a centre for the scheme. Monthly meetings are held there.
Nine-year-old Dani Roshan told The Sunday Times his father had died in 1993. Little Roshan was barely three when his father died in Pooneryn. But today thanks to the Ranaviru Doo-Daru Rekawaranaya programme, Sergeant Major Iruthanathan's two young children will grow up with the belief that the country cares that he gave up his life fighting to protect its sovereignty.
Smiling shyly, Roshan who studies at Veluwana School said his favourite subject was Mathematics while his sister Romayne said hers was English. Romayne added that she plays netball at All Saints where she is studying in Year seven. "Even though we are poor this scholarship makes it possible for us to do well in school," she said.
Their mother Mary Nirmala, 32, said, the programme is a great boon, as it will allow the children to draw money whenever they require it for their education purposes.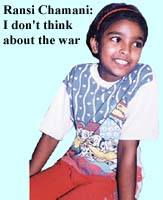 Ransi Chamani Jayakody (10) has just sat for the Year 5 scholarship examination. A student of Anula Vidyalaya, Chamani's father who was in the Air Force died in 1992.
"I want to be a teacher when I'm big," Chamani said. And what will she teach ? "English." And what does she feel about the war, ? "I don't think about it," was her quick reply, almost a reflex action.
Maybe this little one who has been cheated of one of her birthrights, a father's love, is wise enough to realise that her future is in her own hands.
Sergeant Tuan Hajin Sherifdeen, a Flight Engineer, died on April 29, 1995, in the second missile attack on the Avros. His second son Shamil born on his own birthday, April 9, was only 21 days old, and unchristened, when Tuan aged 31, was killed.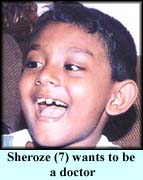 Today his young widow Fareena is bringing up the two boys Sheroze and Shamil striving to give them the kind of life Tuan would have wanted them to have.
"I want to join the Forces as a doctor," says Sheroze (7), a student of D.S. Senanayake Vidyalaya, while his brother four-year-old Shamil peeps at us from behind a table.
Speaking of the Ranaviru Doo-Daru Rekawaranaya programme, Fareena said, " They are doing a very good job". She added that she wished some work would be done by this organisation to help the widows of service personnel killed in action, 'through creating a self-employment scheme, a way to market goods produced at home and giving guidance etc. I do some pottery and sewing but selling outside is a problem. We don't know who would be interested in buying," Fareena said.
"There are many difficulties which crop up in our day-o-day lives," Fareena explained. "Before my husband died I was working as a Credit Control Executive at Metropolitan agencies and therefore there was an additional income. But now that it is not possible for me to do a job, we have to survive on my husband's pension, and sometimes it is a bit difficult. We have to live a normal life, we like to be like the other people," she said.
Ven. Daranagama Kusaladhamma Thera of the Sambodhi Viharaya said, the Ranaviru Doo-Daru Rekawaranaya was first begun by the former Chief Incumbent of the Sambodhi Viharaya and the Vijiraramaya Ven. Piyadassi Nayake Thera.
Ven. Piyadassi who donated the money he received to the Parahitha Sanvidanaya used this money to educate poverty - stricken children, especially to award scholarships o school children in rural areas. After the war broke out it was decided that the children of deceased soldiers should also be provided with scholarships to enable them to continue with their education, and the Ranaviru Doo-Daru Rekawarana organisation was established.
Ven. Kusaladhamma Thera said the Ven. Piyadassi who passed away two years ago was a skilful preacher. Many who were drawn to listen to his sermons also made donations towards this project.
A company director. Navin Perera (30), a donor of Ranaviru Doo-Daru Rekawarana scholarships said he believed this scholarship to be very important for the children. "This programme is to give these children a basic education so that they could have a sound foundation for the future," he said.
"To award one scholarship, the yearly payment is Rs. 3,600. When you divide it by the days in an year, this is just Rs. 10 a day. I am sure there are so many people who could afford Rs. 10 a day. That's less than the cost of two cigarettes. And I'm sure there are those who earn good money who can sponsor at least one child and a company can take at least five," Navin emphasised.