CCC to promote best practices
The Ceylon Chamber of Commerce has planned several initiatives in promoting Best Practices in the area of Good Corporate Governance.
The chamber has obtained the professional support of the Centre for Policy Alternatives headed by Dr. Paikiasothy Saravanamuttu and planned several initiatives like;
a. A preliminary brief memorandum to key decision makers in the private sector, to obtain their commitment by demonostrating the essential nature and long term benefits of adopting in a committed manner, Best Practices in the area of Good Corporate Governance.
b. Conducting a focused seminar directed at key private sector business leaders in order to win their commitment to implement Best Practices at firm level.
c. Circularising the publications developed by the Centre for Policy Alternative on behalf of the Ceylon Chamber of Commerce, on the subjects of:
* Tax Compliance
* Ethics and Good Business Practices
* Good Governance including anti-corruption and transparency, improved accountability to all stakeholders, long term national interests before short term corporate interests
* Sustainable development including environmental protection.
---
Hayleys lights up Dalada Maligawa
Hayleys Group through their specialist subsidiary Hayleys Electronics (lighting) Ltd together with Philips Lighting B.V., the Netherlands, designed and donated the complete lighting system for the Sri Dalada Maligawa.
The system Rs. 8 mn. lighting system, which was installed at the request of the Power Sector Engineers as part of the restoration work, brings out the architectural features of the Maligawa in all its glory while preserving the sanctity of this venerated site. State-of-the-art technology, with its unique features to cater to distinctive parts of the Maligawa with its overall emphasis on energy efficiency, is a fitting tribute to the original creators of this sacred shrine..
Hayleys Group through their specialist subsidiary Hayleys Electronics (Lighting) Limited together with Philips Lighting B.V., the Netherlands, designed and donated the complete design and equipment for the lighting system, amounting to approximately Rs. 8 million.
---
Management guru recharges batteries in Colombo
By Renuka Sadanandan
Ron Kaufman, management guru, inspirational speaker and corporate trainer is busy with his "No. 1 customer", when I catch up with him at his lofty apartment at the JAIC Hilton. The demanding young lady with him happens to be his daughter Brighten, a cuddly three-year-old who is his greatest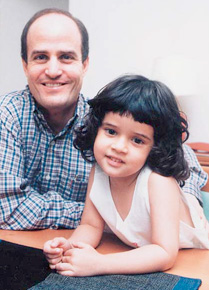 inspiration.
Kaufman was briefly in Colombo last month to recharge his batteries by following a "mastery of self" course conducted by mind-power wiz Omar Khan. Yes, even gurus need to recharge. In between, he took time off to address the American Chamber of Commerce and write a couple more chapters of his first book.
Achieving superior service, building strong partnerships inside an organization, increasing customer loyalty and creating dynamic teams are some of the areas, Kaufman specializes in. To this end he designs and conducts customized programmes, conventions, conferences, management retreats and workshops to impart his brand of "active learning".
Interactive, is a key word in this energetic, fast-talking American"s philosophy. Learning, he believes, should be a fun experience, hence his programmes, most often are crammed with games, practical ideas and stories from around the globe. 'I bounce around, I sing a little, I get people activated.'
Interviews are no exception to this rule, I soon learn. They"re peppered with practical examples that illustrate his point.
'There"s not a lot of focus on customer satisfaction. Customer satisfaction as I see it is just the first step. How do you go beyond that? The second level is customer delight which means you are sensitive to all your customer's preferences. Delight becomes the second point at which organizations are competing with each other, but everyone can do that too, so then comes the question, how do you really build long term loyalty?'
Loyalty, says Kaufman, involves understanding the customer's hopes, fears, aims, aspirations, etc and adapting, modifying and designing your service to meet their needs.
Take the case of the car salesman to illustrate the quality of superior service. He says, 'Would you call your customer to tell him his car's arrived once the order had been placed? Do you tell him, you're having it polished, it'll be ready in two days. Do you keep him informed, building up his feelings of anticipation? And then once it"s delivered, do you call him again to check if everything's working, if he knows how to set up the music system, etc?" If you go through that follow-up cycle, you"ll sure have one satisfied customer.'
'Do you know how to programme your VCR?' he asks me. Not really, I stutter, taken aback. 'How come the store that sold it to you didn"t bother to teach you all the features, take the trouble to send someone over to show you how? Then you'd definitely go back. That's what building customer loyalty is all about,' he says triumphantly.
It sounds easy, yet so few do it. 'When I teach it, they go, "Oh,that's common sense",' he smiles wryly.
Motivating staff to keep up standards involves a huge emotional component, in his view. Firstly you need to understand the standards you're at and what you're hoping to reach. He teaches this concept through a series of steps: basic, expected, desired, surprising and finally unbelievable and gets people thinking on how to climb this ladder.
Kaufman, "rambunctious Ron " in his mother"s words studied international political history at university. What fascinated him was the issue of how countries come back together after periods of conflict, for example France and Germany after the world wars. One of the factors in forging unity, he realised, was sport. He then got involved in alternative recreational sports and games (frisbees, kites, skateboards etc) and soon was taking groups of American children and adults across to China and Russia for interactive events like giant frisbee festivals.
The frisbee festivals turned out to be his springboard to success. 'Because I was good at designing these large events, some companies began asking me to do programmes, fun conferences for them.'
His first corporate client was American Express. Was he daunted? 'Putting together these big corporate conferences, to me was just like putting together a big frisbee festival. One soon led to another.'
In 1990, Singapore Airlines was launching a company to teach quality service throughout the country and needed someone to handle curriculum development. His speciality being adult education, in came Kaufman. He designed games and fun activities that would make the education, not just workshops but enjoyable and memorable events. 'When you're talking about quality service , there's a big emotional component involved, not just cerebral,' he points out. He started it off and also trained the trainers.
By that time he'd fallen in love with Asia, and three years later with a Singaporean whom he subsequently married. End result: one beautiful daughter, Brighten
Living in Asia, he considers a dynamic experience. 'In Asia you find generations of people who've worked hard and I enjoy being with people who have that attitude of doing it themselves, as opposed to the West where they'd look to the government to fix things for them,' he says. 'I enjoy being in an environment where people want to improve and upgrade themselves. If you're in the education business, like I am, it"s a natural fit.'
Kaufman would be the first to emphasise though, that for companies and individuals, there's no quick-fix. 'Let's face it, there's no such thing, as a one day seminar, that changes your life. All it probably does, is triggers the change, but after that you have to follow it up, reinforce the change. It all stems back to building a corporate culture you have recruitment, orientation, ongoing training, internal communications, rewards and recognitions, staff suggestion schemes, appraisal mechanisms, all of which reinforce what you say you want your culture to do. Not all may be service cultures, some may be profit-motivated cultures, innovative cultures.. it all depends on what your aims are.'
Very much a man of this technological age, Kaufman has his own website-HYPERLINK http://www.ronkaufman.com and writes a monthly newsletter which goes to many of his clients and contacts around the world. He has also produced management videos and audios that give the Kaufman gospel in easily digestible bites.
Writing more books is a priority in the future as is doing the big public events. "I do a lot of in-house programmes for companies but doing the big public events is what I really enjoy. I really enjoy harnessing the positive energy in the room, it acts like a big spark-plug to the whole community.'
Kaufman returns to Colombo for a one-day seminar on 'The secrets of superior service' on September 28 at the Colombo Hilton.
---
Moment of Truth or Moment of IMPACT?
Moments of Truth are those countless perception points where customers experience and evaluate your service. Work hard, do a good job, and customers come back for more.
Moments of Impact are totally different. They are not the good impressions made by friendly staff, convenient systems, quality products or generous pricing.
Moments of Impact are those rare situations when you go far above and beyond the call of duty, you stretch the envelope way beyond the stamp, you innovate and act in ways that are tremendously valued, personally appreciated and completely unexpected.
A client at a recent seminar handed me this note: "Last night, 10 minutes before departure at the airport, I found my car and house keys were still with me, and my wife would have been locked out of the house. I passed them to the Singapore Airlines in-flight supervisor and they managed to get the keys to her by 7:15 pm!"
This is a great example. If the airline is only in the business of flying passengers from place to place, they would miss the opportunity to IMPACT this customer for life.
A client of Citibank was delayed for four hours overseas. He called the local Citiphone office at 2:00am and asked them to call his wife six hours later...when she would have awoken at 8:00am, but he would be up in the air. The bankers made the call, and made the IMPACT.
Key Learning Point: Moments of Impact do more than surprise your customers. They deepen the relationship, extend goodwill, increase tolerance of any future problems and build loyalty far into the future. The next time your customer needs some assistance that is outside your normal course of work, make the decision, make the effort, make the IMPACT.
(Extracted from Ron Kaufman"s monthly newsletter)
---
Coconut oil harmless to health, ITI study says
Between 1987 and 1997, per capita coconut oil consumption increased by 19 percent whereas increase in per capita vegetable oil consumption was five times.
The results of a recent study conducted by Dr. Janaki Gunaratne of the Industrial Technology Institute have shown that coconut oil is not harmful to the health. Wide publicity of this research finding is necessary to change the views held by the general public on this subject.
The propaganda carried over a long period by the lobby promoting the use of imported cooking oils have created a general impression among the public that coconut oil is inferior to other cooking oils because of the health factor.
The Central Bank's recent report of the Consumer Finances and Socio Economic Survey (1996/97) brings out interesting facts about the shift in consumption from coconut oil to imported cooking oil. Although coconut oil is used in 85% of the households in Sri Lanka, the shift from coconut oil to other cooking oils is conspicuous mainly among the urban consumers and the rich households in the rural sector.
In urban households, imported cooking oil accounted for 15% of the oil consumption in 1997 compared to 6% in 1987. The per-capita coconut oil consumption in 1997 was 265 ml per month; about 1.5 bottles per month for an average family of five people.
Between 1987 -1997 coconut oil consumption has increased by 20 per cent. In the same period consumption of other cooking oils have undergone a dramatic four-fold increase.
This is another example where our self-reliance on basic food is on a decline. There are several state institutions directly engaged in the development of coconut cultivation and its processing industries and producer associations of coconuts and coconut oil.
They should make use of this opportunity to create an awareness among the public regarding this finding. While some consumers may shift back to coconut oil when they learn these facts, the coconut oil manufacturing and marketing organizations should not overlook the fact that with increasing incomes the consumer also expects an improvement in the standards of the product. A product free of impurities, better packaged and labelled indicating the price, volume, grade/ standards of the content could be attempted initially to boost local sales.
---
'Egg Champion' cuts production costs
Layer farmers will benefit from new nutrition technologies developed recently. The Nutrena (Pvt.) Ltd., recently launched 'Egg Champion' an advanced nutrition product for layers that provide yield and reduce production cost of eggs.
Egg Champion's special formulation increases productivity. It also lowers the total feed intake of layers, yet ensuring high quality eggs. The formulation is designed to provide eggs with wholesome, rich golden yolks that would be the delight of any chef.
The key feature of Egg Champion is Nutrena's mycotoxin prevention system that reduces losses due to fungal growths. In addition to conducting laboratory analysis for fungii each bag of Egg Champion will have a preventive element, which will reduce the chance of feed being destroyed by fungus development on farms.
"Egg Champion is the result of a one year cooperative research effort between our USA based scientists and our staff in Ekala," said Chistopher Langholz, Managing Director, Nutrena. "Egg Champion is designed and priced to provide the farmer with the lowest feed cost per egg prevalent in the market. This is especially important as egg farmers are presently adversely hit by low prices and imports."
"Farmers are well aware of the financial consequences of mycotosis. It often means the difference between profit and loss in this highly competitive business," added Mr. Langholz.
---
NDB to launch 5 year debenture issue
The National Development Bank (NDB) launched its Rs. 500mn debenture issue structured as a quoted, redeemable, unsecured and subordinated five year floating rate debenture.
These debentures will have a face value of Rs. 1,000 each, and the minimum investment will be Rs. 10,000 (10 debentures of Rs 1000 each), which will place it well within the reach of the retail as well as institutional investor. The issue will be opened to the public from September7.
Hongkong Bank will be the trustees to the issue. The issue is priced at premium of 1% above the one year treasury bill rate, the debenture would currently yield approximately 13.75% per annum. It offers a variable rate of return with a floor (guaranteed minimum return) of 12.5% and a cap of 16% per annum.
The floating rate gives the investor the opportunity to increase his returns if Treasury bill rates move up, while the minimum return limits his returns in case of a steep drop in rates.
According to the Bank's 1998 annual report, its loan portfolio stands at Rs. 23.7 billion,excluding a Rs 3 billion refinance portfolio. Its total asset value was Rs. 31.4 billion while its turnover and profit after tax figures for 1998 were Rs 3.9 billion and 773 million respectively.
The Bank has now embarked on a programme of expanding its resources base by channeling domestic savings and investments to finance its core business of long term lending and to support its growth strategies, and thus become less reliant on conventional forms of funding.
The Bank is committed to developing the debt market and although in this instance the bank is offering a basic product to the market as its maiden issue, NDB intends to float a number of debenture issues at frequent intervals, with more innovative features to suit different investor requirements. Bank of Ceylon are the bankers to the issue. NDBS stockbrokers are the brokers to the issue.
The NDB has been seen to be expanding its reach and its range of products in recent times, tying up with leading international partners in several related financial services. Citi National, an investment bank was set up with the US based Citi group, Ayoana was created by way of a joint venture with the commonwealth Development Corporation of U.K a fund management company, Eagle NDB was formed with Eagle Insurance Company Ltd, and a joint venture was established with Environmental Resources Management of U.K which provides environmental consultancy services to local companies.
Most recently, the group enteted the insurance industry, with the acqisition of CTC Eagle Insurance company, in collaboration with zurich Financial Services of Switzerland.