---
Abeywardena crashes to15-year-old Sanjeev
By Annesley Ferreira
Fifteen-year-old Sanjeev Paramanathan, playing in the 84th Senior Tennis Nationals, showed maturity far beyond his years when he downed the experienced R.Abeywardena on the opening day of the men's singles event 6-0, 6-0 at the National Tennis Courts, Greenpath yesterday.
In the other men's singles match Sanjika Weerasinghe lost a hard fought battle to Dhevan Peiris, a junior poolist, who has just returned from the United States in a three setter: 7-5, 6-7, 7-6 in a match which lasted more than one and a half hours.
Number 6 seed Rajeev Rajapakse beat Navid Zaveer 6-0, 6-0 while Dinuka Ranaweera, the number 7 seed from Ananda College beat S. Saratchandra 6-0, 6-1. Ranaweera is in the combined schools team to play in the inaugural Asian Schools Tennis Championships in Indonesia next month.
Veteran Sylvester Frances beat Rajeev Jayawardena 6-0, 6-2 and Harshana Godamanne beat Rasitha Perera 6-0, 6-0.
In the women's singles number 3 seed Shalini Pereira scored a comfortable win over S. Sabanathan 6-1, 6-1 and Tashiya Mirando defeated Naureen Mubarak 6-3, 6-3.
In the men's doubles pre-quarter finals, the more experienced Sylvester Francis and Ghazali Ghouse were beaten by two cricketers - Anushka Polonowita and Kumar Sangakkara - in a three setter.
Francis and Ghouse won the first set 6-4 and lost the second and third sets at 3-6, 2-6. The two cricketers piled on their points with superb court craft from close shots to the net.
Aruna Seneviratne and Dilshan Herath too showed good understanding in downing Dhevan Peiris and Sanjeew Paramanathan in a three setter 6-2, 5-7, 6-4.
The nationals will be continued today starting at 8 a.m. Several interesting matches are on the cards throughout this week at Greenpath.
Tennis woes
The Sri Lanka Lawn Tennis Association (SLTA) is faced with the hardship of picking any team to tour abroad due to the non-functioning ofthe Selection Committee. The SLTA had submitted five names to be appointed to the Selection Committee to the Minister of Sports in June this year but they have not been approved as yet.
The five nominated are: P.S.Kumara, Romesh Fernando, Iqbal bin Issac, Sanjaya Wijemanne andRavi Subramanian.
Further hinderance to the sport is the non-appointment of a national coach.
---
Enough is enough, says Mahanama
By Marlon Fernandopulle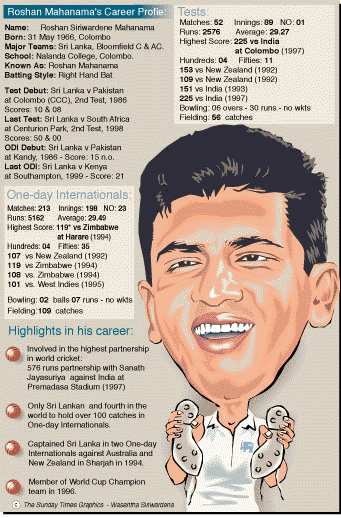 Disappointed and frustrated after being pushed from pillar to post and finally being axed from the Test and One day squads, Roshan Mahanama decided to call it a day and quit playing International cricket.
Speaking to the Sunday Times after informing the Cricket Board of his decision Mahanama said, "I find it hard to accept my latest exclusion I think enough is enough ,I have been going through this for some time and can no longer bear it ".
A brilliant fielder at any position and a batsmen who has batted all over the batting order Roshan Mahanama was shocked to be out of the Test and One day squads that were announced on Thursday."I expected to be in at least the one day squad.
After all the hard work and practice during the last month it is a big disappointment and very frustrating to be left out",said Mahanama.
It was only a few weeks ago that Roshan was tipped to be a strong contender for either the captaincy or the vice captaincy. According to informed sources Roshan's name came up, although he was not given either of the positions.
But within a few days things have changed and Roshan who has played 51 Tests and 213 One dayers now finds himself not being wanted anymore for Sri Lanka cricket.
It is widely believed that Roshan Mahanama was given the cold shoulder by the Cricket Board and certain senior players after he led Sri Lanka in a one day tournament in Sharjah in 1994 following Arjuna Ranatunga's last minute withdrawal over a fitness fiasco involving Aravinda de Silva.Since that series in Sharjah Roshan Mahanama has been in and out of the National Squad and was also being pushed up and down in the batting order.He had also contemplated from quitting the game at least once, but continued due to outside pressure only to fight a losing battle.
Last year Mahannama was surprisingly left out of the England tour and this year was only a eleventh hour replacement for the World Cup in which he finished among the top Lankan batsmen averaging 27.
Apart from the breathtaking catches and his delicate strokeplay the 33 year old cricketer will best be remembered for his majestic 225 against the Indians in Colombo which helped him put on a record breaking 576 run partnership with his friend and colleague Sanath Jayasuriya.
---
Bell shines as Kiwis prosper
MANCHESTER, England, Saturday (Reuters) - Matthew Bell scored his first test 50 as New Zealand continued to make England suffer on third morning of the third test at Old Trafford on Saturday.
A session shortened by 45 minutes because of bad light saw the touring tea move from 128 for two to 186 for two - just 13 behind England's first innings score.
New Zealand continued their positive approach with Nathan Astle taking two fours from Andy Caddick's first over.
England began with a combination of pace and spin, using Caddick at one end and Peter Such at the other.
But after conceding 17 runs in three overs Caddick was replaced by the slow left-arm of Phil Tufnell.
Neither spinner was able to exert much turn on the slow, low pitch and the Astle and Bell were largely untroubled.
Bell reached his 50 in the final over before lunch, pulling off-spinner Graeme Hick's first ball for four. He then struck him through the covers for four.
At lunch he had made 54, Astle 43 and their partnership was worth 76.
---
Murali signs off with super spell
Sri Lankan off-spinner Muttiah Muralitharan signed off for Lancashire with a seven for 39 haul against Derbyshire on Friday.
His effort took Lancashire to a 192-run win at Derby and lifted them into the to the top half of the English county championship.
Muralitharan had taken seven wickets in an innings — his match haul was 11 for 61 — four times previously and it boosted his tally of victims to 66 in six games.
Lancashire must now do without him for the rest of the season because he joins Sri Lanka for their Test series against Australia.
Derbyshire medium pacer Paul Aldred had an even better return — six for 83 and seven for 101 — but his team fell for 135 in the chase for 328 to win.
Leicestershire's pursuit of leaders Surrey was frustrated by bad weather at Leicester.
Surrey had beaten Glamorgan inside two days to take a 54- point advantage before second- placed Leicestershire even began their match against Warwickshire.
Leicestershire captured three for 69, only to be held up by Dominic Ostler with an unbeaten 83 and bad light as Warwickshire reached 214 for four.
Northamptonshire lost for the fourth time in five matches, crumbling against Somerset at Northamp- ton by an innings and 85 runs.
---
Front Page| News/Comment| Editorial/Opinion| Business| Plus | Mirror Magazine