---
All dressed up and nowhere to go
Hanging out in shopping malls seems to be the only form of entertainment for today's youngsters. Dilrukshi Handunetti reports
When you're a teen, life seems one big adventure. But is it really?
Life has changed dramatically over the past decade and so have the lifestyles, interests and attitudes of teens today. Here's a new generation of assertive teenagers bred on computers who love making their own decisions. And let's face it, their lives are somewhat cramped with school and tuition classes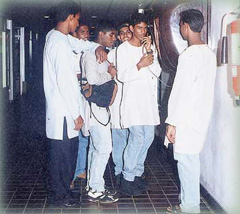 taking most of the day and absent professional parents having little time to spare for them.
So how can a teenager fill the empty hours with entertainment so curtailed and the security situation not doing much to improve the right to free movement.
To find out, we visited some of Colombo's most plush and populated places- the various plazas that have become popular haunts for the young.
At the entrance to the Kentucky Fried Chicken restaurant (KFC) at Majestic City, you are greeted by teenagers, wearing the skimpiest clothes (the occasional belly button on show), all funky and care-free. Here's a place where many youngsters hang out. And they obviously don't seem to be having any specific reason for being there except to socialize.
Thirteen-year-old Theruni attends a leading Colombo school, and at her young age she has no obligations such as tuition classes yet, except the weekly ballet lesson. Her parents return home from work around 7 p.m leaving her to amuse herself as best she can.
Having returned from abroad recently, Theruni finds Sri Lanka boring. Boring? Yes, to a youngster confined to the four walls of the house, six days a week with only the dog to play with and a servant to fuss over her, life IS boring.
"I have nothing to do after school. I play computer games and pet the puppy for a while. But then I get bored. The only option is to come to MC, LP (Liberty Plaza) or the Commons to share a cup of tea and hang out with my pals who have a similarly boring existence."
Dhanushka (22), a pretty girl with an aquiline face was leaving MC with her little sister, her arms loaded with parcels. She was actually there to shop, she said, and to give her little sister an outing.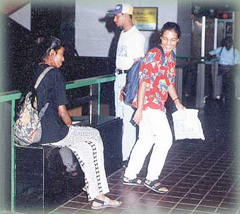 Outing to a shopping mall?
"Of course. I used to bicycle around when I was growing up, and go swimming alone. But my sister who is just 14 cannot do any of those things. There are perverts even at reputed pools, so my parents won't send her alone. And she cannot go out alone because of the security concerns," she explained.
And there were more than five youngsters agreeing with Dhanushka's views. Yes, there is a dearth of places to hang out, to just mix with friends and share a coke. And many suitable places to stroll or play have become 'threatened'- with the spillovers from the protracted war.
And there were more candid opinions expressed, mostly by the guys. Saradha, a 17 year old from a reputed international school admitted that like the girls (he emphasized that girls were not honest enough), the boys wanted to wear their best and flirt a bit with the swarm of females coming there.
"All the cranky jewellery, leather jackets and hot pants are for their benefit. We are not having affairs. But it gives us a kick to just flaunt a bit and enjoy their company," Saradha said.
Is this true? Yes, according to some of the girls who shyly admitted that they just like to dress up and attract the male eye. Hardly anything beyond that takes place.
Does this mean that the youngsters of this county have a poor social life? Yes and no. Some actually go out with friends or with parents to very sophisticated and adult parties. But the thrill of seeing 95% of their own age group in a relaxed atmosphere is not there, due to the lack of places to hang out.
It is indeed a sad admission. Thrivanka, dressed in a glittery evening blouse with the trademark tight black jeans- favourites among the teen brigade. An A/L student, her parents spend lavishly on her but she hardly has a social life.
"I buy the clothes I would love to wear for evenings and wear them here. What else can I do?" she said. But wouldn't she like to go elsewhere with friends,- perhaps to the theatre?
But who wants to go to the theatre on a weekly basis? Where else can we go, away from the parental eye, somewhere decent and safe with something to do? asked a 18 year Royalist who was looking for sports gear.
We asked some of the shop owners, who actually made most of the purchases at the malls? Definitely the house wives, they said.
The card shop owners however admitted that artificial roses, cards and soft toys were being largely bought by the youth.
" They aren't great shoppers. They window shop. They are mostly students with limited cash, but they pick out the most sensitive and romantic cards and gifts," disclosed a shop owner.
And the jewellers had similar experiences to share. Many girls would come and look at the jewellery in a bid to spend time there.
"Some fancy the chunky Indian costume jewellery, but not the expensive items. They just come in for amusement," said another.
Commented Mrs. Geethani Fernandopulle who was shopping- for veggies, gifts and other essentials, "These children are actually bored. They obviously lack amusement and things to do. When we were kids, our lives were more connected. We read books and had activities meant for children. We grew up with friends whom our parents approved of," she said, somewhat critical of the dress code and what she saw as the lack of focus evident in the young lives of today.
And how have these children changed? "There's little spirituality and the new generation is hardly into books, music and fine arts. Naturally they are bored. It is their over-exposure to the Western culture which has destroyed everything," she opined.
For the time being, when places specially designed for youth being a pipe dream- the various restaurants, theatres and the shopping malls have to suffice.
"We feel a lot secure knowing that our children go to these places, whatever their purpose for going to these places are. They have no theme parks or specific entertainment. They are still too young to be exposed to the sophisticated adult evening life. At least they are safe here," one mother said.
Nigel Gunesekera, a dentist felt that it was a nation's dilemma when the youngsters were no longer children and not adults- not adult enough to be exposed to the evening circuits of the more sophisticated adult world.
"Their socializing has to be more relaxed, less complicated and conversation oriented. It is actually a generation growing apart from their parents,' he noted.
What is actually lacking in the youngsters' lives? Minister of Youth Affairs, Sports and Samurdhi S.B. Dissanayake believes the answer lies in providing entertainment, recreation and places for neutral socializing.
"This was why I proposed lovers parks but the country revolted. But I believe more facilities for recreation and sports would develop character. And meeting places for people are a must." The minister explained that being a developing country, large allocations for projects geared for youth recreation and entertainment would be slow to come. "We've got some plans, I hope they work out. Initially, theatres and sports complexes are on the cards," he said.
So what can they do while growing up- caught between childhood and adulthood?
"It's a sad choice," noted a reputed counsellor attached to Sumithrayo.
"Even poorer countries invest in their younger generation, but not we. On the one hand we have drug addiction and sexually transmitted diseases on the increase. All these are bad social indicators. Something needs to be done, and fast. We should start investing in our youth."
---
Front Page| News/Comment| Editorial/Opinion| Business| Plus |Sports