Courage of a special kind
By Wathsala Mendis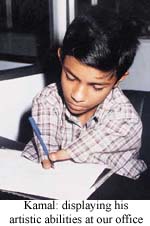 It was September 1985. The happy couple, so much in love, were awaiting the birth of their first child. Standing next to his wife lying there in the hospital bed, the proud father-to-be was smiling to himself. But when their little bundle of joy arrived, they looked at each other with anxious eyes, filled with questions about the future.
Fourteen-year-old Kamal Rathnayake was born with his arms malformed. A photographer by profession, his father did not have a steady income. Special medical attention was just a dream.
But the poor parents from the remote village of Kumbukkadawela in the Kurunegala district refused to quit, to resign themselves to their fate. They taught him, as best as they could, to read and write. They stood by him through the agonizing years while he learned to co-ordinate his movements.
When Kamal was of school-age they sent him to Kumbukkadawela Vidyalaya. It was hard work from day one. There were times when the mother had to wade through water carrying him to school when the area was flooded. Either the father or the mother had to be by his side every step of the way.
Their unconditional love definitely bore fruit. The grateful child caught up fast, excelling in his studies. In fact he did so well that he caught the attention of late President R. Premadasa who one day invited him to Sucharitha. The President was touched and amazed at his talent and granted Rs.100,000 then and there. Under his auspices Kamal made a moving speech at the SAARC summit in 1992 in both Sinhala and English in which he appealed to the delegates to look after disabled children in their countries.
Not long after, Kamal was accepted by Trinity College, Kandy. This was the major breakthrough his parents had been hoping for all along, wanting the best possible education for their son. True to his fighting spirit and much to the satisfaction of his well-wishers, Kamal continues to make the grade not only in his studies, but also in art, carrom and chess. He learns computer as a subject in school.
Last week when he visited The Sunday Times office, he managed to turn heads with his artistic ability. Given a pen and a piece of paper, he readily obliged us with a beautiful scene. It was heartening to see him hard at work, his head bent in earnest over the drawing, with the pen poised between his "hands."
What he needs is not sympathy but understanding, a helping hand to see him through his dreams. Asked as to what his plans for the future are, he raises his head, smiles his quiet, self-assured smile and says, "I want to be a lawyer."
Cheerful, bright and always looking ahead, this smart lad has never let anybody feel sorry for him. Rather, he inspires hope and courage and wins admiration wherever he goes. His limbs are deformed, but never his spirit. As the college motto says, this brave youngster will, no doubt, "look to the end".