Esala Poya falls on Wednesday
Men who know the bliss of solitude
By Upali Salgado
When I was ferried across the picturesque Dodanduwa - Ratgama lake in a fibreglass motorboat to the island hermitage, better known as "Polgasduwa", someone in the boat noticed that Bhikkhu Nanasanta, the boatman had an injured foot.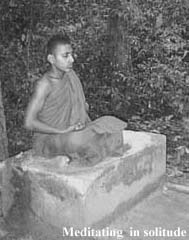 When a kind inquiry was made, as to what had happened he replied, "Oh, it is just an injury. Perhaps I had given an Arahant a nasty kick in my last birth." His words speak of the mental attitude of these Bhikkhus who spend hours in meditation.
Bhikkhu Nanasanta is one of the many foreign bhikkhus who has chosen this jungle island hermitage as his home. He was born in Austria, at the height of the second World War to parents who knew no religion, only what Adolf Hitler had drilled into their minds, - "The superiority of the Aryan German race, and to hate Jews." Dietfreid as he was then known, yearned to study philosophy. When he was in his early twenties, he had left home travelling alone for many moons on his lightweight push cycle, from Austria through Yugoslavia and dusty Africa through the deserts of Syria, Iran, Iraq, Kuwait and hilly Pakistan to mystic India. When in North India, he learnt of the rationality of Theravada Buddhism which was free of dogma, as taught by Sakyamuni Gotama Buddha. He knew this dharma would clear the dust from his eyes.
Finally, when he arrived in Colombo, he was told of Polgasduwa. Before long, the Ven. Gnanaloka Maha Thera had ordained him as a samanera (novice) bhikkhu. He is today, the librarian administrator bhikkhu of the hermitage, which falls under the spiritual control of the Most Ven. Madihe Panaseeha Mahanayake Thera, and Bhikku Siridhamma (a senior bhikkhu who resides at the Udawattakelle hermitage Kandy.)
Aston Walter Florous Gueth was born on February 9, 1887 at Weisaden, Germany. Gueth later went to India and Burma to study Theravada Buddhism. In 1903, he became a "Samanera" and was named Nyanathiloka. In 1904, the Ven. U. Kumara Maha Thera, a Burmese bhikkhu gave him his upasampada (higher ordination). When he came to Ceylon, Nyanathiloka Thera became a pupil under a British bhikkhu named Ananda Metteyya (in lay life Allan Bennett). He was the second Englishman known to become a Buddha-putra.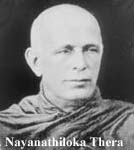 When Polgasduwa was gifted to the Maha Sangha in 1911, by Sir Ernest de Silva, he invited Ven. Nayanathiloka Thera to become the founder of the hermitage. The Thera lived there with several foreign and local bhikkus until his demise on May 28, 1957.
Several foreign bhikkhus have been associated with Polgasduwa, over the years. Some of them have been scholars. Ven. Kondanno was a German (lay name Bartel Banes), Ven Vappo; the well-known Tibetan monk - poet, Sandup Mahinda Thera (who wrote poetic literature in Sinhala to instil nationalism), Ven. N.R.M. Ehara of Burma, Ven. Nayanasiri; an Oxford educated English bhikkhu named Nanamoli Thera (formally Osborne Moore); an Englishman, the Ven. Gnanawimala, now about 93 years of age, and the German-born Jew, Ven. Gnanaponika Maha Thera, who passed away in 1994, whilst living at the Udawattakelle hermitage, Kandy.
Several Sri Lankan bhikkhus including Ven. Kheminda Maha Thera (now 94 years of age), who in lay life was a Christian named George Stanley Prelis of Kahawe; the Ven. Soma Maha Thera, who died about 20 years ago - (in lay life he was a devout Roman Catholic named Victor Pulle; the Ven. Siridhamma Maha Thera (a onetime lawyer of the Gampaha district) now about 80; the Ven. Anugoda Piyaratana Thera (one time administrator of the hermitage), Ven. Dharmapala Thera and Ven. Rakkita Thera who in lay life had been an auto engineer also came to Polgasduwa.
Life of a recluse
The hallmarks of ascetic virtues are austerity, frugality, discipline, simplicity and contentment. All recluses are "an island unto themselves" and know well the joys of solitude. To quote:- Psalms of the Brethren V: 351
"..... With bliss and rapture's flooding wave
This mortal frame will I suffice
Through hard and rough what I endure,
Yet, will I in the jungle dwell;
Here myself I'll excuse
The starting points of mindfulness
The Powers five, the Forces too
The factors of Enlightenment
So will I, in the jungle dwell."
At "Polgasduwa", there are about ten small "Kuttis" (low cost single roomed simple structures with no beds, no ceilings, no modern "flush toilets", but only bare pits to serve the purpose. There is no communication with the world outside though we live in an electronic age and no electricity.
These men in solitude, who think no evil, hear no evil, see no evil and speak no evil are truly Arahants in the making. They do not fear anything on earth. Their lives are perhaps lighter than the lightest feather known. They are sure of the path shown by the Great Master, and traverse in Samsara with head held high, and no Akusala Kamma shadowing behind them, on to their goal-Nirvana, which is unalloyed bliss. Nirvana, they know is there for all time. It is the only thing that never changes. It was not born, and will never die.