Lanka's equivalent of Queen Mother
Sirimavo Bandaranaike: Thirty nine years in politics
By Roshan Peiris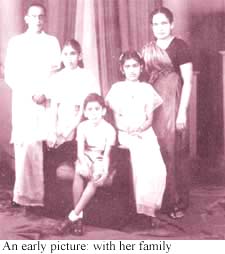 Thirty nine years ago, on July 21, life changed drastically not only for a simple woman in Horagolla but also for Sri Lanka whose destiny has irrefutably been entwined with that of the Bandaranaike family.
As Mrs. Sirimavo Ratwatte Dias Bandaranaike totted up 39 years in politics last Wednesday, having been sworn-in as Prime Minister in 1960, it was time to go down memory lane.
At two in the morning of that distant day, Ranji Senanayake and I both working on the Observer, were at Horagolla, when an astounded Mrs. Bandaranaike heard over the radio that she had become the world's first woman Prime Minister.
In mourning over S.W.R.D. Bandaranaike's assassination in September 1959, she was in white. Clad in a voile saree and blouse with no jewellery, she looked at her beloved husband's samadhi, with tears clouding her eyes, and said, "I am glad I have not let my husband down. I hope to carry out his policies through which he sought to raise the ordinary man from the mat to the chair."
Voice choking with unshed tears, Mrs. Bandaranaike then recalled the assassination of her husband at Rosmead Place. "A poignant memory I will never forget," she said.
Then came childhood reminiscences of her care-free life in her ancestral home in Balangoda. She had no ambitions to enter politics, only to marry, set up her own home and have children. "But Mrs. Clarice Gomes, a family friend read my palm and told my parents that I will have a very great impact on the country, like even becoming Prime Minister. My parents and I dismissed the prediction as a joke."
But today 39 years after she took over the mantle of Prime Minister, true to that prediction, Mrs. Bandaranaike remains Sri Lanka's equivalent of England's Queen Mother.
Though she came into politics as a novice, without any grooming, and took over the leadership of a demoralized Sri Lanka Freedom Party (SLFP), Mrs. Bandaranaike has proved to be an adroit politician. Becoming Prime Minister three times during her illustrious career, she has chalked up a record, unbeaten by any politician not only Sri Lanka but also in the world. She has been the first woman leader of the opposition and the only political leader in the world to be sworn-in as Prime Minister by her own daughter.
Mrs Bandaranaike has had a long and chequered career in politics and has displayed great courage and strength. The test of her indomitable courage came in the early 1970s when the Janatha Vimukthi Peramuna launched an insurrection to topple her democratically-elected government.
Mrs Bandaranaike was unfazed. She pleaded, as a mother, to the rebels to lay down arms, and overcame the crisis in the country. It was at that time then that the incorrigible Sir John Kotalawela observed that she was "the only man in the cabinet".
Politically, the harshest blow came in the eighties when she was deprived of her civic rights by the then United National Party government headed by President J.R. Jayewardene.
But she carried on regardless and when lesser men and women groaned and moaned in political agony, she remained cheerful in the belief, "This will also pass", as it did.
She made her impact in world politics when she became the first woman chairperson of the 5th Non-Aligned Conference on August 4, 1976. She maintained friendly relations with neighbouring India by settling the Kachchativu problem and signing the Sirima-Shastri Pact on the repatriation of Tamils of Indian origin.
Today, the grand dame of Sri Lankan politics can look back with pride on her many achievements. Though confined to a wheel chair like Franklin Roosevelt, she remains an important factor in politics. Many politicians, both in the government and the opposition, still rely on her for advice in times of crisis.
Power and recognition by kings, queens and world statesmen have not made her lose her common touch. Mrs. Bandaranaike receives the poor and the humble with equal courtesy as the 'greats' when they visit her Rosmead Place home.