Windsurfing in cool climes
By Channaka de Silva
Windsurfing is one of the most popular sports around the world but surprisingly it is yet to become a hit among Sri Lankans despite the country being ideal for the sport. A recently formed club - The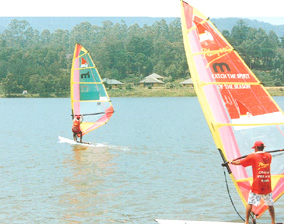 Colombo Windsurf Club, has set down popularising the game in the country as their main objective.
Formed last year, they were mainly involved with the C Beach rugby tournament but last month moved out of Colombo to have their maiden major experiment. The location was Nuwara Eliya where temperatures and the conditions suited ideally for the sport. "The set-up reminded us of international competitions. The water was a bit cold. But so is it in European countries. But the wind was superb and it helped us to have a fantastic tournament" said Shehan Aponso, who organised the meet for the Colombo Windsurf Club.
It was after nearly ten years that Lake Gregory hosted a Windsurf race and it was only the second time that Windsurfing was held there. Aponso described the lake as perfect for competition and said more events should be organised there in order to make people aware.
"Windsurfing is an Olympic sport. But unfortunately Sri Lankans have failed to get the true value of the sport." Aponso said.
The idea to have an event at Lake Gregory stemmed from the Club as Colombo folk headed to the hills for the Nuwara Eliya holiday season. They got in touch with the Ceylon Tobacco, who were doing some other promotion work also there at the time and they got just the right response.
The John Player windsurfing championships was competed by 15 of the best surfers from the Colombo Windsurfing Club and was won by Mahesh Seneviratne.
With the winds gusting at an ideal 30 kilometres per hour on April 14th, two races were worked off over a distance of one and a half kilometres. Twelve competitors sailed on these first day's races on Olympic One design race boards. The next three races of the best-of-five races were held on the following day.
Aponso who acts as the Race co-ordinator for the club emerged second behind Seneviratne while M.R. Karunasena finished third.
In addition to the windsurfing races, kayak races were held on both days. Kayak races which were relatively more popular in the area were competed by a large number of locals who took up the challenge. On the first day, there were four kayak races while on the second day they had two races. After the six races, Guhashanka emerged as the overall winner while Bert came in as second. Asitha Tennekoon was the third. The ladies kayak race was clinched by Noala while Manolie Kroon was the runner up ahead of Priyangani who came third.
Although the weather was a bit cold and the competitors had to perform under chilly conditions in their wet suits, camaraderie and the friendly spirit ensured a warm highly successful event. The daytime adventures were followed by singing and merrymaking in the night by the side of a bonfire by the competitors and it continued well past midnight.
The success of the event has prompted the organisers to have it as an open event from next year. "We hope to have our next outing in Nuwara Eliya in August during what they call the Mini Season. We will definitely make it an Open event, provided we get the necessary support from the sponsors." Aponso said.
The first event they had recently was held rather on an exploratory basis and all the competitors were provided with food, lodging and all facilities. Aponso says that it was one reason why they could not have the event as an Open event. "All the people who are involved in windsurfing in the country are from Negombo, Colombo or Bentota. So obviously you have to provide them with facilities to stay in Nuwara Eliya during the season". Aponso said. According to him, even if they make it an open event they will have to provide facilities to the competitors.
Having seen a good competition the level of which Aponso termed "Reasonable", Colombo Windsurfing Club have already discussed plans for their Open event in August.
The club was born last year when Carlsberg C Beach Rugby Carnival was looking for a partner to conduct windsurfing events at their events. They had three windsurfing events which were fairly successful.
Colombo Windsurfing Club is the second club to come on the scene after the Bentota based Board Sailing and Windsurfing Club which was in existence since 1996. Both these clubs are attached to the Yachting Association of Sri Lanka. There is also a separate organisation called Windsurfing Association of Sri Lanka.
As Aponso revealed, Sri Lanka's Windsurfing standards are yet to reach at least the Asian standards, leave alone the international level. According to him regular participation in the regional level competitions to get an Asian ranking would be the first step in moving into the world scene. But before that, local competitions will have to be regularised which is still difficult under the circumstances with no proper organisation to handle organisation.
At the moment, it is clubs which are handling the responsibility of conducting events. The sport which has so much potential as a foreign exchange earner just as well as a top fun sport is in search of conditions for smooth sailing.
---
This is not the time for personal vendetta
It is sad Sri Lanka is on a downhill spiral at the present. Still things could change for the better if the authorities can build up some strategy at the World Cup.
It is daft to call for Arjuna's head at this time; who on earth can fill his shoes at this juncture; Aravinda / Sanath / Thillekaratne ? This is not the time for personal vendetta; but patriotism. Above all do not forget that he holds his place in the batting line on merit; he can still play a marvellous captain's innings others would dream of. He has his downside; but for cricket's sake he should be given all the support and encouragement that he desires for.
One key fault that stands out recently from his captaincy is his persistence with a defensive field irrespective of the situation in the match. A good example that comes to my mind is against England in Adelaide when they were down with four wickets for meagre thirty odd runs and the new bat, Crawley came in, Ranatunge persisted with the same defensive field as before. Even though our bowling is not the best, it is always important to apply the psychological pressure on new batsmen at the expense of potential runs. Ranatunga looked very inept at that time without having been able to master the situation. Ranatunga should strive to use more attacking fields in similar situations at the World Cup.
Sri Lanka seem to depend solely on the brilliance and skills of their batsmen all the time. Though the dearth of good seamers is a contributing factor, what stands out most are the lack of tactical approach and modernisation of the game to the present. SL were found sheepishly wanting in their fielding to modern standard not having known the modern art of back throwing etc. in Australia. We were labelled here as a country still playing the old cricket! The captain should be armed with all necessary knowledge regarding the World Cup grounds. When Ranatunga opened bowling attack with the two left arm seamers, Vaas and Ruchira, at both ends in Australia, he clearly showed his lack of knowledge in the direction of wind at the particular ground as Ruchira would have benefited much from the wind had he come after Vaas's spell from the same end. SL look very far behind in these tactics and strategical approach. It is sad Botham has distanced away from the SL cause but we have to get the best experts in UK to acclimatise our team to the different grounds in UK. It may be all right for us to stick with the format of explosive batting right from the beginning which served us very well, but the cricket pundits here talk so much that bouncy, wet UK wickets are not going to help that cause. They remind us without hesitation that the Oval Test win was achieved not in May or June but in August when the climate was similar to Colombo. They have a valuable point. Having Aravinda is a very good advantage in this context but as far as I can remember he too had a bad patch during these months during his stint here. The pathetic display by our batsmen on a bouncy wicket in Adelaide gives ample evidence what would confront our batsmen in May & June in UK. The UK pundits advocate the initial slow build up when the wicket is wet and the onslaught to begin from the 40 overs. In any case I think we should also explore this strategy and while sticking to our tested formula with explosion, groom Avishka -S.Senanayake, (Newcastle, UK).
---
Chang means business
By Ravi Nagahawatte
He commands authority in the field. Wearing the now familiar white shorts and green jersey, whistle in mouth, senior rugby referee S.W.Chang knows that he is in control.
He is naturally friendly, sports a smile which gives the impression that he does care. However that smile vanishes and a frown appears in all its seriousness when he blows for something serious.
His strong Caucasian features have often left people wondering as to what nationality he belongs to.
According to Chang it is on foreign soil that people really find it difficult to believe his nationality.
"When they announce my name and say that I am from Sri Lanka , many begin to wonder what the heck is happening," says Chang.
Chang wants everyone to know that he is Sri Lankan and nothing else. He makes it a point to correct those who mistake his nationality. He does not let any wrong notion continue for long. In a conversation he always 'acts' fast to make them aware that he is Chang from Sri Lanka and no other country.
Speaking of his special features one wonders whether it helps to gain the respect of players. Chang, however, does not think so.
Delving into his childhood one finds that he had been away from his parents for most of his school career.
As Chang recalls he had his first six years of schooling at Isipatana before his parents put him to Trinity.
"My parents found it hard to take me to Trinity because I always rejected boarding life. I loved to play rugby and my parents knew it. So they sent me one day for practices at Isipatana and said that if I wanted to continue rugby I had to go to Trinity. I had no choice," said Chang who added that rugby was the bait that was used by his parents to send him to Trinity.
Asked why his parents were so eager to send him to Trinity, "The Chinese community here usually send their children to Trinity or Carey. I think that was the main reason," reflected Chang.
Despite being a prop forward in school Chang had weighed just 124 pounds. However he had held his own against bigger made front row forwards during his school career.
He had captained his school's Under 17 team in the Bradby, a fixture which reminds him of a humorous incident.
"We had this substitute player named Nihal Gunawardana who kept all our wristwatches with him. He wore the watches on both arms. Suddenly the need arose for him to come into the game and he entered the field without removing them. Gunawardana then happened to go for a try. All of us, including myself, did not want him to score fearing that he may damage the watches."
Chang says that he was never an outstanding player. But that knack for refereeing had been there even at school. "I used to referee house matches and also coached the juniors."
However, he recalls the start to his official refereeing career had been way back in 1982 when an opportunity arose to blow at a school fixture at Havelock Park.
"This opportunity was given to me by Lal Kumarasinghe. From there I went on to control club matches and officiated my first A division fixture at the age of 23."
Chang is hawk-eyed on the field. However when things are difficult to be spotted by the naked eye, he puts his brain cells to work , just like a student would solve a brain tweezing math's problem.
"Once in a match where CH and FC took on Petersons, the CH players had the ball in a steady ruck .The next moment I saw that the ball was with the Petersons forwards. I did not have to think. I blew for using hands," said Chang.
Elaborating on the incident he brings in a theory of studying a picture. Take a drawing for an example. If you study it carefully you can spot all the lines and figures. If you come the next day and see a new line drawn, you sense that something is wrong. It is the same on the field."
As a referee who is always in 'business' Chang is aware of how important it is to prepare for a game. However he says that there are off days as referee. "There is nothing you can do on days like this. I think this happens to me when I break rest the day before a match or travel too much. Generally it is the referee who is taken to task more than the players".
Even today he continues to get the respect he earned from the players. He does not thrive on this or expect this kind of attention.
But one thing is sure, his presence in the middle gives a picture of confidence that everything is OK.
---
Rugby reminiscences
By S. Sivendran
In 1961 the Police were permitted to play in the Clifford Cup Tournament by the Rugby Union and I was transferred from Mount Lavinia to Colombo Division on 1.1.61 and was attached to the Maradana Police Station enabling me to attend practices at Police Park. Then we had to play rugger and at the same time perform our normal police duties.
Maradana during those days was a den of vice with prostitutes both male and female haunting Junction Bridge by day and night. The queen of the prostitutes was called "Uda Balung" which meant 'looking up' due to her profession and she dominated the area. There was also Queens Hotel adjoining Elphinstone Theatre, Letchumi's Joint at Pitchai's Lane and the shanties along Drieberg's Avenue which were infested with pimps and prostitutes.
Illicit hooch dens were run by Seeni Malli at Darley Road. Avondale Jamis at Avondale Road and Ariyawathie, a beautiful buxom woman at Mariyakade who was given protection in typical "Mafia'' style by underworld "chandiyas" such as brothers - Harry and Justin Herman, "Madavi" Somapala and 'Choppe' Dharmadasa, who all later met with violent deaths.
Colombo Division, then had some outstanding police officers. Senior Supdt. of Police-In-Charge of Colombo was Stanley Senanayake, after a long stint at the Police Training School as Director. ASP-In-Charge of Colombo South was Rudra Rajasingham, a smart young handsome officer from Trinity College Kandy where he played good rugby and cricket and was a fine horseman, who later went onto become the Inspector General of Police and President of the CR & FC and then as Ambassador in Indonesia and today a member of the Permanent Bribery Commission. ASP Colombo Central was S.O.L. Goonatileke an Old Thomian and an outstanding hockey and cricket player. ASP. Colombo North was R.A. Stork, an Old Peterite who excelled in putt shot and discuss. ASP Colombo Harbour was R.E.C. Vanderwall, a popular officer who also looked after Colombo North. ASP Colombo East was N.G.C. Seneviratne, popularly called "Puvi" who went onto become Director of Police Training and then a D.I.G. A.S.P. Traffic was Bede Johnpillai a dark, tall and smart officer who was a good cricketer and whose sons Bede Jr. and Kanthi played cricket and rugger for St. Joseph's College. Kanthi who later played for S.S.C. in the 'Sara' Trophy tournament was a hard hitting batsman.
OIC Maradana then was Inspector G.S. Perera, a dedicated police officer who rose from the ranks and who was later promoted A.S.P. OIC administration was Inspector Karunanayake who always thought that he knew everything in the Police and earned the nickname "Loketa Lokka". There was Inspector R.R. William, a man for all seasons and a thorough sport both on the sports field as a soccer and rugger player and in his police duties, whose son Gerard Ignatius is today the Snr. Supdt. of Police-In-Charge of Colombo North and his younger son Sarath Mahinda an A.S.P. in the Special Task Force who was killed in the May Day bomb blast at Armour Street along with President Premadasa in 1993.
After having served at Maradana for a few months I was transferred to Borella as Officer-In-Charge of Traffic where one of my primary duties was to read the obituary notice daily in the morning papers as all the funerals at Kanatte General Cemetery for which traffic arrangements had to be made. OIC Borella was Inspector Azeez and the others included Sub Inspectors Roy Klyne, T.V. Sumanasekara and I.T. Canagaratnam.
During this period there was the American Small Industries Exhibition at Campbell Park, open daily from 4.00 pm to 10.00 pm and I as OIC Traffic was fully involved with the organisers. Fritz Bermner who was the director of this Exhibition became my good friend along with Lou Brockmeyer of the American Embassy, who too was involved in the Exhibition.
Thousands thronged to see the Exhibition daily and also to taste the American 'doughnut' which was avilable for the first time in Sri Lanka, which was baked at the Exhibition grounds and given free to the crowds. There was also the "Circarama" - a circular cinema which as you enter, the screen is all round you and makes you feel that you are being driven through the American cities in a car, which was a crowd puller.
At the end of the Exhibition we would end up at Lou Brockmeyer's residence at Horton Place for drinks and dinner and thereafter to "Tropicana" the posh night club of the great impressario Mubarak Thaha at Horton Place where the "Bomb Busters",- a Cabaret from America performed at which a nattily dressed Coloured American Tap Dancer accompanied by a nude white girl with only her vital parts covered by feathers and sequins, danced with him in the Parisian Follies style to the delight of the elite crowd of Colombo who patronised this show till late in the nights.
The year 1961 saw the Police emerging as one of the strongest contenders for the Clifford Cup with their splendid performance against the senior clubs such as CR&FC, CH&FC, Havelocks and the Upcountry Clubs. The match against the reigning Clifford Cup champs CH&FC at Racecourse turned out to be a thriller and Police shocked the local rubgy world with a 3-all draw. After the gruelling game I was asked to stay for drinks and dinner by my good friend Jeremy Cowley, the CH&FC centre and Keith Anderson, the hard running winger. Brute Mahendran and Mike Shockman from the police team too stayed back with me.
Whilst we were enjoying our drinks spiced with rugby jokes and songs with several other CH players who too joined our fun and laughter, in walked a beautiful British girl with a glass of gin and tonic and joined in the fun and song.
I was in my early twenties and never ran short of humour, when the young damsel who was a visitor to Sri Lanka and was staying at the YWCA Foreign Section wanted to know who I was and where I worked. When told that I work at the Borella Police she wanted to know what was interesting at Borella. I told her that people are born and buried at Borella. She was surprised as I told her that two of the leading maternity hospitals the De Soysa Maternity Home and the Castle Street Maternity Home are in Borella where children are born and the General Cemetery at Kanatte too is in Borella where the dead are buried. I also told her that there is Welikada Prison, in Borella for those who become bad between birth and death. She who was by now in high spirits was enchanted by my revelations and requested me to take her and show these places immediately for which I agreed. But ''Brute'' Mahendran my A.S.P. and team mate advised her that it was too late and too dangerous to go out with me at that time of the night and dampened her enthusiasm amidst her protests. I said within myself "Et Tu Brute".
But later in the night whilst we were all dining at the Modern Chinese Cafe at Havelock Road she took my telephone number and contacted me during the next few days and I was able to show her Borella and more of Colombo before she left the shores of Sri Lanka.
---
World Cup playing conditions
There will be two reserve days for the final and one reserve day for the league and Super 6 matches of the World Cup VII to be played in England from May 14 to June 20. According to the playing conditions framed by the England and Wales Cricket Board (WCB), the reserve days - should the need arise - will be used to complete a match and not for a replay. Two points will be awarded to the winning team and one each should the match end in a tie. Three teams from each group (there are two groups) will advance into the Super 6 stage, the teams being placed according to the points earned in the league phase. Teams which qualify for this phase will carry forward the points to the Super 6, but only the points won against the teams which qualifies for the second stage.
Four teams will qualify for the semi-finals with the group topper playing the fourth placed team in the first semi-final and the second and third placed teams playing the second. Should the semi-final end in a tie or no result, the team that finished higher at the end of the Super 6 will qualify for the final. The finalists will share the World Cup in the event of the final not producing a result after three days or ends in a tie.
A three-man technical committee, appointed by the ICC, will adjudicate on (1) any match-related dispute regarding the interpretation of playing conditions (other than that which is the responsibility of the umpires and Referee) and (2) any request by the competin team for a replacement. In the rain-affected matches a fresh target will be arrived at applying the Duckworth-Lewis method, which is followed in New Zealand, Zimbabwe and England. "We have told the ICC that we should not be in the picture when a match is interrupted by rain and fresh targets are to be set. It's all computer programmed and has to be dealt with by separate people. "We have a meeting in London on May 5," said an umpire who was one of the match officials in the Coca-Cola tri-series in Sharjah.
- Special Correspondent
---
Prince of the track says "I do"
By Channaka de Silva
Aravinda Premadasa has broken many records and won many hearts. But changing roles very soon, the handsome youngster is going to break many hearts. Seen by experts as Sri Lanka's best bet for future glory in motor racing at international level, Premadasa will say "I do" on September 12 to his fiancée Anushka Jayasinghe.
It has been no secret that the young Premadasa, son of an equally famous racing driver Suranjith, was a top attraction at Motor Races not only because of his dare-devilry behind the wheel but also for his charming looks. "It has been sort of a nuisance. Whenever he wins a race, proposals start pouring in. The fellow is hardly twenty" his father told "Sunday Times" not in the distant past.
At 20, Aravinda got engaged on March 11, to his 19 year old girl friend for seven years and will fly to England later this year with his wife for higher studies in Printing which has been their family business.
Thirteen is quite a young age to find the life's partner but Aravinda hardly had any obstacles to his dream. "We are family friends. Her father is one of the best friends of my father. I couldn't exactly say that we had major problems" Aravinda told "Sunday Times". The two met for the first time in Singapore when Aravinda visited there for his first international competition. Anushka's family had been domiciled in Singapore that time as her father was engaged in business there.
Attending Royal College, Aravinda began to hold a steering wheel of a real car at the age the other kids were driving toy cars. The most influential figure on him obviously was his champion father who did not reserve any thoughts in introducing Aravinda to the wheel. Then, at the age of seven Aravinda took part in his first competitive event - a Go Kart novices event which he won. From then onwards, it was the position that he took the chequered flag most, in all types of races that he took part. Soon after his first victory, he emerged the Junior Go Kart champion of the country but unfortunately was knocked out by a strange conspiracy.
Just after one year in competitive racing, the Motoring Clubs introduced a new rule to say that all competitors must be over the age of ten - a rule which seemed very obviously aimed at disabling Aravinda. This rule was introduced despite the events going on smoothly without any major accidents.
However, Aravinda played the waiting game well, and came back to the scene just as he completed ten years. He began dominating the scene and before long was challenging the best in the country on the Go Kart circuit. In Singapore on his first tour, he emerged sixth out of 22 in the intermediate class event making a big impact.
He continued his winning streak and went to Dubai to take part in the Karting championships when he was 15. He was not selected to the Sri Lanka team as he was still under the required age, but he competed as an independent driver and finished fourth while Sri Lanka's Yoga Perera finished second. Next year, Aravinda went to England to follow the advanced course at Jim Russell racing School, England's number one institute. Aravinda followed the ten day course with missionary zeal and capped it off with a superb victory in the final race of the course in which 40 drivers from all over the world took part. This victory at the famous Don-ington Park earned him a special reckoning at the Jim Russell school which appointed him as the local agent for the school.
He remained in England for another year competing in the Formula Vauxhall circuit and emerged third among the juniors at the end of the season.
While taking part in the English circuit, Aravinda obtained the International Formula III license at the age of 16.
Once he came back to Sri Lanka, he bought a Subaru Impreza with which he was to re-write record books. And with that, another conspicuous thing happened. Aravinda moved out of the Formula circuit of the country in a move which shocked the fans.
" I don't like to talk about it. There were so many unsavoury things happening and some characters I had to compete with induced my decision." said Aravinda on his bitter experience at the highest level of Motor racing.
He was to almost give up his formula career. "My two formula cars are lying in the garage at home" he said with a rueful smile. But he is still willing to take part in the future, if circumstances change. "I will definitely compete in England once I go there next year."he said with determination.
His condition on coming back to the Formula scene is more driver discipline. "Discipline is what driving is all about. Mostly what I learnt at the Jim Russell school was discipline. This, you can see helps to make better drivers on road as well. If all drivers on road were competition drivers with proper training, roads in Sri Lanka would be a much more pleasant place." he said. He had been able to make such an impression in England that Jim Russell has chosen him for the Racing Team which represents the institution at competitions around the world.
Last year Aravinda was invited to Sweden to represent Jim Russell school at an international meet and he finished second having competed with drivers from around the world. He also received an invitation to take part in the Malaysian championships last year which was unfortunately cancelled.
Today he holds many course records in Sri Lanka, and is thankful to his engineer Mahesh Perera for modifying the car to make it a machine suited exactly to his demands. Sponsors like Caltex, Mobitel, Eureka, Havoline and Captiol have also provided him strength to fight.
As his father was into racing, Aravinda had no difficulty in convincing that he should be staking his life in probably the most dangerous sport. His mother had been an inspiration, but recently things changed a bit.
At the Fox Hill race last year, life's most unforgettable experience almost ended Aravinda's life and since then the mother has not been so positive as Aravinda says. The experience was harrowing. Small stones on the track which hit the petrol tank had made it leak and the petrol which dripped on to the exhaust had made the rear part of the car a fireball. The worst part was that, Aravinda did not know it. He went two more laps like that before the marshalls eventually managed to stop him. Still he could not get out as the doors were sealed from outside. Another few minutes and the petrol tank could have caught fire which would have led to the whole car being engulfed by fire or blown to pieces like a bomb. The failure of the marshalls to stop the car still remains as one of the darkest moments of racing in the country.
Aravinda can't say what exactly Anushka's choice on racing would be, given the chance, but he knows he can convince her and win the confidence, something which he managed successfully as early as at the age of 13.
---
In brief...
Rizwi Zain
It was a moment of gloom, when I heard of the death of my brother Rizwi Zain, the national swimming instructor of Sri Lanka.
It is difficult to imagine or believe. His untimely death is a tremendous loss, especially when there is a dearth of instructors of his calibre in the country.
He had an illustrious career as a swimming instructor spanning almost 30 years. Rizwi is no more but his memory will linger in the hearts of those whom he served for sometime to come.
He was one of the few who had the courage to call a spade a spade and did not yield to unreasonable demands and vehemently disliked doing anything improper. His behaviour was not designed to propel him to great heights, even though he did achieve them which he richly deserved. People seek high office because it adorns them but in the case of Rizwi he adorned the high offices. What he earned was not mansions but the reputation and admiration of all those who worked with him. His honesty and integrity have been beyond question.
Our Lady of Victories walk
The annual walk of the Our Lady of Victories Convent, Moratuwa will take place on May 22. The event organised by the school development society will commence from the school premises at 8 a.m.
All funds raised through the walk will be in aid of the school gymnasium project. Past and present pupils, teachers, parents and well-wishers are expected to participate in the walk.
For further details contact the Principal Rev. Sr. Chamaline Perera (649340/645445) or Secretary Mrs. Nilamani de Mel (645956).
Mercantile six-a-side
Union Assurance will be sponsoring the Mercantile six-a-side Cricket Tournament for the 5th consecutive year on May 8 and 9. This was earlier postponed due to bad weather conditions experienced.
AFC Licence Course
The first Asian Football Congress "C'' Licence Course will be held from May 2 to 15 at the Sports Ministry Auditorium, Reid Avenue, Colombo 7.
Mr. Ichiro Fujita AFC Instructor of the Japanese Football Association will be the Course Director.
Following are the selected candidates to follow the course: D.G.N. Madurawela, K.M. Sampath Perera, I.P. Jayatilleke, M.S.M. Faiz, M. Farook, H.M. Dammika Wasantha, H.J.N. Peiris, S.K. Nanayakkara, U.L. Thusara Sampath, M.B. Farook, S.D.J.Silva, K.B. Hector Silva, N.P. Nandasiri Perera, P.G.P. Peiris, R.T. Alponso, Lt. S. Pathmanadan, M.I.M. Ameer Ali, M.R. Ahamed Anwer, C.P. Wanigasuriya, C.A. Purasotham, T.R. Dole and J.G.C. Wickremasinghe.
Mr. V. Manilal Fernando President of the Football Federation of Sri Lanka will declare open the Course on May 2 at 10.00 a.m.
Golf Monthly Medal
The Connaissance de Ceylan Group of Companies will be sponsoring the Golf Monthly Medal tournament on May 8, 1999 for the 4th successive year.
S-Lon Tour De Ratnapura
The S-Lon Tour De Ratnapura will take place on May 16 in Ratnapura. The event is sponsored by S-Lon Lanka (Private) Ltd., for the third successive year and will be conducted by the District Cycling Association of Ratnapura.
This will be an open event only for racing machines. The winner will be awarded the S-Lon Challenge trophy, while cash prizes will be awarded to the winners to the value of rupees seventy thousand, from the 1st to the 20th, along with certificates.
Route: Starting opposite Town Hall Ratnapura, proceeding to Avissawella - turning-back from Avissawella - back on the same route via-Ratnapura - Pelmadulla - Balangoda - turning from Balangoda - Clock Tower - back on the same route to Ratnapura - covering 112 miles. This route is covered with hills, downs, flat on which the rider could show his skill and ability.
Entries: All entries have been sent individually to all racing cyclists, including Clubs and Forces. All competitors should report to the District Cycling Association, Ratnapura Office, No.26 1/1, Church Road, Ratnapura on the previous day, the 15.05.99, for registration and to obtain their numbers. No Registration or, issuing of numbers will be done on the race day, 16.05.99.
Start: At 07.30. a.m. - Opposite Town Hall - Ratnapura 16.05.99.
Hewage as NCC President
Leslie Hewage was elected President of Nondescripts Cricket Club (NCC) at its annual general meeting.
Following are the others elected to hold office for the ensuing year.
Patron - Vernon Prins; Vice Patrons - Harold De Andrado, Roy Abeysekara, Carl Obeysekera; President - Leslie Hewage; Vice Presidents - Ranjith Fernando, Nimal Ranchigoda, Elmo P.J. De Silva; Secretary - Lionel Gunasekera; Asst. Secretary - Kumar Fernando; Treasurer - Chamath Kulasinghe; Asst. Treasurer - Rohan Fernando; Bar Secretary - Marlon Ranasinghe; Asst. Bar Secretary - Lal Gunadasa; Pavilion Secretary - Paul Fonseka; Ground Secretary - Asoka De Silva; Cricket Secretary - D. Tillekeratne; Tennis Secretary - Ransiri Mendis; Billiards Secretary - Ranjan Paiva; Hockey Secretary - Fazil Dole; Committee Members - Chanaka De Silva, John Rajapakse, Sam De Silva.