---
LTTE covert operations uncovered
By The Sunday Times Defence Correspondent
The chance arrest of a close confidante of LTTE intelligence boss Pottu Amman, is helping police unravel hitherto little known details about terrorist undercover operations in the city.
The latest is how the owner of a video parlour in Wattala made frequent trips to Singapore with an LTTE shopping list that covered satellite telephones, Global Positioning Systems and other sophisticated gadgetry. From Colombo, some local Red Cross employees allegedly helped smuggle them into LTTE dominated areas, investigations have revealed.
Detectives of the Terrorism Investigation Division (TID) raided a Wattala safe house last Tuesday and discovered two satellite telephone sets and other electronic equipment. Also found was a pair of crutches which was meant for use by LTTE's Political Wing leader, Thamil Chelvam. They were awaiting to be smuggled to LTTE dominated Wanni.
The breakthrough came after the arrest of Kamalendran Kumaraswamy, owner of Golden Video at Hendala. He was first arrested by Military Intelligence personnel, interrogated and later handed over to the TID. His revelations have led to the arrest of Sivanathan Kishore, the Wanni Co-ordinator of the Sri Lanka Red Cross.
These findings were the direct outcome of investigations triggered off after an abortive LTTE attempt to kill Chief Inspector Mohamed Nilabdeen, head of the Counter-terrorism Unit of the Mount Lavinia Police on March 16. In this incident, a female suicide bomber, Mathi Adivai Queen Mary alias Mary Quida (from Vankalai near Mannar) was killed. Her accomplice, Peethambaram alias Seelan, swallowed a cyanide capsule after grappling with a policeman. He died on the spot.
Investigations led the Police to a lodge in Wattala where the two terrorists had lived. They questioned a cook at Universal Lodge where the duo stayed and obtained descriptions of their regular visitors. One of the men whom they were on the lookout for was arrested by the Wattala Police. TID took charge of him thereafter.
He was identified as Gnanaprahasan Anthony Thavachelvam alias Anthony Master, an intelligence cadre who was working directly under Pottu Amman. In 1998 Pottu Amman assigned a special task to Anthony Master. He was first asked to train two other cadres at an LTTE camp at Mallavi. The two were identified as Vylavan and Weerasingham. The duo found their way into the City. Anthony Master arrived in Tamil Nadu as a refugee, later produced false documents to the Sri Lanka Deputy High Commissioner's office in Madras and obtained an E-Certificate - a travel document to return to Colombo.
Having returned to Colombo, he maintained regular contact with both Vylavan and Weerasingham. Anthony Master reported to Pottu Amman by telephoning a contact in London. The man in UK passed over messages to Pottu Amman via a satellite phone somewhere in the Wanni and passed down instructions to Anthony Master.
It has now transpired that Anthony Master had repeatedly fought with Weerasingham. This was after he and Vylavan were unable to obtain from Weerasingham a quantity of explosives. They were meant for use on certain targets. After being taken into custody, Weerasingham told TID detectives he did not want to keep the explosives (and other items including a revolver) in his possession. He had therefore thrown them in the Hamilton Canal in Hendala. TID detectives searched the canal and recovered the items.
How did the explosives reach Weerasingham ? Detectives who earlier suspected it was smuggled in a train from Puttalam to Colombo have now found the correct answer. It was allegedly smuggled into the City by Arumugam Navaratnarajah alias Canada, a businessman in Mannar. He has already been taken into custody and has bared details of how he moved the explosives. He has claimed that after he did not oblige the LTTE for several weeks, he was summoned to an LTTE office at Mallavi and warned by none other than Anthony Master. He was ordered to ensure that the explosives were delivered to Weerasingham.
According to Navaratnarajah, the explosives were first smuggled from Mannar to Vavuniya. For that purpose, he had befriended a Policeman from the south and paid him Rs 10,000. Constable Kodituwakku, who was later shot dead by an LTTE pistol gang, had concealed the explosives with dry fish and carried it in a motor cycle to Pavatkulam. From there, it came to Colombo on a private bus. After all passengers disembarked, the driver and the conductor travelled in the same bus to Wattala to hand over the explosives to Weerasingham.
Navaratnarajah had also confessed that he brought the explosives that were used in the abortive attempt to blast the Kelanitissa power station. He has said he concealed the stock in a secret compartment where tools were placed, right below the driver's seat in his own lorry. He drove via Mihintale and Dambulla to Negombo, where they were handed over to one Kandasamy.
TID sources say they plan to make a few more arrests in the coming week but declined to divulge details.
---
Tusk hunters hunted
By Sunny Samarasinghe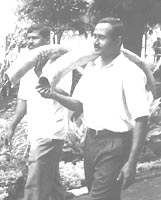 Policemen posing as buyers of highly expensive elephant tusks have busted a major racket in the jungles of Kekirawa.
Two valuable tusks hidden in a jungle in Kekirawa, were seized and three suspects arrested in this operation..
The posse of policemen had acted as buyers of the tusks, and offered Rs. 90,000 to the prospective sellers. After posing off as buyers, the police team arrested the men. A T56 too was found buried and on investigation the suspects had said that it belonged to an Army deserter, who is also wanted in this case.The tusks weighed 19 kilos and according to Wild Life Director Nandana Atapattu, the tusks are worth Rs. 400,000.
---
Hundreds of youth take oath for peace
Hundreds of youth from all parts of the country, including the north and east, gathered in Colombo for a peace festival on Thursday and made a commitment they would carry on the campaign until the voice of the silent peaceful majority is heard loud and clear.
Prelates representing all major religions were also at the Viharamahadevi Park in large numbers to join the youth in the crusade to bring about an end to the war and restore peace through an acceptance of and respect for the principle of unity in diversity.
Youths representing almost all the provinces took part in the peace festival which celebrated the first anniversary of an inter-cultural youth exchange programme that brought about a dialogue between youth of all races and religion.
Youths from Anuradhapura, Polonnaruwa and Nuwara Eliya were joined by youths from the troubled areas of Batticaloa, Welikanda, Trincomalee and Jaffna in the festival of music, song, dance and drama -- all emphasising the need to accept and respect each other's religion, language, culture and tradition.
The group behind the emerging youth crusade for peace is the Centre for Society and Religion.
Speaking on behalf of the CSR, the veteran social justice crusader Fr. Tissa Balasuriya said: "We need a mighty voice to end this war. There is a silent voice from the majority of the people in this country. So we must turn that silent voice into a loud cry. This cannot be done only by political parties or by religions. Al the people of the country, especially the youth must come forward and take a stand for peace with justice and equal dignity for all."
Fr. Balasuriya also stressed the basic foundation must be unity in diversity where we respect the different religions, languages and culture.
One of the highlights of the multi-racial, multi-religious cultural items was a silent drama staged by a group from Jaffna. It showed a group of people working together happily, then there comes a force of evil that splits them. Symbolically, the drama shows the evil force first bringing tragedy upon one section while the other rejoices over it. Then it turns the other way with the other group suffering. Finally, both groups realise they are being hit by a common evil force and they unite to work together again to defeat the common enemy.
Ven. Puwakpitiye Meththananda Thera of the Inter Religious Movement said he was happy to see leaders of all religions and others coming together for a peace festival. He said he hoped the movement could take the message to all parts of the country, especially the war-torn Jaffna.
Anuradhapura's Chandra Rathnayake, wife of a military officer said she was pleading for peace on behalf of mothers who were waiting for their children, wives for their husbands and children for their fathers to live together with them.
Journalist S. Manoranjan who spoke both in Sinhala and Tamil regretted that some sections of the media had aggravated the crisis by creating suspicion between people of various races. He called on journalists and others including religious leaders to act responsibly and become a channel to create a public opinion against the bloody, costly and unwinnable war.
Batticlao YMCA chief D.D David who had brought about 100 youth from Batticaloa and Kallaru said he hoped such festivals would help restore the good old days when people of all races and religions lived like brothers and sisters of one family. The festival concluded with every youth lighting a candle in a symbolic gesture to their commitment to be a light in the darkness.
They took an oath saying they were not prepared to kill their brethren or to get killed by them.
---
FR petitioner's house attacked
By Nilika de Silva
The Pamunugama house of an environmentalist who has filed a fundamental rights petition against a PA Parliamentarian had been attacked, while he was away attending a family function.
The victim, environmentalist Lerins Peiris told The Sunday Times the TV and the video deck and other items had been smashed and some items robbed, bringing about a total loss of more than Rs. 100,000.
In February, the Supreme Court gave Mr. Peiris leave to proceed in a fundamental rights application which he had filed after a gang allegedly linked to a politician attacked a meeting which was held as part of a project aimed at empowering poor people in Muthurajawela to earn a living.
The hearing of the fundamental rights case has been fixed for July 14. The petitioner has cited Parliamentarian Niel Rupasinghe, Pradeshiya Sabha Chairman, Dalton Janaka Suriyabandara and other members as respondents. Describing the latest attack, Mr. Peiris said: "A gang of five had come, knocked on the front door, and then forced their way into my house. They had come in a red Pajero and a three wheeler.I have made a complaint to the Pamunugama Police."
---
Tv cards for World Cup on computers
By M. Ismeth and Faraza Farook
With World Cup fever catching on fast in Sri Lanka, sales of television sets are on the increase along with a demand for TV cards which could be installed in computers enabling them to watch the matches live even when they are in their offices.
The TV card has gained sudden popularity with some private company executives and businessmen rushing to instal the card.
TV card dealers told The Sunday Times their cards at prices ranging from Rs. 5,000 to Rs. 13,500 for the most sophisticated ones, had been sold out.
Raytronic International Managing Director Lasantha Gunawardena said that with a normal card two channels can be viewed at the same time while with the Rs. 13,500 card, all nine channels could be viewed with the aid of an antenna. Carlo Fernando of Commercial Software said the big advantage of this process was that a user could watch the match on a small part of the computer screen, while continuing other work on the rest of the screen.
---
Right of reply
Abdul Hathy Sulaiman of Galle Road, Colombo 4, has written to The Sunday Times about the front page report that appeared in the April 8 issue headlined "Queens raided, girls arrested."
The salient points in his letter are published today together with comments from reporter, Frederica Jansz.
The said building does not belong to me....Further the OIC, Wellawatte Police, Mr. Wedisinghe, confirmed to me he never made a statement that I own the building.
Frederica Jansz: Kollupitiya Police who conducted the raid believed the premises belonged to Mr Sulaiman. Inspector Wedisinghe confirmed this to The Sunday Times. He has not made any denial. I also provided an opportunity for Mr. Sulaiman to say whether he owned the premises. His denial was also contained in my story. This is what my report said: "When The Sunday Times contacted Mr. Sulaiman, he denied the premises belonged to him. He said it was a condominium......."
Mr. Sulaiman: My designation, President of the Justices of Peace Association has been dragged in...The JPs' Association has nothing to do with this.....
Ms. Jansz: Nowhere in my report did I say that the JPs' Association has been involved in any matter. Mention was made of his designation purely for purpose of identification.
Mr. Sulaiman: Adverse publicity has been given to me. I do hope she will .......make good the damage so caused to my reputation and honour in the eyes of the JPs, public and the government, .... with an unqualified apology.
Ms. Jansz: There is no question of an apology to Mr. Sulaiman.
If he has inherited what he calls "adverse publicity", I cannot help but say it is because of his inability to abide by the laws of the land. He was fined by a court Rs 300,000 for pirating power. He paid this in four monthly instalments as reported in The Sunday Times of February 14, 1999.
---
Retires after 47 years of service
B. M. Amarasekera, President Senior Partner of the law firm of Julius & Creasy retired on March 31 after 47 years of service in the firm. He joined the firm as a Professional Assistant and was admitted as a partner of the firm in 1994.
He was known for his intimate knowledge in law. Mr. Amarasekera has been on the board of directors of several companies and continues to serve on them.
---
Rent hike likely
Tenants living in the National Housing Development Authority (NHDA) housing schemes and flats will be in for a shock if a specially appointed sub committee recommends a rent hike.
NHDA General Manager S.M. Somasiri in a circular issued on April 21 has said a committee comprising the Director Operations, the Valuation Officer, the Finance Manager and another member would be appointed by the Housing Ministry Secretary shortly to go into the matter.
The committee will look into a revision of the rent structure, the manner in which such an increase should be implemented and the percentage of such an increase.
---
Better deal for Lankans in Lebanon
By S.S.Selvanayagam
Some 80,000 Sri Lankan workers in Lebanon are now getting a better deal with even the recent Sinhala and Hindu New Year being declared a holiday for them.
SLMC Parliamentarian Rauff Hakeem who visited Beirut recently as a special envoy of President Kumaratunga said conditions for the Sri Lnakan workers there were improving and steps were also taken to send back most of the 200 Sri Lankans who had been detained after running away from their jobs.
Mr. Hakeem said the activities of illicit or unscrupulous job agencies had been curbed to a large extent with new labour contract systems being implemented.
The MP whose mission was to canvass support for Sri Lanka's candidate for the prestigious post of UNESCO director general also took part in a New Year festival attended by some 10,000 Sri Lankan workers.
---
No link with PA, says Dinesh
By Roshan Peiris
MEP leader Dinesh Gunewardena has denied speculation of a link between the PA and the MEP and reiterated that the party will continue to stand as a credible and peaceful alternative to the two major parties. In an interview with The Sunday Times Mr. Gunewardena explained why he met President Kumaratunga recently and what they discussed.
Excerpts:
Q: You told us in an interview earlier that you would never support the PA. But after meeting the President last week you appear to have changed your mind.
A: This is all a misunderstanding and a misinterpreting of what took place. We met the President on an invitation to discuss issues such as our long-standing proposal to make national identity cards compulsory for voters, the reconvening of all-party election monitoring committee and measures to hold a free, fair and non-violent elections in the South. These were the main items we discussed and there was no question of supporting the PA.
The MEP had written to the President, the UNP leader and to other parties regarding the current situation. We met to discuss those issues and we also met UNP leader Ranil Wickremesinghe.
The MEP will remain a separate party. We will support whatever is good and oppose whatever is bad.
Q: You condemned the Wayamba elections outright. Does your meeting with the President suggest that the April 6 election was relatively fair?
A: We have not changed our vews or policies just because I met the President. There were some violations in the recent elections too and we took this up.
But see the UNP attitude. Just because it faired better than at Wayamba, it has not protested against the recent violations. This is what politics has come to today with the UNP putting party interest before national interest. I must reiterate that our party has no intention of accepting any office in the provincial administrations. So there is no question of us supporting the PA.
Q: If you cooperate with the PA, do you think it would undermine your party's image as a third force?
A: The MEP is the only non-violent and peaceful alternative force that the country has today. I am quite confident the people won't turn to any violent or undemocratic alternative.
Q: Are you hinting at the JVP?
A: Anyone can put on the cap. I am not pointing a finger at any party but I am only saying that we are non-violent, peaceful and democratic.
The MEP has pragmatic policies on running the economy and the government. We believe in raising the income level of the agricultural sector as my father had done. National enterprises will be safeguarded by giving them a leading role to play in the economy. We are always dedicated to solve the problems of the poor. We want to abolish the Executive Presidency and bring about a better system of government.
Q: How would the MEP handle the ethnic issue? Some people think that your party is chauvinistic and against the Tamils.
A: We firmly stand for a unitary state where all our people enjoy equal democratic rights. So how can any one say the MEP is chauvinistic?
---
State Printer protests
Chairman of the State Printing Corporation, in a strongly-worded letter, has requested the President to cancel the tender which will permit private printers to undertake the printing of school text books claiming the government was going against the PA manifesto which pledged to help the local industry and secure employment.
Chairman of SPC A B C de Silva told The Sunday Times that despite the Parliamentary Act specifying that printing of school books should be done by the Corporation, the government has called for tenders from private printers.
"It was the SPC which did the printing of the school books for all these years, but this year the Treasury has sent a circular calling for the private sector to print the books. By this move some 1000 employees will also lose their jobs," he said.
---
Return to News/Comment Contents
Front Page| Editorial/Opinion | Business | Plus | Sports | Mirror Magazine