Computer kids of the century
By Wathsala Mendis
A bunch of bubbly five-year-olds come running into the computer laboratory, jump on the seats, switch on the computers, and get straight down to business.. Eyes glued to the screen, fingers dexterously moving on the keyboard and the mouse, fidgeting about in the chairs and calling out for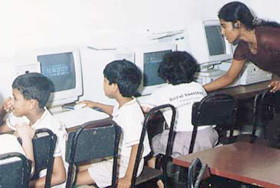 help when something goes wrong, they make a pretty exciting picture.
In one corner of the room, little Mario is moving a robot. Sitting next to him is Tanya doing sums. Meanwhile shrieks of laughter fill the room as Shaun switches the multi-coloured bulbs on the face of a Walt Disney cartoon character on and off. All this with the help of the 'wonder machine.' The five-year-olds' remarkable grasp of the subject and persistent enthusiasm to learn is simply amazing. "Computer Auntie, computer auntie, see what I've drawn," Shyam playing with a drawing package cries out for attention. On the screen is a huge ship slanted on one side. "Wow, it's beautiful, darling.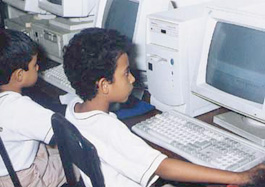 Is this the Titanic?" to which the five-year-old proudly replies, "Yes, and it's sinking."
We're on the threshold of the 21st century where information technology is changing our day-to-day lives. Be it medicine, transport, education, banking, insurance, shopping or just paying bills, it has come to a point where we simply cannot do without the computer. The earlier a person masters this once-dreaded machine, the better. And what could be a better time to introduce children to computers than in their formative years?
"Today's children are very lucky. You see, we learned the basics of computers when we were about 17 or 18 years old," says Tharangi Perera, computer instructress at the Royal Institute International Primary School. "Sometimes they are a bit shy and nervous when they first come to the computer, but the interest and enthusiasm are all there as this is a totally new experience for them. And mind you, they are very intelligent and learn extremely fast. Even the slow learners who have problems in communication are able to catch up with a little bit of extra help."
It's important that the kids be provided with a relaxed, friendly environment to put them at ease, say the teachers. The teaching methods used should be very informal as children respond to activities that give them a sense of achievement and self-confidence. The learning process has to be fun, not a burden. Kids cannot be expected to respond to commands in a mechanical, push-button way. When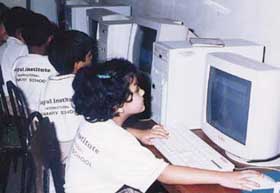 they're able to see the results as they learn, they become more absorbed.
The teacher's approach has to differ from child to child. In a class there are kids from different backgrounds - those who have computers at home as well as ones who've never been exposed to computers before. Some of them are able to catch up amazingly fast while others have to be pushed and encouraged a little. Each one has to be taken at his or her own pace.
"It's not just about teaching. We have to go to their level, understand their mindset and their problems and act accordingly," Shyara Yakeem of Gateway Kids School of Computing says. Individual attention given by a qualified lecturer is a must in a computer course, especially for kids below 10 years. "When we teach them the standard computer application packages, the kids actually don't know that they're learning MS Word, MS Excel or Programming. They just learn how to type letters and numbers."
Children could be taught how to use today's exciting technology to the fullest to gain real-life skills like word processing, desktop publishing or multimedia presentation. And with their wonderful creativity and imagination there's no end to what they can come up with. A little girl at Futurekids Computer Learning Centre showed me how she had recorded her voice on to the computer. She learned to do this during their class on how to run a radio station.
"They're very keen about the classes and won't miss them for anything," Shyara said when an annoyed youngster entreated her, "Auntie, tell that uncle not to put light on my face." He was obviously disturbed in his work by the flash of the camera as Ranjith our photographer was busy snapping the class at work. Well, who knows, maybe one day he'll become Sri Lanka's Bill Gates!
What they are taught
There are a number of computer training institutes in Colombo that offer a wide variety of programmes for children in the age group 4-16 , from absolute beginner level to the London A/L (Computer Science) exam level, covering every major area of technology.
At four years kids are introduced to the hardware components, the mouse movements, letters, numbers, colours, and shapes through jigsaw puzzles, colouring, and painting.
From age five to seven Communication Information (Wordprocessing & Art), Handling Information (Graphic Presentation & Database), Control, and Modelling are taught using standard computer application packages such as MS Word, Paint, MS Excel, or MS Access. At this stage kids will be asked to type a nursery rhyme or a page from their favourite story book, write a report on a given topic, and to do a newspaper advertisement on the computer. They learn how to use the punctuation marks, the scroll bars, the arrow keys, and how to delete letters etc. Field trips and holiday camps would be organized to support kids in these activities.
Eight, nine, and 10-year-olds gain a wider knowledge on computer software in the form of application packages such as MS Publisher, MS PowerPoint, Email, Internet, and PhotoShop which cover modules like Spreadsheets, Datalogging, and Electronic Communication in addition to a mixture of other skills. In the process they learn how to use the spell check, the thesaurus, and how to design a leaflet using pictures, borders, columns, etc...