Hustler Elsworth delivers sucker punch
Cheltenham March16, Ante-Post betting: His Song 9/2; Tresor De Mai 7/1; Majdou 10/1; Potentate 12/1; Kurakka 14/1; Flagship Puberalles 12/1; Makounji 14/1; Aghawadda Gold 12/1; Dawn Leader 12/1; Gris D'Estruval 14/1.
By Ismail Khan
The great hustler of horses in England this past few decades David Elsworth who has pulled off a number of racing coups during his long career seems not to have lost any of his sparkle to pull off further coups. His surreptitious acceptance in the William Hill Handicap Hurdle at Ascot Saturday last with lesser known but in-form Ismeno and pulling off the grand prize of £ 30,000 with the 8 year old with his favourite rider P. Holley on board goes to prove the point.
Ismeno was in good form having run nine races and won three of them but earning only a paltry £ 7852. But there were other top hurdlers in this event accepting some of them who have won more than of £ 50,000 in stake money for their owners. All of them bit the dust save for Polar Prospect who finished second and Bluedonix who finished third. And the Dunwoody ridden rage Sadlers Dream was never in with any chance. All this goes to show the sleight of hand of trainers.
Ascot's National Hunt course was all agog with frenzied punters mingling with fashion conscious ladies as the opener - the Reynoldstown Novices Chase delivered a punter's winner Lord Of The River on a platter at 7/4 from Collier Bay at 11/2.
The winner gave Jamie Osborne a dream ride. Horse to follow Lord Of The River for further success.
The William Hill Handicap Hurdle over 20 furlongs was won, as I said earlier, by David Elsworth's lesser known timber topper Ismeno at 8/1 from Polar Prospect and Bluedonix. Horse to follow from this big event David Nicholson's Bluedonix who ran a tidy race under the bad conditions underfoot - Mark him for bigger honours in the near future.
The feature event of Ascot, the Mitsubishi Shogun Ascot Chase, a Grade One event run over 19 furlongs went to the favourite TEETON MILL who won his 12th race under 16 starts hammering a colossal £ 216,705 in all for his lucky owners, The Winning Line. Runner-up in this event was Senor El Betrutti. The winner was ridden by N. Williamson who is riding with a sting on his tail just now. Follow this rider.
Race number four went to odds on Buckside ridden by M.A. Fitzgerald who toyed with the field.
The Shenley Novices Chase went to 3/1 chance Rockforce from Gris D'Estruval.
The Ascot Football Culb Conditional Jockeys Handicap Hurdle saw Magic Combination getting the better of Alka International.
Ascot wrapped up the proceedings with the shock win at 14/1 of debutante Wood Hall ridden by D. Gallagher who beat favourite Canasta and Roman Gold with ease.
Horses to follow other than listed above:- Teeton Mill a live wire for Cheltenham festival proceedings who is sure to win a few more plums; Buckside getting his act together and better upto 20 furlongs over timber; and Gris D'Estruval though beaten good enough to raise a few more eyebrows.
That ended Ascot's splendid Saturday programme.
Over at Newcastle where the Tote Eider Handicap Chase was run over a gruelling 33 furlongs the Irish invader Hollybank Buck, ridden by F.J. Flood took the race in style from Full Of Oats and Feels Like Gold. The winner at 10/1 was at a good price as he had good form to back him up.
Horse to follow from this event:- the vanqusihed Full Of Oats who will surely run well in the Aintree blocbuster the Grand National.
That's all for today. More next week over the jumps. Happy hunting till then.
---
Eric, the Burgher from Jaffna
In addition to the Director of Training Stanley Senanayake and Assistant Director Fred Brohier there were three more gazetted officers namely Eric Vandendriesen, Terry Wijesinghe and S. Murugesapillai to assist them in the affairs of the Police Training School.
Eric Vandendriesen was an Asst. Supdt. of Police who was a nattily clad officer standing six feet in height who was proud that he was a Burgher from Jaffna and who had his entire education at St John's College, Jaffna. His elder brother Harry Vandendriesen too was in the Police and was at that time Senior Supdt. of Police in charge of Colombo and his younger brother Collin Vandendriesen was also an Assistant Superintendent of Police attached to Police Depot Bambalapitiya, which is now called the Field Force Headquarters. He was always full of fun, who too stood at six feet in height and had a majestic personality and resembled a German police officer when in uniform. His sons excelled in sports at St. Thomas' College, Mount Lavinia. Harry and Çollin too had their education at St John's College, Jaffna and they could speak good grammatical Tamil which would put to shame many a Tamil in Colombo and they were all great sportsmen and were very popular with the rank and file in the Police.
Terry Wijesinghe too was an Asst. Supdt. of Police who was in charge of Recruiting and Administration. He was a good soccerite and took a keen interest in the game at the Training School. He was an Old Thomian.
S. Murugesapillai was another Assistant Supdt. of Police at the Training School who was a gymnast and held regular gymnastic classes for the trainees, which I too attended. He was later promoted Senior Supdt. of Police and last served as SSP Mount Lavinia before retiring. He was an Old Boy of St. Benedict's College, Kotahena.
The Chief Lecturer at the Training School was Inspector K.D.C. Ekanayake, who had a thorough knowledge of the Penal Code, Criminal Procedure Code, Evidence Ordinance and the Police Ordinance and lectured to the Assistant Superintendents and Sub Inspectors under training and was in charge of their entire training. He was a strict disciplinarian who kept the trainees on the hop. He served in the Training School for a long period earning his promotion to the rank of Asst. Supdt. and Superintendant and was made the Director of Training for his dedicated services. He ended his Police career as a Senior Supdt. of Police. After retiring he entered priesthood and today is a Buddhist monk delivering lectures on meditation. He had his entire education at St John's College, Panadura.
There were several Inspectors and Sub. Inspectors of Police attached to the staff who were in charge of the model Police stations in the Training School and other functions. Parakrama Station was under the supervision of Malcolm Rozairo a tough and rugged police officer who was fond of meting out summary punishment to errant trainees with his fist. He was a good boxer and ruggerite. I was attached to his station.
OIC Gemunu Station was Inspector James Seneratne who was a versatile sportsman from Royal College who captained Police rugger in 1960 and was also a great athlete. His father was a surveyor who did an honourary job of measuring the track for the annual Police sports meet at Police grounds which was organised on a grand scale every year.
OIC of Jenkins Station was Inspector Lyn Taylor, a Thomian who represented his alma mater at cricket, at an early age of 14 and was one of the few who played in the Royal-Thomian 'Big Match' in a pair of white shorts instead of longs like the others due to his young age.
OIC of Campbell Station was Sub Inspector Terry Amarasekara a young smart officer who went onto become a Deputy Inspector General of Police and last served as DIG Uva Range.
OIC of Dowbiggin was Inspector T. Miskin a five foot officer who rose from the ranks and who was like a bundle of dynamite in boxing.
OIC of Rajasinghe Station was Inspector Amarasekara, OIC Tissa Station was inspector Jaleel, OIC Vijaya Station was Inspector Amarakoon and OIC Elara was Inspector Dassanayake.
Inspector Ralph Jansz was in charge of Traffic and Riding School. He was an excellent boxer who later migrated to Australia and worked for the Prisons Department in Melbourne.
Our Parade Instructors were Sub Inspector R.D. Somapala who was an outstanding soccer and volleyball player who later worked with me as a Chief Inspector when I was Director of Police Sports, Sub Inspector T. Bapoo who was very hard as a drill instructor and Sgt. Major Nalawangsa an Instructor with an English accent never mind the grammar who always said that if a trainee was not good on parade was a 'Commode Stuff'' and had a great sense of humor.
Our batch which went into training on April Fool's Day in 1958 had 27 Sub Inspectors. There were also three Asst. Superintendents who were already undergoing training namely P. Mahendran whose pet name was 'Brute' as he was a hulk of a man who studied at Trinity College Kandy, Royal College Colombo and entered the University and represented the country at athletics, rugby and boxing. He captained the Police at rugger in 1962 and I was his Vice Captain. He went onto become a Deputy Inspector General of Police and retired and today he is domiciled in Sydney, Australia.
---
Miscellany...
Arjuna Hero
Oh! What a skipper you are! The whole wold watched you extinguish the mighty Aussie bush fire started by it's "FERAL GOATS" and their cardboard hero just by peeing on it and made Emerson look like a wild ass struck by lightning. You fought for Sri lanka in a quite different arena while pitch battles are being fought elsewhere. Arjuna you are just not an ordinary captain but a hero. In my opinion the moment of glory was not in winning the World Cup but when you stated that "WE Won This Match For Murali". I almost cried with Joy. We congratulate you and the boys for showing those wild Aussies your determination, unity, the fighting spirit and comradeship. We should also thank the fellow Sri Lankan's and sporty Aussie "WALLABIES" for their support in this crisis.
We have lost this tournament as we were playing against a Aussie team, umpires, a rowdy crowd, and a great conspiracy, to demoralize and degrade our team before the next World Cup just like what they tried before, but won't be disgraced. It's a matter of fact that teams of the sub continent from time to time has proved to be better cricketers than the creators of this game.
It is sad that Arjuna had received a suspended sentence and a fine of 75% of his match fees. I wish to propose as a gesture of appreciation and gratitude some organization initiate a fund for Arjuna to compensate for his financial loss, knowing very well that he and his family do not need this for their existence.
Once again I wish to mention to Arjuna that you have created history. We love you and salute you for what you did for our country and the team knowing very well that you would be reprimanded. You have played enough cricket and achieved the maximum as a cricketer and a captain. So before you say farewell to this game and if a similar situation crops up please save your finger and use the bat. "Old soldiers never die they just fade away."
Hemaka Jayasekera of Moratuwa
Artillery first in Nidahas Run
Sri Lanka Artillery won the overall championships at the Nidahas Run held in Colombo with the Service Corps runners-up and Mechanical & Electrical Engineers third in the event conducted by the Lanka Lions Sports Club. In all 601 runners participated in this event. The men's open race for 15 km was won by Anuradha I. Cooray in 43 minutes 30 seconds and A. Nishantha Dayasiri finishing in second place in 45 minutes 06 seconds and Sujeewa Chandrapala in 45 minutes 21 seconds.
The women's 6 Km race was won by W.A. Irene in 22 minutes 56 seconds with B. Wimal Chandran taking second place with a time of 23 minutes and S.A. Anuradhani clocking 23 minutes 26 seconds.
A.M.M. Manamendra Indika clocked 47 minutes 44 seconds to win the junior men's 15 Km race with Roshan de Mel second in 48 minutes 51 seconds and M.R. Sumith Sampath third in 49 minutes 42 seconds.
In the junior women's run for 6 kilometres, M.L.D. Indrani Siriyalatha took first place with a time of 24 minutes 12 seconds followed by Nimali Kelumratne with a time of 24 minutes 45 seconds.
The boys under 17 - 6 kilometre run W.M.N. Chandana Ranasinghe took first place in 20 minutes 39 seconds, followed by I.M. Samath Tennekoon in 20 minutes 56 seconds and Indika Tennekoon in 21 minutes 03 seconds. W.M. Nishanthi Costa won the girls' under 17, 6 kilometre run in 24 minutes 16 seconds with Sureka K. Herath and A.M.N. Karunaratne finishing second and third respectively in 24 minutes 24 seconds and 25 minutes 02 seconds. B.D de Silva in 22 minutes 21 seconds won the first place in the men's veterans 6 km run with K.M.M. Kulatunga coming second with a time of 22 minutes 58 seconds and A.B.D. Elmo third in 23 minutes 32 seconds.
Tamara Wickremesinghe in 32 minutes 27 seconds won the women's veterans 6 kilometre race with M. Mallikarachchi second in 34 minutes 29 seconds and K.G. Menike third in 36 minutes 28 seconds.
Dr. R.M.K. Ratnayake, Secretary to the Ministry of Samurdhi, Youth Affairs and Sports was the Chief Guest.
---
Thurstan-Isipatana to end seven-year-jinx
By Saif Izzadeen
It's that time of the year again when flag waving schoolboys and the sounds of the pappare bands come alive as the big match season gets underway with the 36th encounter between Isipatana and Thurstan at the P.Sara Stadium on March 6 and 7.
This will be first in a series of many big matches to follow.
From the 36 matches played so far in the series the Havelock Town school have been victorious on three occasions with Thurstan recording five wins.
The last time a result was produced in this series was in 1992 when Thurstan led by Mackenzie Perera gained a win at the P. Saravanamuttu Stadium. Isipatana's last win came in 1987 under the captaincy of Chethaka Perera.
These two schools have produced some outstanding national cricketers: they are Nuwan Zoysa, Suresh Perera and Sanjeewa Weerasinghe from Isipatana. From Thurstan Niroshan Bandaratilleke and the late Dyanesh Rajaratham are the best cricketers to be produced.
It will be evenly contested encounter as both teams are unbeaten this season. Both teams will be going out with a positive frame of mind with the hope of ending a seven year jinx.
The match promises to be a batsmen's game as Thurstan and Isipatana will be coming into the match with strong batting line ups. Due to this reason bowlers of both sides will have an arduous task of containing them.
Isipatana has played 13 matches so far this season and all of them have ended in draws. From 14 matches played Thurstan too has done well to stay unbeaten.
Isipatana are led by the fourth year coloursman and right hand batsman Krishantha Jayewardena. Jayawardena's deputy will be the stylish left hand batsman and third year player Kanchana Rodrigo.
Thurstan is skippered by right hand batsman Arjuna Dayananda and will be supported by his vice captain Nalaka de Silva who is a. right hand opening batsman
Isipatana will open their batting with captain and right hand batsman Krishantha Jayawardana. His partner will be left hand batsman Sahan Wijesekera. This left hand and right hand batting combination is sure to give the Thurstan bowlers headaches when they get going..
Jayawardana and Wijesekera have so far scored over 520 runs this season. Skipper Jayawardana who bowls right arm leg spinners has captured over 20 wickets this season.
The middle order will be in the hands of right hander Manoj Fernando who has scored over 720 runs. He is also a right arm fast bowler and has taken over 25 wickets.
Vice captain and left hander Kanchana Rodrigo is another batsman who has excelled this season. He has so far scored over 600 runs. Rodrigo who also bowls useful right arm off cutters has taken over 20 wickets,
Wicket-keeper of the side is Muditha Fernando. Muditha is a right hand batsman and has scored over 480 runs. He has 30 victims behind the stumps.
Left hander Nuwan Chamara is another batsman who can make a big score. This season he has scored over 300 runs. The other batsman who will give stability to their innings are Samantha Wijesinghe (250 runs), Milinda Wickremasinghe (250 runs), Malinda Abeyratne(120), Nilantha Atapattu(120) and Mohammed Hariz(100 runs)
The bowling will be in the hands of Manoj Fernando who with his right arm fast bowling will open attack. Fernando will be supported by spinners Krishantha Jayawardana ( right arm leggies), Kanchana Rodrigo (right arm off cutters), Samantha Wijesinghe(right arm leg spin), Milinda Wickremasinghe(left arm leg spin), Malinda Abeyratne (left arm leg spin), Nilantha Atapattu(right arm off spin) and Mohammed Hariz (right arm off spin).All these bowlers have taken over 20 wickets this season.
Speaking to The Sunday Times captain of the Isipatana side Krishantha Jayawardana said "We are very confident. We have a very balanced side and are going all out to record a victory".
"The team has only one fast bowler, all others being spinners.We have a lot of variety in our spin bowling department and I might rely on spin to bring us victory" concluded Jayawardana
Coach of the Isipatana side Chethaka Perera said "If we play to our true potential we might surprise the Thurstanites and could end a 11 year hoodoo".
Thurstan will open their batting with two right handers they are vice captain Nalaka de Silva and Chamith Aravinda. Nalaka has scored over 950 runs and might pass the 1000 runs mark in the big match while his partner Chamith has scored over 500 runs.
Skipper and right hander Arjuna Dayananda will be coming in at the fall of the first wicket.
The has scored over 600 runs.Tarindu Wickremasinghe who is known more for his fast bowling will bat at No 4 He has scored over 500 runs.Wickremasinghe is a right hand batsmen. The other batsmen who could make useful scores are Right hander Dammika Premadasa(400 runs). Dammika is also the wicket keeper of the side He has over 30 victims.
The only left hand batsman of the side is Nisal Randika.Randika has scored over 400 runs this season. Randika also bowls left arm Chinamans and has taken over 30 wickets.
Right hander Damith Indika is another solid batsman who has scored over 300 runs.
Indika who also bowls occasional right arm leg spinners has so far taken 15 wickets.
Indika will be followed by Damith Wickremaratne in the batting order. Wickremasinghe who is a right hand batsman has scored over 300 runs.
Right handers Thushara Perera(250 runs), Gihan de Silva(100 runs) and Dakshina Liyanage(100 runs) will prop up the lower order batting for the Thurstan side.
Thurstan will open the bowling with right arm fast bowlers Tarindu Wickremasinghe and Thushara Perera. The first change bowler of the side is Dakshina Liyanage who is also right arm fast bowler.
These three fast bowlers will be supported by spinners Nalaka de Silva (right arm off spin), Nisal Randika(left arm Chinaman), Damith Indika(right arm leg spin) and Gihan de Silva(left arm leg spin).
All these bowlers have done yeoman service this season for Thurstan having taken over 25 wickets. Thurstan captain Dayananda will pin hopes on his spin bowlers to deliver the goods.
Thurstan skipper Arjuna Dayananda speaking to The Sunday Times said "We will be going into the match with the hope of scoring a victory. I have confidence in my boys that they will be giving me the fullest support to achieve this feat.
"We have a very good side and we will try our best to emulate our ruggerites who scored a historic win over Isipatana for the very first time last year.concluded Dayananda.
"Morale of the boys are pretty high and we are going all out to score a victory." said Jayalath Aponso the coach of the Thurstan side.
All the boys are rearing to go which is a good sign. . The teams:
Thurstan - Arjuna Dayananda(captain), Nalaka de Silva(vice captain), Chamith Aravinda, Tarindu Wickremasinghe, Dammika Premadasa, Nisal Randika, Damith Indika, Damith Wickremaratne, Thushara Perera, Gihan de Silva, Dakshina Liyanage. Reserves - Taraka Perera, Tammera Rupasinghe, Mohammed Piyaz, Indrajith Jayaratne, Niffaz Deen, Shanka de Silva, Kanchana Malik.
Isipatana - Krishantha Jayawardana(captain), Kanchana Rodrigo (vice captain), Sahan Wijesekera, Manoj Fernando, Kanchana Rodrigo, Muditha Fernando, Nuwan Chamara, Samantha Wijesinghe, Milinda Wickremasinghe, Malinda Abeyratne, Nilantha Atapattu, Mohammed Hariz. Reserves - Thjajaith Rodrigo, Kalum Cooray, Hiran Perera, Mohammed Fadhi, Mulinda Priyankara, Nilka Peiris.
---
The Duncan White award
By Vijitha Fernando
The Duncan White Award, promoted and awarded by the Duncan White Sports Foundation, is not just another annual award. This Award is made in recognition of an outstanding performance during a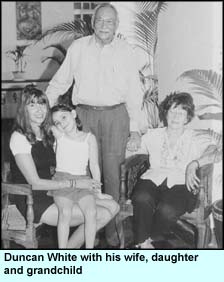 calendar year by a sports person who has excelled in any of the Olympic sports.
The award, primarily recognizes SPORTSMANSHIP and CHARACTER in the pursuit of excellence in Olympic sports. The Award represents the ultimate standard for any sports person to aspire.
The Duncan White Award is made by the widest possible consensus in order to avoid controversy. At the earliest stage the nominations are made by the National Governing Bodies (NGB) contolling Olympic sports. The nominations are transmitted to a Technical Committee that carefully evaluates the claims. The Technical Committee examines the claims against an established criteria under a given set

of strict guidelines.
The Technical Committee is appointed by the Board of Directors of the Foundation and is chaired by its secretary. There is no set composition but usually no less than seven members are drawn from various disciplines of Olympic sports and includes one member from the media.
The Technical Committee will transmit to the Committee of Delegates a list of nominations in order of merit based on the claimant's performance, after having ensured that the nominee's performance measures or compares to international levels of competition; ie: Olympic, World, Commonwealth, Asian, Regional or Sub-Regional levels.
The Committee of Delegates deliberate the list of nominees and carefully evaluate each nomination in order of merit. The recommendation to the Board of the awardee must have unanimous consensus.

There is no compromise on this unanimity. The Board has no authority to accept any recommendation from the Committee of Delegates if there is no unanimity. This is to ensure that the awardee of the Duncan White Award is truly a deserving candidate. In case there is doubt, the Committee has the authority for further verification outside the submission of the NGB recommendation. The Committee is drawn from a wide range of expertise; the NGBs, the media, sportspersons-at-large, NOC, government officials, etc... Presently there are about 26 members serving on the Committee. The president of the Foundation chairs the Committee. The Duncan White Award is finally awarded by the Board of Directors. The Board has the right to accept or reject the recommendation of the Committee if there is evidence that the recommendation has not met the stated criteria. The case of Damayanthi Darsha who won the 1991 Award and was not nominated by the respective NGB is a clear example when such intervention became necessary. The Board acts as a mediator to prevent not only any discrepancy along the way but to prevent injustice. So when the Duncan White Award is ultimately made, one can assume that more than a reasonable degree of careful research and verification has gone into the final decision.
The Duncan White Award is presented at a formal ceremony on March 1 immediately following the calendar year of the Award. To be considered for the Award, outstanding performance must be achieved during that calendar year. The date of March 1 is fixed signifying the birth anniversary of Duncan White. However, there is now a new proposal to hold the ceremony on the first Saturday following March 1.The Foundation's quest for "EXCELLENCE IN SPORTS" is its central objective. The Council of Trustees, the Board of Directors and the Committee of Delegates are carefully drawn from among the best and the most respected sportspersons in Sri Lanka. The uniqueness of the Foundation is that there are no elective officers whatsoever at any level. The main responsibilities of the Foundation are vested in the Council of Trustees.
The Foundation was born out of the necessity to fill an existing void in Olympic sports, to pursue and sustain excellence in sports so that at some future time Sri Lanka will be able to produce another Olympic medalist. With that objective the Foundation will promote "OLYMPICS 2000" which covers the Olympiads of 1996 in Atlanta and the one in year 2000, venue yet to be determined.
This is the third year of the Duncan White Award and its presentation. An initiative launched on March 1, 1990 has stimulated a high degree of enthusiasm, co-operation and greater awareness of the importance of "Creating Excellence in Sports."
The Duncan White Sports Foundation's basic mandate is to assist a selected number of Olympic Sports, and those currently identified are: Athletics, Badminton, Boxing, Cycling, Swimming and Weightlifting. It aims to raise standards not only in Olympic sports but also the adminstration of the NGBs that control Olympic sports. The Foundation also aims to encourage the organization and development of Olympic sports, inspire and lead Olympic sports to achieve its ultimate objective, to find another "Duncan White."
It is important to record that the Foundation's finances are scrupulously managed by professional financial experts and audited by recognized professional Chartered Accountants in order to sustain public and private credibility at all levels. The Trustees believe that this aspect is of paramout importance to maximize the confidence in the Foundation, and to avoid repeating the mistakes often seen in the administration and management of sports organizations in Sri Lanka.Audited Financial Statements of the Foundation are available on request through the secretary of the Foundation.
---
Damayanthi and Sugath honoured
By Annesley Ferreira
Damayanthi Darsha and Sugath Tillekeratne will be awarded the Duncan White Memorial Trophy at the Trinity College Hall on March 6 at 5.30 pm.
The Technical Committee of the Duncan White Sports Foundation did not take much time in recommending to the Board of Directors of the Foundation in making it a joint award to Darsha and Tillekeratne who richly deserved the award which this year comes as a gold coin worth over Rs.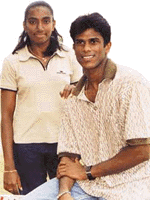 50,000.
Tillekeratne's award winning effort was winning the gold medal in the Asian Games and the bronze in the 200 metres and the added advantage of winning a silver at the Commonwealth Games which has put him ahead of Darsha.
But Darsha's winning effort in the 400 metres and the 200 metres at the Asian Games in record timings and being the first ever woman athlete to do so, saw her getting the nod and was declared joint winner.
This year's award ceremony will be attended by a host of invitees including some ministers and members of the opposition at the school where DuncanWhite earned a name for himself and the country.
---
An eulogy
By Kavan Rambukwella
I first met Duncan when I was a fourteen-year-old schoolboy at Trinity.
He had come to his Alma Mater fresh from his triumph at the XIVth Olympiad in 1948 from London. He was an instant hero. He was rewarded his athletic lion that day. He later told me he cherished that as much as his Olympic medal. Even more than his MBE or the Deshamanya which he received a little before he passed away. I remember the entire upper school stood before him in reverential awe to obtain his autograph.
At the time Duncan was chosen to represent Ceylon, a Selector had declared that Duncan would never even get a place in the Heats. In fact, the Selector went on to say that he would jump from the Times of Ceylon building which was the highest building then, if Duncan would get a place in the Heats. Duncan waited fifty years for him to jump. The man recently passed away in his bed in Australia. Duncan was discovered by Major Harry Hardy who was then the Athletic Master at Trinity. Everyone had to go to Asgiriya to participate in some kind of sport. The boys including Duncan were in the middle of the ground when a clap of thunder and a sharp shower of rain came down on them. Hardy shouted at the boys to run for shelter and thundered: "The boy who wins the race for shelter would get a treat in the tuck shop''. In a flash Duncan took off leaving the others standing. From that day on he was taken under Hardy's wing. The rest is history.
Apart from the numerous records he established in his journey to culminate in the Olympics he also played Rugby for Trinity on the wing. It was under Duncan that Trinity won the Tarbat Cup at the Public Schools Meet for the first time. Some of his outstanding achievements were:
He won the National 440 yds Hurdles on three occasions, the National 440 yds Flat Race on two occasions, the National 220 yds Flat Race, the Indian 400 metres Hurdles title, the Silver medal at the 400 metres Hurdles at the Olympics in 1948 at London bettering the previous timing for that event.
---
Anne will grace the occasion
From Bernie Wijesekera
It's seven months since the passing away of Duncan White, Sri Lanka's first Olympic medal winner in 1948. But his name will last for a lifetime in the annals of track and field sports.
It was a fitting tribute to the legendary sportsman from Trinity College the creation of the Duncan White Sports Foundation where personalities like Vijitha Fernando, Kavan Rambukwelle, affable Minister of Foreign Affairs, Lakshman Kadirgamar, Neville Abeygunawardena, Ken Balendra etc. created this Foundation to promote the development of Sri Lanka track and field sports. M.V. Mushin, now in U.S.A too had a big hand in this rtibute.
Last year White was there for the presentation along with Eddie Gray, and John de Saram, when it was awarded to Susanthika Jayasinghe, who won a Silver in the World Championship. Kadirgamar and C.V Gooneratne were there to honour this all-time great. Lakshman, too a 'lion' in athletics made an eloquent speech about White's trail-blazing career, where he had to grind hard even without money to buy a pair of running shoes. But he had the determination and will power. He went up the ladder, but believed simplicity in life as everything was temporary. Kadirgamar, well known to this scribe ,too, is following the footsteps of his schooltime hero. Form is temporary, but class is permanent. It will do well that some of our big headed sportsmen of today take notice of Duncan's simplicity in life until his death. Another friend of mine, C.V. Gooneratne, whom I met at the SCC Media Box endorsed his Cabinet colleague's sentiments about White's simple ways. C.V. speaking in Sinhala called upon the youngsters, who were present to emulate White's simplicity in life.
White will be not there for the presentation to be awarded for the joint winners in Damayanthi Dharsha and Sugath Tillekeratne. But his wife Anne, will probably be there at a simple award ceremony next month, in Kandy .
This scribe was fortunate to meet Anne at the residence of Eddie Gray on Sunday (Feb.14). Anne is in Melbourne on a holiday with her youngest daughter Fiona at her son's - Chris. B.White Anne and Fiona live in London, Warwickshire. It was a happy re-union for this scribe in meeting Anne with her children - twin grandsons, Miles and Douglas(both eight years) and Thai-born daughter- in-law. Thanks to the fine gesture of Eddie and his amiable wife, Evonne, this scribe was privileged to stay a couple of days with Duncan and Anne, when on a cricket tour to London. It was like going from one home to another. Anne, speaking to The Sunday Times with emotion said, "though Duncan is gone, I am not going to forget Sri Lanka, the country of our birth, that helped my family to go places in life, despite a slippery climb. My children too at all times believe in this line of thinking from whatever quarter. This is one reason that I am trying to make it for this year's award ceremony, despite Duncan not being in our midst". Fiona looks a carbon copy of Duncan, but she has opted for swimming. Cuddling her two grandsons, Douglas, who is making his grade in swimming like his aunt while Miles, plays football. Both have the talent to make the grade at the age of eight said papa Christopher. But I have told them that studies and sports must go hand in hand. Very true!
Late Duncan White, in an interview with this scribe said 'That officials in any sports body should not hang on to office, but must make way for others. This statement made by White in good faith stirred dissension, apparently among some power crazy officials.
"Anne, what have you got to say about this statement made by your late husband. Don't you think that power corrupts, but absolute power corrupts absolutely, in any walk of life?" "You are right".
---
Trophy handed over to Trinity
The Duncan White Sports Foundation formally handed over the Duncan White Trophy to Dr. W.R. Breckenridge, the Principal of Trinity College at a press briefing held at the CCC Board Room at the Gymkhana Club at Maitland Crescent.
This Cup, which for the past nine years has been awarded to the year's most outstanding athlete, will be kept at Trinity College in a special display case along with other memorabilia connected to Duncan's sporting career.
As his alma mater, Trinity held a special place in Duncan's heart and it is for this reason that it was decided to house the award there where it will serve as an inspiring reminder to all Trinitians past that present.
Another event took place at the press conference was the unveiling and official hand over of the newly established Duncan White Memorial Trophy Cup. The formal presentation was made by the Cup's sponsor, Federal Express, who has been associated with the Duncan White annual award Cup since the inception of the Foundation.
This Cup will be awarded in place of the earlier awarded Duncan White Award in future Foundation award ceremonies.
The General Manager of Fedex, Royce Samaratunga made the presentation.
The Foundation also took the opportunity to hand over a newly created trophy shield, the Duncan White Challenge Trophy Shield to the Director of Sports from the Ministry of Education and Higher Education Mrs. Olivia Gamage.
This award will be bestowed annually to the winner of the 400 metres men's hurdles event for the annual Public Schools Track & Field championships.The Ministry of Education, who is the organiser of this sporting event for young athletes will become the custodians of this shield.
Champions all!.- The Subramanium family proudly displaying their trophies after three hectic games of tennis which gave them quite a handful to carry home. In the picture from left are Dushinka Subramanium, Leroy Hesse (Recreational Manager Trans Asia Hotel ) Suresh Subramanium, Revantha Subramanium and another winner at the Trans Asia competition.
---
Subramaniams are amazing
By Ravi Nagahawatte
Amazing things might only happen very rarely , similar to someone claiming a hat-trick in the sport of cricket or a golfer teeing off and finding the ball in the hole!. In a recent tennis tournament something extraordinary happened when a father , son and daughter created a piece of sensation by bagging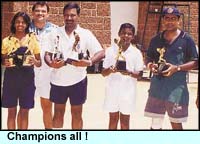 three titles in the recently concluded Trans Asia Members Tennis Tournament.
The three who made things happen on the day of the tournament were Suresh Subramanium (father) , Revantha (son) and Dushinka (daughter), who with their efforts took home the mixed doubles , men's doubles and the women's singles titles.
The thirty eight year old Suresh probably was over the moon when he grabbed the mixed doubles and men's doubles titles partnered by his daughter and son respectively.
The intense desire to dabble in the game probably runs in the family with the first Subramanium to take up tennis being the father K.Subramanium- who till recent had been at it at the veterans level. Like Suresh, his brothers, Ravi and Ganendran , could only think of tennis as a sport and have had opportunities to play together before this occasion came along .
Suresh , a former nationals doubles winner and Sri Lanka coach , probably has hopes that his children will make it in tennis one day. But he was not that optimistic while giving an interview to "The Sunday Times" and said humbly that it was too early to predict. His son seems to have not made up his mind as yet but Dushinka (his daughter) is quite positive about her choice of continuing in tennis." At the moment I also play basketball .I do not know whether I can continue both sports .
I think I might give up basketball when I am about fourteen" said Revantha who with the recent win had bagged his first title. Dushinka, who also takes up swimming , has however made up her mind that smacking the ball around the court is what she will continue to do in the future.
Suresh, who has taken up only one coaching assignment at Royal College, also finds time to guide his son and daughter in tennis despite his heavy work commitments. And dwelling into the past of any of the Subramaniums what is striking is the influence their parents had had in their taking to the game of tennis . And even today the younger generation ,Revantha and Dushinka , too see a link through their father as to why they are frequently in the tennis court.
---
Police create major rugby upset
By S. Sivendran
In 1961, the affiliated-clubs Police, Army, Navy, Air Force and University were given the green light for the first time by the Ceylon Rugby Football Union to play in the prestigious Clifford Cup tournament, against the constituent clubs, CR&FC, CH&FC, Havelocks, Kandy, Dimbulla, Dickoya, Uva and Kelani Valley.
Police, led by Franklyn Jacob, the former Trinity College Flanker who earlier played for Havelocks and represented the country in the All India Rugby Tournament, was the first to create upsets and shocks in the local rugby scene with their robust and rugged rugby.
That year, Police had some great schoolboy rugby players such as 'Brute' Mahendran, James Senaratne, Rahula Silva and Sumith Silva from Royal College who were huge forwards. From Trinity College there were in addition to Franklyn Jacob, Quintus Jayasinghe, Rodney Aluwihare, Mike Schockman playing as fly half along with Tony Mahath, the crafty scrum half, and centre S.S. Bambaradeniya. There were Leslie Euphraums. Terry Williams, Muni Gomes and S. Sivendran from St. Peter's College. The balance to complete the strong Police team were the 'Raw talent' who had not played school rugby but who learnt the game after joining the Police such as R.P. Linton, G. Thirumani, T. Dharmaratne, C. Navaratnam, T. Rahim and Alahakoon who blended well in the team.
The first major upset the Police team created was when Police held the previous year's Clifford Cup champions CH&FC to a 3-all draw at Race Course, the then home grounds of CH&FC which club was excessively for the expatriates and had some great players in Peter Sandy (Captain), Mike James, Mike Prendaville, Jeremy Loyd, John Banks, Graeme McLeash, Neville Leafe, Paulette, John Burrows, Jeremy Cowley, Keith Anderson, John Legeyt and John Wilson.
Police scored first with a try by Flanker Alahakoon off a move started by winger Navaratnam who ran a good forty metres and passed to Alahakoon who was in support, when challenged to lead 3-nil at half time. Police missed scoring two more tries by Linton and Thirumani who were brought down on the CH goal line but still Police led 3-nil at half time and for the major part of the game and CH&FC managed to equalise with a push over try at the end with their superior height and weight off a set piece in the Police 10 metres. The press hailed this match as ''The biggest upset in recent years,'' where the previous year's Clifford Cup champs CH&FC had to come from behind to scramble their way to try to hold last year's affiliated club champions Police 'A' team who would not be in the premier tournament this year, but for the new rules - to a 3-all draw. If ever a case was needed to allow the affiliated clubs to take part in the Clifford Cup, the Police made it out in no uncertain manner at the Race Course and the CH&FC can offer no excuse for failing to win this. It was a superb fit Police team that made the grade. It was a dogged, determined team with nary a star, but 15 men in a well knit unit that defended doubly with tackling that should be an object lesson to any other team in Ceylon, and attacked with a pack of tiger-like forwards who in the loose could match and even better anything the CH could offer.Peter Sawdy and Anderson were two of the toughest men to bring down in Ceylon Rugger".
---
McCabe's Trent Bridge epic
The first Test of 1938 between England and Australia has surely gone into cricketing history as McCabe's Test. At least those who were fortunate to have seen it and are still in the land of the living will vouch for it.
On the 10th of June, Hammond won the toss on a typical Trent Bridge feather bed and decided to bat first. They opened with Hutton and Charlie Barnett, who were both playing their first Test against Australia. Barnett gave a most brilliant batting display scoring 99 before lunch. And didn't Australia move heaven and earth to see that he did not get that single before lunch. Both he and Hutton made hundreds and England lost their first wicket at 219. Compton made 102 and Paynter was 216 not out when England declared at 658 for 8.
And now to clear the decks for McCabe it must be remembered that never had Australia come so close to disastrously disappearing from a Test as they did at Trent Bridge that day. The fickle England weather had now taken a turn for the worse and there were dark clouds gathering over Trent bridge and some lowering clouds in Australia's dressing room. They lost Fingleton, Brown, Bradman, Ward, Hassett, Badcock and Barnett. Australia 7 down for 263 and with the follow-on target not even a speck on the distant horizon. But McCabe was still there with his castle crumbling all around him.
But from now on McCabe took this Test into his hands. Trent Bridge and the world itself must have stood still as he played one of the greatest innings of this century. And to keep him company there were only O'Reilly, McCormick and Fleetwood-Smith. With perfect manipulation he kept these three away from the strike. With O'Reilly he put on 56 runs for the 8th wicket, before O'Reilly was out for 9. Australia then lost McCormick at 334 and now it was only Fleetwood-Smith the No. 11.
Australia 334 runs behind and now there was only one question to be answered. At what time would England win? The answer as it transpired was never. With Fleetwood-Smith he put on 77 runs for the last wicket in 28 minutes. Of those runs 72 came off McCabe's flashing blade, while Fleetwood-Smith could manage only 5 singles. Apart from that out of the 300 scored while he was at the wicket, McCabe scored 232 of them in only 235 minutes. The fastest double century in Test cricket.
England's attack that had Australia by the scruff of its neck, now had the daylights (rather the twilight) of Trent Bridge thrashed out of them.
The scoreboard looked as if it was being operated by some sadistic Bank Clerk who was punching up the overdraft of some bankrupt client.
Indeed it was England's attack that was now bankrupt. They knew nowhere to bowl. Cuts, drives, hooks, pulls and glances enthralled Trent Bridge as spectators' eyes drank in the glory of McCabe's strokes.
- Bruce Maurice