---
We're his fans!
Though wheelchair-bound, Sri Lankan-born Joe Jayaratne is aiming for Sydney 2000
By Renuka Sadanandan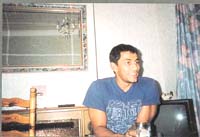 Joe Jayaratne has never walked unaided. He has lived all his thirty-five years on crutches or in a wheelchair but on those four wheels he has reached greater heights than many of us dare scale. A veteran of three Paralympics, the young man has represented Great Britain in wheelchair basketball since 1987.
Joe was born with Spina Bifida. Now a resident of the UK, it is his mother Mary Jayaratne, better known for her artistry with flowers who must tell his story of continuing courage.
Spina Bifida is not common. It is a congenital illness in which parts of the spinal cord and its membranes are exposed due to incomplete development of the vertebrae. Says Mary, "I had never heard of this disease, neither had my parents." The shock to the young mother was devastating...Joe was her first born, a baby so eagerly awaited and here were the doctors telling her that hope of a cure was not something she could afford.
They gave him a month, doctors adopting a 'let's wait and see' attitude. "Everywhere I turned people were preparing me for death," Mary remembers of the well meaning attempt to help her face what was thought to be the inevitable. But the month passed and she went back to well-known neurosurgeon Dr. Darrell Weinman.
He decided to operate.
The three-hour operation on baby Joe's spine left 26 stitches and kept him in the General Hospital for all of 16 days.
Mary stayed alongside, determinedly breast-feeding her baby in the Neurosurgical Ward, though the glass partitions afforded her no privacy and callous nurses told her she should take tablets to dry up the milk,
"Then we went home and life began."
Life, for an infant with Spina Bifida was tough. There were the fortnightly visits, the 'pilgrimages' Mary called them, to the doctors and here Mary and her planter husband Bhatiya faced a dilemma.
Bhatiya, then a young Assistant Superintendent based in Rakwana could not leave the estate often and most times it was the anxious young mother who made the trip to Colombo alone, and bore the long waits on the wooden benches of the General Hospital to check her son's progress. In those days in the early Sixties, there was no channelled consultation and seeing a specialist meant having to go through hours of queues.
One of the side effects of the Spina Bifida operation was that the patient could develop Hydrocephalus, a condition where the brain fills with cerebrospinal fluid and in the early stages of his life, Mary was cautioned to keep a close watch on her son to detect any signs of this dreaded complication. She had to measure Joe's head three times a day and was warned that should any change occur, he should be immediately rushed to hospital. "Thankfully we were spared this complication, but the tension was terrible," she recalls.
When Joe was six months old, Mary's parents, brothers and sisters moved to the U.K and the loss of their comforting presence seemed another blow, though it was to be a blessing in Joe's later years.
Baby Joe also had a defect in his foot and for this he was treated by an orthopaedic surgeon Dr. Rasanayagam, who when he was around 11 months old operated on his ankle.
The visits to the doctors continued and when he was almost two Mary flew to New York, where her father-in-law M.F de S Jayaratne was then Sri Lanka's ambassador, to see if there was any medical help to be had there. Further operations were recommended but the costs being too prohibitive, she chose to go to the UK where in Sheffield the procedure could be done at a lesser cost. This time the operation was on Joe's hip.
They returned to Sri Lanka and Joe underwent more physiotherapy all with the intention of getting the toddler on his feet. "As time passed though, we realised he would have to be on crutches," Mary said, but despite being plagued with asthma and migraine, he was a happy, cheeky youngster, ever ready to join other boys in neighbourhood games.
"I never stopped him from anything and even if it was a game of cricket he would be there, setting the field from the sidelines."
They lived on the estate until it was time for Joe to start school. He began at 'Aunty Joyce's (Goonesekera) montessori, happily embracing school life despite being on crutches..
Then Mary had to set up home in Colombo so that Joe could attend school proper, S. Thomas and here were more difficulties. Transport to school proved difficult, because school vans refused to take the boy, saying the crutches took up too much space. Even family members were not forthcoming with lifts to school and finally Mary decided that he would have to take the bus, crutches and all.
"The truth is that no one was interested in helping. One van driver even told me the crutches scratched the paint on the van."
But Mary had no intention of giving up.
"All through those difficult years, the times when each night I would shed anxious tears, what kept me going was the thought of what would become of him if his parents were not around. I felt the best I could do was to give him an education, a chance for him to lead his own life."
It was finally kindly neighbours, Clifford and Suranganie Abeysekera, who though having no prior acquaintance with them volunteered to take Joe to school each morning after seeing the seven-year-old limp up the road each day on his crutches to catch the bus..
The visits to doctors continued and so did the criticism of Mary from those who felt that she was being too ambitious in trying to get Joe to lead a normal life.
"It was then that I felt I'd had enough and decided to seek further treatment in the UK. Joe was nine when they left Sri Lanka. Another operation on his other hip followed and a long spell in hospital. Mary recalls with gratitude the help of a Sri Lankan doctor Dr. Joyce Mendis who helped her obtain a work permit to stay in the UK and finance his medical bills.
Mary returned to Sri Lanka two years later but Joe stayed on under his grandparents the late Ray and Imsy de Silva's care attending a special school there, learning to swim, taking part in wheelchair races and integrating more with society.
At eighteen, by now having made the transition from crutches to a wheelchair, he decided that like other young adults in that country he should be independent. He found a little room, recalls Mary and began living alone. He was by now, a citizen of the U.K.
Life changed when a social worker took him to a youth club in the area where he discovered the game of wheelchair basketball. Such was his enthusiasm that he was soon enrolled in a club in North London with the unlikely name of the Harringey Hornets and playing with a passion in inter-club matches. Yet there were setbacks. He fell seriously ill, underwent a major kidney operation and had to spend almost one year in hospital. Mary went to his side and was with him throughout.
"The moment he recovered he was back on the basketball court. Once I went to watch him play and when I congratulated him afterwards, he turned to me and said, 'Look out for me at the Olympics, I'll be there one day," recalls Mary.
At that moment her pride mingled with apprehension, she remembers, as to whether he was setting his hopes too high.
But soon enough a letter arrived. "Guess what, I'm chosen to play for England." The family was overjoyed but here too she says that there were people quick to cast doubts as to whether he was really representing the UK.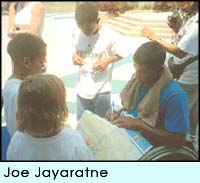 More good news followed. In 1987 Joe was chosen to play for Great Britain. And then came the exhilarating moment when he was chosen for the 1988 Paralympics, the Olympics for the disabled which is usually held after the Olympic Games. "When Joe went to Seoul, Korea with the British team to the Paralympics, I flew there to watch him play. It was the happiest day of my life." Tears still well up as Mary talks of this moment. The British team did not win any medals, but that seemed hardly important in the thrill of being part of Olympic history.
Joe by now was working in a firm that manufactured wheelchairs, having moved from room to apartment and was driving his own car, a specially adapted one, cooking his own meals, entertaining friends and even getting Mary to teach him how to turn out curries. His basketball career too was progressing. He had joined a bigger club, the Milton Keynes Aces and they played regularly in the European circuit, travelling to Germany, Spain, France as well as within the UK, and even to the US.
Come 1992, it was off to Barcelona again for the Paralympics. This time both parents were able to share the joy, more so in the heat of Spanish excitement. Again the British team did not win any medals but participation was what they delighted in. He had his share of fans there too. Once Mary spotted a girl wearing a t-shirt emblazoned with a picture of Joe. Stopping her, she said, "Hey, that's my son." The girl replied, "We're his fans."
Yet again, the pitfalls were to surface as the very next year, Joe suffered another setback. It was a kidney operation he had put off so as not to jeopardise his chances of going to Barcelona and it meant another long spell in hospital.
In 1996, Joe had the singular honour of being chosen to represent The Rest of the World against the US, the current world champions in a game in Atlanta. Later that year, it was the Paralympics in Atlanta. This time the British team won a Silver, but Joe, Mary recalls, was devastated that they had missed the Gold.
"He has won the Most Valuable Player trophy on many occasions, though he is very modest about it and won't display them, has them all stacked away in a box. But basketball is his life and he has given up his job as he is still in the Great Britain team. Now 'Sydney 2000,' the next Paralympics is Mary's dream and no doubt Joe's too. If he is chosen, it will be his fourth.
Yet there is a greater purpose to his life. On recent holidays in Sri Lanka, besides fishing in the seas off Trincomalee and visiting Yala, Joe has spent time at the Ragama Rehabilitation Hospital where Mary has been on the committee for some time seeking to help other disabled young men. Together they were instrumental in getting down Motivation, a British team of medical professionals to work with the disabled.
What Mary feels most strongly is the lack of opportunity that the disabled face in Sri Lanka, even in as basic a requirement as access to buildings. "In the US, the law requires that every building, every place, whether it be the Grand Canyon or the piers of Florida, be accessible to the disabled. But here what concern do we have? With so many young men without the use of their limbs after the war, isn't it time we thought of making their lives easier in this small, yet practical way?' she asks. Given the opportunity and equally important, the acceptance, maybe more young people will shine, against all odds, like Priyantha Joe Jayaratne.
---
More Plus * These drummers were a class by themselves
Front Page| News/Comment| Editorial/Opinion| Business| Sports | Mirror Magazine