Love on the net
By Chamintha Thilakarathna
Ever wondered if you might fall in love through the Internet? With a person you've never met, never seen? Sounds like a fairy tale or a plot for a soap, doesn't it? Yes, like how Meg fell in love with Ben on 'Sunset Beach' (if you have watched this current TV series).
Trust me, I thought of it as a twentieth century fairy tale too. That was till I came upon a young Sri Lankan couple who'd met on a website and fallen in love last year. In a few months, they will be married. Think about it, a young girl falling in love with an unknown boy over the chat line on the Internet may seem like a far fetched story. But it's not. Everyday, hundreds of young people meet whom they claim to be the man/woman of their dreams throughthe Internet. Believe it or not, a fairly reasonable number of them court each other on the web and end up getting married.
With the Internet becoming one of the fastest growing modes of information and entertainment, many young people can be found hooked onto it. And a number of Sri Lankan youth are also members of chat lines available on the Internet. The choice of chat websites is vast. And so are the services. But in the case of Srimali and Chaminda who met for the first time on a website, they never imagined that they would want to become lifetime partners. Neither of them was looking for a marriage partner, just a chat mate. "While surfing the Internet, I came across a chat line which my brother introduced me to called ICQ," said Srimali. The hidden meaning behind this name, she explained, was 'I seek you'. "It is a software available on the Internet for anyone who is interested in finding overseas friends or simply having a chat with someone, similar to a pen-pal. But here, you get to have live conversations with the person. Speak and reply on the web at the same time, just like in a conversation, the only difference being one has to type in the words. One could have several conversations also, such as conference phoning."
"When the website asked for my specifications I said I wanted to have only Sri Lankan friends and I received a list of Sri Lankans registered with the site. I chatted with a number of them but I got really close to Chaminda for he and I had a lot of things in common," Srimali said.
She says that chatting to Chaminda on the site never made her feel as if she was apart from him, just that she did not know what he looked like. "At first, we used to describe how we looked, to each other -our height, weight, colour and things like that. But we never really knew what the other person looked like, till we sent each other photos through the web. But we met only months later when Chaminda who is working abroad, came to Sri Lanka on holiday," she said.
"I was a little nervous to meet him at first, for although we had come to know each other very well, it was only through the web not personally, so I wondered what the reality would be," she said. When they finally met, however, their feelings were reinforced. They decided they were indeed perfectly suited and should get married.
Srimali's parents had known about her chatting on the web, but marrying someone whom she came to know this way would have been the last thing they expected. But after having met Chaminda they gave their consent.
This may be the first time you've heard of a web romance. But it happens every day in many parts of the world, including in Sri Lanka. Marriage, romance and courtship are a different proposition in the world of the Internet. No longer is it a must to court in person, write letters or even see each other. The Internet provides couples with the opportunity of being personal without ever having to meet.
In fact there are a number of items available on the Net free of charge for which one's presence is not important. But for obvious reasons, we will not list them here.
Though she herself found love on the Net, Srimali is quick to warn others of the dangers of letting yourself enter this world. "It may be fun to chat to someone you don't know and get to know people on the web site. But this could easily mislead people, especially the young," said Srimali. She says that many Sri Lankans registered on the Net use it to send vulgar and perverted messages, although it is illegal even on a website.
"A lot of guys make advances on the Internet and one has to be very careful in selecting one's chat mates. Since you do not know them personally it would be difficult to do so. I have been very lucky in finding someone who is not like that. Someone who understands me and with whom I want to spend the rest of my life. But a chat line is not the best place to find your lifetime partner, for the chances of meeting the wrong kind of person are high," Srimali said.
According to her, sometimes, there is no stopping such perverted persons from forcibly trying to chat with you, unless you make a complaint, which one rarely does. And she says that many young girls have been misled by chat mates who make various proposals.
Marriage is for life. Loving a person is knowing and understanding what he likes to do, how he or she interacts with other people, the way he or she does things, not just what is said on a website, argue some. But in our increasingly technological world, would we consider the possibility of falling in love with someone we think would be our lifetime partner through the Net?
The Mirror Magazine asked some youngsters what they felt. And to our surprise, all the young people said they would give it a try and keep the option open.
An eighteen-year-old student who will be sitting her A/L examination said that it is possible to fall in love over the web. " Although I don't have Internet, I think it's a possibility. And why not?" asked Davika Weerasinghe.
Shane Samaranayaka, a sales representative from Maharagama said that he wouldn't say it's impossible. "You never know how you will meet the girl of your dreams. And that is the wonder about falling in love. So, it could be on the Internet. I don't see anything wrong with it," he said.
"It is like falling in love with a pen-pal or a phone pal as so many people have done over the years, don't you think? The only difference is that this is through a computer. You never know you may fall in love with someone on the web," said Mohammed Nawaz, a CIMA student from Kotahena.
They all agreed that one must see the person before coming to a decision like marriage. But as for falling in love, it's possible.
Of course, the chat lines have their rules and regulations too. One is not allowed to exchange obscene or pornographic items through the line, or harass, threaten or abuse another . But the offenders could only be punished if the recipient makes allegations against another registered chat line user. Then his/ her registration would be cancelled immediately. While in Srimali's case the chat line brought love, it needs to be handled With Care! revealed even on request.
---
The Boundaries of reality
By Delon Weerasinghe
People who give things Latin names usually want people to ask them what it means. Which is exactly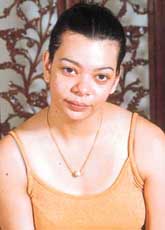 what I did when I met Senaka Abeyratne during rehearsals for his new play 'Virgo Intacta'.
He tells me that the literal translation means 'Untouched Virgin'. But the play he says, is played on several levels- "there's fantasy, there's religion, there's romance, there's sex, there' s despair, there's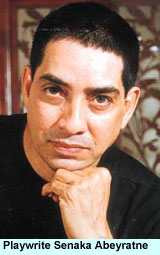 neurosis. I've tried to weave it all into a tapestry." The characters in the play have Sri Lankan names but the play could be based in any time or place. It is a psychological drama that aims to push the boundaries of reality.
The title of his play "is actually a legal term and it's a basis for divorce". If she so wishes, a woman can claim that she is 'Virgo Intacta' and sue for divorce. But he insists that 'Virgo Intacta' in this play, "is not only a sex thing, it's much more. Of course there is a physical aspect to it where she has not been touched. But at a deeper level she has not been able to communicate with her husband."
This is where Senaka feels many people will be able to relate to this play. Many marriages are paralyzed by the fact that one or both of the partners have difficulties communicating. In this case Kamal the husband, finds it difficult to consummate the marriage. "Madhu is physically a virgin, Kamal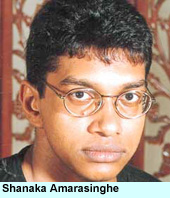 is mentally a virgin. So when I say 'Virgo Intacta' it's in a much broader context than just the physical connotation."
Tracy Holsinger the director of the play, claims that what attracted her to the script was the fact that she found it funny. She enjoys the aspect of fantasy in the play, and the fact that the playwright has left so much of freedom for her and the actors to improvise and interpret it. The fact that it is a play that deals with the idiosyncrasies of the mind was an added bonus. She admits, "I'm really enjoying it because I'm fascinated with the mind and I think rather bizarre thoughts myself."
The mind is a very strong force and this is reflected in the play. The ability the mind has to create alternative realities for some people (called madness by most) is felt very strongly in the character of Kamal. Although on the surface he leads a normal life, Kamal is tormented by demons created in his mind. The play also explores the trauma this causes to those around him, especially his wife. Shanaka Amarasinghe who plays Kamal feels that people would be able to relate to his character. "There are people who are screwed up to that extent I'd like to think that I'm not one of them.I feel that (for me)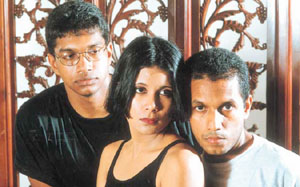 it' s a difficult role to play without acting."
'Virgo Intacta' is a play which relies heavily on characters. The playwright is the first to admit that, "There's no plot as such. It's more what goes on between the people." And each person changes as the play progresses, none of the characters are constant. Dylan Perera who plays Prins, an artist dying of cancer, feels that the characters need to be rich because, "It (the play) is dealing with issues that are not easily dramatised. It's a reflective piece. The audience will take different things out of the play depending on which characters they identify with."
Dylan feels that this play is best described as a " type of Homeopathic play. It puts a couple of irritants out there and you wonder what the hell is going on." Karen Balthazaar who plays the role of Madhu says that, "The play is like a big jigsaw. The scenes revolve around the characters and I think that there is a huge chunk of us in these characters .......oops, I just said that they were eccentric too didn't I?"
This play is also about emancipation. "But it's not the type of emancipation that we usually talk about," says Tracy. All the characters in this play are looking for emancipation in their own way. What makes them rich characters is the way in which they choose to do it. A man looking for freedom from the demons which torment him in insanity, a woman looking for freedom in a dying man, from a marriage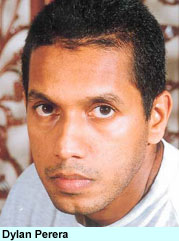 she finds unfulfilling and a dying man looking for freedom from the desires of this world. It seeks to expose the strange and improbable places in which people look for refuge religion, obsessions, denial, insanity.
All the actors agree that they've enjoyed the experience of acting with each other. "Tracy's a very interesting person to work with," says Dylan. "It's good working with the people as well. The play is a very intimate play and it's much harder to do if you are not relaxed and completely at ease with the others."
Although the original plan was to stage the play at the Lionel Wendt, it was soon decided that the play required a level of intimacy with the audience that popular theatre just couldn't provide. 'Virgo Intacta' will be enacted in the gardens of the Barefoot gallery in Kollupitiya, in front of a small audience. The audience will be completely free to do what they like in order to make themselves comfortable.
Tracy is also aware of the difficulties involved in presenting a play which deals with uncomfortable issues to a popular audience. It has the potential to be funny, it also has the potential to offend a lot of people - which is why it is aimed at a small audience. But Dylan believes that the fact that it's not a popular play in no way detracts from the quality of the play. "It's not a popular play but that doesn' t make it any less valid as a play. And I feel that our audiences are ready for it." 'Virgo Intacta' will be performed at the Barefoot Gallery on March 5 and 6 at 7.30 pm. Tickets are available at the Wendy Whatmore Academy, No. 5, 13th Lane, Colombo 3. The cast invites the audience to bring along whatever they need to feel comfortable. Suggestion: cushions.