Body building breaking down
With the president accused of bolting out of the country abandoning the Federation, Sri Lanka's controlling body is crumbling apart
By Ravi Nagahawatte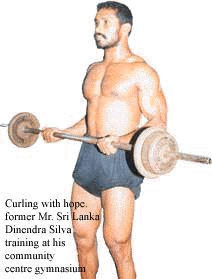 Despite all the attention they get from carrying their pumped up muscles, the Lankan body builders seem to be a bunch of athletes who continue to get scant respect from their main controlling body. The sport's best selling books have often carried inspiring columns with striking headings such as 'In body building you wear your sport'.

But then with the current set up, where favouritism is now another weight of burden added to their daily training load, one wonders whether our body-builders could survive without buckling down under the pressure.

Many poured out their hearts in desperation when "The Sunday Times" visited some gymnasiums to get comments from the musclemen who did not hesitate to scream for help.

The indefinite postponement of the country's most looked forward to contest and the sudden emigration of the association's president highlight the gloomy cloud that hovers over the sport's future.

The saddest part however is the exit of the association's big boss, Thilak Jayaweera ,who is accused and frowned at by the body building public of jumping out of a sinking boat. "We have never been given proper guidance. These officials never sight training centres. The president is missing. You can just see the sorry situation" said Daminda Cabraal, a Novices class winner and best poser who trains at the Young Men's Christian Association in Fort. "They even consume liquor after holding meets. And I think it's with the association's money".

With the Sri Lanka Body Building Federation's unsavory activities has begun yet another 'new routine' which is going on joy rides. Added on to the federation's once only trip, the tour for the Asian Championship, became a fun ride late last year and what annoyed some of the best body builders was that the Lankans were represented by average body builders .

"Trials for foreign tours should be held without favourations. Some of the contestants who went on the last tour cannot even place themselves in our local meets" said Dinendra Silva a former Mr. Sri Lanka winner. He also noted that this slide in the body building field has occurred very recently .

Going down memory lane in this poor man's sport, it was once controlled by a band of influential people who indirectly made it clear that its posts were for English speaking individuals. But since the take over of the association by members of the down trodden class, it is somewhat evident that getting sponsors of some worth has been a problem. R.L.J Navaratne, a former vice president of the association , however was of the opinion that the SLBBF could get funds from the ministry if the contestants began to win medals at international events. "All must help to get the sport to move forward" reflected the technical officer who works at the Municipal Council.

"We must get a good sponsor and develop our association's funds" opined P.A Karunaratne who headed the federation in the years 1994 and 1995. He added that during this period the association was financially stable with rupees thirty thousand in the bank. It was also the first time that the association owned a fixed deposit in a bank.

The lack of substance in the prize money at meets could also be a measuring stick in the sport's success. A tiny cup and certificate is what the winner usually gets. And adding to the body builders woes the expenses in obtaining high protein diets often leave these athletes out of pocket.

The bleak future which these body builders hold becomes more than evident whenever the opportunities arise for musclemen and models for comparison. Modelling has an obvious advantage over body-building as a much better money earner. So, youth of the country given the choice would prefer modelling.

Physical culture enthusiasts see a better organisation structure in the modelling scene for it's distinct success over the sport of body building.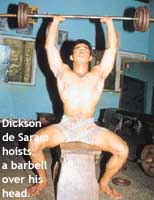 The all-island Mr. Youth winner, E.M.. Dickson de Saram, had once received an opportunity from a Pakistani national to enter the field of modelling. When the Lankan had turned down the offer stating that he was only interested in body building the Pakistani had this to say: "It's very surprising that you are not interested. In our country, the rewards in both fields are attractive. If you won a provincial body building championship in our country you would get something around fifteen thousand dollars".
"After hearing this I felt sad" said de Saram who works out at the Stanley Janz Community Centre in Kollupitya.
Like they grasp for air during an intense workout, the remaining officials of the federation in a last gasp effort to save the sport are reported to have had an emergency meeting to elect an acting President.
The stand -in president, Nimal Chandrasiri, speaking to the "Sunday Times" said that he had received a letter from Tilak Jayaweera's wife which states the ex-president's intentions and the notification relating to his leaving the country.
"At the moment I cannot reveal much as I just took over. Our aim is to finish the remaining events of the calendar and hold on till this term expires".
Will this sport which has fallen from zenith to nadir ever rise to the heights which it was once in ?.

---
Waugh bats and he bets
By Terry brown and Ruth Lamperd
MARK Waugh's job might be cricket, but his passion is punting.

He is renowned for finding casinos wherever the Australian team tours.

And he's never been afraid to reveal betting is a love of his life.

"Along with golf, it's probably my favourite pastime and cricket gets in the way a bit," he said.

Waugh has owned several handy horses including Drive Time, which he co-owned with Sydney trainer Gai Waterhouse.

And last year Waugh wrote of his punting exploits in his book A Year to Remember.

"I've been a mad-keen punter ever since I can remember," he wrote.

"When I was a kid, dad took us to Bankstown trots and I must have backed a winner because I've been going back ever since."

The love of the punt eventually led Waugh into horse ownership.

He owns the pacer Clever Kiwi and the filly Hit Wickette.

Waugh admits in his book that punting "only got in the way of my cricket once".

"I backed Super Impose when it won the Cox Plate at 25-1 over the favourite Naturalism in 1992," he recalled.

"I was batting for Bankstown against Sydney University and we needed 30 to win and they were about to jump at Moonee Valley.

"We were home and hosed.

"I just couldn't miss it.

"I went for a big hit and top-edged the ball in the air and I got to see my long shot bring home the cash."

He also recounted an incident on the last tour of England, during a game against Nottinghamshire.

"I had a race to listen to and Ricky Ponting was resuming," Waugh said.

"It was 8 p.m. back home and my horse, Clever Kiwi, was racing at Harold Park.

"I thought I'd go to the toilet and listen to the big race as we're not supposed to have mobile phones in the dressing room.

"First I told Ricky, 'Whatever you do, don't get out in the first over'.

"There I was sitting in the toilet with the mobile phone when Ricky got out.

"I was sprung like a schoolboy.

"I had to hang up and get out into the middle with 400m still to go."

Last year bowler, Glenn McGrath wrote of Waugh's love of the punt.

"He is a typical Aussie gambler who would bet on two flies crawling up a wall," he wrote.

"He is always there with Ricky 'Punter' Ponting watching the races on Sky Channel."

McGrath said Ponting who owned champion greyhounds in Tasmania, would study the form with Waugh.

"When we're on tour, Punter likes getting the race results faxed to him so he can keep up-to-date," McGrath said.

-Courtesy The Herald Sun

---
India, Pakistan deny seeking ban for scandal
New Delhi -Sub-continent cricket chiefs denied they would lobby for a ban on Australian duo of Mark Waugh and Shane Warne for accepting money from bookies.

Pakistan Cricket Board Chairman Khalid Mehmood attacked reports quoting him as saying India, Pakistan and Sri Lanka would press the game's governing body to ban Waugh and Warne.

"I never said such a thing," Mehmood said. "It is a mischievous, fabricated report designed to spoil the cricketing relations between Australia and Pakistan."

Indian cricket chief Raj Singh Dungarpur backed Mehmood's claim, saying he was not aware of any move by the sub-continent to force the International Cricket Council (ICC) to ban the two players.

"This thing about us lobbying for a ban is rubbish, it was never discussed," Dungarpur said.

Mehmood was quoted as saying last week in Pakistan that the sub-continent would jointly seek to have Waugh and Warne removed after they admitted taking money from an Indian bookmaker for information on pitch and weather conditions during a tour of Sri Lanka in 1994.

The Australian Cricket Board (ACB) reacted angrily to the report, saying it would oppose any such moves since it was conducting its own inquiry into the matter.

The executive board of the ICC, which meets in Christchurch on January 10 and 11, will discuss the match-fixing and bribery scandal that has taken the cricket world by storm.

Dungarpur, who will attend the meeting, said India would back moves by the ICC President Jagmohan Dalmiya to conduct an independent probe into the scandal.

"The air needs to be cleared," he said. "Cricket's image has suffered badly in recent months and we can't afford it. It's just not cricket."

Waugh and Warne have been asked to appear before a Pakistan Judicial Commission in Melbourne on January 8 when they will be questioned about their allegations that former Pakistani Captain Salim Malik offered them money to lose a match in 1994.

The Pakistani inquiry is expected to be completed by the end of January, while a separate ACB probe which seeks to interview all Australian cricketers since 1992, will begin work on January 12. (AFP)

---
BCCI increases players' pay
NEW DELHI - The Indian Cricket Control Board has substantialIy increased the wages of those playing for the country, with the Test match allowance going up by Rs. 15,000 and that for one-dayers by Rs. 10,000.

Announcing the decision taken at the BCCI working committee meeting, the Board Secretary, Mr. Jayawant Lele said the Test match allowances would go up from Rs. 25,000 to Rs. 40,000 and one-day payment from Rs. 15,000 to Rs. 25,000. This did not include money earned through wearing logos and sponsorship.

Umpires will also receive the same benefit and will be paid the same amount as players for both Tests and one-dayers.

Meanwhile, the first list of 30 probables for the England World Cup would be announced at Calcutta on January 12 ahead of the January 15 deadline for submitting the list to the England and Wales Organising Committee, Mr. Lele said.

The second list of 20 would be named on February 28 and the final 15 players and four standbys would be given out in time to meet the deadline of March 31.

The Indian team will reach England on April 24 for the World Cup which begins on May 14. India play South Africa in its opening match on May 15.

Mr. Lele said Board President, Mr. Rajsingh Dungarpur would be taking part in the crucial International Cricket Council executive board meeting in Christchurch on January 10 and 11.

Revival of India-Pakistan Tests

Delhi and Chennai or Kanpur will be the venues for the two-Test cricket series between India and Pakistan, which will end a decade-long break in Test tours between the two neighbours.

Delhi has been chosen to host the first Test from January 28 to February 1 and the second tie will be held from February 4 to 8 at either Chennai or Kanpur, the venue to be finalised in a day or two after discussions with the Pakistan Board and the Union Home Ministry on security.

Schedule

Following is the itinerary of the India-Pakistan Test series, triangular one-day tournament and Asian Test championship.

January 21: Pakistan team arrival in Delhi. Jan. 23-25 vs Board President's XI (venue to be named). Jan. 28-Feb. 1: First Test in Delhi. Feb. 4-8: Second Test in Chennai/Kannur. Feb. 11-13: vs India Under-25 (venue to be named).

Triangular one-day series: India, Pakistan and Sri Lanka (Venues: Jamshedpur, Nagpur, Jaipur, Visakhapatnam, Pune and Mohali). Dates: March 19, 21, 24, 26, 29 and 31. (Allotment of matches venue and datewise fixtures yet to be made). April 3: Final at Bangalore.

Asian Test championship: February 16-20: First Test India vs Pakistan at Calcutta. Feb. 24-28: Second Test India vs Sri Lanka at Colombo. March 4-8: Third Test Paskistan vs Sri Lanka in Pakistan. March 12-16: Final at Dhaka.

---
When Duleep thought 173 was enough!
By Bruce Maurice
When England played Australia in the 2nd Test at Lords in 1930, Percy Chapman won the toss from Bill Woodfull and decided to bat. This was on June 27 and England did not start too well. They lost two wickets for 53, and Duleepsinjhi playing his first Test against Australia came in at number 4.

From the very first ball that he faced, he was in tremendous form and a century for him was a foregone conclusion. It did not look as if anybody from Australia's bowling attack would shift him as he went on and on. And that day the Australian attack comprised Wall, Fairfax, Grimmett, Hornibrook and McCabe. But after making 173, Duleep thought it was more than enough and lofted Grimmett to long on, where Bradman was waiting for it in front of the pavilion.

It was an innings for the treasure box and Duleep got a standing ovation from the crowd. Even the Australians joined in. On his way he had to pass Bradman, and as he approached Bradman, the Don asked him, "Duleep, why did you do that?" Duleep was flabbergasted! Wondering what the hell Bradman was talking about. After all wasn't 173 enough? After that England went on and made a healthy 425, and Australia started off with Woodfull and Ponsford. They put on 162 before Ponsford was caught and Hammond bowled White for 81.

Then came Don Bradman. What's more he was making his Lords Test debut. Up went his first hundred. He took a fresh guard and went on. Up came his 200 and another guard. Up came the 250 and then at 254, an out of this world catch by Chapman in the gully off White removed him.

It was only then, that it dawned on Duleep what Bradman was talking about. It is the bowler's job to get the batsman out. Not for the batsman to do the bowlers job!

Australia replied with 729 for 6 and declared and after getting England out a second time for 375 - Chapman made 121, Australia hit off the 72 runs needed for the win losing 3 wickets in the process. Duleep was then picked to tour Australia in 1932-33 but had to pull out due to bad health.His place was then given to Bill Bowes.

---
In brief
Royston Lye as president of Malay CC
Mr.B.Royston X. Lye was elected President of the Colombo Malay Cricket Club at its 126th Annual General Meeting. Mr. Juragan Majid was elected as the Hony.General Secretary. Following is the full list of office-bearers, who were unanimously elected to hold office for the ensuing year: Patron: Mr.B.Doughlan Lye; Vice Patrons: Mrs. Kathijdha Deane, Messrs M.K.X.Sabar, Ackiel Mohamed, Harris Kitchil, M.T.Osmand, T.S.Saldin, R.M.Sabar, Nihar Musafer, Mr. Bunny Saldin, T.M.A.Raheem, T.B.Dulapandan, T.M.F.Dole, B.M.R.Lye, T.A.Dole, Ms. Felicia Mohamed. President: Mr. B.Royston X.Lye; Club Captain Mt. T.C.Buckman; Vice Presidents: Messrs. Thaha Mohammed, Branu Rahim, Thaj Sarifo'deen, Shiraz Lye, Razmar Lye, T.F.Rawdin, Lahan Samsudeen, Hadjiani Fazeela Cuttilan, Brig, Tacky Sally, Brig, T.M.Bohoran. Hony. Gen. Secretary: Mr. Juragan Majid; Hony Asst. Secretary: Mr. Uvais Samsudeen; Hony Treasurer: Mr.Ackiel Ousmand; Hony Asst. Treasurer: Mr. IrfanAllang; Ground and Pavilion Secy: Mr. Fazal Burah; Branch Secretaries: Cricket - Mr.Mirza Fajudeen; Hockey - Mr. Tony Mohotar; Netball - Mrs. Mazeena Aher; Youth Affairs - Mr. Sagara Amit; Refreshment/Bar: Mr. Rilwan Lantra; Social/Entertainment: Mr.Hussein Jayah; Indoor Games: Mr. Azan Burah; General Committee: Messrs. Rohan Musafer, Hafleen Samahon, Azmath Mohammed, Tony Rajudin, Hisham Abdeen, Iqbal Hamidon, Mashood Ahamath, Thaj Lantra, Mrs. Shanaz Bohoran, Mrs. Roshan Ousmand; Hony Auditor: Mr. S.B.C.Hahahdeen; Trustee: Dr. A.R.Deane.
Boycott sad
Former England opening batsman Geoffrey Boycott was found guilty of assault against Margaret Moore, a former girlfriend in France in 1996. The judge upheld the verdict from the original trial and the sentence- a suspended three month jail term and a fine of £5300. According to news reports Boycott seems to have been judged on his lack of knowledge of the French language and on the fact that he had to ask for explanations of what was being said about him in court. Following the verdict, one of England's prominent newspapers and the BBC have terminated their contracts with Boycott. (MF)
McMillan retires
South African allrounder Brian McMillan has retired from international cricket. The 35 year-old burly cricketer played in 38 Tests, scored 1968 runs and claimed 75 wickets and also took 49 catches. (MF)
Threat by militants
Hindu militants have threatened to disrupt Pakistan's tour to India later this month. The leader of a right wing political party has threatened to stop the tour. "Dont allow Pakistani cricketers' feet to touch your sacred motherland", he has told his countrymen. The same political party was instrumental in digging the Mumbai wicket in 1991 and warned the Pakistanis of touring. Threats of violence have also forced the abandonment of tours in 1993 and 1994. Pakistan's last Test series in India was in 1986/87. The teams have not met in a Test series since 1989/90 when Pakistan hosted India. this month's proposed tour will include 3 Tests and 5 one-day Internationals. (MF)
Samitha captures 7/49
Samitha Lasantha the skipper of St. Anthonys College Wattala captured 7 for 49 in their drawn inter school cricket match against Sri Jayawardenapura MV played at Athurugiriya. St Anthony's - 239 all out (J. Sivanesanranjan 80, Ranil Cooray 49, R. Ariventhan 35, Samith Lasantha 24, Shamindra Perera 22, Lakmal 4 for 35) and 203 for 9 (Ruwan Amila Perera 46, R. Arivinthan 40, J. Sivanesranjan 37). Sri Jaywardenepura MV - 207 all out (Varuna Silva 72, Samith Lasantha 7 for 49 Dasika Prasan Vitharana 2 for 119).
29 for Junior tennis
The 16th Junior International tennis championships sponsored by Ericsson Tele-Communications Lanka (Private) Limited conducted with the National and International Tennis Federation World Ranking programme will be held from January 25 to 31 at the National Tennis Centre courts at Green Path. This championship has attracted girls and boys from 29 countries which will include junior champions from Germany, UK, India, Austira, Italy, Japan, Saudi Arabia, Bharain, Brunei, Hong Kong, Indonesia, Iraq, Kazakhastan, Kyraghistan, Malaysia, Oman, Pakistan, Thailand, UAE, Bhutan, Maldives, Nepal, Bangladesh, Korea, Doha, Singapore and Tajikistan.
Japan to host World Cup
Asia's top rugby power Japan has set sights on becoming the first country in the region to host the World Cup. Japan will consider putting forward an Asian bid to host the 2007 15 a side rugby World Cup. The enterprising bid could include Hong Kong and South Korea with Japan being the main hosts.
Sevens in Argentina
Argentina has been selected by the IRB to host the 2001 Rugby World Cup Sevens. The preferred venue for the tournament, the third in the series following Edinburgh (1993), Hong Kong (1997), is Mar Del Plata in January. Earlier, Spain and Argentina had been short listed from 11 originally interested countries.
---
Kick-boxing: The latest craze
By Gamini Perera
The latest craze in Sri Lanka sports is kick-boxing. Posters are displayed on city walls and in the outskirts of Colombo announcing contests of kick-boxing and indicating venues and centres where this form of martial art could be learned.

According to some veteran karate coaches who conduct lessons in karate, a good number of their pupils have set their eyes on kick-boxing and are very keen to follow this art. But, those 'gurus' who are proficient in both arts are in high demand. They conduct classes in separate sessions and the students entering their academies keep increasing in number.

A Thai art

Kick-boxing is a Thai martial art known as Muay Thai. Thai boxing or Muay Thai is popularly known as kick-boxing outside Thailand and in the Western world. In Thailand, it is a national passion. With its acrobatic kicks and devastating punches to the solar plexus, kick-boxing is a sport of stamina and endurance.

Muay Thai is thought by some to be inconsistent with Thailand's Buddhist ethic that shuns the pointing of feet at another person, even when sitting. Fighters bow to their mentors, taking a vow of loyality before performing the 'ram muay' or the boxing dance that precedes the fight. The dance mixes exorcism of spirits with stretching and loosening exercises. Pre-fight aerobics are non-violent and graceful in contrast to the "anything goes" style of the fight itself. A barefoot kick in the face is fair game and there are no "below the belt" prohibitions similar to those found in the Western boxing ring.

Combatants can use their gloves to grab their opponent by the neck and thrust a knee up at the head. This often connects to a knock-out. Shoulders hunched, the boxers dance with the music, sparring and manoeuvering for an unguarded angle. If a kick misses its mark, a boxer risks having his foot grabbed, while his opponent pummels him with his free glove or foot.

Vigorous training

Vigorous training aims to render pain irrelevant to performance. Some of the trainees, limp for months with bruised shins until they become accustomed to the all-out sparring in the training camp.

The Thais, naturally don't have the best physical form, but when the kick-boxers meet experts in other martial arts, these small-built Thais emerge victorious because of the tremendous punishment they can withstand.

Japanese kick-boxers, karate, judo and kung-fu experts - all have met their match with the Thais. But, it has been proved that none had lasted past two rounds.

The Muay Thai boxers are professionally trained by Western coaches. According to these coaches, kick-boxing is 70 percent violence and 30 percent style, as compared to 30 percent violence and 70 percent style to most other martial arts in the world.

Less popular

International boxing is less popular with Thai fans than Muay Thai. The general procedure is to have one Western style event, on an eight-card programme.

Fears that the violence of Muay Thai would be carried over onto the street are rarely realised in this part of the world. Muay Thai is banned in the Schools, but still it remains as Thailand's most popular sport.

Before the introduction of gloves, hands were bound with cotton soaked in glue. The cotton was mixed with ground glass. A seashell was commonly used to protect the groin.

The toll of bodily punishment rarely allows a kick-boxer to fight on professionally past the age of 28. The ageing warriors become coaches or, if they are lucky, bodyguards for high-ranking government officials.

Tough way

At the ringside, the spectators clearly enjoy the sport. But, will parents in Sri Lanka give their assent to this type of violent fighting inside the ring?

Boxing in any form is a tough way to make a living. Doctors, in Sri Lanka have repeatedly warned that the head blows a boxer receives can lead to permanent brain damage and blindness, even if one is never knocked-out.

Sometimes the damage does not become apparent until years after the fighter's career has ended.

For any sport to thrive, safety is not the only area which needs to be looked into. If kick-boxing is going to be made an approved sport in Sri Lanka, it has to be given more respectability and responsibility.

Firstly the promoters must have a control over the conduct of street smart promoters and also keep a strict vigil on mismatches.

Secondly, the ABA of Sri Lanka must coalesce with any new body formed to look after kick-boxing and see eye-to-eye on many counts.

Much thought must be given before Kick-boxing is officially introduced in Sri Lanka. Even in Thailand, where kick-boxing is a national sport, the visitors are often taken aback by Muay Thai, which spurns Western "below the belt" prohibitions.
Running Reflections
---
King's Road wins Challow Hurdle
Challow Hurdle, a Grade One event
for 5-year-olds and upwards over
21 furlongs and 11 flights at Newbury
attracted only five starters
Ismail Khan
Inclement weather in the United Kingdom and even in our own isle Sri Lanka did not stop the punters from having their day out horseracing Saturday last when Newbury and Ayr, the principal centres plus other jump venues were worked off successfully. Also not to be outdone the all weather flat racing too got off well and raced off to the satisfaction of all concerned, at two centres, Lingfield and Southwell. Herein my piece is on the National Hunt scene.

Challow Hurdle, a Grade One event for 5-year-olds and upwards over 21 furlongs and 11 flights at Newbury attracted only five starters and the punters got on to the winning bandwagon straightaway having hefty wagers on N. Twiston Davies nurtured and Carl Llewellyn ridden King's Road who never put a hoof wrong and went onto add to his laurels notching his fifth win in eight starts gaining another £25,000 prize added to his gradually bulging tally.

In this race Rio's King finished runner-up.

Newbury opened out on a grand scale as the favourtie Nipper Reed ridden by Adrien Maguire made almost all from 2 out to win as he liked at 7/4 from Collier Bay. The winner trained by R. Simpson has his eyes set on other big races at this same centre. So follow him carefully.

The Furlong Club Handicap Chase over 20 furlongs worth £10,000 saw the combination of in-form Noel Williamson and Miss V. Williams draw further blood this jump season, their Fourth In Line coming in first in line from Dantes Cavalier and Golden Spinner. The winner who has won nine races out of 30 runs is a sharp 11-year-old and Miss Williams has pencilled out a good programme for him. So that's for your short list.

The third event, a Novices Hurdle sponsored by Trevor Salmon saw Carl Llewellyn on Bosuns Mate winning the first of his three races. Taking his Guvuor's 6-year-old novicer Llewellyn waited with and having got over the last hurdle without a mishap streaked away to a glosy win over Yeoman Sailor and Russell Road. One for the record Mrs. Pitman's Yeoman Sailor.

Race number four at Newbury the Mandarin Chase had eight starters and it was in this race that veteran jockey G. Bradley showed the sparkle which made him a top rider a few years ago when he steered the reluctant but in-form Rightsaidfred to a good victory at 8/1 over Ask Antony and Toni's Tip.

Trained by Miss A.M. Newton Smith, the winner Rightsaidfred has won seven races out of 13 starts and this chaser looks good enough to stretch the sequence of wins much further. So follow him. Ask Antony who finished second was not a disappointing runner-up as he had some difficulties during the course of the event and has to be given another chance or two.

The Challow Hurdle went to King's Road who gave rider Llewellyn his second win for the day from Rio's King. Horse to follow the winner himself.

The last race on the card, the Rocking Horse Nursery Hurdle was the third race that Llewellyn won for the day taking N.T. Davies' Moorish booting him at 7/1 from Bold Gait. He was the most successful jockey for the day at Newbury.

So, that ended Newbury's Challow Hurdle and Mandarin Chase meet on a grand scale where all the punters on course at Newbury and also our local punters here in Sri Lanka had a great time picking innumerable winners. It was a profitable day of course for the average punter.

So, that's all for today. More next week as the jump stage picks up momentum with big races looming up.

---
The wish that was never fulfilled
Zain went shopping that fatal mid-afternoon during the Asian Games wishing to buy a toy
for his youngest kid Ziyan. It was one last thing he couldn't achieve.
By Channaka de Silva
Rizvi Zain had the contentment of seeing many of his life's wishes come true. But last month when he passed away suddenly in the most unexpected manner during the Asian Games, he had just seen one of his cherished dreams shatter and had another wish he could not fulfill.

Failure of the Sri Lankan swimmers at the Games would have undoubtedly broken his heart as he was desperately in need of at least one final berth from them. The wish he could not fulfill was to buy a toy for his youngest kid.

During his last few days, Zain had been strangely silent. His most ardent student and his nephew Ghefari Dulapandan, the national swimming captain who was close to his guru during his final moments just as he did throughout his entire swimming career, was fighting tears when he described those depressing moments to the "Sunday Times".

"He was unusually silent. Generally, he used to speak to me often and give me advice constantly to keep me focused on my target" Dulapandan said.

"During the last few days, he seemed to have some pressing problem in his mind and even I grew restless when the time he spent gazing at nothing and kept thinking increased. So, I asked him what the problem was, but he would not tell anything."

"He said he was okay and told me he was just thinking that he had to get a toy for his youngest kid Ziyan before he went back to Sri Lanka." Dulapandan said, adding that there was however a more serious problem which was troubling Zain.

"I felt that I was also a culprit because I knew it was our failure that kept worrying him as he had told me before the meet to be careful and try to get at least into one final event so nobody can say anything. So, I apologised to him" Dulapandan said.

But Zain told it was not necessary. "Ghefari, I can't blame anybody for it. because you all practiced for just two weeks. It is obvious that you can't match the people who have been doing nothing but practicing for two years". Sri Lankan authorities including the ministry and the national governing body, National Amateur Aquatic Sports Union (NAASU) failed to take a firm stand as they were dilly-dallying with the idea of sending a swimming team and the swimmers who went finally knew that they were going just two weeks before the actual competition began. There was little surprise that they could not perform any better.

All Sri Lankans were expected to wear the national costume for the opening ceremony and Zain was overjoyed by it. He said he didn't have a picture of his in the national costume and asked diving coach Fayaz to take one for him. He was never interested in such things. But during the games he made it a point to remind Fayaz several times to give him a copy of the picture. Unfortunately he was never to set eyes on it.

All Sri Lankan swimmers had finished their competitions by December 11, and on the following two days they went shopping and sightseeing.

On that fatal day, December 14, Zain who had not gone out till then, went shopping in the mid-afternoon after telling Dulapandan that he is going finally to buy the toy for Ziyan even if he did not get anything for the others at home because "Ziyan wouldn't speak to me for two weeks as he will be angry with me if I didn't bring him a toy".

Dulapandan meanwhile went to take some photographs of the swimming pool and returned to their rooms in the village to join other swimmers Conrad Francis and Gihan Ranatunga for lunch. But as he reached his room, their liaison officer Pom came rushing to inform him that Zain had been taken to hospital with a sudden heart attack.

Zain who had gone shopping in the car provided by the organisers had returned to the Games village medical centre complaining of a stomach ache at about 2.00 p.m.

The doctors at the centre who diagnosed it immediately as a heart attack had given him a TNT tablet to be kept under the tongue and had rushed him in an ambulance to the Tamassat University hospital which was also situated inside the village just a two-minute drive away from the medical centre. After taking the tablet at the medical centre, Zain had felt much better and told the staff that he was well and had asked them to let him go as he was due to fly home that same evening. But the medical staff had sent him to the hospital for further treatment.

In the ambulance, he had had another major attack from which he never really recovered. Once in the hospital, they put him on the life supporting machine and another two hours later the doctors found their effort was futile before removing him from the machine and pronouncing him dead at 5.10 p.m.

Thailand's deputy prime minister and Karunatilleke Amunugma, Sri Lankan ambassador in Thailand were there at the hospital and they got everything cleared from the hospital in an astonishingly short time and the body was on its way to the airport to be carried home within two hours.

They had delayed the Air Lanka flight by two and a half hours to facilitate the transportation of the body as Zain had to be buried in Thailand according the Muslim custom within 24 hours if they couldn't bring it to Sri Lanka within the required time.

His wife Jemie was adamant that the body was brought here. Dulapandan who was there remembers with gratitude the help and committment of deputy premier and the ambassador.

So, in the same flight in which Zain was to come home, his body was flown to Colombo. Within six hours of the death, his body was in the Colombo Airport but from there, it was typical Sri Lankan delay and it took more than another three hours for the relatives to take the body out of the airport. That same evening, Zain was buried at the Dehiwala Muslim burial ground at 4.00 p.m.

Rizvi Fulile Zain, who was just 52 at the time he met his death in the most unexpected moment was indeed a gentleman to the fingertips. He had no enemies and always liked to show a pleasant face to whoever he met, and it was not a deliberate attempt. Anyone who knew him would tell you that he was really a nice guy. He never indulged in any sort of act which would cause the downfall of another, and he made sure that he helped everyone always he could.

As the national coach, his skill and knowledge was never questioned. So was his integrity. Having represented Sri Lanka in swimming in 1966, 67 and 68 he was appointed national coach at the surprisingly early age of 27 in 1973. He continued till 1978 in the capacity and went overseas to further his qualifications. He took over the reins again in 1985 till 1989 before going abroad again. Then from 1991, he was the national coach till his death.

Having had his education at Carey Baptist College, Colombo, Zain served in the Royal Ceylon Air Force briefly from 1966 to 1969 before flirting in accountancy for short time. His idea to stop his studies in accounting in turning into a full-time coach was not popular with his parents as coaching at that time was not a lucrative job and many people tended to look down upon it. However he turned a professional coach in 1970.

Among his achievements as a swim coach, standing out is his passing out as the first from among 150 coaches from all over Asia in a course conducted by the International Olympic committee. He had his education in United States and England where he obtained the highest qualifications as a swim coach. He has been instrumental in conducting several courses for swim coaches in Sri Lanka and was actually the father figure of promoting sport in Sri Lanka during the past two decades.

He was also one of the coaches for fitness training of the Sri Lanka cricket team which won the World Cup.

In fact, all his achievements are too many to be listed in a newspaper and in brief we could say that he was the most accomplished man in Sri Lankan swimming.

In 1978, two swimmers coached by Zain, Timothy Speldewinde and Renuka Ranasinghe represented the country at the Asian Games and entered the finals proving many critics wrong and it boosted Zain's confidence hugely as a coach.

Zain is the about the nicest man anybody could wish to meet and as he was described by the internationally renowned writer Mark Muckenfuss in the "Swimming World" magazine his voice would be "more at home in a library than on a pool deck".

Zain was quite a healthy man. He used to do dips and squats and all sorts of exercises for half an hour every day before he got off his bed in the morning. He had a good breakfast and had just a fruit for his lunch and also had a very light dinner as he was firm believer in a healthy diet. Regularly checking his health with a doctor he was given a clean bill even when he went for some checkups just before he left for Bangkok. He did in fact, before every tour.

He had never even had a hint of a heart attack before.

But then, what misfortune could have hit this nice man?

"The doctor who treated him last said that his heart beat was 84, which he said was an unbelievable sign of good health. He described him as a perfectly healthy man and in his conclusion wrote that it was the first attack he could ever have had. But he asked me whether he was unduly worried in the last few days" Dulapandan described.

According to those who were at the Asian Games, there is an indication that some officials of the Sri Lankan contingent had severely blamed him for the failure of swimmers. Being the gentleman he was, Zain had absorbed it all quietly, but it is reported that he had confessed to another colleague "I have never been humiliated in life like this before" in his last few silent days.

Dulapandan knew his guru couldn't buy his last wish- a gift for young Ziyan. So, after coming back to Sri Lanka, he found out what Ziyan had wanted from his dad. It was a toy army set. He bought one from a Colombo shop, wrapped it nicely and gave it to Ziyan saying that it was given by his father to be given to him. For the nine year old, who had only a little idea of the seriousness of it all, it was one last gift of love from someone who held him dearly. It will be sometime before he understands the reality.