Threadneedle proves his class at Lingfield AWT
By Ismail Khan
The all-weather flat racing was at two different venues Saturday last 2.1.99 and the horses to be followed are as follows taken at random from both centres Lingfield and Southwell.

Race number two at Lingfield was the Valentine's Day Handicap and this race went to D. Chapman's Mukarrab ridden by A. Culhane from Baptismal Rock and Intiaash. The five year old winner stuck to his task very well and should go on winning regardless.

The third event at Lingfield also went to the same Chapman-Culhane combine Soaked taking the sprint easily from Tear White and Half Tone. Horse to follow the winner Soaked who at 6 years looks still good at sprints.

The Taittinger Champagne New Year Handicap went to Dancing Rio at 10/1 from Swan Hunter and Be Warned. The principal event at Lingfiled, the Ladbroke All-Weather Trophy Handicap over 7 furlongs had 16 starters with Lycian going out favourite though finishing in the ruck after a disappointing run, the winner eventually being the 16/1 shot, the top weighted Threadneedle who with a pull in the weight due to P. Doe the claimer getting an allowance, put in a scintillating burst through the pack in the last half a furlong and beat the early leaders Top Ton, Big Ben and Rififi. The winner was trained by Kevin Burke and his reversal of form they say was due to the biting cold. He likes it that way. So that's a tip in itself. Horse to follow - Rififi, the fourth horse in this event who did not get a good run being blocked-in by horses all around him. Next time it would be a different story.

At Southwell too the programme was worked out well the opener the New Year Amateur Riders Handicap over a mile going to Tom at 9/1 from dead heaters Live Project, Miss All Alone and Tilaal. Follow Live Project for an early win.

The Division Two of the same race went to the most favoured Holy Smoke at 2/1 from Mutabari and dead heaters Mutahadeth and Palais. This was the second race where there was a close finish for the consolation place. Horse to follow - Holy Smoke the winner.

The fourth event at Southwell went to Just Wiz from Baron De Pichon and Miss Doodybusiness. One for your shortlist - Baron De Pichon who is one of trainer N. Littmoden's young and up and coming star. Follow him especially at this centre.

Race number five went to Palace Green from Erinvale and Trinas Pet while the last race was wrapped up by Copper Shell at 25/1 from Abuljjood, and Lightning Rebel.

Horses to follow from the last two mentioned events - Palace Green the winner of the fifth race and Abuljjood the runner-up of race number seven. Both these are early winners.

More next week on the All Weather flat.

---
Kick-off 99'
Calcutta rugby revival It was just not cricket. But the scoreline at the end of play might have confused those uninitiated in rugby union, like ardent Indian fan Arthy Roy who cheered in vain as his country of birth made their international debut against Singapore.

Singapore will go down in the record books as the nation that gave the world's two most populous countries - China and India - their first stark lessons of reality on the rugby field.

Last November Singapore hosted China in its first international and won 33-3. Almost a year afterwards, Singapore gladly did the same in the Group B competition of the Asian Championships. The result was another rout. A rousing 85-0 win. Mr. Roy could be forgiven for thinking that it was the lunchtime score in a cricket match. But sadly there was no Sachin Tendulkar or a Mohammed Azharuddin to retrieve the hopeless situation for Indian rugby.

Although fullback Emil Vartazarian, the man with the prodigious boot almost looked the part of a star, Indian team officials are hopeful that he, like the rest of his teammates, could be the pioneers of a great rugby fixture.

"We are still learning. Although the game has been played in India for over a hundred years, it is only now that we are beginning to take a serious approach to it," says captain and No. 8 Aga Hussain.

Like cricket, the game was brought to the sub-continent during the British Raj by soldiers keen to while away their time with fun and games under the hot Indian sun. No wonder the natives must have thought they are only mad dogs where Englishmen would play a sport where everyone chased an oval ball as if their lives depended on it.

"Rugby has a very long history in India, but it never really caught on like cricket did. This is mainly because the schools never started to play it and as such new talent was never found," said Hussain.

The game gradually faded into memory. The Indian Rugby Football Union was set up in 1969, but even this body could not grapple with the major problem - one which remains to this day - the vast distances between the rugby centres of Calcutta, Bombay and New Delhi. There are only 12 rugby clubs based throughout a nation where cricket and hockey are the main sports.

There are seven clubs in Calcutta, four in Bombay and one in New Delhi. Bangalore is also hoping to join the community. A vast number of players are coming from the Armenian community.

A National Championship is held every year. But the distances between these rugby centres is a huge obstacle lying in the way for more frequent contact.

"I remember I had to spend 42 hours travelling in a train last year going from one place to another," said Decho Sariputra, leading Asian Rugby Football Union official. Earlier this year, the ARFU admitted India as a member, also giving them dispensation to field foreign residents of the likes of 28-year-old Englishman and winger Elliot Moss. The doors are also now open to join the world governing body.

The 42-year-old Hussain, for whom the game has been a passion for the past 25 years, agrees that distance is the biggest obstacle confronting the brave bid to rekindle the sport in India.

"We are such a vast country. It is easier to go to Bombay, to Colombo in Sri Lanka, both in terms of cost and distance, than to travel to Calcutta."

Hussain, who as a Bombay public schoolboy learned his rugby from an Irish professor Dr. James Barton, figures that there are only around 400 players in the country at present.


"We have to get the schools involved. They must be the cradle of the game, just like in cricket. We also need to chalk out a development programme geared towards expansion. At this point in time, winning or losing is not really important. What matters is our presence here and to show everyone that rugby is being played in India. We want people to stand up and take notice," added Hussain.

"We are novices at international level and we need more games like this. For a start, we did not know what to expect."

Sadly for Hussain, his entry on to the Asian and international stage lasted just 10 minutes. A crunching tackle by a Singaporean badly wrenched his knee, bringing his tournament to a premature end.

Seen and heard
"I will be greatly disappointed if the net income for reinvestment in the game from RWC 1999 does not reach £50million" - Vernon Pugh QC, IRB Chairman and RWC Director.
"As a governing body, we continue to regard any breach of our Regulations with respect to drug use as a most serious offence" - Rob Fisher, IRB Deputy Chairman and RWC Director.
"This failure to play to our potential is my responsibility" - US Eagles coach Jack Clark after the Americas Qualifying Tournament in Argentina.
"The atmosphere when I played at Cardiff Arms Park in 1994 was incredible and I'm sure the Welsh fans will be able to recreate that in a greatly enhanced stadium" -Saracens coach and former South African Rugby World Cup-winning captain Francois Pienaar.
"When our rugby is going well, the whole national spirit is uplifted'' - Glanmor Griffiths, chairman of the Welsh Rugby Union.
"We are trying to promote rugby in the Netherlands and really the press have a responsibility to show our game more respect than some of them (Fleet Street) _ have" - Geoff Old, Netherlands national coach.
"I think this World Cup will separate the players in England who really want it from the ones who don't," - England Captain, Lawrence Dallaglio.
"When you play, you must have in mind the idea of upsetting the hierarchy; if we don't wish to change the established order (bookmakers make France the fourth favourite to win the 1999 RWC), then there is no way to make progress," - French Captain, Raphael Ibanez.
"The USA may well spend ten times its income on the Eagles in 1999," - George Hook, Sunday Independent.
---
Asian Tournament: The men, tries and matches
By Alvin Sally
The Japanese Rugby Football Union says that the decision to field foreigners to raise the level of the game.

"We can only improve our rugby by playing with foreign players. There are certain skills which Japanese players are lacking at the moment and we want to learn. Of course the ideal situation would be to field a full national team," said Zen Shirai, JRFU chairman.

Shirai however pledged that Japan would never field more than four foreign players on the field at any given time.

This is despite many foreigners being eligible to play for Japan currently, among them former All Black forwards Jamie Joseph and Arran Pene.

At the last Pacific Rim competition against Canada, Hong Kong and the United States, Japan fielded six foreign-born players. Andrew McCormick, Patilai Tuidraki and Stephen Miln, in the backs, while their back row was entirely from New Zealands - Greg Smith, Ross Thompson and Rob Gordon.

"All these players have played in Japan for over three seasons and were eligible for the RWC Tournament in Singapore.

The Japanese have chosen only McCormick, Smith and Tuidraki in the squad keeping the captaincy with former Canterbury centre McCormick, their lynchpin in midfield.

"He has the leadership qualities we needed and was the best person to captain the team," said Shirai. McCormick, 31, has lived in Japan for the past six years and is fluent in Japanese. Immediately after Japan had beaten Hong Kong, McCormick was interviewed on Japan Sky B, which had shown the game live, and was at ease answering an ecstatic Japanese commentator about his feelings on going to Wales.

And how did the Japanese players themselves feel about having foreign-born players in their national side?

"I'm a little bit concerned," said fullback Tsutomu Matsuda. "I don't want other teams to start saying that we won because we fielded foreign players. Personally I have nothing against playing alongside foreigners. Through this experience we will become a better side".

Japanese coach Seiji Hirao however maintains that his team is always picked on ability and not nationality.

"In the end, what matters is how you play and not your skin colour," said Japanese journalist Nobohiko Otomo.

"That may be so. But I don't know why Japan has to field foreign players. Asian rugby should be played by Asians," said Korean captain Kang Dong-ho.

His words were echoed by his Chinese Taipei counterpart Mae Chyan-Shuenn who said Japan did not need to use overseas players because they had so much of depth.

South Korea and Chinese Taipei were critical of Japan's policy of including foreign-born centre Andrew McCormick, flanker Greg Smith and winger Patilai Tuidraki in the squad.

The Japanese were well inside the regulations of the tournament. As it was an International Rugby Board sanctioned event, the Japanese were using the three-year residency qualification. All three players in question had lived in Japan for over three years.

"Even if the Asian Championships was an IRB tournament, Japan should have used only nationals. They have enough rugby players and they don't need to use foreign players," said Mae.

Japan's rugby population is around 145,000 from mini-rugby to adult. There are about 70 foreign-born players plying the trade in Japan's corporate rugby system which involves about 24 companies paying wages to their foreign legion. Apart from this highly competitive structure, Japanese rugby is strictly amateur with the Japanese Rugby Football Union maintaining its tradition of not paying players.

---
Asian Premiere: Singapore takes title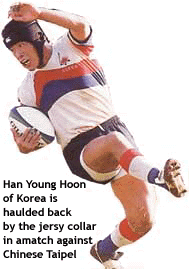 While the big boys of Asia battled it out for a ticket to Wales, the rest of the Asian Unions were involved in a powerplay off the field which sadly overshadowed the rugby on the field and the debut appearances of China and India.

For the first time in the 30-year existence of the Asian Rugby Football Union - the longest established regional rugby body in the world - there was a boycott.

It all began with hosts Singapore wanting to field four foreign players - Japanese Kohei Kuwata, Britons Dughall Aitken and Martin Williams and Australian - Bruce Frame - in the second division competition which also included Thailand, Malaysia, Sri Lanka, China and India.

The Singapore Rugby Football Union maintained before the competition began that they had received a majority 7-3 vote of approval from ARFU members to field the quartet.

But Thailand were not having any of it. On opening night in front of sponsors and chief guests, and a large crowd of spectators, the Thais stunned everyone by pulling out 30 minutes before kick-off against Singapore.

An upset Singapore captain Terence Khoo said, "The players are upset and angry. We have been closing the gap on Thailand and they knew that our time had come".

Thailand rugby officials however agreed that the ARFU had not given dispensation to Singapore.

"When we arrived here we found out that Singapore would be fielding these players. We informed SRU President Chan Peng Mun that we would not be playing if they were fielded," said Thailand Rugby Union vice-president Ananta Boonsupa.

"The whole matter was a result of miscommunication. It was regrettable and at the end of the day it was difficult to see whose fault it was, if indeed anyone was at fault," said Dermot Agnew, ARFU treasurer, after the ARFU Council meeting.

The ARFU Council will deal with the matter of eligibility for future Tournaments at its next meeting during the 1999 Hong Kong Sevens in March.

On the field after its inauspicious start, Singapore gathered strength. They hammered India 85-0 in their only group game to qualify for the final. A David Campese trained backline looked most impressive against the at-sea Indians.

In the other half of the draw, Sri Lanka swept to convincing wins over China (43-5) and Malaysia (44-3). The Sri Lankans, who were favoured to defeat Singapore in the final, however, stuttered badly as they failed to find their feet, especially the forwards who looked lacklustre and were totally outplayed by their counterparts who were fired on by a partisan crowd.

They weathered the pressure to win 25-13 and record their first ever win over the powerful Sri Lankans.

"I'm relieved this is all over especially after the Thai walkout," said the 27-year-old centre Khoo who sealed the victory with a try himself.

Campese, assistant coach to Singapore, said: "The boys knew what they had to do and they did it".

It was all smiles at the end. The only people not laughing were India. They ended with a 0-3 loss record. After losing to Singapore, they were thumped by Thailand 90-6 and then lost to China in the play-off for fifth slot. Showing the benefits of a one year start, China beat India 42-13 to register their first international win. In the play-off for third place, Thailand defeated Malaysia 28-8. MATCH RESULTS

Singapore 85 India 0, Singapore N/O Thailand, Thailand 90 India 6,Sri Lanka 43 China 5, Sri Lanka 44 Malaysia 3, Malaysia 32 China 5, China 42 India 13, 9th place playoff, Thailand 28 Malaysia 8, 7th place play-off, Singapore 25 Sri Lanka 13 5th place play-off, NB Singapore received N/O from Thailand.

---
Samurai-dream
Japan's long-haired fullback Tsutomu Matsuda is proud to represent Japan and has an ambition - to score a try at the World Cup finals next year.

The wind flowing through his hair, in full stride, diving over for a match winning score, screaming Japanese fans back home.... The normal stuff that dreams are made of is what will keep Matsuda ticking over when Japan take on Wales, Argentina and Samoa in Pool D Competition next year.

It was such dreams that turned Matsuda from flanker to fullback.

"As a flanker I had to be always tackling. All I wanted to do was run with the ball," said the 28-year-old Matsuda.

Japanese rugby will be thankful that the Toshiba tornado decided to switch places on the field at an early stage in his career for today he is one of the most deadliest strike forces around in Asian rugby.

"But I have still not scored a try at the World Cup," said Matsuda, who has been part of Japan's squad at the past two World Cups.

In 1991, Matsuda was a reserve videoing the games for the post-match analysis, but in 1995, he played in all three of Japan's games against Wales, Ireland and New Zealand.

This latter game constantly dredges up bad memories for Matsuda. Japan got beaten 145-17 by the rampaging All Blacks. Obviously Japan, leave alone Matsuda, did not put in too many tackles on that occasion.

"It was the lowest point in the history of Japanese rugby. We have now improved and I do not think it will ever get so bad again. It was a huge shame to lose by such a big margin," said Matsuda.

Matsuda also remembers that it was against the All Blacks that he came closest to achieving his dream of scoring a try in the World Cup.

"I made a break from about the halfway mark and I thought I had cleared the defence. But the cover got me".

Like most Japanese, Matsuda's first dalliance with sport was when he was handed a baseball bat as a kid. But by the time he was 15, Matsuda had taken a liking to rugby.

"I wanted to play a different sport. I was very good at baseball, but I chose rugby.

That was a brave decision in a country where top baseball players are revered and earn huge sums of money.

The Japanese Rugby Football Union, which strictly adheres to its traditional amateur status, only pays rugby players the International Rugby Board recommended allowance.

Despite the lack of incentives there are 145,000 rugby players in Japan - from mini rugby to senior level. The only reward is for the elite few, those who are employed by the corporations, like Toshiba, the employer of Matsuda.

The corporations are the driving force behind Japanese rugby. What they say matters. Leading No. 8 Ross Thompson, who was tipped to be the cornerstone of the Japanese pack at the Asian Championships, was left behind in Tokyo after his company NEC apparently refused to give him time off work to follow national coach Seiji Hirao's testing build-up schedule.

"Our approach this time has been more professional and better organised. Training is much harder and more scientific. To be picked to play for the national team these days is much harder," said Matsuda.

"I'm proud to be playing for Japan. He will be even more chuffed if and when he scores his first try for Japan.

"I think this will be my last World Cup. I'm now 28 and I want to continue playing rugby until I'm 30". - AS

---
A learning curve
When it comes to choosing between money and rugby, Chinese Taipei captain Mae Chian-Shuen does not hesitate. Rugby comes first, second and third, with money and job security a poor fourth.

This is why, earlier this year, he resigned from his job and, picking up his rugby boots, went in search of a dream - winning a medal for his country at December's Asian Games, and possibly securing a berth in the World Cup.

With dollars mattering more than the halfbacks in rugby in this day and age, Mae's approach to the game is refreshing and keeps alive the dying spirit of the game.

"I'm proud to play for my country. I had to leave my job because of this. But I do not regret what I have done," said the 34-year-old Physical Education teacher.

Fly-half Mae had to put his career on the back burner simply because the private college he used to work for in Taipei refused to give him leave for an unusually hectic build-up to the Asian Championships in Singapore.

Chinese Taipei, who defeated Sri Lanka 31-27 to secure a berth in the final round of the Asia Zone, underwent an intensive training schedule including a six-week tour to Fiji, during which they played 11 high pressure games.

Mae was unable to find time off work and therefore he had to take the plunge. Having been forced to do the opposite back in 1993, when he had to pull out from the team representing his country at the inaugural Rugby World Cup Sevens at Murrayfield - and now at the zenith of his career, he had decided to give rugby the first call.

"Our aim here is to learn as much as possible," says Mae.

They certainly made their presence felt in Singapore when they defeated Hong Kong 30-12 in the first game. It was the shock of the tournament.

"We were so happy. It was an emotional win for us because Hong Kong has beaten us for a long time by huge margins," said Mae.

The last time the two sides met in the 1996 Asian Championship, Hong Kong went on a rampage, winning 114-12 in Taipei itself. Losing by such a large margin, in front of their home crowd, was a cruel blow and a heartbreaking loss of faith.

"It was a huge shame. Our pride was hurt and we were determined to do better," said the former track and field athlete who became a player by accident whilst a university student.

Mae's decision to take up to rugby has made him a member of a very small community.

There are about 500 players in Taiwan, equally divided between the two main centres - Taipei, the capital in the north, and Tainan in the South.

He hopes the side's performance in Singapore can become the turning point of the game in the country's rugby history.

"When Hong Kong beat us in Taipei in 1996, it made us determined to do something to improve our standards. Now we feel we have achieved something in Singapore and I hope things can only get better from here on. First and foremost, we proved to ourselves that we are capable of winning a match of this calibre, and the youngsters in Taiwan will be inspired by such performance," said Mae.

---
The end of an era
Dave Lewis has been under fire from the Falklands to Northern Ireland. But that was nothing to the assault he and the rest of this team-mates faced on the final day of the Asian Championships as a fired-up Japanese wrested away Hong Kong's World Cup hopes in a telling 10-minute burst of rugby.

When the smoke cleared, Japan were leading 21-0 and they had made certain of their berth at next year's World Cup. Hong Kong went on to lose 47-7.

The 38-year-old hooker, Lewis was crestfallen. Tears were in his eyes as the game ended. It was the end of a dream and the end of an era.

Lewis knew that finally time had caught up with him and that his long and winding international career had finally come to an end. After 55 games for Hong Kong, including four Asian Championship appearances, the clock had run out for the longest serving player on the Hong Kong squad.

"If we beat Japan I would definitely prolong my playing days. This is the biggest game I will ever have played in. It is the same for the rest of the guys," said Lewis before the win-or-lose game against Japan. It was bust.

The former Royal Marine, who served two tours of duty in Northern Ireland and also fought in the Falklands, had been an integral part of Hong Kong's peripathetic rugby scene for the past decade.

While most of the Hong Kong squad - mainly expatriates who had arrived for work or in some cases passing through but staying on after getting caught up in the hectic lifestyle of the city state - qualified through residency, Lewis was one of the few players born in Hong Kong.

The tough front rower left with his parents when he was an 18 month baby to the UK. He returned to join the Royal Hong Kong Police Force almost two decades later, having completed a five-year stint in the elite Marines followed by another five years in the Oman Army.

"I used to play rugby when I was in the Royal Marines, but once I left and went and joined the Oman Army, my playing days ended temporarily", said Lewis.

But rugby and Lewis were reunited in Hong Kong in the late 80s. Lewis joined the Hong Kong Police Force's elite anti-terrorist squad, but had enough time to enjoy picking out his victims on the playing field too.

"I started as a backrower, but by the time I came to Hong Kong I was slower and ended up in the front row", said the Chief Inspector of the SAR's special duties unit.

Like most rugby players in Hong Kong, work comes first and then rugby. But Lewis was luckier than most in that his job at least keeps him fit and ready.

One reason why Hong Kong called him out of 'retirement' after the last Asian Championships two years ago in Taipei.

Lewis retired from top rugby and resigned himself to playing second division rugby in Hong Kong, but a dearth of frontrowers, especially those of the quality of Lewis, saw Hong Kong pull him back into service, first for the Pacific Rim Championships and then for the all-important bid to qualify for the World Cup.

"The circumstances worked in my favour", said Lewis modestly. "A number of players were ineligible for this tournament as they failed to comply with the IRB's three year residency rule".

Lewis' hopes of World Cup glory, late in his career, lasted just 10 minutes. The awesome Japanese swept aside his dreams in sweeping fashion.

"I don't think I will continue now. It is too much of a sacrifice to devote time to training", said Lewis, who like the rest of the Hong Kong squad are only paid a small allowance by the Hong Kong Rugby Football Union for turning up for squad practice.

"I have had a fantastic time playing rugby for Hong Kong.... and I will miss it".

---
China on the Asian stage
A toast was raised to Chinese rugby by Scottish distillers Famous Grouse who have come in and pumped 60,000 sterling pounds into the game in the mainland.

The one-year deal was signed in Guangehou. The canny Scots know a bargain when they see one. Never mind the rugby potential of China. Just imagine if everyone from Beijing to Zhuhai raised a glass or two to a day. Dream on, some may say. But it was such lucre-filled dreams that built an empire a century or so ago.

For Chinese rugby to build a dynasty will take time as starkly shown when they were beaten 32-35 by Malaysia in their debut appearance at the Asian Championships in the second tier competition.

The scores were level at 25-25 with the clock ticking over when scrumhalf Zhang Linggang made a break from behind a scrum, cut inside and dived over the line - the only problem was that it was the five metre line.

Zhang, in all his naivete, did not know that he was pumping his fist into the air in celebration. That did not go down well with Japanese referee Shunsuke Shimoi who promptly awarded a penalty to Malaysia. In a last gasp effort, the Malaysians swung the ball around and winger Badnul Nisham Jamaludin scored the winning try which crushed Chinese hopes of a momentous victory.

But never mind. To a nation where time is counted in decades rather than simply years, they have all the time to catch up on the rest of Asia and indeed the whole world.

However, their biggest worry at the moment is that no-one is taking them seriously enough (apart from Famous Grouse of course) and being supportive by offering to play games against them. This is the biggest grouse of all. Even Hong Kong have apparently ignored their request for warm-up matches.

"We asked the HKRFU to send a team to Guangshou or Shezhen in early October. I don't know why, but Hong Kong did not send a team. It is no good for us to come here without any warm-up games," said a disappointed Li Gaochao, CRFA secretary-general.

China made their entry on to the international stage last November in Singapore when they lost 33-3. Since then, they have played only two games, both in Hong Kong against the side, the Dragons - which they won comfortably - and the curtainraisers to two Pacific Rim games held in May.

"To improve we need as much international exposure as possible.

Our skill levels are better than when we lost to Singapore, but it is hard for us to progress and come to the top without more matches against foreign teams," said Li, the head of the CRFA which was formed two years ago. Apart from a lack of build up matches, China's preparations for Singapore were also badly hit when three players were disallowed entry because their passports were not in order.

This has left China, advised by former HKRFU technical director George Simpkin, with only 20 players at this tournament.

Most of the squad are from the Beijing Agricultural University (12) with the PLA having seven and the remaining player coming from the Shanghai Sports Institute.

It will take a long time for Chinese rugby to reach the top ... mainly because we lack enough exposure," said Li.

Not so pessimistic was RWC Chairman Leo Wiliams: "The Australian, a great fan of Asian rugby, is hopeful that China can make their mark. I am confident that China is capable of going places.

True, they have not figured much on the international stage.

But they have the people, they have the resources and they have the talent ... who knows what they can do," said Williams.

So although it is a bit premature to be raining toasts to China at the moment, there are plenty of people who have faith that the mainland will one day be also famous for its rugby."

---
NAASU conducts 19 events this year
National Amateur Aquatic Sports Union (NAASU) will be conducting 19 swimming meets this year according to the annual calendar issued by them.

Sri Lankan team is also expected to take part at two major international outings - The 13th Asia Pacific Age Group championships in India in early June and at the 8th SAF Games in Katmandu, Nepal in July.

National championships are to be held on October 8 to 10 at the Sugathadasa Pool.

Following is the swimming calendar for 1999.

FEB 6 — Age Group Relay c'ships at Ananda pool.

FEB 13 — Open synchronised duets & group c'ships at Otters.

MARCH 6 — Novices Diving c'ships at St. Joseph's.

MARCH 7 —Two Mile sea swim at Mt. Lavinia.

MARCH 10-13 — Novices c'ships at Ananda pool.

MARCH 21 — Novices Water polo c'ships at Ananda pool.

MARCH 25-27 — 27th Pentathlon c'ships at Sugathadasa pool.

APRIL 24 — Synchronised levels competition at Ladies pool.

APRIL 25 — Under 15 & 21 boys and girls Water Polo at Sugathadasa pool.

MAY 20-22 — Age Group c'ships at Sugathadasa pool.

JUNE 6 — NAASU A&B League water polo at Sugathadasa pool.

JUNE 12 & 13 — Age Group synchronised swimming c'ships at St. Joseph's pool.

JUNE 23 & 26 — SAF selections trials at Sugathadasa pool.

JULY 4 — Master c'ships at Otters pool.

JULY 17 — 4th Outstation Novices c'ships at Royal pool.

FIRST WEEK, AUGUST — Asia-Pacific c'ships in India.

AUGUST 25-SEPTEMBER 4 — SAF Games in Katmandu.

SEPTEMBER 18 — Outstation c'ships at SSC pool.

OCTOBER 2 — National & Intermediate synchronised c'ships SSC pool.

OCTOBER 8-10 — National & Intermediate c'ships at Sugathadasa pool.

OCTOBER 28-30 — Inter club Gala at Royal pool.

---
France looks back on a year to remember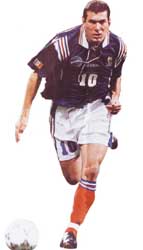 The most memorable year in French soccer history is ending with enthusiasm for the game greater than ever - and a fine new generation of players knocking at the door of the national team.

Increased attendances, higher playing standards and the export of the best players to Europe's top clubs underline the advances soccer has made in France.

In years gone by, France gave soccer great administrators like Jules Rimet, the founding father of the World Cup, and Henri Delauney, who helped kick the European championship into life.

The seeds of the European Cup were also sown in France, but apart from isolated successes like France winning the European Championship in 1984 and Olympique Marseille's victory in the 1993 European Cup Final, France had not achieved anything much of note on the field until this year.

Now their egalitarian team, which won the World Cup without a hugely dominating influence in the mould of Pele, Franz Beckenbauer or Diego Maradona, enters the new millennium as World Champions - the crowning fruit of an excellent player production process from grass roots to the top.

World Cup winning coach Aime Jacquet - even more than playmaker Zinedine Zidane, the newly crowned European player of the year, was the figurehead of France's success and deserves all credit for it.

On the field, Marcel Desailly, Laurent Blanc, Lilian Thuram and Emmanuel Petit are as equally deserving as Zidane of the highest accolades.

Inter Milan's Youri Djorkaeff, a key player in the victorious French side said recently: "France's greatest quality is adaptability... The Germans, Italians, Dutch and English all explained our victory that way.

"We are capable of adapting to a given situation in no time, we always have two solutions to a problem,'' he said.

"We were a chameleon team and that's where our strength lay in relation to teams like Brazil or Holland, the other two serious pretenders to victory.

"That's why they didn't win, their game was too rigid, stereotyped, therefore easy to predict and counter,'' he said.

"We, in contrast, were capable of going where we weren't expected. For two years, in friendly matches, we were seen as very square in our play. Then suddenly, we became triangular, then diamond-shaped and then again square.

"Jacquet left the door ajar. He had confidence in our analysis and let us take tactical decisions,'' Djorkaeff said.

Such is the current health of the French game that many of the country's best players grace the world's best club sides and France have three teams in the UEFA Cup quarter-finals for the first time.

A minor blot on a dream landscape is RC Lens' failure to reach the last eight in the European Cup, the first time a French team has not qualified since 1992.

But Lens' French title victory last season was the fifth year in a row in which a different team has won the league championship after Paris St. Germain, Nantes, AJ Auxerre and Monaco.

This, after years of dominance by Marseille, points to a depth of quality in the French game that has flowered since the country's failure to qualify for successive World Cups in 1990 and 1994.

Lens have contributed to a year of numerous ''firsts'' with their first major trophy in May. The new Stade de France broke the French record for a crowd at a football match when it was virtually filled to its 80,000 capacity at its official inauguration with an international friendly against Spain in January.

Olympique Marseille broke the record for a crowd at a club match by filling their refurbished Velodrome to almost its new 60,000 capacity as attendance records tumbled throughout the country - and continue to do so.

But coaches fear that new European Union regulations might undermine their brilliant youth programmes.

The French Federation FFF will be looking to ensure that if youngsters who cost a lot of money to raise are free to sign their first professional contracts with the highest bidder then their first club should receive a compensatory transfer fee which the Bosman ruling precludes.

FFF regulations which apply to movements between French clubs state that an apprentice must sign his first professional contract with his first club if it so wishes.

"There are countries where footballers are exempt from taxes and clubs from social benefits,'' said veteran coach Guy Roux, who heads arguably the country's best youth scheme at Auxerre.

"In France, where quotes and taxes are heavy, you need three times as much money as in Spain or England to keep a player''.

Arsenal's Nocolas Anelka and Mickael Silvestre of Inter Milan both slipped through the net although the clubs they joined paid or have been ordered to pay a transfer fee.

The quality of players like Anelka were underlined during 1998 when he played a key part in helping Arsenal to the still rarely-achieved English Cup and League double - scoring the second decisive goal in the Gunners' FA Cup Final victory over Newcastle.

The fact that Arsenal were coached by Frenchman Arsene Wenger, and included Petit and Patrick Vieira in their Double winning side, were major factors in Arsenal's success.

And perhaps Petit's achievements in the last year symbolise just how 1998 really was the year French football could do no wrong.

He not only won the World Cup with France and the English League and FA Cup with, Arsenal - he also won the jackpot on a slot machine in a casino a few weeks after the World Cup final.

It doesn't get any better than that.