Who bungled?
Boxing gets stepmotherly treatment
By Bernie Wijesekera
Sri Lanka has made tremendous impact in boxing in the past and produced some of the best pugilists in the international scene.
But why was this discipline overlooked for the ongoing Asian Games now in progress in Bangkok, asked the former President of the ABA, Commodore Sisira Jayatilake, when interviewed by The Sunday Times.
According to Jayatilake, only two boxers were picked, namely Wanniarachchi from Vidyartha and Ratnayake from Peradeniya M.V., who were nominated by the ABA selection panel and was approved by the National Olympic Council Chairman, Tory Jayawardena. But Surprisingly, the Ministry of Sports, rejected their participation, for reasons best known to themselves.
These two lads were two of the best young prospects. What sort of exposure or encouragement they are going to get if they are not allowed to don gloves even at the Asian Games? This is a weight sport unlike in rugby or other team sports where a full contingent was picked for their participation.
What was the end result? Your guess is good as mine, Jayatilake added. There was the third boxer from the Air Force, Weerasinghe, but he pulled out due to injury.
Jayatilake, an ardent supporter of this "noble art of self defence" said that as these two boxers were from the lower weights they could have matched their skills in the ring and done proud for the country. Both the lads trained hard in preparation for the Games. But in the end it turned out to be "A River of no Return''.
In 1938, Sri Lanka produced the first gold medal winner in Barney Henricus, in the Empire Games in Sydney. Subsequently followed Albert Perera, the Obeysekera brothers Danton, Fredrick and Alex, Eddie Gray H.P. and C.P. Jayasuriya, Sumith Liyanage, late Dharmasiri Weerakoon, etc with some of them representing at the Olympics.
Then there were the Bulner brothers coached by Derek Raymond, late Lt. N.H. 'King' Karunaratne, who won a 'gold' at the Asian Championship and also at the SAF Games held in Calcutta. There were others like M.Marzook, M.Joharan, Somapala Perera, M.Thangavelu, M.Weerakody (now a senior security officer of the Bank of Ceylon) who started his boxing in the Army just to name a few. They were a class among themselves in the Asian region, Jayatilake stated.
Imagine two boxers after being approved by the N.O.C. were rejected. Is it due to the strain on the finances?
Many officials
There were many officials included in the Lanka congintent for the Bangkok Games. Were they going to participate or making it a paid holiday. This is the question asked by ardent supporters of sport.
According to Jayatilake, the ABA officials, too could have gone. They had sponsors, but opted to keep out, when their two boxers (discipline) was kept out of the ring.
The two lads worked hard to gain recognition. Were they a financial burden to the Ministry. The venue was so near, but the two boxers from the outstations found it, too far to make it. Thereby lost that much needed exposure, for no fault of theirs.
Who bungled it?
---
Yesterday's heroes, today's villains
From Trevine Rodrigo in Melbourne, Australia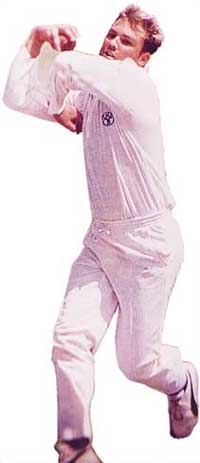 Richie Benaud recently exposed his naivety for the goings - on in modern cricket but redeemed himself when he launched into the latest exposure of Shane Warne and Mark Waugh's tryst with an Indian bookmaker with renewed vigour.
Interviewed during the third Test against England Benaud lashed out at the offenders labelling their acts as "reprehensible and disgraceful".
Benaud did not pause in his verbal barrage having a go at the Australian Cricket Board (ACB) as well for their involvement in administering a "code of silence" on the affair that lasted four years while he was busy proclaiming to the world how squeaky clean Australian cricket was.
The latest revelations have sent tremors to the cricket world and has badly shaken its very foundation.
I wrote in these columns some weeks ago about Benaud levelling an accusing finger at cricketers from Sri Lanka,India and Zimbabwe whom he deliberately chose to exclude as those " above board" during an interview with top rating channel Nine in Melbourne who were embroiled at that stage in the Pakistani involvement of match fixing.
Benaud pointedly said that Australia, England, West Indies, South Africa and New Zealand were not known to be on the take. How wrong he was.
Obviously infuriated by Warne and Waugh's betrayal, Benaud was uncompromising in labelling the duo as disgraceful to the game and Australia.
Meanwhile, Mark Waugh and Warne are being relentlessly hounded by the media and fans here with an endless stream of brickbats being hurled at them. So fickle are the fans here, that yesterday's heroes are today's villains.
Hero-worship has quickly given way to insults and name-calling and some radio stations in Melbourne are even running comic quizzes such as "What are the five other secrets Shane Warne does not want us to know about?". And the public response was aired much to the mirth of its listeners. One of the winners of channel Nine's banner competition during the third Test against England read " Mark Waugh, don't worry if the Aussies dump you because you can become a weatherman".
Waugh, the hero in Adelaide last year, with a magnificent century that gave Australia an important win over South Africa, was given a shallacking when he went out to bat by fans particularly England's "Barmy Army" last Thursday and his early dismissal must surely have been the effects of his disturbed concentration.
In a hasty bid to save face, the Australian Cricket Board has re-launched an inquiry amid reports that some other players had also been approached by the same bookmaker. But regretfully, it could be too little too late because plenty of water has passed under the bridge to gain anything of real substance from it.
Perhaps the revelations may end up as the calming factor needed at this point because the summer otherwise appeared to have had the deck heavily loaded against the two touring teams this year by a frenzied media.
With clouds hanging over it's own players, the Aussies may detract their opinions from ridiculous accusations against the opposition teams and focus on the matter at hand - playing cricket.
Another leading sports channel in Australia, Channel Seven in it's Sports World edition on Sunday interviewed sports writers Mike Coward and Malcolm Con.
Coward bluntly blamed the International Cricket Conference (ICC) for much of the debacle cricket is in at the moment. He said the ICC has not fulfilled it's role as the key controller of the game by dealing with issues including balltampering, chucking, match-fixing and bribe-taking quickly and efficiently. He pointed out that the procrastination in dealing with such sensitive issues has made the ICC seem to have "run away from it's responsibility". He added "They have let too many go to the keeper" in cricketing parlance.
On the ACB's decision to enforce a code of secrecy on the Warne/Waugh affair (apparently in connivance with the ICC) Coward said "You have to question the intelligence and judgement of those running the game at the time."
Asked by Bruce McAveraney Channel Seven's top sports presenter and broadcaster whether Shane Warne had blown his chance of captaining Australia Coward said those who felt that must think carefully whether he fulfills the credentials to accept the country's top job. The integrity of Australia's past captains have been impeccable so far.
Earlier this week Melbourne Herald Sun columnist Ron Reed tore into Warne and Waugh in a hard -hitting story where he said under no circumstances must the duo be allowed to captain Australia. He also hinted that while the furore continued in Australia a current international investigation into the goings on in cricket may net a "bigger fish" than Warne and Waugh.
The "Australian" columnist Malcolm Con said that Mark Waugh's farcical star witness role in the Salim Malik affair in Pakistan could understandably end up with the inquiry being thrown out with the destroying of his own credibility.
The time has now come for all cricket boards to initiate a spring cleaning of their houses in order to eliminate the dangerous dust mites that are threatening to destroy the core of this great game.
---
The day Sobers had to eat his own words
By Bruce Maurice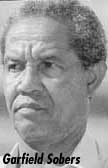 In the early years of 1965, Clive Hubert Lloyd was a hard hitting left handed batsman and brilliant cover fieldsman, who was hardly known outside Guyana, when he was picked for the colony side to tour Barbados and Jamaica.
Their first port of call was Bridgetown, where they had to play Barbados. Berkley Gaskin, the former Guyana and West Indies fast bowler was Manager of the Guyana team. Gaskin was also the first coloured man to manage a West Indian team, when he managed the side to India and Pakistan in 1958-'59 and the 1963 side to England.
When the team got to Barbados, Gaskin told Sobers, "Gary, we have got a marvellous prospect for the future." But Lloyd was dismissed for a 'duck' and that evening Sobers 'ribbed' Gaskin. "Hey Berkley, what happened to that marvellous prospect you were talking about?" But Gaskin said nothing because he knew that Lloyd's crowded hour was not far off.
In the second innings Lloyd played an absolute blinder. Hall, Griffith, Holford, Branker and Sobers himself had the daylights of Kensington thrashed out of them, as Lloyd made his first century in first-class cricket. But that did not prevent Barbados from winning. And for once in his life Sobers had to eat his own words.
From there the Guyana side went to Jamaica and now it was the turn of the Jamaican bowlers to get a taste of Lloyd's bombardment. He made 195 which upto that time was his highest score in first-class cricket.
The following year, the West Indies were due to tour England, and everyone thought Lloyd will make the tour. But Guyana already had four 'certs' for the side - Kanhai, Butcher, Solomon and Gibbs lined up and there was no room for Lloyd.
However, Lloyd was picked for the next tour, which was to India at the end of 1966. In the run up to the first Test, he did not do anything very much for anyone to 'jump off the bridge.' But he did enough to get picked for the first Test, and on the 13th of December 1966, under a blazing Indian sun, at the lovely Brabourne Stadium and in front of an enchanting Bombay crowd, Clive Lloyd became a Test cricketer. And with scores of 82 and 78 not out he gave the West Indies a six wicket victory.
But Lloyd had to wait one whole year before he played his next Test which was his first Test in the Caribbean. It was against England and the first Test was at Trinidad. At the Queen's Park Oval, just to the left of the Broadcasting Box is where all the noisy and boisterous elements gather. Even the women are 'tipsy' before play begins on their favourite Rum.
Anything and everything that can make a 'din' can be found in that stand on Test match day - horns, bugles, trumpets, bells and even empty tins, pots and pans. When Lloyd came into bat, the West Indies were not doing too well. But as soon as Lloyd came in, he took the England bowlers by the scruff of their necks and hammered them to all parts of Queen's Park. One shot, took the breath away. Lloyd was batting at the Broadcasting End and Jeff Jones, the Glamorgan left-arm bowler was operating from the opposite end. One delivery was dropped just short of a length.
In a flash Lloyd was on his backfoot and hammered it like a tracer bullet past Jones. It almost singed the turf, hit the sight board at the far end, rocked it, and bounced back into the playing area, before Jones had time to complete his follow through.
Immediately a huge West Indian, as black as the ace of spades, stood up and with hands akimbo bellowed, "Hey man you want Black Power? That is Black Power."
Because that was the time a lunatic by the name of Enoch Powell was on the war path.
---
Imran Khan: The other side of the Asif coin
By Raju Bharatan
The topsy-turvydom that is Pakistan cricket came full circle as Imran Khan charged his then captain, Asif Iqbal, with having rigged the toss on December 29, 1979. I say 'the day after the fair' because at least in his book, The Autobiography of Imran Khan (written four years after the above happening), one would have expected some reference by the Pakistan superstar to his feeling that Asif Iqbal had 'fixed' that Eden Gardens toss. But there is no mention of any such thing in Imran Khan's autobiography, the relevant portion here merely reading:
"Our morale after Madras" (the fifth match of the series with which the series was lost 0-2) "was the lowest I could recall in my Test career. We had just lost a Test by 10 wickets when we should have had no trouble at all in playing for a draw. We salvaged some self-respect in the final Test (at Calcutta) but, typical of a demoralised team, we dropped four catches and the Test petered out into a draw. I took nine wickets altogether and at last I was fully fit and bowled my best of the tour. By a savage irony the series was ending just as I was getting to grips with the Indian batsmen."
Imran Khan's figures in that final Eden Gardens Test were: 33-5- 67-4 and 23.5-3-63-5. His five victims in the second innings — as new Indian captain G. R. Visvanath switched the batting order — were made up of Roger Binny and Syed Kirmani (dismissed for ducks), Visvanath (bowled for 13), Sunil Gavaskar (out for 15, batting at No. 6) and Dilip Doshi (falling for 6). Thus Asif Iqbal it was, ironically, who opened up a second opportunity, in that Eden Gardens Test, for Imran Khan to have a fresh go at the Indian batsmen and bowl at "my best of the tour." In fact, that startling declaration by Asif Iqbal (at 272 for 4, 57 runs behind India on the first innings) is something that one would have expected Imran Khan, in all objectivity, to have also taken note of in the context of opening the Pandora's toss-box.
For eyebrows were raised on both sides of the Wagah border not so much by that toss happening in the Eden Gardens Test. That toss was a matter entirely between the rival skippers: Asif Iqbal and G. R. Visvanath. But where Asif Iqbal took the subcontinent's breath away was in declaring the Pakistan first innings closed when he did (at 272 for 4 in reply to India's 331) in that December-January 1979-80 final Calcutta Test. That sixth Test itself had been rendered inconsequential by the fact that original skipper Sunil Gavaskar, in a dramatic reversing of Pakistan's fortunes, had won the series 2-0 for India, at Madras, by hitting 46 in an unbroken 78-run opening stand with Chetan Chauhan (29 not out).
It was a moment in which all Pakistan felt traumatised. In fact, TV commentator Iftikhar, as the two captains came to face the camera even warned Asif Iqbal, obliquely, that what he was about to say would be going over to Pakistan. Meaning that President Zia ul Haq was listening. But Asif Iqbal, whatever be his other shortcomings as captain, had the grace to acknowledge, in full public view, that Gavaskar and his men deserved hearty congratulations for outplaying Pakistan in that Madras Test. It was an hour in which cricket enthusiasts in Pakistan felt all the more diminished for the knowledge that India had swung the series by the exact margin (2-0) by which their country had so rousingly beaten Bishen Singh Bedi's touring team in their own country, late in 1978.
Now about Asif Iqbal's declaration in the Eden Gardens Test. Here too a bit of background is essential. Sunil Gavaskar after winning that Madras Test, had stunned the nation with the announcement that he was quitting the Indian captaincy (his job done?) and inviting G. R. Visvanath, as his vice-captain, to take over for the sixth and final Test, though this was something strictly for our selectors to determine. In the same motion, Sunny also let it be known that he was not available for the tour of the West Indies to follow. Sunny here was obviously protesting at the (then) draining schedule drawn up by our Cricket Board —16 five-day Test matches in a 29-week span plus five Tests in the gruelling West Indies. If Sunny's spot decision left us tongue-tied, the reaction to it by the West Indies Cricket Board was even more amazing. It was to call off the Indian visit to the West Indies altogether in a spirit of: 'No Gavaskar: no tour!'
Those then were the extraordinary circumstances in which G. R. Visvanath became India's captain. If the toss proceedings in his very first Test as captain (at Eden Gardens) did indeed go the way that Imran Khan has suggested one can well imagine the bewilderment of the mild-mannered Visvanath at Asif Iqbal's allegedly picking up that coin and slickly concluding that the Indian had 'called' right. In fact, Visvanath, in his 'comeback' the other day, did nothing to repudiate the Imran insinuation that it could have happened that very way. After all, it all happens in the twinkling of an eye, when you have to be ultra-alert. And Visvanath, captaining India for the first time in a series already decided, had no 'call' to expect anything hankypanky and so was mentally unprepared for it.
Now let us move on to the February 1980 Golden Jubilee Test at Bombay's Wankhede Stadium between Brearley's England and Visvanath's India. This was the one-off Test that we had in our pocket when Visvanath's innate decency saw India ending up losing it — and that by 10 wickets! In response to India's 242 on a Wankhede greentop, Mike Brearley's England was 58 for 5 at one stage. Bob Taylor (ultimately 43) had then barely begun his innings — an innings which saw him add 171 for the sixth wicket with lan Botham (114) — when umpire S. N. Hanumantha Rao declared that wicket keeper-batsman out, caught off bat-pad. It is true enough that Bob Taylor had not got any touch, but was it prudent for Visvanath to have here taken the initiative in negating the umpire's decision? A stronger umpire than Hanumantha Rao would have stuck to his verdict, asking Visvanath not to get involved. But Hanumantha Rao allowed himself to be persuaded that it was a non-catch. Indeed, Visvanath had referred the matter to Gavaskar before approaching Hanumantha Rao. But Sunny had come up with the characteristic reply: "You are the.captain now, so it is for you to decide!"
Visvanath had, as Sunny ostensibly saw it, interpreted a little too liberally our Cricket Board's directive that it was a Golden Jubilee Test whose spirit should not be allowed to be marred in any way. Indeed, the very first ball of that Golden Jubilee Test had Sunil Gavaskar falling, plumb Ibw, to John Lever, but umpire Jibon Ghosh had still to gather his wits and so ruled Sunny not out! Sunny was so embarrassed by that decision that he went slapbang for the bowling. Even while mishitting most of the time, Gavaskar struck 49.
Then came that Bob Taylor incident and the Bombay brains-trust consensus was that Visvanath would have been better advised to accept the umpire's decision as it stood.
-Courtesy The Hindu
---
'Wonder Boy' Sira coached Saunders
By Gamini Perera
Saunders Sports Club once again proved that they are the champions of local football. Taking on arch rivals, Renown Sports Club, the Price Park Club with a creditable 3-2 victory won the 'blue riband' of Sri Lanka football the FA Cup on Saturday, December 12,1998 at the Sugathadasa Stadium.
Saunders were awarded the prestigious Bristol FA Cup and a handsome cheque for Rs. 100,000/=.
This is the fourth occasion, Saunders had won this trophy, having defended the title this year. They had won this championship in 1987, the inaugural year of the Bristol FA Cup, in 1992 and in 1996/97.
Their opponents, Renown had also won this trophy on four occasions - ie. 1988/89, 1989/90, 1993 and 1994.
The Bristol FA Cup tournament, '98 commenced on September 12. One hundred and fifty one teams divided into 8 groups of 19 clubs each, on a regional basis, competed for the championship. The tournament was conducted on an all-island basis, with teams from far-flung places like, Ampara, Badulla, Bandarawela, Hatton, Trincomalee, Puttalam and Anuradhapura staking their claims for this coveted trophy.
The ceremonial launch of the Bristol FA Cup was held on September 3, 1998 at the Crystal Ballroom of Hotel Taj Samudra.
Usually, the FA Cup tournament down the years had a tendency to spill over to the following year, due to certain flaws in conducting this championship. At the launch, Manilal Fernando, the president of the FFSL, which conducts this premier tournament assured the media and the league representatives that the Bristol FA Cup '98 would be completed by December 31 of this year.
True to his words, the final of this year's championship was played on December 12 and a big bouquet should be handed out to the Secretary Competition Committee, M.T. Fernando, his assistant S.Chandra and the female office staff, who gave their invaluable support and assistance to make Manilal's assurance a reality.
This year's championship registered the tenth anniversary of Bristol's uninterrupted and sustained involvement in the name and cause of Sri Lanka football, oft referred to as the 'common man's sport'. CTC's chief executive, Gotfried Thoma, himself a former soccerite, and a very keen football fan, stressed that his company's main purpose was to strive for the uplift of football in the rural areas, so as to unearth talent for the good of the sport, in order that the game would be the ultimate winner. Another notable feature was the initiative and enterprise shown by Manilal Fernando, who created history by having an open draw of the 151 participating teams, falling in line with the accepted norms of the World Cup championship.
Saunders - oldest club
Saunders SC formed in June, 1932 is the oldest football club in Sri Lanka.
Prior to winning the Bristol FA Cup on four occasions, Saunders, hailed as the 'pin-up' boys of Sri Lanka football had been victorious in the Ceylon FA Cup, as it was known, before Ceylon Tobacco Co. Ltd., thought it fit to introduce innovations and technical imputs towards re-fashioning this premier football tournament in 1987.
Saunders had won the CFA Cup in the years 1949 (the inaugural year), 1952, 1954, 1955, 1960, 1963, 1964, 1982, 1984 and 1985 a record 10 times.
Founder - fish mudalali
Saunders SC was formed by L.Dionis Appuhamy, a fish mudalali by profession, who spared no pains in bringing about the coalition of three clubs situated in the vicinity of St.Sebastian's Hill-Shamrocks, Lions and City.
The year 1949 was a glorious one for Saunders. Making their appearance in the inaugural CFA Cup competition they beat Police SC to win the plum.
In addition to this trophy, they also won the Manning Shield, the Abdul Rahuman Trophy, the Colombo F.L. Trophy and the City F.L. Championship. Players like, Sampson, Sabreen, Edwin, K.A. Premadasa, Basheer Ahmad, Ramasamy, T.J. Azeez, Dharmasena, K.S. Richard, Ismail and Bawoon were the architects of this early victories launched by Saunders.
Sira - the "Wonder Boy"
Saunders is presently coached by P.D. Sirisena who was dubbed as the 'Wonder Boy' of local football in his playing days. In 1960, Sirisena came into the Saunders team and with his scintillating brand of play piloted the team to win more laurels. Playing against the then formidable Wellawatte Mills, 'Sira', as he is fondly known, netted in five goals in a row, which was a record in the CFA Cup tournament.
Sirisena is a coach with innovation, devotion and dedication to the task he is entrusted with and being not afraid to change according to patterns of the day, has been one of the main ingredients of his recipe for success.
Lived upto expectations
The runner-up of this year's Bristol FA Cup, Renown SC, too lived upto expectations during the championship, having notched up 50 goals in their six outings. Only two goals were scored against them.
Founded in 1981 by the late Vincent Peiris, Renown had scored some remarkable wins in this championship, having won it in the years - 1988/89, 1989/90, 1993 and 1994. Renown is a team, which had beaten such mighty opposition like East Bengal and the Maldives in the years gone by.
Their outstanding performances had awoken a slumbering football public and had catupulted the sport to the heights that it is enjoying today.
Renown, as runners-up received a cheque for Rs.50,000/-. Another notable feature in this year's championship was the emergence of two youthful sides, Navy Sea Hawks and Cooray SC into the semi-final.
---
Fireworks aplenty in the coming World Series in Australia...
By Bernie Wijesekera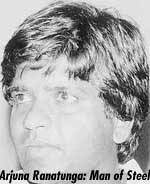 There will be a couple of overseas players, who will draw much spectator attention among those who will pad up in the World Series championship where the host nation Australia, plays England and the defending World Cup champions Sri Lanka, to be staged Down Under, at the start of the International Cricket Calendar for 1999.
It's going to be a titanic struggle between the trio to prove a point before the World Cup championship to be staged in England, in May, '99, which is going to be one of the best in the Mecca of cricket since the inaugural contest in 1975, when the Windies under Clive Lloyd won an abosrbing final defeating Australia at Lord's.
Undoubtedly the frontline figure in the coming World Cup series in Australia will be Sri Lanka's 'Man of Steel' skipper Arjuna Ranatunga - the oldest player in the international scene where he started his international career as a schoolboy in the inaugural test in 1982. Close on his heels is India's dashing opener, Navjot Sidhu.
As a batsman he has played some heart-warming innings for the side when the chips were down and saved the team from impending disaster.
As a leader since he took over the mantle from Ranjan Madugalle in 1989, has done much for Lankan cricket to lead the team from the front - the forgotten men in the Test scene; to emerge as the one-day World Cricket champions in 1996, defeating Australia in Lahore.
Arjuna tagged as 'lokka' in the local scene, may not be popular in some quarters with his decision making. But he has the game at heart with his unyielding approach always striving to put the country before self. In the process has won much admiration for his guts and determination. This phrase aptly suits this burly cricketer. With a stubborn face as a leader he instils confidence on his charges to play with determination against whatever odds.
In the process Sri Lanka emerged as the most exciting team in one- day cricket when they won the World Cup in 1996.
The last tour to Australia in 1995 - '96 was marred by controversies, but the emerging young team held together under his leadership - though losing the Test series 3-nil.
But in the overs game it provided the platform for exciting cricket where players of the calibre of openers Sanath Jayasuriya, Romesh Kaluwitharane, Asanka Gurusingha ( not in the tour party - prematurely retired for reasons best known to himself), Aravinda de Silva, the captain and Roshan Mahanama had the fans bewildered with their aggressive strokeplay.
After a five-in-a-row drubbing in the recent contests, the Lankan team has to do lot of work, to uplift their image Down Under. Arjuna, alone can't overcome this debacle. The players must improve their mental toughness and bring back their lost confidence and play to a plan.
On this return trip to Australia, Arjuna knows pretty well that it's going to be a fierce contest as the Aussies will put everything at him be it with the bat or ball.
Everything in life
Through the years goneby he has learnt much on and off the field and changed his outlook much. Being a Buddhist, Arjuna, knows too well that everything in life is temporary - in this impermanent world.
This was evident at the Ananda Colours Nite, when his emotions got the better of him, when a presentation was made to legendary coach P.W. Perera.
He walked up to his former 'guru' and hugged him amid rounds of applause. He's another Mike Atherton - a stubborn cricketer. Like Atherton, he's the type to get under the skin of the Aussies.
Even the Aussies lost to India in the recent Test series in the Sub-Continent 2-1 after 12 years in Chennai and in Calcutta - masters of Test cricket with nine successive series wins since 1994.
But the "Masters" were beaten and slaugtered in Calcutta - the biggest margin since 1938, to England. They scored 903 runs with Sir Len Hutton getting 364 n.o.
Taylor never sulked over the defeat, but paid a glowing tribute to the Indian team. He was polite and had no excuses. Taylor said 'This Indian XI could have beaten any team on this day. Though beaten we were not disgraced. This tour gave us much food for thought. The Indians have planned so well and their frontline batsman knew how to counter Shane Warne, Tendulkar playing from the crease, Sidhu charging down and Azhar whipping over mid-wicket with is wristy strokeplay. Anil Kumble picked up 23 wickets for the series and baffled the Aussie batsmen at Chennai.
This attributes to strategy by the Indian cricket management. Though winning the series Indian skipper Azharuddin was modest to state the Indians dented the Aussie image, but they were still the top Test team in the world.
Mark Taylor could have covered up with some of the setbacks, but presented an image of a polite and well-mannered team and won the hearts of the Indian fans. Even Sachin Tendulkar, who had an awesome batting average of 111.50 - with a strike rate of 80.65 said that India should play more Test cricket against the Aussies rather than indulging in more one-day games.
Arjuna Ranatunga, knows, too well that this tour is not going to be a picnic, but a battle of attrition among the three teams. He's quite aware there are chinks in the armour- the opponents have studied, how to bowl to our main batsmen keep them in check not giving them room for their renowned carefree hitting. Even Jayasuriya admitted to this effect. The bowlers have to bowl to a line. "Even Murali's" wiles have been contained. On the big grounds - the fielding has to be sharp. The Sri Lankan fielding has dropped somewhat unlike in the past, when the team was held in high esteem.
Testing time
This tour will be a testing time for the youngsters of the calibre of Avishka Gunawardena, allrounder Thilan Samaraweera, Suresh Perera, Nuwan Soysa (if fit), on those fast bouncy pitches, be it their batting or bowling skills.
As Richie Benaud summed up Sri Lanka batting will revolve around Sanath Jayasuriya, Aravinda de Silva, Mahanama and in the middle the granite hard Arjuna Ranatunga, in the coming World Cup. He further said that the wickets in England are not going to be like the pitches in the sub-continent.
Besides Ranatunga, who will draw attention from abroad are - Mike Atherton, a stubborn opponent to the Aussies like Ranatunga, England skipper Alec Stewart, and paceman Angus Fraser, who is also a player, who could fight a long battle.
Fraser is now supported by another gritty allrounder in Darren Gough, who commands much respect among the Aussie players. Sri Lanka's little dynamo, Aravinda de Silva is a model batsman and a great crowd puller in Australia. He has to settle down and play a long innings which will benefit the team immensely. And Muralitheran, a whippy right-arm off-spinner who could cause problems to the batsman with his guile, backed by agile fielding.
---
Working towards improvement
Joel Garner doesn't believe that West Indies cricket has slumped to the extent it has been made out to be. Try and force this point and he asks, "you tell me then, how many Test series has West Indies lost in the last 10-15 years."
But Garner, who is the manager of the West Indies 'A' side to India, philosophically concedes the fact that West Indies isn't as dominant a force as it was in those glory years.
Life is a cycle, isn't it? So is cricket. All the 'A' tours we take out is for development purposes. This is where we are trying to rectify the weaknesses that we have in West Indies cricket." 'Big Bird', as he was known, can get touchy when the topic is about the decline in West Indies cricket. Asked what could be the reason for the fall in quality of fast bowlers in the West Indies, and he counters, "what is the quality of fast bowlers in the world. This could answer your question. You examine quickly and tell me if the quality of cricket is the same. So we accept that there is an all-round decline in the quality of cricket. We are trying to work towards improvement in our end."
A member of the 'fearsome foursome', Garner did not want to comment whether the pitches all over the world have slowed down, or, if they have been made pro-batting because of one-day cricket. He simply said: I don't know.
"But I would say that one of the reasons for the decline in the overall standards is due to the tinkering with the rules giving way to mediocrity."
Garner, while praising Walsh's feat of becoming the highest Test wicket-taker for the West Indies, feels 'A' tours are a good concept. "It develops young talent, gives the players a chance to play under different conditions and gain experience."
Garner does not think that only those who have not yet represented the country should be considered for 'A' teams. He says experience is gained by playing alongside senior players. "One learns by watching how the senior player assesses and tackles situations. If this has to happen then there should be a mix of both."
Garner believes there is no dearth of talent in the Caribbean, but the problem, he says, is they are not as hard-working. "Talent alone is not enough. One will have to work hard and make the necessary sacrifices." Garner acknowledges the fact that a lot of youngsters are taking to basketball owing to TV exposure these days.
Though he hates to make comparisons of any form, he says the one single thing he sees as the difference between his era and this, is team effort. "We enjoyed the game and knew the knowhow to victory." Garner says his best moment on the cricket field was West Indies winning the 1979 World Cup. "I have learnt so much about life playing this game, and have made so many friends too. Cricket has been good to me."
Who was the batsman he found most difficult bowling to? "There were many great batsmen in my time. You had to bowl your heart out to get them. Among the great ones I bowled to were Sunil Gavaskar, Graeme Pollock, Barry Richards, Boycott..."
Garner played domestic cricket in England and Australia and he says playing cricket in Australia was a revealing experience. "They play the game real hard, their approach and attitude is so different. I learnt a lot playing for South Australia." Is managing the West Indies senior side your next assignment? Garner laughs, and says that it's up to the WICB management committee. "My focus is now to make these 15 boys better players, improve their work ethics. At the end of the tour they should have learnt something new.
- Courtesy The Hindu