British diplomat Peter Gregory-Hood discovers ancestral links with Sri Lanka
Roots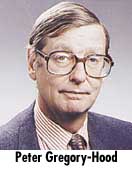 Peter Gregory-Hood, Deputy British High Commissioner and his wife Camilla left the shores of Sri Lanka earlier this month having served three and a half years in the country.
The Gregory-Hoods have enjoyed their experiences in Sri Lanka and hope to return soon on holiday.
It is interesting that while Peter Gregory-Hood served in Sri Lanka as a diplomat, two of his ancestors have been here as colonial conquerors. Peter Gregory-Hood comes from an old family with its origins in Warwickshire. Around 1640, one branch of the family left Warwickshire and settled in Ireland, while the other stayed on.
William Gregory who hailed from the Irish branch of the family, served in Sri Lanka, then Ceylon, as Governor from 1872-1877.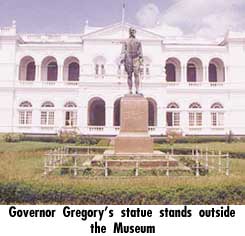 His statue which was erected in the Pettah, now stands outside the National Museum in Colombo. It is appropriate that Governor Gregory's statue should stand outside the Museum which was one of his accomplishments as Governor.
It was quite by chance that Peter Gregory-Hood discovered that he had yet another ancestor in Sri Lanka. When they visited the Navy Base at Trincomalee, he found the name of Admiral Sir Samuel Hood on a plaque there, heading the list of Admirals who had served in Trincomalee.
Admiral Sir Samuel Hood headed the British Navy in Trincomalee in the early 1800s before the Kandyan Convention.
"I do not know whether he was the first British Admiral to serve in Trincomalee but his name is the first on the plaque," Mr. Gregory-Hood said.
Admiral Sir Samuel Hood came from the branch of the family that stayed on in England. The two branches of the family came together in marriage in the mid-19th century, thus becoming Gregory-Hood.
"When I first came to Sri Lanka, I knew about Governor Gregory, but I had no idea that Admiral Hood had served in Trincomalee until I went there," Mr. Gregory-Hood said. "Having two family connections in Sri Lanka, gives us a more personal link with the country and all more reason to the return."
-Hiranthi Fernando