People and Events
* Triumph for Ruwani
* A friend in need
* Touch of excellence
* Tommiya Naththal Kewa
* Capturing the ambience
* No match for her patch
* Poetry in embroidery

---
Triumph for Ruwani
By Yvonne Gulamhusein
Ruwani Herath was adjudged Grand Champion and Best Sri Lanka Performer at the second international hair and make-up competition "Hair Asia Pacific '98" at the Hotel Lanka Oberoi last week. The event was organised by the Sri Lanka Association of Hairdressers and Beauticians (SLAHAB).
The categories judged were Ladies' Haircut, Gents' Haircut, Evening Hairstyle, Nail Art, Bridal Make-up and Fantasy and the Grand Champion was awarded a prize of Rs. 130,000/- (US $2,000). In addition each category had five winners.
This year the most outstanding Sri Lankan performer received a Trophy and Rs 50,000/-.
In addition to all this a 'Show' was presented by the Judges of Hair Asia Pacific '98, for the first time in Sri Lanka.
SLAHAB is led by President Mrs. Nayana Karunarathne and her committee Vice President, Ramzi Rahaman, Sherreen Fernando and Janaki Kurukulasuriya.
---
A friend in need
By Roshan Peiris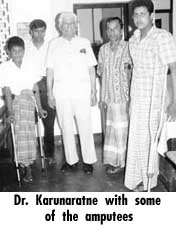 A craggy face full of years, yet wearing a navy blue cap at a jaunty angle was Dr. Ajitha Karunaratne. His birthday falls on November 27 and in a magnificent gesture of empathy and humaneness Dr. Karunaratne celebrated his 90 years, with a, donation of one lakh and fifty thousand rupees to the Colombo Friend in Need Society.
The Friend in Need Society's transit hostel is at 171, Sir James Peiris Mawatha, Colombo 2.
We went there with the doctor accompanied by President Kalyani Ranasinghe and the Administrative Secretary Rupa Jayasekera.
Dr. Karunaratne's donation is recorded in a plaque "in memory of Mr. and Mrs. D.T.W. Karunaratne by their son Dr. W.A. Karunarathe."
By the plaque stood the victims of landmines. A small boy around eleven looked startled as I asked him what happened to his amputated leg. "Mame bola gahana kota watuna", he said. "When I was playing ball I fell and hurt my leg."
There were amputees undergoing initial adjustments prior to getting artificial limbs and many elderly men undergoing gait training prior to leaving for home.
The hostel is kept scrupulously clean.
It provides Jaipur limbs, orthopaedic appliances, medical attention, nursing and a balanced diet.
Dr. Karunaratne who in his young days had been a delegate to the World Health Conference in 1949, was keen to know about the diet and medicines and accommodation for these people bereft of limbs.
Now at 90 Dr. Karunaratne can look back with pride to the many conferences he attended as a delegate from Sri Lanka.
I write about Ajitha Wickremaaratchige Karunaratne not only because he was undoubtedly an outstanding doctor, but also because of his humanitarian gesture to give limbless people money to make life more bearable.
It would be apt to recall the verse "Let me tonight look across the span
"Twixt dawn and dusk
And to my consciences say Because of some good act to man or beast
The world is better as lived today"
---
Touch of excellence
By Wathsala Mendis
As a student at Visakha Vidyalaya, Erandathie Salgado always got full marks for her sewing and art. She used to sit by her mother, who was a good seamstress, and watch her hard at work, which encouraged and inspired her to become what she is today.
She started painting and doing cross-stitch as a hobby, something to keep her occupied as her two children grew older. Six years ago, she visited Pakistan with her husband where she found the necessary material in plenty for cross stitch. Back in Sri Lanka, she found herself much more involved in the hobby. Today, it has become a full time job. "I plan my programme for the day. There is plenty of time if you are organised ." Besides, she believes it wrong to let a "God-gifted talent" go to waste.A self-taught artist, she's also blessed with a photographic memory which comes in handy in her work. She prefers drawing landscapes and animals to doing abstract paintings. "It really is strenuous and you need a lot of patience."
Erandathie will hold her second exhibition "Touch of Excellence II" on November 28 and 29 at the Lionel Wendt from 10am to 7pm. There will be oil and silk paintings, wall hangings, cross-stitched items including household linen- pillow cases, cushion covers -hand-painted sarees and blouses, baby items, and Christmas decor. In short, there will be something for everyone. Entrance will be free.
---
Tommiya Naththal Kewa
A brand new "Tommiya" play by Indu Dharmasena will go on the boards at the Lionel Wendt Theatre on November 27, 28 and 29. Profits will be donated to Lions Club of Colombo Regent Community Projects.
Tommiya, the village bumpkin has been despatched to Colombo in the hopes that he will become a "Kolomba Mahathya". Andana Silva, Colombo's hottest hair stylist has bravely undertaken the task of turning the duck into a swan. Andana takes a break from his efforts because Andana's friends and clients entreat him to organise his annual X'mas party. But this year the party is going to be a little different because it is decided that the men dress as women and the women dress as men!! Tommy is meanwhile put in a very tight spot by a very possessive and jealous husband who vows a terrible vengeance on the innocent Tommy at the Party.... provided that he can identify him! And so the stage is set for an X'mas party like no other, as Tommy ploughs through Colombo society exposing it for what it is! The irrespressible Indu Dharmasena brings one of her best loved characters, Tommy to the stage once again just in time for Christmas. Madai Tommiya Naththal Kewa has its usual cast of crazy characters and is a wholesome comedy for the whole family.
Indu plays Tommy while Michael Holsinger is the long suffering Andana. The "Original Lucky" Chitranga Kariyawasam graces the stage once again with her Dubai Returnee charm. Vinod Senadeera plays the role of Keith inept "producer and organiser of events". Priyanka Abeyesinghe, Shohan Chandiram, Anusha Fonseka, Delon Weerasinghe and Thulitha Piyasena complete the cast.
---
Review
Capturing the ambience
Review of Concert by Sonia Wickramasinghe ( Piano) at the Russian Centre on November 12, 1998.
The percussive brilliance of the ever so well known Rachmaninov Prelude in C # Minor, pretty well illustrated the appeal this fine young pianist has for the robust style that particular composer himself had fashioned in his time. Obviously, the years that Sonia has spent in Russia at the Gnessen Academy of Music, in Moscow, has contributed vitally in shaping her approach to Piano playing. This concert ( though not her first) helped to reinforce in the listeners' mind, that here was a youthful performer who shows tremendous promise, were she to pursue her musical career at a serious level.
I felt too, as did others present, that it took courage to present a programme of musical items that resembled a selection of "Firm Favorites for the Readers" Digest Collection" ! The pieces were sufficiently recognizable that one risked being "discovered" even with the slightest of fluffs upon the keyboard. It was probably that pressure which led to Sonia's evident nervousness before the large audience that was present; but she need not have worried, she acquitted herself commendably.
The Rachmaninov was in fact the final selection in the program; the evening began, however, with Bach's Prelude and Fugue in E flat Major, which Sonia delivered with mathematical precision, betraying an understanding of the classical form. There was nevertheless a slight difficulty she encountered with the transition into her next selection- Schumann's Arabesque in C major.
Happily too, "Scenes from Childhood" Op.15 by Schumann proved a great delight. Sonia captured the individual ambience of each miniature. In particular, "Blindman's Buff veritably discharged like a "catherine wheel" under her digital control, and as a contrast, Traumerei went over as smoothly as aged wine.
Schubert's Impromptu No.4 in A flat Major also had its moments. The opening and closing bars of this engaging work with its sparkling cascades of descending broken chords shone through; but yet again, it was in those transitions from one mood to another that Sonia needed to grasp the essence of the change and move out of the Etude mode, which she no doubt will, as she garners more experience and widens her dynamic range (hopefully, too, with a more cooperative Piano than she did have at her disposal at the concert!).
The penultimate piece in her programme was Tchaikovsky's "May" from Seasons of the Year which was also performed well . It seems obvious that despite the breadth and scope of her popular programme that Sonia is an artist who revels in the Romantic repertoire. We may look forward to more concerts from her, in the hope that she will exploit her obvious fondness for that genre. We might add in conclusion, that those most agreeable cultured tones of Ms. Holsinger, as she provided an appropriate commentary , helped the evening to pass along swimmingly!
-Arun Dias Bandaranaike.
---
No match for her patch
What started off as a hobby has be- come a way of life for Kamini Witharane, who introduced patchwork as an art form in Sri Lanka.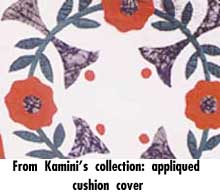 She, along with her students from the Ladies College Vocational Training Centre and from her private classes will hold their 15th annual exhibition 'Interior Design' in patchwork, applique, and needle art at the Lanka Oberoi from November 28-30.
There will be 11 interior and table settings on display, including wall hangings, cushion covers, quilts, kitchen accessories, Christmas decor and a Mickey Mouse collection especially for kids. A competition and a Christmas market are also on the cards.
Ms. Witharane conducts a three-month basic course and an advanced course in patchwork and a four-month course in Interior Design at the Vocational Training Centre.
Her students come from as far as Kandy, Kurunegala, and Galle and include many professionals.
---
Poetry in embroidery
By Nilika de Silva

When Praneela Fernando was just a little girl' she was initiated into the most complicated stitches in embroidery by the lady who did her layette. Today hers is a name synonymous with quality needlework and exquisite embroidery under the label 'Victorian Charm'.
All the work at Victorian Charm is handmade. The colours are selected carefully that the refinement of an item is evident through their very blending.
It's almost poetry. The christening dresses, the baby layettes, children's clothes, night wear, cushion covers, table cloths and wall hangings, all add up to make a wonderful selection.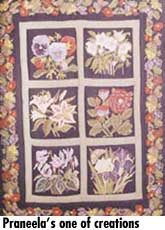 Although she worked at a bank after her studies at Visakha Vidyalaya, in 1993 Praneela left work to spend more time with her mother and then set up her own establishment at home, sewing clothes and soft furnishings with the most exquisite embroidery.
She now provides employment for 15 seamstresses. Praneela says her mother comes up with special names for her creations. Especially the night wear category has intriguing names ranging from 'Sweet Dreams', 'Simply Yours', 'Twilight Blues' to 'Can You Beat This', and 'Bomb Shell'.
Her annual sale titled "Victorian Memories" will be held on November 28 & 29 at No. 8 Palm Grove, Colombo 3, from 9.30 a.m - 6 p.m.