Entertainment
High Octane Buffoonery
By Afdhel Aziz
The Watermill Theatre Company from the UK stormed the Lionel Wendt last week with their high-octane buffoonery, completely revamping Shakespeare's 'Comedy of Errors' into something quite unusual. The audience walking into the Wendt was confronted by a Chorus bedecked in grotesque masks, all protruding noses and buck teeth.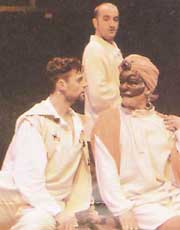 They hobbled around on stilts, they stood on the chairs in the lobby and they were all singing in a language that sounded like a cross between Welsh and Balinese. Audience members attempting to sidle into their seats were accosted and leered at by a bunch of good natured cretins armed with guitars, bongos, pan pipes and violins. These were characters so stupid they would all fail an interview for Village Idiot on the grounds that they were too dumb.
At first the assembled crowd gazed in mystified and slack-jawed amazement at the merry japes perpetuated on stage. And then the magic of Shakespeare infused with a healthy dash of tomfoolery won them over.
'Comedy of Errors' deals with the confusion caused by twin brothers both called Antipholus who both have bondsmen called Dromio. When one pair of master and servant arrive in Ephesus, they are mistaken for the other and chaos reigns. Wives try to seduce their brothers in law , goldsmiths hand over chains to the wrong men, and huge breasted cooks gabble insanely while shaking rolling pins.
Alright, let's be honest. The plot served only as a loose reminder that there was supposed to be a story going on. Much more fun was the industrial strength mugging going on stage - actually it was not so much mugging as full scale Grievious Bodily Harm. The actors pulled Chaplinesque faces, turned somersaults and pratfalls, and beat each other up, all to the accompaniment of a cartoonish range of sound effects straight out of Looney Tunes.
One of my personal favourites was Dr. Pinch (Alexis Daniel) , occult psychotherapist who crouched like Baron Samedi over a book entitled 'You Too Can Do Voodoo' as he attempted to unravel the mysteries of mistaken identity.
Also good was David Acton as Adriana the wife of one of the twins, who played her role with a full range of fey mannerisms. In fact, she was camper than a field full of tents. Emilio Doorgasingh as the enchanting (!) courtesan who woos Antipholus displayed an amazing cleavage with a corset that Madonna would be proud to have hang in her closet. Also hilarious was Tony Bell as a dimwitted Officer of the Law who was part Peter Sellers in 'The Party' and part Sargeant Nallathamby.
The Watermill Theatre Company is based at The Watermill, a 200 seater Georgian courtyard-style theatre in a small village outside Newbury in Berkshire. It aims to make classic and new work accessible to a worldwide audience and this approach certainly showed in their free-wheeling multi-ethnic approach - from Japanese drums to Italian accents as thick as Neapolitan ragu sauce. The music itself shambled amiably from spaghetti westerns to the Gypsy Kings, flirted occasionally with salsa and then suddenly dove into chamber suites.
All in all, a challengingly fast pace was set, with every single member of the cast playing two, three sometimes four roles. From well before the play began, even through the interval the cast did not step out of character, entertaining everyone with their burlesque, turning 'Comedy of Errors' into an effervescent, irreverent romp through the traditions and rituals of comedy through the ages.
---
Travel
Travelling with MM
Different Cultures and Customs
By Alya Henry
There were duels, troubadour recitals, plays, puppets. The wind blew, the moon sailed in a black sky, and torchlights flickered while witches and boblins pranced on the high battlements.
From Paris we flew Air France to Budapest in search of culture re- citals, ballet, and opera.
We were lucky. On our first night, Tourist Information attendants said the opera Spartacus was at the Budapest Opera House. We ran back to our hotel, showered, and ran in our evening clothes all the way to the opera. Breathlessly we bought our tickets and climbed a million stairs to the gallery. We stood in the gods with the stage right before us. Beautiful.
Strange though, there was no singing. But, there was lots of miming, dancing, solos, pas de deux. Finally; to our astonishment we found it was Minkus' ballet Don Quixote, not Spartacus the opera. Were we in the wrong theatre? No. Eventually we gave up trying to resolve the dilemma and gave in to the magic of the performance. We were happy, but! it was the last performance of the summer season.
After a day of sightseeing and haggling with the Slovakian consulate to get a visa to Bratislava, we found it was St Stephens Day, or the festival of Szent Istvan, a Hungarian king who liberated Hungary from the Turks centuries ago. All day there were processions and services at the black domed Basilica of St. Stephen.
At that time, Budapest was also hosting the European Games, winning medals and breaking world records. After a goulash (what else?) dinner we joined well-behaved citizenry at Erzebet Bridge to see the fireworks display on the Danube. Crowds of drinkers and sunflower-seed-eaters remained festive till morning in a highly charged tone of jubilation.
Next we visited the town of Visegrad situated on the Danube north of Budapest. Towering above the town and the valley below, Roman ruins and a mediaval castle sit on a rocky promontory overlooking the river. As we explored the castle's torture chambers we unexpectedly came to a countryard recital - a band of musicians in period dress played ancient music with ancient instruments. The leader played a wooden pre-oboe instrument. We loved their music and bought a CD.
Off to Bratislava, where we went to a rare organ recital at the Castle. At Church of Poor Clares we attended a concert by a celebrated Slovak pianist and the Slovakian Chamber Orchestra playing sublime music of Bach and Beethoven. The intricate Baroque decor of the church complemented the music.
At Trenchen, next to the mountains north of Bratislava, we saw superb Roman ruins and a medival castle. Nestling at the foot of the fortress walls is the 'old town' of Trenchen proper. Looking down at it, it appears like a doll's town, neat, cobbled streets, miniature piazzas, church steeples, and towerclocks chime musical messages across the valley. We caught the last day (again) of yet another summer season and went to a midnight guided-tour-performance by actors in period costumes. There were duels, troubadour recitals, plays, puppets. The wind blew, the moon sailed in a black sky, and torchlights flickered while witches and goblins pranced on the high battlements. A maid was burnt alive, her blood curdling shrieks delighting the crowds of gaping kids and adults.
The best treat came our way in Vienna. We did not plan to see opera there - we knew it would exceed our budget. But,we were urged to queue up for a standing ticket. Verdi's Sicilian Vespers was the first (not last) opera of the season, except it was 'standing only' (leaning on balustrades helped). However, we were in good company and once the singing began we forgot our feet.
For centuries poor opera buffs have been given access to opera in this manner. I was content; Mozart performed his operas here; the place looked familiar to us through watching the film Amadeus.
Although our travels took us to three countries eg. Vienna in Austria, Budapest in Hungary, and Bratislava in Slovakia, I was struck by their similarities. MM looked interested but amused, urging me, 'Such as?'
All three cities are stituated on the Danube within reach of each other; the river is the string that tied them together for centuries. Vienna is named after the river Wienne which cuts through the city, and joins Danube via the Danube Canal. Budapest is cut by the Danube into two; Buda and Pest, both places have exquisite 19th century architecture.
Bratislava on the north bank has 19th century architecture which equals that of Vienna and Budapest.
Both Bratislava and Budapest have beautiful 'old towns.' Budapert's 'Castle Hill' boasts Roman ruins, churches, palaces and burger residences. Bratislava's 'Stare Mesto' or old town has civic buildings, town squares, clocktowers, cobbled streets full of stone houses, churches, and eminent places eg. Grassalkovich Palace. West of 'Stare Mesto' and the city, a medieval Castle, a quadrangle of fortress walls and towers, sits on a high hill.
It was good to walk in our Reeboks over cobble stones, see the old towns. I loved the quaint clcktowers and town squares; the clocks play tinkling music which wafts sweetly on the air, making the autumn scenes of yellow windblown leaves sad and poetic.