Fashion
Jewellery close to nature
Creativity is his middle name. Close to nature is where he strives to be.
Imthias Kaleel, designer, artist and a 'close to nature' jewellery maker has come up with another silver collection which richly complements his popular 'jewel green' nature range.
In a fresh burst of creativity, Imthias has transferred animal skin images onto silver oxidised jewellery.
The new range of pendants, and earrings have familiar markings, like the long, narrow stripes of the zebra, the squarish maze of a giraffe skin, the unmistakable horizontal waves of the tiger skin and the stars of the tortoise shell.
All the earrings and pendants are oxidised sterling silver and are encrusted with semi precious stones.
Imthias has kept to his nature theme, which he first promoted, with the jewel green, a range made of dried flowers, leaves and set with semi precious stones. But the oxidised silver range is a total contrast to the flowery green range.
Training in Belgium and London has given this designer a fresh yet natural approach to designing.
His shop near the Mt. Lavinina hotel is a den of creativity.
---
Personality
"Handsome, homely, humble" Jason
By Wathsala Mendis
His debut single "Got to Have You" hit the top of "Sri Lankan Original Hit Parade" in April. "Cool scene," he smiles, remembering the success, which made him both happy and shocked. "Handsome, homely, humble," is how he describes himself. Handsome? "Well, it depends on how you term it. It's not just the outward appearance, you know," he smiles again. And homely? Funny coming from a DJ, isn't it? But, yeah, that's Ishara de Silva, better known as Jason Knight in the Sri Lankan music industry.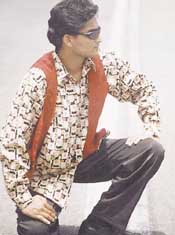 Born and educated in England, Jason is busy working on his album comprising 12 songs which is to be released mid next year. He will, however, release a couple of songs during Christmas to see how they do at the charts. His ideal girl should be honest, caring, and not totally outgoing, and should love him for what he is. (Anybody out there who can fit the bill?). Here's how he termed his favourite things.
Smell
This might sound funny but I like the smell of Gillette after shave. It has a superb, distinct fragrance.
Animal
Dog. "Foxy" my pet climbs walls and trees. She's sharp but not a troublemaker.
Meal
Burgers and chips. (Junk food?) It's a bit unhealthy, I know. But I like it, anyway.
Colour
Black. Why? No special reason. I just like it. I like dark colours.
Book
"Adventures of Sherlock Holmes" by Sir Arthur Conan Doyle. (Isn't it strange for a guy who's into marketing, deejaying, and composing to read detective stories?) It's intriguing, you know, always looking for new things.
Person
I have not one but three. My Mom, Dad, and my brother. They are very supportive. There's flexibility and understanding in our family. Basically we're like best friends.
Memory
Becoming the second runner-up in the "Asian Model Search" in 1994. I entered it just for the fun of it. Winning a title was the last thing on my mind.
Song
"Sun and Rain" by 911. No, it's not a soppy song. It's got meaning to it. I mean, whoever you are, the moment you hear it you get a feel for it. That's what I want my songs to be, to relate to people, whatever their background. That's when I feel I have really achieved something.
Item of clothing
Anything smart casual. They make you feel relaxed and comfortable.
Movie star
Tom Cruise. He's unique, good-looking, and whatever he does, he does it in style. (No question about that!)
Fantasy
I just like to do well in life. If I can make my family happy, that'll be my greatest achievement.
Movie
Armageddon. I always go for the meaning behind the story. This particular movie was dramatic and had a sense of action and meaning to it.
---
How do you feel
In the good old days when men went off to work to earn their rice and curry, their wives stayed at home, but now the trend has changed drastically with most women going to work. Sometimes they end being your boss.......Ayesha R. Rafiq finds out more
So you've got a lady boss? Is she the model of efficiency, or as bad as they get? Oh sure, you're nice to her and all. Of course you don't mind returning a video for her, giving her a lift somewhere, taking orders from her. Wait a minute, that last one caught your attention didn't it? While you're all sugar and spice to her face, do you secretly hoard little sayings, and snicker about it with your friends over lunch?
While in the good old days when men went off to work to earn their rice and curry, their wives stayed at home and were the proverbial 'hand that rocked the cradle.' Times have changed though and these days, though some women still prefer home life to the office grind, most don't have the luxury of choice. Society and women themselves demand that they stand on their own two feet, high heels and all.
On a more serious note, women have knocked down most barriers and there are few professions where they have not made their presence felt. Quite inevitably, many of them have made it to the top. But in a convention bound society like ours where the man is still regarded the head of the family, how are women bosses regarded? Come now, be honest? Given a choice, would you pick a woman for a boss over a man? Do you find it difficult to take orders from a woman or do you believe that it's the efficiency that counts and not the gender of your boss? Are women bosses more caring and more humane?
We asked some readers from different professions for their comments and how they would rate their female bosses.
'Women are nags by nature, they can't help it, that's just the way they are,' observed Dinesh, a 32-year-old creative director in an advertising firm. 'Especially in our business, where you have to please your client 100%, working fast is important. It's bad enough having that kind of pressure, but when you've got someone whining for better results all the time, it certainly doesn't help.'
Rating: 2/10.
Rajiv is a 36-year-old chartered accountant. He says women lose their heads when they are in positions of authority. 'My boss sometimes acts condescendingly towards the men under her, as she seems to feel she is superior to us. She is pretty intelligent, and I admire her for that, but then so are some of those under her. But she pretty much lets us get on with our work, as long as the work gets done smoothly.'
Rating:4/10
Sanjeewa is a 24-year-old banker, a field where women are fast making their presence felt. 'What I don't like about my boss is that I feel she favours the other women she works with.' He says that unlike men who don't let personal friendships interfere with their business life, women go easy on their friends, especially if the friends are other women. 'It sometimes makes our job difficult, if the boss's favourite is allowed to go easy.'
Rating: 4/10.
Shanika is just out of school and working as a copywriter. 'I find it less intimidating to work for a woman, and easier to take orders from them, as they are usually kinder and more understanding than men. But if I was working for a boss who was also my friend, I would find it difficult to take orders from her. It's nothing to do with the sex of the boss, I'm sure I would feel the same way if it was a guy either.'
Rating: 6/10.
David, a 24-year-old computer engineer, says he finds it easier to work for a woman than for a man. 'Maybe it's the field I'm in, but my boss is a lot more ready to listen to our input than some of the men there. She doesn't mind asking for help, and is quick to admit her mistakes. She's friendly with everybody, so no one questions her when she asserts her authority. Of course she has her off days, but so do men. It's very pleasant working with her.'
Rating: 9/10.
'I've joined my office recently, but I find that my female boss is rather ineffective,' says Kolitha. 'She has to shout to even make herself heard, but everyone just does what they want. The work gets done though, so that way I guess she's okay. But she sometimes tries to be bossy, and get her own way, and then the guys get annoyed.' He says that she sometimes makes a mess of things, and then blames it on others and leaves them to clean it up.
Rating: 4/10

Vinitha is a 32-year-old secretary, who says her female boss loses her temper very easily. 'She's unpredictable and that makes working for her tense. She doesn't care what personal problems I have, she expects my work to be done come rain or shine. She also expects me to have the same love and drive for my work that she has for hers. I'm expected to do work at home as well, even though I have to look after three children and a husband'.
Rating: 3/10.
43-year-old Sharon, also a secretary, is happy with her lady boss. 'I used to work for a man who didn't understand women one bit. He would make me work late, and not even worry about my transport back home, as where I live is far away. But my new lady boss is simply 'the best.' Sharon says that sometimes, when the work load is heavy, her boss helps in every way she can, 'not by doing my work, but by making it easier for me.'
Rating: 10/10.
Jehan, a 53-year-old computer analyst also seems content. 'I've worked for both men and women, and find no difference.
I feel that the type of boss you are depends on your personality rather than your sex. Most young people nowadays, are so gender prejudiced and proud, they think it's insulting to have to take orders from a woman. You may get the occasional bossy woman, but you may also get the more than occasional bossy man. My lady boss is fun to work with and not at all egotistical.'
Rating: 7/10.
So there you have it. Not roses all the way, but then attitudes differ. The next time you encounter a lady boss, do a check. Is it your attitude or hers that's the problem.
---
Potty surprises
By Wathsala Mendis
If you think gift items could only come in the shape of a heap of metal and plastic, well, you are wrong. The Pottery Barn, newly opened in Colombo 3 has something eco-friendly to offer.
Simple terra-cotta items, have been turned into objects of infinite variety, interest, and character to suit every taste.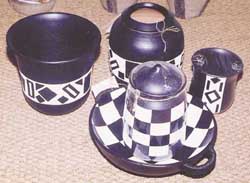 The exquisite designer collection comes in seven categories: Sri Lankan, Black and White, Multi-coloured, Sunflower, Planter, Fabric, and the Lamp Collection. Vases, jars, pots, jugs, fruit bowls, pencil holders, cruet sets, and cooking pots are available in different shapes and sizes. Rattan, bead, or coir-worked earthenware in eye-catching designs, a collection of lamps in black, jute, or coir design with fabric or jute shades and with large or medium, coloured bases are also worth checking out.
Most of these items are shrink-wrapped and arranged on shelves made of bamboo and coir -a new concept- giving it an ethnic touch. These creations could also be tailor-made to suit individual requirements.
With Christmas just around the corner, the Pottery Barn will soon bring out an exclusive Christmas collection including vases and candle holders in green, red, white, and dull gold -typical Christmas colours.