Victor, a long-jump legend
By Bernie Wijesekera

Pattige Don Victor, an illustrious sportsman of class to hail from St. Joseph's College, Darley Road, will be celebrating his 'Golden Jubilee' in track and field sport.
The former long jump maestro, started his trail-blazing career in 1948, as a junior athlete under the watchful eyes of late Anthony Abeysinghe, undoubtedly the best athletic coach during his era, according to Don. Abeysinghe's love for the sport had the ability to spot talent.
Apparently Sri Lanka has still to find a coach of his calibre, who was so dedicated and committed to this healthy sport where quite a number of athletes were fortunate to make good with his experience. Victor was one of them.
This was confirmed by Lakshman Kadirgamar, who won the Public Schools 110M in a record time and earned for himself "a Trinity Lion".
Don as a junior 16-year-old created a sensation - a record, the first ever to excel in the long jump event by any standards. He was the first Sri Lankan and the third Asian to enter the record books of the International Athletics Annual of 1958, after his leap of 24 ft. in the Christian College, Kotte, invitation meet. The same year he represented Sri Lanka at the C'wealth Games in Wales.
In 1950, as a junior athlete, Don turned a new leaf in the annals of Josephian athletics, when he smashed the Northern Group Meet record in the 100 yards and in the long jump - 10.9 secs. and 20 ft. 2 1/2 inches, which surpassed the seniors, who were below these two marks.
A bundle of energy his code word was 'simplicity' like that of late Duncan White, who came up the hard way. Don had the means unlike White. White was here early this year to celebrate his (50th anniversary) after wining the Wembley Olympics in 1948, Sri Lanka's 50 years of Independence and his 80th b'day.
Victor's 50 years in track and field sport on and off the field brings back nostalgic memories. He started as a sprinter, when he made his record-breaking debut in 1949 at under 16 level. He clocked 11.4 secs., in the 100 yards, 400 yards 58.1 secs. and in the long jump 17'7" - all school records.
But coach Abeysinghe, wanted him to concentrate on the long jump. Heeding his advice he reached stardom. In the process did proud to St. Joseph's and for himself in the 1953 Public Schools Meet. He erased the record 21' 3 1/2" with a leap of 21' 6 3/4".
Whenever, Victor leapt he was assured of victory and his vision was to be the country's top leap jumper during this era. In the Nationals in 1954, he was placed third behind Rev. Bob Richards of the U.S.A. and placed second in the Triangular meet in 1955.
Victor, was the best leap jumper ever produced by the Darley Rd.School. His rare fete of clearing of 23 ft. barrier 17 times, will be hard to beat. He also jumped seven times over the Asian Games record of 23 feet 5 1/2 inches in 1958. It could be compared to Jim Laker's 19 wickets haul, at the Old Trafford Test against Australia in 1956.
Achievements are, too numerous to mention. As a junior athlete (U-16), he created a rare milestone - a solitary Josephian athlete to have broken all senior school records in the 100M, 400M and the long jump - clocking 10.8 secs. (100 yards), 400 yards - 56.9 secs, the long jump 20'6". He won the Junior Tarbat, singlehandly for his school.
Foreign coaches of the calibre of Brayton Norton and Joe Yancy, commended him for his superb broad jumps - an athlete of international class. His effort of 23' 3/4" at the Asian Games in Tokyo, in 1958, placed him seventh. For any international meet, he was an automatic choice at home or abroad. In his last international meet in Kuala Lumpur - the Malaysian Games, in 1959 he was placed second with a leap of 22' 8 1/2".
Genial Don still fit and strong, who has already cleared the 60 year old barrier, while Sir Don Bradman - the all-time great will reach the nervous 90, come Aug. 27, has done yeoman service to uplift Sri Lanka's image with men and material.
Speaking to this scribe with emotion - 'This sport running against the clock has helped me immensely to go places in life. I am still prepared to help, in whatever form, sans politics.
Q. - When you think of the past, it's like Golden Memories and Silver Tears'?
A - You are right. That, too for 50 years. I've no regrets for spending most of my time. I still enjoy it to the hilt even today.
As an administrator, I was fortunate to work under celebrities like late P. Julian Grero and Lalith Athulathmudali etc. who gave their hearts out and put the country before self. But sorry to mention it's not so today, he added.
While serving under Athulathmudali, as secretary, the AAA after 64 years was fortunate to have its own headquarters, which was ceremonially opened by the then Minister of Sports, Nanda Mathew on July 6, 1991. This occasion was covered by this scribe. The AAA President Athulathmudali, had a word of praise for Don Victor the secretary for a job well done, who took pains to make this a reality.
Q - Do you agree that politics have polluted sport in Sri Lanka?
A - You are right. Due to power hungry officials, the country's image internationally has been tarnished to some extent. The ongoing happenings will testify to this effect. As a result Sri Lanka will take a deep breath of sadness, due to jealousy and craving for power. A pall of gloom falls on the future of this sport now which is mostly confined to rural athletes. Today it's a sore in the public eye and international scene, he nodded.
Don has spilled the beans for the greater good of the sport. Even some of the officials holding office, in the controlling body today can't match his feats on and off the field, which won for the country international recognition.
On Nov. 29, 1993, the President of the Asian AAA Mr. Mohamed Hassan gave an award in appreciation of his dedicated service to athletics in Asia. He has been invited for the forthcoming Commonwealth Games as an observer to be staged in Malaysia, next month.
This soft-spoken athlete of yester-year has held many positions in the AAA of Sri Lanka. He was elected treasurer in 1984. From 1986 to '93 was its secretary. In 1991, became the first Sri Lankan to be elected to the Asian Council.
Q - Anything special you have done during your tenure as an administrator or otherwise?
A - There are many. But good wine need no bush. I wish to mention a few of them to your readers.
In 1982, I held no position in the AAA, but collected Rupees one lakh, within 72 hours, on the request of the NOC to send a team for the Asian Games. History was created this year as the AAA was dissolved for the first time after 60 years in existence.
In 1984 - was appointed the treasurer of the Asian Athletic Federaton. 1989 focussed much attention among your readers. Since 1989, the AAA, owes me some money as reflected in the Audit Statement. Todate I have not received this amount. I've now decided to treat this as a donation to the AAA. Look, this in addition to a sum of over Rs. 200,000/- which was spent for stationery, communication and my secretary's fees. I requested to the president of the AAA and to the Minister of Sports to treat this, too as a donation.
In 1992, I had to resort to legal action in the Court of Appeal against the Ministry of Sports to save the democratic rights of the athletic world which cost me Rs. 66,000/- The case was decided in my favour. In the same year on a personal request made by me to German coach Hans Peter Thum, whom I met in Malaysia. I got a gift of sports gear to the value of Rs. 250,000/- At that time the AAA was not functioning. I handed over the invoice to the Minister of Sports and Youth Affairs.
In 1993, I negotiated with the IAAF to establish a Regional Development Centre for SAF Region, in Sri Lanka. This did not materialise, as I was forced to vacate the AAA. This matter was discussed at the 39th Council Meeting of the AAA, as disclosed in the minutes. In 1994, before leaving for Hiroshima, for the XII Asian Games and in the Council Meeting I met the Hon. Minister of Sports and obtained his blessings to bid for the Asian Championship to be staged here in 1997.
I promised him a sponsorship package of Rs.10 million to start with. Just one month before the congress meeting I was removed from the Asian Council by the local controlling body. This has been described as the most unpleasant task of the AAA. Apparently due to malicious scheming, by the power hungry officials, who run its affairs today, he added.
---
Khalid completes 30 years in martial arts
Martial arts Grandmaster M. Hassen Khalid the founder and chief instructor of Fei Quan Do International celebrates 30 years in the field today. He has trained several students - men, women and children - during this period. Grandmaster Hassen Khalid is one of the pioneer karate instructors in Sri Lanka and was the Chief Karate Instructor to the Sri Lanka Reserve Police training regular police personnel as well in the mid seventies.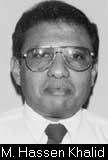 Grandmaster M. Hassen Khalid was also the Chief Instructor of the Sri Lanka Martial Arts Academy. He was awarded the 4th Dan (Yondan) Black Belt in karate in 1985.
Soon after that he travelled to several countries to widen his knowledge in martial arts and to build co-operation and goodwill among instructors of various countries.
Fei Quan Do way of the Flying Fists Martial Arts was founded by Hassen Khalid whose greatest aspiration in life was to develop a form of martial arts solely Sri Lankan in origin.
He acted in a martial arts oriented Sinhala film "Anusha" directed by Dayananda Rodrigo. Khalid produced, directed and participated in three spectacular martial arts shows. They were the Iron Fisted Warriors and An Evening in the World of Martial Art Parts 1 & 2.
In 1996 Fei Quan Do International added another feather to their cap by introducing other sports activites such as swimming, cricket, physical training, athletics, cadetting. They got their senior students trained in these sports to introduce it in local schools, international schools, societies, clubs, organisations etc.
Fei Quan Do International will be forming an association in October to carry out social services to do charity work to uplift the poor masses.
He is also a Justice of Peace (All Island) The training centre of the Fei Quan Do International is at the M. I. C. H,115, Dematagoda Road, Colombo 9.
---
Aravinda featured in Daily Telegraph
By Marlon Fernandopulle
August 20th. (Thursday) Cup Final day at Lords.Big day for Sri Lanka.A large number of Sri Lankans most of them in the Grand Stand are present at Lords to cheer the team.Flag poles are not permitted to the ground.However the Lankan supporters are in full cry with cheer leader Lionel leading the way. A few anxious moments before Sri Lanka beats England.Their supporters are overjoyed and ecstatic as Arjuna Ranatunga receives the Emirates Trophy.
They chant in one voice "We are the champions,give us three Tests and not one".The sing, song and dance continues behind the pavillion as some of the players are greeted by their wives and friends.The players are mobbed all the way to the coach. Photographs and autographs are all that are needed as the tired but jubilant supporters give a rousing send-off to the world champions.
August 21st(Friday) Newspapers hail Sri Lanka's triumph.ENGLAND UNDONE BY LAPSES IN THE FIELD, is the headline in the Daily Telegraph which is written by Christopher Martin Jenkins.In his article the writer says"It is seven years since they last toured and in that time they have become World One day champions, a success they could well repeat next year if the force is with them and the weather dry. They will certainly not be frightened in the opening match with England in next year's World Cup".
However the article in the Sun is disturbing.Titled SAVAGED BY A MUTT the writer begins the story saying,He is the world's most controversial bowler. According to the Manager Ranjith Fernando the Press Officer of the Sri Lanka High Commisioner has been informed to take up the matter with the relevant authority.
August 22nd(Saturday) Sri Lanka play Hampshire in Southampton which will also host two World Cup games next year. The Press Box cannot accommodate more than three-four journalists. But their is no alternative as the eight journalists covering the match compete for the little space and manage to perform their duties.
With the World Cup just nine months away it's surprising that there is no plans still to improve facilities for journalists in Southampton. Among the handful of Lankans present for the game is Sam Chandrasena, the man behind Arjuna's new bat sponsor (Sams).An old Anandian Sam came to the UK 30 years ago and has opened up 'Sam's Chicken & Ribs' outlets in London and Birmingham .
August 23rd(Sunday) A disappointing day for Sri Lanka as play is washed off by rain. players are concerned that 27% of the prize money won will have to be paid as taxes to the UK.Is next year's World Cup also going to be the same, they ask.
Arjuna Ranatunga picks Prasanna Jayawardene as the find of the tour. The captain is very pleased with the youngster's technique and predicts a good future for the schoolboy. Coach Roy Dias is very impressed with Suresh Perera. "He is very quick and is certain to get better with experience"
August 24th (Monday) The Lankans sign off the County games in style beating Hampshire by five wickets.
Alec Stewart's unwarranted remarks on Hashan Tillekeratne during the final is in the newspapers.The England team is unhappy with the stump mike which picks up the whispers and have voiced their dissent.
The ECB may take action against Stewart, but match referee Ahmed Ibrahim has said he is aware of the incident but will not take any action. Surprising?Manager Ranjith Fernando says Hashan was not aware of anything and he will not make any complain.
However some Sky Television viewers who clearly heard Stewarts abuse have expressed shock that the captain has escaped any punishment.
August 25th(Tuesday) Sri Lanka have a net at the Oval. After having a close look at the dry,brown,grassless wicket Arjuna feels it is similar to the SSC track and fancies his teams chances.
The team is hosted to a reception by Sri Lanka's High Commissioner Mr.S K Wickremasinghe at his office in Hyde Park Gardens. Over 150 guests including diplomats from other countries, Sri Lanka Cricket Board representatives in the UK are present and felicitate the team wishing them success for the Test Match.
August 26th(Wednesday) Sri Lanka and England have their final net at the Oval before tomorrow 's Test. If Sanath Jayasuriya is a household name in the Asian sub continent,Aravinda De Silva is in this part of the world at least among the Britishers who are interested in the game. Popularly known as De Silva the youngsters are after him all the time while he earns a lot of respect from the elderly for his mercurial touch with the willow. No wonder he is somewhat a 'legend' in Kent.
Titled MY SCHOOL SPORT,Aravinda is featured in the Daily Telegraph and speaks of his early days with the game at school.
---
BRC cricketers to tour India
By Bernie Wijesekera
The Burgher Recreation Club's 'B' team, who remained unbeaten and, emerged worthy Div. II cricket champions for 1997-'98 season, with a spirited team effort are to tour India. They will be going to New Delhi in November to play against some leading clubs.
In the final BRC nudged out CCC by three runs on a rain-affected pitch at Reid Avenue. In the semi-finals they got the better of Bloomfield. While in the quarter-finals they defeated NCC, to come on top.
According to BRC's cricket secretary and manager Satya Jayasuriya, the former Thurstanite allrounder, who is in the driving seat, goaded them to achieve its objective with a talented young side.
Jayasuriya, a keen student of the game, told The Sunday Times, that the team with sheer dedication and with a disciplined approach on and off the field went on to win the title. They were prepared to learn and trained to a plan under former Dharmaraja allrounder, Saliya Jayasundera and maintained a high standard of spotrtsmanship on and off the field.
The club has a tradition and in the past, was able to produce quite a number outstanding players for the national teams, be it cricket or hockey. In this Div.II side there are quite a number of young prospects, who could reach the top, if they maintain the same rhythm, he added.
The present hierarchy, headed by Jayantha Paranathala and Kumar Weerasuriya have given a new face-lift to the club. Of course, others, too rallied around with men and material though not holding office, to make it a reality.
The youngsters are the beneficiaries in the end. Trophies are secondary. It's the game that matters, Jayasuriya added.
Q- Any outstanding players in the side?
A- Well, everyone contributed for its success. But Amila Perera, the Thomian allrounder, played a decisive role. A right-arm fast bowler Amila captured 45 wickets and scored over 350 runs with three 50s, including a 50 in the final against CCC. Amal Wanigasekera, the Isipatana opener, too was among the runs with a 100 against Bloomfield. Former Galle CC and Richmond off-spinner, had a haul of 35 wickets.
Cricketers and Gentlemen
---
Ivers, Vernon and Artie right at the top
By Harold de Andrado
To recall the personalities of two fine sportsmen like Ievers Gunasekera and Vernon Prins is a pleasure indeed. It is a tale of triumph of their wonderful proficiency, their innate modesty, their fundamental honesty, their straightforwardness and their good nature. They were both born too early to play Test cricket.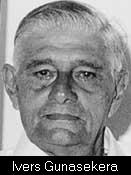 C.I. Gunasekera: If you study the performances of C.I. during his remarkably successful career, you will be satisfied that he has been one of Sri Lanka's greatest all rounders; a real run getting machine of whom one saw his cricketing greatness at a very early age, when he caught the public imagination as soon as he appeared in the Royal team of 1937 at the age of 16.
After he left school, he played for the Army (C.G.A.) right through the duration of World War II. While at school he played for the SSC and after the war he made countless centuries like his clubmate Sargo Jayawickrame. His batting was like a prolonged storm of lightning as every ball was attacked not by wild hitting, but by true strokes dazzlingly executed from his steely wrists.
While at school he excelled in all games including rugger, but it was at tennis that he also represented the country. He was a doubles player of high class among the very best in Sri Lanka.
His two brothers Dallas and Desmond were also brilliant tennis players and fine all round sportsmen.
Gunasekera has been a household word in the highest echelons of Sri Lanka cricket as much as Chappell, Edrich, Smith and Brown figure in international cricket.
Ivers reached the top by sheer natural ability and perseverance. He has had a fantastic batting record against international opposition and he stood up to the great fast bowlers of that era better than most other Sri Lankan batsmen. They included Prior Jones, John Trim, Keith Miller, Ray Lindwall, Bill Johnston, Brian Statham, Khan Mohamed, Fazal Mahmood and Fred Ridgeway.
To those like me who saw his twin seventies against the West Indies and his centuries against Pakistan, his double century in the Gopalan Trophy match and his brilliant century for the Commonwealth vs England where he matched Keith Miller run for run still marvel at his stroke play and defiance.
The pattern of his batsmanship was such that it left you entranced at his fluent cutting and hooking and driving with power disguised in an air of gentle persuasion.
Ievers the all rounder was a very popular figure among the crowds and would have excelled in today's one day cricket carnivals.
Most of all he was a highly intelligent leg spinner who at his destructive best, and his impact on the opposition was devastating as his record will show. He was great as the best leg spinners produced in Sri Lanka which included Malcolm Franche, D.S. de Silva, G. Goonasena and the late M.O. Gooneratne and J. Shanmuganathan. Leg spinners all know to be a luxury. They gain their scraps from the rich man's table (The adventurous batsman).
Ivers got his wickets as cheaply as possible. As a fieldsman C.l. was magnificent especially in the outer. His large bucket like hands never spilt a catch.
He captained Sri Lanka for five years since the retirement of Vernon Prins and the emergence of Michael Tissera all three great leaders as the results show.
It is a great pity that some of the performances of these greats of yesteryear cannot be reproduced on video. It could be a lesson to some of the modern generation who strut the modern cricket scene pompously living in the shadow of a World Cup triumph with very little to show in Test cricket except beating the wooden spoonists in Asian conditions. Ivers like many of us are looking forward to Sri Lanka's Test triumphs against formidable opponents like South Africa, Australia, West Indies and others like England and India in away games.
On his retirement Ivers concentrated on golf but yet played tennis skilfully right up to the present day and even today at 77.
If he is ever called upon to wield the willow in a veteran's game you can be certain of runs from him.
His presence at Sri Lankan internationals even today is most welcome because he is so well read with a very deep and sound knowledge of the game.
As a great cricketing gentleman C.I. was one of the kindest and straightest of men who came from a great cricketing family.
In his own inscrutable, inexorable way he has made his contribution to not only cricket but the entire sporting scene of Sri Lanka.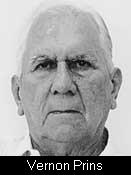 Vernon Prins: Always looked a great cricketer and there was never any doubt about his quality. There was no need to look at the scoreboard or statistics to be assured of this, as his figures were always phenomenal. He amassed a great many runs over the two and a half decades he played cricket locally even though he was not a stylist in an aristocratic way.
He had many pretty strokes whether driving, cutting, pulling or sweeping and he executed the hook quite competently.
His main gifts were concentration, watchfulness and a sound defence.
Vernon began his cricket at S. Thomas' in the under 16 team as a wicket keeper and at 15 he won his colours in the 1st Xl as a medium paced bowler and in his debut inter-school game in 1940 against St. Benedict's in the very first match on the new Benedictine ground he had seven wickets.
Gradually he acquired merit as a competent batsman and moved up the order hitting the ball as hard as ever though with careful discrimination. In his final year as captain (1943) - he enhanced his reputation as one of the greatest all rounders and a shrewd captain which won him the big match against Royal.
He was a particular nightmare to Trinity bowlers with a couple of nineties and an unbeaten 125 where he averaged well over a hundred in four seasons.
He played a lone hand in the 1942 Royal-Thomian but could not salvage the Thomians from defeat at the hands of an equally versatile sportsman in Gamini Salgadu the Royal Skipper. He made 83 and 41.
Vernon was also one of Sri Lanka's finest centre forwards at hockey and was also the Ceylon Public Schools' Put-Shot champion of 1941.
He did yeoman service for his school, club, (The Nondescripts) the Police and Mercantile Services and of course the country in his playing days. Some of his unfair critics were obsessed with the idea that he had been a failure against visiting teams but this was pure fallacy, when none did too well, he did none too badly. His 31 not out against Freddie Brown's Englishmen, his 46 against Les Ames' Commonwealth XI and his 42 against Lindsay Hassett's Australians and his half centuries against South India in the Gopalan Trophy matches were pure gems against the best bowling in the world, that included Alec Bedser, Trevor Bailey, Doug Wright, Bruce Dooland, Sonny Ramadhin, George Tribe, Ray Lindwall, Keith Miller, Bill Johnston and Richie Benaud.
Year after year he made his pile of runs and made over 8000 runs and took 500 wickets in Sri Lanka's premier tournaments for Nondescripts. In Sara Trophy cricket alone which commenced in 1950-51 his record of 5611 runs at an average of 45.25 including 14 centuries and 36 half centuries will take a great deal of beating. In the same tournament he had 322 wickets at 15.6 and held 92 catches.
Those were the days when only the leading 10 clubs participated so there was no feasting on easy meat.
He was one of the greatest off spinners in Sri Lanka and perhaps spun the ball more viciously than Jim Laker, Hugh Tayfield or Lance Gibbs or any of the other great off spinners of his era. He would have made the grade in any international team by this alone.
Apart from his prodigious spin he used all the artifices of flight and variation of length. He also knew how to appeal and his call for leg before wicket was the honest gentlemanly request of one upright man to another.
Vernon came up the hard way and reached the top he practiced assiduously. Few scholars could have studied harder to better their academic skills. He was richly endowed by nature but he did not rest on his natural gift. He worked earnestly to build upon it and trained so diligently that he never kept late hours.
He was probably born three decades too early as he certainly would have brought much credit and honour to our Test scene by his gentlemanly demeanour. As a captain he fulfilled his role adequately as results have proved always avoiding controversy as far as possible. He captained Sri Lanka against India in 1956 and England in 1958.
Vernon is also a most competent and qualified coach. He did not consider himself too big for his boots to learn from panel of coaches some of whom were not born when he was playing top class cricket.
Today he is a familiar figure at all our international and our Test matches a way of giving back to the game much more than he received. It is men like Vernon and Ivers who have really 'played the game' in every sense of the word that Sri Lanka cricket needs as administrators today.
Artie Lankatileka: The Thomian Captain of 1923 Artie Lankatileka is certainly the oldest cricketer living today. What is more he will be remembered for his sporting gesture of giving Royal an extra over to get the last Thomian wicket after the umpires had called off play for the day with the last Thomian pair at the crease.
In today's context it will not happen as it would be illegal and no umpire would tolerate it. The last time a similar gesture took place was in the Royal-Josephian match of 1955, where once again the winners chaired the losing captain. Today cricket, even school cricket is a battle of attrition. Lankatileka was a great cricketing gentleman but not a very successful captain where he had to yield major honours in 1923 to both Trinity and St. Joseph's by an innings.
Another record he still can boast of is that even as a nonagenarian he has never missed a Royal-Thomian match. His grandson Ajit Abeygunawardane now a Cricket Board official also represented S. Thomas' in 1972-73.