---
What a welcome
Housewives, working men and women with their children, elderly women
and youth- all flocked to see her. Mandira Bedi of Shanthi fame says
she never dreamed she would be such a hit here
By Tharuka Dissanaike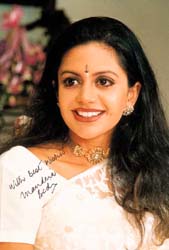 A chance meeting changed her life. Mandira Bedi was a young working girl, just out of campus and freelancing for an advertising project when the director of Shanthi first set eyes on her. He asked her to come for the audition. That was the end of it. And the beginning of a new life for Mandira.
In India Shanthi finished screening over Doordarshan last November. But in Sri Lanka the show's popularity reached feverish heights when the beautiful elfin star of the show visited the island on the occasion of the 500th telecast of the 780 episode teledrama.
What a greeting it was. "I was completely overwhelmed. Never, never did I dream that I was so popular here," Mandira enthused.
She was told by the local TV company which telecast the show, that Shanthi rated right behind cricket in popularity. But, "I never dreamed of such a welcome."
Somewhat relaxed in a 33rd floor penthouse in the JAIC-Hilton Tower, after her hectic tour of Colombo, Kandy and Galle, Mandira looked back at her four days in Sri Lanka with wonder. "I was practically mobbed."
After an early Saturday morning flight Mandira confessed to being "rather short of sleep" when she arrived at Katunayake. And throughout her journey to Colombo, perched atop a silver Mercedes convertible, she says she often wondered whether the crowds swelling around her were just part of a dream. A nightmare? "Oh no, I loved every bit of it." She did say, however, that she lost count of autographs she signed and was soon too tired to wave at the crowds.
Her male fans would probably be heartbroken to know that Mandira has marriage plans for next year. Who is it? "You will know when the time comes," she said smiling coyly.
Does she have such a fan following in India as well?
Mandira said, in rural India, where Doordharshan is more popular, she is sought after. "In Bombay, you would occasionally get a grudging compliment."
Mandira Bedi, 26, is not very young by Bombay standards of stardom. In a country which produces stars on a daily basis, Mandira probably never experienced such a crazed fan following of housewives, working men with their children, elderly women and youth.
After Shanthi, Mandira has not faded into the wallpaper either. Reruns of Shanthi are now being telecast over private TV channels. Meanwhile she has accepted various other teledrama roles- one a comedy where she portrays the wife of a South Indian who is living with her family. The drama focuses on the cultural conflict between the father-and-son-in-law.
The producers of Shanthi, however, unwilling to let go of the popularity of the role brought to life by Mandira, have introduced a TV chat show in Hindi. Anchored by Mandira, the show will feature a woman every time, someone "who has survived a difficult situation." Like Shanthi in the tele-soap.
In the drama, Shanthi is a young journalist who investigates two corrupt business tycoons and finds out the shocking truth about her own paternity.
Does Mandira identify with the role that made her so famous? "Shanthi in the soap is a woman who has had a bad childhood. She is determined and focused on her goal. She knows exactly what she wants of life.
"Mandira on the other hand has had a very happy childhood ( she smiles at her mother seated across from us). Mandira does not have burning ambitions or such a direct focus on life."
But, she hastens to add, she wants to take up directing one day. What about the big screen? Mandira looks unimpressed. "My ultimate aim in this acting career is not to hit the silver screen. If I get a good role, definitely. But I will not act in these "running around the trees kind of films."
With a degree in economics, Mandira nearly took up a banking career encouraged by her only sibling- a brother who is a banker in Singapore. "It was so boring! I was stuck with a bunch of stiffies the whole time."
Born into a Sikh family from Delhi, where her parents live today, Mandira turned vegetarian a few years ago. "I just wanted to do it." She confesses to a weakness for chocolate though. "At the Hilton the other day, there was a gorgeous waffle with chocolate souffle and I had this large helping," she said gleefully.
With a hectic work week, which finds Mandira tied down to double shifts of shooting, how does she relax?
"I watch movies," she said. "Not Hindi, but English and American films. I work out quite a bit too."
This was her first trip to Sri Lanka. Was she planning on coming again?
"Yes. I want to come on a holiday. I want to scuba dive and do lots of shopping."
---
More Plus * Evening of interplay * Grand centenary concert * She danced with graceful ease * Ink on rice
Front Page| News/Comment| Editorial/Opinion| Business| Sports | Mirror Magazine