---
India opens its doors to Sri Lankan tea
By Feizal Samath
While a devaluation of the Russian currency has spelt doom for Sri Lankan tea exports, which accounts for a sizable chunk of the Russian market, there was some good news however to cheer the market last week.
India, the world's biggest tea consumer, has opened the doors for free import of tea and this comes as a blessing to the Sri Lankan tea industry, long trying to get a foothold in the lucrative Indian domestic market. At last month's SAARC summit in Colombo, Indian Prime Minister Atal Behari. Vajpayee announced that 2,000 items on a list of restricted imports would be removed from this list and free imports allowed. He did not elaborate or name the items.
It was only earlier this week that Indian authorities said that tea and coffee was included in this list, instantly creating interest in local circles as to the immense potential for Sri Lankan tea in India.
A Commerce Department official confirmed the news but said that a total duty of around 20 percent was likely to be slapped on tea imports by Indian authorities.
He declined to comment on whether tea would be included in a list of preferential tarriffs during the third round of SAPTA (South Asian Preferential Trade Arrangement) negotiations which gets underway in Katmandu next month.
"I can't tell you what items would be listed for negotiation," he said. But other trade analysts said that tea would certainly be one of the items that Sri Lanka would take up for preferential tax treatment during the SAPTA talks.
"This is certainly good news to cheer a depressed market. It would be even more beneficial and favourable if import duty rates come down under SAPTA," said Chrisantha Perera, tea director of commodities broker Forbes and Walker Ltd. India has a huge domestic market and its annual production is insufficient to meet annual consumption, now at around 600 million kg and growing year by year. Once the world's largest tea exporter, India has now slipped to third or fourth place on this list.
The Indian tea trade policy - which local producers there oppose - is to allow some tea imports for domestic consumption which would then allow exports of its good quality teas to be made.
Indian tea producers fear that an influx of imports will hurt their prices and competitiveness. The market prices fetched by Indian producers for some of the dust tea types that Sri Lanka produces - and will like to export to India - are much higher than Colombo prices.
"India needs mostly CTCs and lower leaf fannings and our prices are much competitive than the Indian product. That is why Indian producers are worried," Perera said.
Though no estimates are available as to the quantities Sri Lanka can sell to India, Perera estimates that even if Colombo can sell 10 or 20 million kgs a year, that would launch Sri Lanka's biggest market.
"The other positive factor is that this concession by India is only for SAARC (South Asian countries) which is very much beneficial to Sri Lanka since few other SAARC member states are top tea producers. It effectively shuts the competition from other big producers like Kenya," he said.
The only hitch is whether Sri Lanka will be able to get a concessionary duty rate for tea imports to India because if it remains at the 20 percent level, then many exporters may not find it attractive to sell to India. Hasitha de Alwis, director of Sri Lanka's state-run Tea Promotion Bureau said that few local exporters made use of Indian tea imports allowed under license under a six-month trial period that ended in June this year. "The 10 percent duty did not make it attractive to sell to India," he said.
Trade sources are hoping that tariff concessions would be made for tea which would then "open the floodgates" for Sri Lankan tea sales to India.
Meanwhile the weakening Russian rouble continued to cloud sentiment at last week's Colombo tea auction with prices of low grown teas (a Russian favourite) falling and the auction average down by around 3-5 rupees per kg, which is a sharp fall this year.
"Buyers are adopting a wait-and-see attitude due to the uncertainty of the value of the Russian currency," Perera said.
Tea Promotion Bureau's De Alwis felt that the twin impact of the rouble fall and the sacking of Russian President Boris Yeltsin's cabinet was cause for alarm in the industry.
"It is too early to say what the long term impact would be and it is not prudent to speculate on the future because things can change overnight. What one can safely say is that there would be erratic tea buying from Russia," he said.
He said one of the more positive things is that this is the pre-winter buying period when Russian buyers must make purchases to stockpile for the months ahead.
---
Stock market at a glance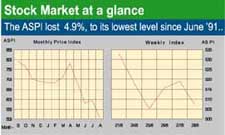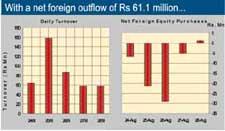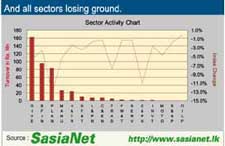 ---
Where are the foreigners going?
Provisional data from the Ceylon Tourist Board indicates that tourist arrivals declined for the fifth consecutive month, falling by 4.3 per cent to 29,529 persons in July 1998. This follows a 3.2 per cent and 9 per cent falls in June and May respectively and thus raises cumulative tourist arrivals for the first seven months of 1998 up to 202,674, down 1.2 per cent year on year basis.
While tourists may have been partly deterred by the spate of terrorist attacks in key Sri Lankan cities during late 1997 and early 1998, the concerning slowdown in tourist arrivals is primarily attributable to the continued stiff price competition in the region, a recent Indosuez W I Carr Securities report states.
Following the sharp devaluation's of their respective currencies, room rates in competitor countries have declined significantly in US dollar terms and will have eroded into Sri Lanka's traditional budget-tourist market. Furthermore, the recent Football World Cup held in France and the continued instability in the South Asian region might also have been instrumental in diverting tourist attention outside of Asia towards alternative destinations, the report states.
A further slowdown in tourist arrivals during this quarter is anticipated as the more price conscious travellers will continue to be diverted to the relatively more price competitive regional destinations. The declaration of an islandwide state of emergency will also do little to boost tourist perceptions in the short term.
Even assuming a relatively calm security situation over the next four to five months, and a consequent pick up in arrivals growth during late second half of 1998, the report believes that tourist arrivals are extremely unlikely to meet our previous full year target of 388,000 persons (6 per cent year on year). Arrivals are now expected to remain broadly flat and we have thus cut our full year target by 6 per cent to 365,000 persons and may also look to trim our tourism sector profit forecast further, Indosuez W I Carr Securities reports.
Given the fact that Sri Lanka has traditionally focused on the lower end of the global tourism market, the current lower room rates at alternative destinations and the heightened security in the country are likely to impact negatively on the domestic tourism sector.
In view of the twin impact of a slowdown in arrivals and a sharp 12 per cent increase in beach-resort room supplies, a further downward pressure on the margins of resort hotel companies are expected in the future. While the city five stars are unlikely to be affected to a similar degree given their greater exposure to more stable business travellers, in view of the slowdown/stagnation in arrivals, they too appear to be in for a challenging year.
---
Metropolitan to go public
The family owned Metropolitan group with a 40 year corporate history is planning to go public, Managing Director, Jawarhal Ambani told the Sunday Times Business.
The group, the country's largest marketer of office automation products is planning to raise capital from the public through a share issue.
The fresh capital is largely for expansion purposes. But Ambani says that his workers have also expressed a wish to buy shares in the company.
The DFCC is currently working out the technicalities of a public listing as a precursor to the move to go public but Ambani says that no date has been decided as yet. "In principle we have decided to widen the ownership but it is not prudent to do it now because of adverse market conditions," he said.
"We will wait for the right time."
Many of Metropolitan's long-standing principals have also expressed interest in investing in the company, and stockmarket analysts said that raising capital from the public by a company with a commanding performance in its field of activity, won't be a problem.
---
Mind your Business
By Business Bug
Lottery Trend
The latest "trend" to hit Colombo's business circles is a series of lotteries.
All these lotteries with names suggesting a three-sided or five-sided architecture are based on the chain letter principle - a buyer has to sell a number of lotteries to others who have to do the same.
At first glance, it looks like easy money but common sense and a little arithmetic show that market for the lottery would be saturated sooner rather than later.
Also, like in any other lottery, there are a large number of losers against a handful of winners.
And of course, none of these lotteries, some of which operate in foreign currencies, are legal....
Who sneaked?
The massive cheque fraud at the state bank that claims to be the bankers to the nation, raised a hornets nest last week.
There was one inquiry to ascertain the details of the modus operandi.
Then there was another inquiry as to who supplied the grossly exaggerated figures to the state media which carried the story in banner headlines.
And, because of the latter, the bank was expecting a run on its deposits but fortunately, that did not materialise...
---
Importers bagging it all!
The commissioning of Tokyo Cement's new Rs. 550 million, 300,000 Metric ton subsidiary Fuji Cement, has made new waves in domestic cement supply. Tokyo and Fuji Cement are both joint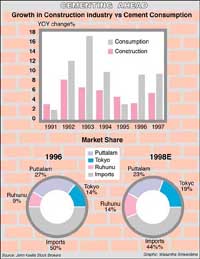 ventures between St. Anthony's Group and Mitsui Mining of Japan.
But despite doubling capacity from 300,000 to 600,000 metric tons annually with the new plant, production still lags behind, says a John Keells Stockbrokers report on the domestic cement industry.
Additional capacity is expected when BOI projects like Midigama Grinding plant in Galle and Yuntai Fushan a Chinese manufacturer begin operations by the turn of the century, but importers hold the largest market share yet.
As a developing country plagued by civil war the construction industry is in its infancy, the report says.
Cement consumption in 1997 was an estimated 1.95 million metric tons. From 1990 consumption has increased by an average 8.4%p.a.the construction industry is expected to grow by 7% this year. This should result in consumption levels of 8%+ for 1998 or approximately 2.05 million metric tons.
The new Fuji Cement plant, a wholly owned BOI subsidiary of Tokyo Cement will increase the company's market share of domestic consumption to 30%, chairman A. Y. S. Gnanam said at the plant opening in Trincomalee last week.
Mr. Gnanam said that his company would become the largest producer of cement locally but the biggest supplier remains imported cement.
Mr.Gnanam said that the increase in local capacity would save valuable foreign exchange and criticised the directionless government policy in cement imports. He said that the duty on imported cement reduced to 7.5% during the Mahaweli Developed era in the late 1970 has not changed and importers and cement packaging plants enjoyed an unwarranted duty advantage, detrimental to the domestic industry.
He called for a 10 year rolling plan for the cement industry at the opening of his new plant in Trincomalee.
He said that the initial investment for a packaging plant was US $150 million in comparison to their mill, which cost US$ 1 billion to set up. A mill also generates far more employment than a packaging plant, he said.
The construction industry is expected to grow at higher levels provided:
* Resumed spending on infrastructure by government including the US $3.8 billion southern Province Development Project,
Reconstruction of the North and East, An expected pick up in Housing construction
Strangely the local consumer shows a strong preference for locally produced cement, which sells at a 10 - 15% premium.
The closure of the Kankesanthurai (KKS) plant due to terrorist activity in the area put additional supply pressure on the industry. The domestic supply of 915,00 metric tons in 1996 was just 50% of the demand. Such shortages resulted in all domestic suppliers increasing prices and prompted the government to reduce tariffs on imports, the report says.
However the regional industry which is in oversupply (an estimated 17 million metric tons exportable) is expected to consolidate by the turn of the century and with this the local industry too is expected to take a dip in prices and stabilise.
---
New lease for Lanka Orix
By Mel Gunasekera
Following a line of other banks and corporates, Lanka Orix Leasing Company Ltd., (LOLC) is to issue Rs. 500 mn in unsecured, three year debentures at 13.75 per cent quarterly and 14.48 per cent annually to fund their ongoing leasing operations.
The issue to be listed on the Colombo Stock Exchange (CSE) is awaiting CSE and SEC approval, LOLC Chairman C P de Silva told The Sunday Times Business.
The biggest constraints faced by leasing companies and financial institutions are the mismatch of their assets and liabilities. Due to the lack of long term funding in Sri Lanka, the company was borrowing from the call money market. It's a serious mismatch to borrow from the call market, a research analyst said.
Leasing companies rates are around 20 per cent p.a., whereas call money averages 15 per cent per week. When interest rates shoot up, it exposes the company in a bad way, he said.
Last year, LOLC indicated its intention of bringing down the proportion of short term borrowings in its funding portfolio from 53 per cent to around 40 per cent.
During the financial year 1997/98, short-term borrowing dropped to 50 per cent. "We feel this is a comfortable proportion to work with as it leaves LOLC less vulnerable to interest fluctuations and enables it to take advantage of reduction in short term interest rates," Mr. de Silva said.
LOLC recorded a turnover of Rs. 1.9 bn in the financial year 1997/98, up from Rs. 1.7 bn in the previous year. Marginal increase was mainly due to the deliberate slowdown on new lease executions in 1996 due to depressed market conditions and the power crisis prevailing at that time.
With the equity market nose-diving, most corporates are looking at debt markets to raise capital. Given the lead by market innovator Vanik Incorporation, a long line of banks and corporates have issued mid term quoted debentures at interest rates slightly above treasury bills and government bonds.
With the government expected to borrow from the public to fund their war expenditure already running over estimates, interest rates are expected to move up and therefore corporates would have to look in the region of around or above 15 per cent for unsecured, mid term corporate debt.
---
More Business * Privatisation of Tea Research * Privatisation: consumer always gains * A contrary view on the Third " T" * CTC Tea imports hit industry here? * People's Bank to set up 2000 Smart Cash terminals * Wijayasuriya's philosophy of prudent management *
Front Page| News/Comment| Editorial/Opinion| Plus | Sports | Mirror Magazine