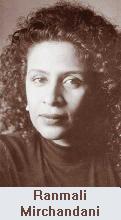 In a decadent cultural milieu, the first sign of deterioration is the commercial consumption of art. Sinhala drama is now as good as dead, because the television medium backed by high powered advertising has knocked the theatrical culture aside. When Sinhala drama is as good as dead, theater going audiences have to fall back on the English alternative. So was theater defined in this country in the past few years. Various charlatans began peddling English theater, which soon became a cultural symbol for the vastness of cultural non-talent.
If there is one thing worse than doing Brecht, it is doing Brecht badly. But cultural simpletons began nonchalantly battering Brecht, Shaw, Shakespeare, Chekov, you name it, anything they could get their hands on. Nobody was not mauled.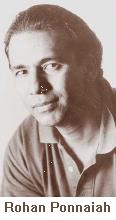 Then this tribe of ingenues became heady and sated, and started resting on their imaginary laurels. One, in a Grecian if not narcissistic paean to himself, recently proclaimed himself the architect of the golden age of drama in an educational institution which is among other things, known for its proximity to the sea — and also for its considerable thespian tradition.
Through all of this, the critics were insulted as well, as if they were the cause for the lack of fire in what passed for the theatrical scene. Critics love getting bloodied, so they were of course feeling quite sanguine about this whole state of affairs. But there is only one thing that is worse than being a theater-goer facing a fallow theatrical culture. That's being wistful about knowing that there is better theater than what passes off for theater, and not knowing how to convince people of this fact, because people have never been privileged to see proper theater in the first place.
Many people thought the UNP could never be defeated. But it happened, in 1994, and something that was never imagined possible took place. Now, that kind of fortuitous luck is rare. It imparts a heady intoxicating feeling. Its like the breaking down of the Berlin wall or some other such momentous event that confirms that you just can't beat the grand plan of the universe. To use cliché to succeed non - cliché, the best laid plans of mice and men are defeated, often in unexpected poetic and ironic ways.
So just when we had theatrical mountebanks proclaiming golden ages and things, last week Colombo was witness to a theatrical happening which was really something, but was also a form of poetic justice in the process.
Anna Weiss the play may deal with a very alien problem which never exactly manifested itself as a problem of major proportions here in balmy palmy Sri Lanka. It deals with a psychological issue that is almost peculiar to the West in which the cultural goal is to try to make the simple, incrementally, more and more complex. Thoreau said "simplify, simplify'' offering his adage to live by. Modern Western man flipped that motto on its head and said "complicate complicate.'' He took the Buddhistic explanation of the nature of life as a priori, and thought that the best way to live was to complicate more, the intrinsically knotty nature of life. (antho jata bahi jata said the Buddha—its knotted within and knotted without) Western man said, the knottier the better. So in that ethos, problems such as memory retrieval syndrome were almost trademark events. The long and the short of memory retrieval was that people began recalling, under hypnosis, various events that were said to have happened to them earlier in their life. Succinctly, it was discovered later in most cases, that this sort of memory retrieval was mere psychobabble, and that it was terribly unfair to damn people or go to court based on the results of pseudo scientific memory recall.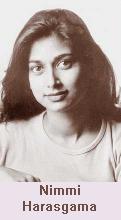 But of course it is not as if Sri Lanka has been totally immune to the fallout from this kind of pop-psychological jerk-off, and this column for instance cited, some months ago, the signs of shades of this kind of persecution syndrome. It began to be manifest, for instance, in the witch hunt that began building up against Arthur Clarke based on some British tabloid journalism. It's as if, psychobabble was taking root here, as in the West, though maybe in a tenth carbon copy version.
Anna Weiss, the play which opened at the Bishop's College auditorium last Thursday, in a strange way, therefore underlined the fact that English drama was something alien to us, and that it therefore has to be done in a way in which that alienness is NOT ditched or jettisoned. Seeing Rohan Ponniah and Nimmi Harasgama on stage was a thrill for several reasons, but mainly, and firstly, these people were giving Colombo a lesson in what drama was all about, even though they themselves might not like the accolade and might want to eschew it. But whether they like it or not, they were weigh stations ahead of the rest, in part because they revived the idea that drama is a cerebral thing in which the main idea is to come and see, and not to arrive and be seen. To be very nostalgic, though in an acceptably partisan way, the play also connected or built a bridge ( ah, the Clintonesque communication) to the past by reviving the real golden era (of Matchmaker, Hamp, Post Horn Gallop etc., )which had a lot to do with Thomian drama as well. It's an era which we thought was clinically dead. To breathe life into characters such as Lynn and David (father and neurotic daughter in Anna Wiess) is terribly terribly difficult. But it calls for a sixth sense of what portraying character is all about. It may be a sweeping statement, but one cannot have a sense of drama without having a sense of life, and basic people can only make basic plays. Anna Wiess was not a basic play. This brilliant revival deserved a standing ovation, though it's a pity we Lankans don't do standing ovations. It was truly and undoubtedly a very good play.
---