Ghost deals and gaining 'access'
By Frederica Jansz
Bidding for tenders involving high stakes for multi million dollar projects has been honed to a fine art by some entrepreneurs.
So much so, in some multi million dollar projects, both the consultant and the contractor are represented by one and the same local agent in stark violation of laid down procedures.
Most of these projects funded by the Overseas Economic Corporation Fund (OECF), the Asian Development Bank or the World Bank have strict guidelines with regard to tender procedure.
One of them being that the Applicant (including all members of a joint venture) must not be associated, nor have been associated in the past, with the consultant or any other entity who has prepared the design, specifications, and other pre-qualification and tender documents for the Project, or who was proposed as engineer for the Contract, over the last five years.
Any such association may result in the disqualification of the applicant.
But Access International, a front line business firm now at the centre of controversy with the PA Government, an investigation by The Sunday Times revealed, has been successful in just overcoming this.
Reliable sources reveal that the awarding of a tender with regard to multi million dollar projects is in many instances a foregone conclusion.
The first step is when the Government of Sri Lanka requests for aid for a particular project.
Thereafter a tender is called for consultants to do a feasibility study.
When a consultant is awarded the contract for the feasibility study and detailed design, the local agent for the consultant company will then approach contractors and promise them that if they agree to work with this agent then the agent will get the contractor the detailed designs for the tender even before the tender is called for.
In this scenario the agent then for the contractor and the consultant is one and the same.
The Sunday Times in trying to ascertain if in fact this is how the local magnate works focused on the recently concluded Samanalawewa project.
The Samanalawewa project comes under the Ministry of Irrigation, Power and Energy.
The civil part of this project is being handled by the Central Engineering Consultancy Bureau (CECB) which as an agency comes under the Mahaweli Ministry.
The development aspect for this project is being handled by the Ceylon Electricity Board (CEB).
Samanalawewa sprung leaks and so a process of wet blanketing has been initiated, for which the consultancy was awarded to the Japanese Nippon Koei.
The contractors for this project are Kumagai Gumi Co. Ltd. and Kajima Corporation.
It is interesting to note here that all the above companies have been listed in the recent brochure of Access International as its international trading partners.
Sumal Perera, Chairman of Access confirmed that he is in fact sub-contracting for Kumagai and Kajima for the Samanalawewa project and has a staff of thirty working on this project.
He denied however that he acted as the local agent for Nippon Koei for this particular project.
In yet another multi-million US dollar deal the Kukule Ganga project, Sumal Perera admitted that he is the local agent for Nippon Koei, who have been awarded the contract for consultancy along with two others, Electrowatt Engineering Ltd, from Switzerland, and Lahmeyer International, from Frankfurt, Germany.
When The Sunday Times contacted Mr. Suzuki, General Manager for Nippon Koei in Sri Lanka, he asserted strongly that Nippon Koei has never had and does not have a local agent.
When told that the Chairman of Access said his company was representing the Japanese firm in the Kukule Ganga project, Mr. Suzuki denied this aspect, maintaining that Nippon Koei has its own project and liaison office in Sri Lanka and there has never been a need for a local agent.
Yet when The Sunday Times met the Chairman of Access he produced a file on Nippon Koei from which he produced various contractual agreements between Access and Nippon Koei for specified projects.
Apart from Mr. Perera's firm confirmation that Access is representing Nippon Koei on various projects, including Kukule Ganga, Access has also chosen to advertise that Nippon Koei is its international trading partner in its recent brochure on Access Tower.
The other issue The Sunday Times found puzzling was that Access acting as local agents for the above two projects was unable to produce any documentation to prove that in fact tender procedure had been followed with regard to the Samanalawewa and Kukule Ganga projects.
Mr. Perera's argument was that it is not necessary as all documentation relating to the tender, including the final letter of award is sent direct to the principal company engaged in the bidding process.
Mr. Suzuki, also said the Colombo office of Nippon Koei does not have the relevant documentation with regard to the actual tender procedure evolving around these two projects other than a contractual agreement.
He said all such documentation is sent direct to their head office in Tokyo.
K.W. De Silva, Accountant, at the Ministry for Irrigation Power and Energy, said that in a normal tender procedure the principal would submit the initial documentation but that all other necessary procedure will be handled by the local agent.
He said it is impossible for a local agent to claim he does not have access to such documentation if he has in fact represented a bidder.
Checking with a senior official at the Mahaweli Ministry, The Sunday Times was given the same view; that even in the event the local agent does not get involved in the bidding process the principal company will certainly see that its local representative is given a copy of the tender procedure involving each respective project.
Access, a conglomerate of companies, enjoys the special privilege of being the most competitive in the field of trading in Sri Lanka, securing lucrative multi-million dollar projects, in addition to trading a steady supply of defence equipment to Sri Lankan security forces.
The projects Access represent on behalf of principal companies cover wide areas which include the supervision of construction and consultancy of projects for the Electricity Board, Mahaweli Authority, the Road Development
Authority, the Sri Lanka Land Reclamation & Development Corporation, and the Housing Ministry.
Access sells equipment ranging from defence items to the Sri Lanka military, to Lighting, communication equipment and accessories, textiles, medical equipment and the supply of ground support equipment to AirLanka.
Backed by some 219 international trading partners and spearheaded by Chairman Sumal Perera, some of the major projects secured by Access in the last three years have been the supply of ground support equipment to AirLanka valued at USD 15 million, Road Construction Equipment at USD 8 million, medical equipment for five rural hospitals at USD 5 million and the Greater Colombo Flood Control & Environment Improvement Project for civil works plus the equipment which collectively works out to USD 54 million and the Muthurajawela Land Fill Project valued at USD 32 million.
The steady quota of military equipment supplied by Access over the last three years, to the Ministry of Defence for night vision equipment for US$ 10 million, and body armour to the Sri Lanka Army at Sterling Pounds 4 million, also, communication equipment to the Army valued at US$ 20 million.
Access has already supplied the National Housing Development Authority with galvanized roofing sheets for US$ 4 million.
The Ministry of Finance, for machinery and equipment for 50 AGA divisions to the value of Yen, 2,500 million.
Under the Department of Fisheries and Aquatic Resources equipment for the National Aquatic Resources Agency Equipment for Oceanography & Hydrography, for USD 1 million, and the dredging of three Fisheries Harbours at USD 4 million.
Access also apart from being agents for the Hitachi locomotives supplied to the Sri Lanka Railway also catered for track and workshop rehabilitation valued at US$ 55 million.
Access was further involved in the supply of equipment for modernization of the Sri Lanka Standard Institution under a Japanese Grant to the value of Yen 504 million.
Mr. Perera denied having sold any type of offensive equipment to Sri Lanka's Defence Ministry. (see interview).
He said that a few of their principals have in the past sold some offensive equipment to the Air Force, Navy and Police which are of negligible value.
All purchases to the Sri Lankan Forces, he said have been done through proper tender procedures.
The Sunday Times has documentary proof that Access has listed under the supply of defence equipment, ammunition, from Pozis, in Russia, match ammunition from Lapua (Pte) Ltd, in Finland and sniper rifles from Sako in Finland. Also air defence equipment, which is classified separately from night vision equipment, laser aiming devices and security items.
The evidence available states categorically that M-17 helicopters are supplied by Access acting as agents for Kazan Factory, in Russia. This is apart from Helicopter engines from Motor Sich, in Russia, helicopter gear boxes from Perm Motors, Russia, jet trailer aircraft's from Aero Vochody, Czechoslovakia, and Siamarchetti from Italy.
"Sumal, has mastered the business of wheeler-dealing to a fine art," a business associate said, requesting that he not be named.
Mr. Perera however insists that in the entire seven year history of Access he has not got a single project outside normal tender procedure, nor he asserts has he used any type of influence to secure such deals for his company.
"I do not curry favour with politicians," he said, adding, "I have not got an inch of land or any type of concession from this government."
He maintained that every deal Access has been and is involved with has been secured by following normal tender procedure.
He reiterated forcefully that all defence equipment supplied by Access to the military has been properly tendered.
Mr. Perera asserted that Access supplies whoever wins the contract.
It does not hold exclusive rights to any principal agent, but will trade products with any competitor willing to buy.
The Sunday Times was told that the commissions collected off such work range from between 5% to 10%. Depending on the principal company this too varies.
---
Only a bullet will stop me – Sumal Perera
By Frederica Jansz
Sumal Perera, Chairman, Access Group of Companies, boasts of a dream - to make his company a world class conglomerate, one that is as good as Japan's Itochu Corporation.
He says he is undaunted by criticisms levelled against him by PA leaders including President Chandrika Bandaranaike Kumaratunga and Media Minister, Mangala Samaraweera.
Mr. Perera countered their allegations he is an arms dealer and a commission scavenger.
"I do not care what they say, I have never attempted to curry favour with politicians, and only a bullet will stop me from achieving my dream," Perera said.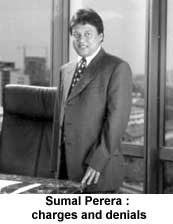 Mr. Perera said in an interview with The Sunday Times that he is not against selling arms, as our soldier is the most venerated person in this country.
"So, if you are selling him something you are doing a service to the nation," he said. He asserted that Access will sell to any legal entity as the agent of a principle company.
"This does not make me an arms dealer. I am not making money from this war," he said. Perera claimed that an arms dealer is someone who sells arms illegally and that Access is not involved in illegal activity, or any kind of underhand wheeler-dealing. He elaborated that trading is his life and is in his blood. "I am one of the best people for this," Perera said, adding that the offers they make are perfect and are conducted in an absolutely professional manner. He further reiterated that they supply a large amount of equipment for Sri Lanka Telecom, photocopiers, airconditioners etc., inspite of Minister Mangala Samaraweera's suspicions about him.
Access Towers at No. 278, Union Place, Colombo 2, is a 12 storey office complex with modern facilities for communication, parking and accommodation.
This building, which Mr. Sumal Perera said, cost Rs. 650 million to complete, boasts of a state-of the-art telephone and communication system with an in-house exchange of 700 lines and electronic mail, internet and data communication facilities.
It is from here, that Mr. Perera, surrounded by a breathtaking view of Colombo, seen through a wall of tinted glass, motivates a young and dynamic company, which he said has tremendous potential for the future.
However inspite of this very impressive building, various allegations have been made against Mr. Sumal Perera claiming he is an arms dealer and secures contracts to many projects minus any tender procedure being followed. Mr. Perera denied these allegations saying they are being made only because he has proved to be so successful at a young age. The allegations against Mr. Perera have been made by no other than President Chandrika Bandaranaike Kumaratunga and Mangala Samaraweera, Minister, for Media, Posts & Telecommunications. Mr. Perera countered that if indeed he is engaged in any kind of illegal activity then why does the government not question him in order to ascertain the facts. The Sunday Times today reproduces extracts from an interview with Mr. Sumal Perera.
Q:President Kumaratunga has made various allegations against you. Are these justified?
A: Well, as far as the President is concerned it is something like this. I have a proud record. My dream is to set up a Sri Lankan trading company on the lines of a Japanese trading company. Japan, Korea came up as world powers through these trading companies. I have studied this. I am an accountant by profession, but if you want to come up in life marketing is the field. I would not have been appointed by the Japanese as Chairman of Sathosa Motors, if I am an arms dealer.
Q: Are you saying that you do not sell any type of offensive equipment to Sri Lanka's Defence Ministry?
A: No! None at all. I am so sad that comment is so free in this country, and all these allegations are being made unfairly against me.
Q: Why then do you not sue for defamation?
A: Well I cannot take on a government. All these allegations started from government quarters, from Mr. Mangala Samaraweera. I cannot take on a government. I am proud to be a Sri Lankan. I am a young person, I feel a lot for this country, even if someone wanted to kill me I will still continue to work for this country. But, I am no arms dealer.
Q: Haven't you sold defence equipment to the Sri Lanka Airforce and other sections of the military?
A: No. I trade in anything in this country that is legally valid, which is essentially clothing. I have never sold an offensive item. I have sold communications equipment body armour, night vision, and clothes to the Army. You can check this with the Army Commander.
Q: What about sniper rifles?
A: Where, when? For example if Bofors or Tomahawk Cruise Missiles are being sold into Sri Lanka I will represent them. I will represent them because I can then be proud and confident of my principles. If I can get the agency for British Ordinance Factory I will represent them for sure. Why, because they are a well known British entity selling arms. That does not in turn make me an arms dealer, but upto now I have not sold any arms. In my whole seven year history I nor any of my principles have never sold any type of offensive equipment to the Army. However twice, to the Sri Lanka Airforce one of my principle companies, Aerotec of Switzerland, sold some ammunition, but because I told them I did not want to be involved in this transaction they appointed Aristons for that part of the business.
Q: So you are saying that you have not sold sniper rifles or any offensive equipment to Sri Lankan forces other than body armour and various types of communication equipment?
A: Yes. Not only to the Sri Lankan army, I am willing to supply such material to the Indian Army, and the Balkan Army. In fact, I am proud to say I have put up a project to employ 500 people of which 250 will be disabled soldiers.
Q: But you just told me that you intend making Access a world class trading company and not manufacture any products. Isn't this then a contradiction?
A: No. It will be my principal who will come and set this up. I will merely handle the marketing aspect for them.
Q: Have you not represented Sako of Finland and supplied sniper rifles to the government?
A: No. (However checking with one of his directors, Mr. Perera apologized later saying that yes, Access has sold sniper rifles to former President D. B. Wijetunge's security division. He insisted however that beyond this, Access has not sold any arms to any section of Sri Lanka's security forces. )
Q: You have also acted as an agent for Pilkington Optronics of the UK, to sell Air Defence equipment to Sri Lankan forces. What exactly is this equipment?
A: Night vision equipment.
Q: What about ammunition from Pozis, in Russia?
A: I told you that instance where one of my principals wanted to sell some ammunition, and I refused to have anything to do with that deal. Aristons was then contracted. (Mr. Sumal Perera appeared to have forgotten, that earlier on in the conversation he referred to a company in Switzerland as having sold ammunition to the Sri Lanka Airforce, a deal which he says he did not get involved in. The Sunday Times however has documentary proof that Access has listed under the supply of defence equipment, ammunition, from Pozis, in Russia and match ammunition from Lapua (Pte) Ltd, in Finland. Air defence equipment, which is classified separately from night vision equipment, sniper rifles, laser aiming devices and security items.)
Q:If as you say you are not an arms dealer, then why have key people in government made allusions to the fact?
A:Well this is Sri Lanka. I am young. I made a mistake by putting up a nice building, and have bought some nice cars. And we are very competitive. Our motto in winning tenders is,winning is not everything, winning is the only thing. We have forty managers. Their salaries are fixed. They never get any increments. But they get a share of the profits. We are an absolutely professional concern.
Q:Allegations are being made that Access has secured both the supervision of construction and consultancy on many project coming under the Mahaweli Ministry minus any tender procedure being followed. One Japanese firm in particular, Nippon Koei, for which you are the local agent has been named. Are these allegations true?
A:No. For every project,tender procedure has been followed. I do not represent some of these principal companies exclusively. This means that I am not involved in every project that these companies are working on in Sri Lanka. In most instances Access will sub-contract for one or the other of these companies. This is the first time there is a professional trading company in Sri Lanka. I do not know the President. What she said was true. That she does not know whether I am a man or a beast. This is true. I am taking all this flak even without having met the President.
Q:Have all the defence equipment you supply been tendered for?
A:Yes. By far Access has been the most successful in the fisheries, water and defence sector. In the power sector, we are just starting.
Q:What was the net profit of Access for last year?
A:Rs. 30 million.
Q:Why did you send hampers worth some millions of rupees to government politicians including ministers, if as you say, you do not want to curry favour?
A:I have sent hampers, like I would send a Christmas card. That is all it means to me. However this too was distorted in the media. It is not to curry favour, it is merely a gesture of good wishes being sent to various business partners and others.
---
Angry Bala slams LSSP leaders
Second class servants of capitalists
By Roshan Peiris
The only living politburo member of the original LSSP is accusing the party of reducing itself to the decrepit level of a capitalist president's second class servants.
Veteran trade unionist Bala Tampoe, who heads the powerful Ceylon Mercantile Union, told The Sunday Times that the LSSP today was only a pale reflection of a once powerful party of the workers.
The 76-year-old white haired Mr. Tampoe was as usual tough and outspoken about current developments, amidst reports that the LSSP is again split today with some members wanting to quit the government in protest against emergency rule, postponement of elections and privatisation while others want to stay on.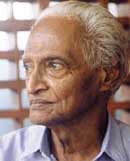 In the '40s and '50s it was a political dictum voiced by the oldest socialist party in Sri Lanka, the Lanka Sama Samaja Pakshaya, that "the revolution was just round the corner." But nothing happened until Sirima Banda ranaike's right of centre party, the SLFP, invited the LSSP to join in a coalition — much like the People's Alliance and the LSSP today.
But Mr. Tampoe along with a few others refused to compromise.
In his inimitable style Mr. Tampoe said the old house was good enough and they did not need a mansion.
He had warned that if the LSSP joined the capitalist government it would be entertained not in the drawing rooms of power but in the kitchens. He feels that is what has happened now. Excerpts from the interview:
Q: After proclaiming in the forties and fifties that the revolution was just round the corner and when finally it seemed to be a reality you split the party and refused to join up with Sirima Bandaranaike's SLFP government. Why?
A: My memories go back to June 6, 1964 when the party's central committee met to discuss this coalition offer. The party was split in three.
N. M. Perera, Anil Moonesinghe, Cholo mondley Gune wardena and Vivienne Gune wardene were for the coalition in which they would get portfolios. They had the support of some 505 members.
The middle group consisting of Colvin R. de Silva, Bernard Soysa and others said they would accept the coalition if the Communist Party was included and given portfolios. They got only 72 votes.
Edmund Sama rakkody, Prince Gunasekera and I along with a few others got 157 votes for a total rejection of the coalition.
The SLFP was and is today, a capitalist party representing a capitalist class and not the working class. So we rejected the coalition as we felt it was a negation and abandonment of the policies of the LSSP. It is so today too.
Q: So history is repeating itself and the LSSP is now split as Athauda Seneviratne votes for the Emergency Bill while Vasudeva Nanayakkara opposes it and slams the PA's policy of privatisation. Your comments?
A: The Kumaratunga government is going further to the right than Ms. Bandaranaike did. Some of the LSSP members. Some of our members find it comfortable today to go further and further on this coalition road with President Kumaratunga. No one has resigned so far? They run with the hare and hunt with the hounds. It is like eating the cake and having it.
Q: What do you think of the present LSSP leadership?
A: I am sad to say this, but it is a pale reflection of the early leaders who challenged the mighty British Raj and went to jail. There may be some disobedient servants of President Kumaratunga, like Vasudeva Nanayakkara, but still they are her cohorts or servants.
The LSSP has become a decrepit hangover of once powerful workers' party.
Q: What do you think of LSSP leader and Minister Batty Weerakoon?
A: Well what is there to say. Being a minister of this coalition government, he just plays the role assigned to him. I feel they are respected even less than an English butler. That means they are servants and second class ones at that. What a come-down for the party?
Q: What role is the CMU playing in current economic trends?
A: We are a national trade union, resisting multinational groups which we feel are not acting in the highest interest of the country.
We are also linked to international trade unions to confront the multinationals on a global level. So we are working towards globalisation for the workers more than for the capitalists.
Since 1964, CMU has never abandoned its commitment to fight for workers' rights.
Q: When virtually everything in Sri Lanka is linked to politics, how can the 30,000 strong CMU make headway if it steers clear of politics?
A: We steer clear of party politics but we have our own position on key issues. We are against the Executive Presidency, emergency rule and the treacherous sellout of national assets such as the Elizabeth Quay and the Eppawela Phosphate deposits.
We also stand firm for workers rights such as freedom of association and the right to collective bargaining. So we are not dormant but active though we are not aligned to any party.