---
Jude Dreams about Team
The leader of the popular band Dream Team, Jude Zarook has completed his debut song and hopes to release it to air soon.
Jude joined Dream Team in 1995 and since then has worked hard to bring the band the top of the

local music scene.
'It was great to work with the boys. I think they are really talented and work towards a goal. We are one of the top bands at the moment mainly due to the teamwork, he said.
Jude started his musical career at the age of fifteen as a student of St. Mary's College, Dehiwala. His first band was "Dark Eyes" in 1985 and then in 1990 he joined a band called 'Think Pink'.
Later he formed his own band 'Sultans' which did not last long.
'I quit music for four years for business purposes but couldn't leave music for long, he said.
He loves jazz and his favourite artiste is Al Jerrou.
---
Pop stars spearhead worthy cause
By Sanath Weerasuriya
Annesley Malewana and Indrani Perera, the stars from the 60's, the golden era of Sinhala Pop, are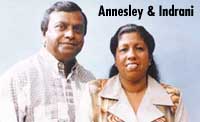 back again to sing their songs to the present day pop fans.
'Annesley and Indrani in Concert' will come alive at the BMICH on September 5.
"This will be a musical extravaganza with a difference to mark our 30 years in the Sinhala Pop Scene in Sri Lanka", said Annesley.
We intend singing all our unforgettable evergreens on this day and these songs will be arranged in a way (like a story) to bring back fond memories of an era when Sinhala Pop and Group Songs were the most sought after. Since there is a big following for these songs even now, we thought of giving all music lovers an opportunity to re-live the era's of 60's and 70's. ''. Annesley explained about the show and the past of the duo.
It is indeed an event to look forward to as we break the news that on September 5 at the BMICH. ''Annesley and Indrani'' team up together to allow music lovers a glorious opportunity to re-live the era of the 60's and 70's in a contemporary setting to maintain the necessary momentum for today's generation. They will be backed by Stanley Peiris and the Fortunes.It will be a musical extravaganza where they will sing all their unforgettable evergreens arranged in a storybook form. The show will be compered by Vijaya Corea.
The proceeds of this show will be utilized to assist the underprivileged people under the banner of ''Eradication of preventable blindness by year 2000'', with the view of saving and restoring the gift of sight to many thousands of people.
This programme will fund treatment on vision problems with emphasis on detection of cataracts, the leading cause of avoidable blindness. The show will be organised by the Lions Club of Galkissa.
---


Noel critical of Berne treaty revisions
Noel Brian Ranasinghe of popular 'La Ceylonians' has appealed to the British Government about the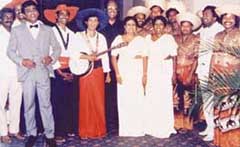 'Copyright' law. He is a composer, musician, singer and also a member of Performing Rights Society of London.
Noel says he has written to the British Government regarding the main copyright Treaty and the danger faced by it.
Noel, whose suggestions were sought by M. I. H. R. A. London on the treaty have informed the British Government of its treaty obligations towards the composers who are protected under the Berne convention, Paris Act 1886. The "Berne" treaty assures protection to all composers but Noel has not been happy about its many "revisions" and other commitments.
Noel in a letter to TV Times said, he strongly objects to the substitution of the treaty by other sub-standard treaties, administered by two sub organs of the U. N. which threatens to substitute the main treaty.
Noel also objects to the time limits fixed on property rights of the orations by the legislators who use such experience of their field to cater to the administrators. Composers should not be put under pressure, and be forced to accept any ruling as to the time limits of their property rights.
Noel also criticized the use of the "works" of composers by the publishers, T. V. Radio, public. He also accused the British Government for failing to help him re: a property right of his which was used and claimed by another, he was denied copyright protection.
Noel says that U. K. along with the U. S. A. - France, Germany, are the founder members of the "Berne" treaty Bound by it, and that U. K. owes him a special duty of care, as he is a member of P. R. S. and M. C. P. S. as he has assigned all his "rights" to them.
Noel also criticised W. I. P. O. and U. N. E.S. C. O. for their role in copyright and for encouraging other treaties with sub standards of protection and differences , and for failing to help him.
---
Ban lifted on 'Salupata Ahasata'
Young film maker Mario Jayatunge is now a happy man."I am much delighted as the ban imposed on my film 'Salupata Ahasata'has been lifted by the Public Performance Board (PPB),he said.
Mario Jayatunge 's 'Handana Kinkini' won the best silent film award in 1994 at the State Awards Film Festival in 1994 organised by National Film Corporation.
Speaking on the ban of 'Salupata Ahasata' Mario said that the scenes were not forced into the film in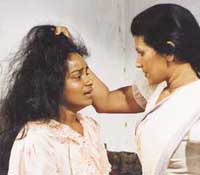 between.Although there were sex scenes they were not erotic.However we removed some of the scenes and cleared the matter'.
'Handana Kinkini' discusses a story of a disabled soldier,his wife and the misery the family has to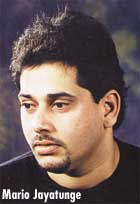 undergo.Due to circumstances beyond her control she is forced to become a prostitute."
A few sex scenes were introduced to depict the womans activities after she becomes a scarlet woman.Now we are awaiting the early release of the film.'he said.
Lucky Dias,Veena Jayakody,Gayani Sudarshini,Suresh Gamage and many others play in this film.
Popular singer Athula Adikari makes his debut as a playback singer in this film under the baton of music director Sarath Wickrema.Sunila Abeysekera and Ivor Dennis have also rendered their voices for the film.
Mahinda K Premasiri has written the script and cinematography is by Nimal Nakandela.Editing is by Asanka Perera.
---


Lester helps Sunil to become a star
By Kumaradasa Wagista.
A 'guru' (mentor) is always held in esteem by the 'golaya.'( student).Here is a golaya who is eagerly awaiting to see his guru because he has not met his mentor for some time.Renowned film director Lester James Peries is the guru in this instance while Sunil Premakumara is the golaya. .
Sunil's affection towards Mr Peries was due to the opportunity given to him
to act in a film while he was a student attending Yakkala Maha Vidyalaya in Bulathkohupitiya.The film was 'Madol Duwa' where Sunil was selected by Mr Peries to play the character of 'Dangadasa',the mischevious school dropout."I yet remember how Mr Peries selected me after interviewing hundreds of boys of my age specially when most of them were from schools in towns.Five camera tests were held,"Sunil says. After his part in 'Madol Duwa' he was popularly known as 'Dangadasa'among his friends and journalists..
Unlike many other child artistes Sunil didn't stop at that.After completing studies he left Bulathkohupitiya for Colombo."Life in Colombo was not at all rosy for me as I had no fixed employment.I had to seek help from my friends whom I came to know while working in 'Madol Duwa", he says.However Sunil was not interested in seeking employment as his ambition was to be in films and dramas."I felt that my inborn talents were to be in the art field and not elsewhere"he says.
This was proved the day he went for a selection interview to play a character in 'Mother Teresa'. The very moment 'Mother Teresa'director Kevin Conner saw Sunil he was selected to play the character of the first man who objected seeing Mother Teresa nursing a sick child in the clinic..Sunil considers appearing in the samll frame with an internationally reputed star like Geraldine Chaplin is itself an achievement for a boy from a village.
Today Sunil is a much sought after artiste in teledramas.In Nimal Tennakoon's 'Manawa Warana' Sunil played a character of a man who becomes rich due to open economic policies which impressed many teledrama directors.Presently he appears in Tikiri Ratnayaka's 'Isuru Diya'and Rohan Hettige's 'Sandalutale Geethikawa'(both on Swarnavahini)and Kandapola Kumaratunge's 'Sithijeyan Eaha'(Sirasa).Another teledrama that is scheduled to be telecast soon is Daya Alwis's 'Boardingkarayo'.He is now working in Bermin Lylie's'Magul Sakwala'.
Sunil Premakumara is also a singer and dramatist.He feels that his progress so far is due to the correct guidance and discipline he received since his debut film under Mr Peries.He eagerly awaits the return of his guru.
---
Horoscope throws shadow on future
Sudath Senaratna 's 'Sikuru Udanaya' relates a story of school teacher lovers,Sumanaratna and Nirupa.Both of them are to be married with the conscent of their parents.
They teach in a village school.Sumanaratna who believes in horoscopes gets their birth charts read by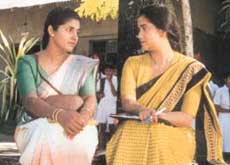 an astrologer.
The astrologer predicts that the first marriage will end in three months as the wife will die but the second one will last.Sumanaratna who wants to save Nirupa's life begs his friend Bandara to help him.Bandara advices Sumanaratna to marry a girl who lives nearby and to marry Nirupa after her death.
Sumanaratna agrees to Bandara's proposal and informs Nirupa's parents to postpone their marriage for six months as there is a bad period predicted. Her parents also agree.
Sumanaratna then gets the same astrologer to read the horoscope of Biso his boarding mistresses's daughter who is suffering from a heart ailment.
Now Sumanaratna is aware that Biso will die within three months and Bandara shrewdly arranges the marriage between Sumanaratna and Biso.
Sumanaratna marries Biso secretly but informs her that the marriage should not be consummated while she is under treatment.But after treatment Biso recovers and treats Sumanaratna with immense affection.
Meanwhile Nirupa's father falls seriously ill and threatens Sumanaratna to marry Nirupa or else he would give her in marriage to someone else.
The other incidents that take place in the teledrama are Sumanaratna's brother in law who arranged the marriage goes insane and Bandara dies in an accident. Sumanaratna returns to the boarding which leads to the climax of the drama.
The cast is led by Chandani Seneviratne,Palitha Silva, Deepani Silva,Chamila Sajiwini,Rasadiri Peries,Ananda Wickremage,Sandun Wijesiri,Janak Premalal,Susil Gunaratna,and Ramani Fonseka. while the musical score is by Lakshman Wijesekera.
Bandula Weerakkody produces 'Sikuru Udanaya' which is scheduled to be on Swarnavahini from September
---
Ajantha on Copyright Act.
Film producer Ajantha Wijesena in an interview with TV Times said pirating video and song

discouraged cassette importers.If this menace could be stopped lucrative remuneration could be paid to our singers.
Bollywood film producer Vir Chopra recently obtained an order from a New Delhi court restraining his newly released film 'Kareeb' from being shown illegally ,it was reported.
Mr Chopra even has gone to the extent of hiring the services of a private detective agency to snoop around for possible violaters.
The Copyright Act provides provision to impose fines up to rupees three lakhs and jail sentences for those found guilty of piracy.
It has also been found out that Mumbai film producers annually lose about sixty percent of the Rs 1000 crore film industry.
It was also pointed out that even those who were caught violating the Copyright Act escaped as there were loopholes in the Act.Mr Chopra called members of the newly formed United Producers'Forum to hire out private detectives and check pirating films which is rampant all over the world.
Mr Chopra was confident that the detectives would nab those who violate the Copyright Act and engage in piracy.
---
Russel: small beginnings and big achievements
By Daffy Duck
When your days do not go right, and gets too tense what you need is a good hot cup of tea. The

British as the saying goes drink most cups of tea but if the total quantity of tea sold is recorded, I am sure we Sri Lankans would beat them at their own cup of tea, too.
Well! I met Russel Perera whose humble beginnings took him to the path to success. He pawned his wife's chain for Rs. 3,000/- to buy a hot cupboard.Time has moved on, and life hasn't been unkind to them. The couple can proudly claim a bit of prosperity achieved over a period of 10 years. Beginning with Seylan Bank head office as my first client. I have built a steady clientele of over 50.
We run the canteen for them and serve them with the famous Russel's Tea. I don't sell my tea at retail shops, but at the canteens of these offices I have best tea packs so I have no problem selling it. The price of Russel's Tea is cheaper than the ones bought at the retail outlets.. My big break came with the contract to supply the Hilton Sri Lanka with bulk tea.Maldives is my next target. I am in the process of negotiating a deal. My next aim is to introduce Tea Bags. Now Russels Tea is BOP. It has to be brewed after leaving for 5 minutes in boiling water. Or else you wouldn't be able to get that particular flavour.
So lets ask Russel, "What is so special about his tea -vs - International brand names available here?" All companies purchase their tea at the tea auctions. This tea comes from storage/warehouses. My tea is directly purchased from the estate through our broker. This tea comes to us within 2-3 weeks which means it is fresh. This accounts for the fresh flavour in the tea. Mine is a small family business but this method cannot be adopted by the large companies.
Good tea comes from Dimbulla and the Uva Province specially from the areas such as Laxapana, Great Western, Mousakelle, St. Coombs, etc. This is where I get my tea from.
Now Russel's workforce is around 130. The are all very dependable and dedicated. Now I have delegated my work to my subordinates. My advice to anybody who's willing to start his/her own business is to go right a head. You don't need bank loans or large capital to go head. Willpower, dedication and hardwork will be enough. That's what made me what I am today.
---
The Delhi Lens
Indian flag in controversy
Remember Mehnaz? The Hindi pop singer who thrilled Sri Lankan audiences twice in one year and the song bird of 'Miss India' fame. Recently Iwan, Malaysia's Super Star Singer/composer was bowled over when he heard Mehnaz's voice. As a result Iwan recorded a song with her 'Dua Hati Berlagu' singing in Hindi and Mehnaz singing in Malay. The ablum is scheduled to be released soon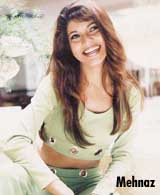 and Mehnaz's new album too is scheduled for a September launch.
Nafisa Joseph, Femina Miss India 1997 for Miss Universe got engaged to handsome Sameer Malhotra who some people dubb as the next Bachchan. Sameer and Nafisa are both Bangalorians now settled in Bombay, India's city of gold. Nafisa visited Sri Lanka last year after winning the Miss India Crown. Incidentally Sri Lanka was young Nafisa's first overseas trip.
The Delhi High Court last week rejected a revision petition alleging that former Miss Universe Sushmita Sen and the Times of India group and others had committed contempt of the National Flag by exhibiting the Flag on a buggy, on her return to India after being crowned Miss Universe in 1994.
Sushmita was selected as the Miss Universe in the Philippines in 1994 and to honour and celebrate her return as Miss Universe, The Times of India group, Air India, Taj Hotels and Femina organized a public appearance giving Sushmita a joy ride in a four horse driven buggy flanked by a motorcade on the posh Chanakyapuri area in Delhi. Petitioner an advocate Ravinder Kumar had complained that he was shocked to see the Indian National Flag displayed illegally on the rear side of the buggy.
Earlier Delhi Metropolitan Magistrate D.K. Sharma had dismissed the case having observed that the law of the land is enacted to punish the guilty persons. It is correct that now one is above the law but the use of law cannot be brought into use to harass people who had brought honour to their country.