Bags of style
By Chamintha Thilakarathna
Wherever one looks, be it at a teenager, a housewife, an office worker, they all have one thing in common. A craze for bags. Unlike a few years ago, where bags were usually carried by members of the older generation and any young person carrying one would be categorized as old fashioned, today bags are themselves an expression of one's personality. In fact, one would not want to be seen without a bag. Yet, not with any bag . But, with the bags in style.
Big bags, small bags, office bags, travel bags, they all seem to have their time and place.
"Bags are definitely in style. But unlike a couple of years ago when we carried bags of various colours,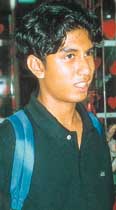 today things seem to have dulled . People seem to opt for either black or brown and no other colours are used," said Sato Jayamaha, a beautician from Nawala.
But what do people look for in bags? Is it style, convenience, or simply a companion? Believe it or not, some people do carry bags as a companion, just to feel comfortable.
"Bags are for convenience. Usually how I would decide on a bag is by taking into consideration if the bag would serve my purpose," said Geraldine Fernando from Colombo. Of course, that is what most of us look for. A person with a need for a bag for office use would not buy a knapsack now would he?
But even then, would people rather be fashion conscious than convenience conscious? "It's brand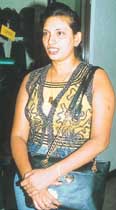 names that are the draw," say sales girls and customers.
"Brand names sell a lot faster," said Ms. Jayamaha. "Even if the item is a duplicate people would prefer to buy a bag with a renowned brand name than cheaper, more stylish bags with a lesser known name," she said.
Jennifer Beiling who works at Leather Collection showrooms agreed. "A lot of people ask for brand names and sometimes order them. In such occasions we import the items. Names like Espirit, Guess, Prada are what many customers ask for," she said.
For some others brand names say a lot about quality. "If a bag has a good brand name that means one does not have to worry about the product's quality," said Dayani Perera, a customer.
How about the material and the style? "Well material seems to matter little to many people. We make products with various types of leather and Rexene. Some customers come in search of leather goods and material but most are in search of prices that fit their budget," said Udula Kotalawela at Ceylon Leather Products.
Inoka Nilani a happy customer from Colombo said that when she buys a bag she looks for leather bags and nothing else because she feels she can rely on them for long use.
Prices of bags are so high that many people cannot accommodate the more stylish bags in their budget. Most people buy shoulder bags with a lot of space and they are the most in demand and style at the moment," said a sales official at Nils bag store in Majestic City.
According to her, knapsacks are equally in demand, mostly amongst teenagers. The knapsacks are spacious and easy to carry about whilst being stylish. Though not in her teens, Booker Prize winning author Arundhati Roy sported one during her recent visit to Colombo.
Said sixteen year old Hisham Gersy from Borella, "You can put a lot of things in such bags. Books, clothes or other materials, anything could be stuffed in. And it's easy to carry about," he said.
Geraldine Fernando said that another advantage in having a knapsack was that one's hands are free. "You don't have to carry the bag in your hands and you can move about freely not feeling that you have a bag with you," she said.
Brief case type of bags are also in style, especially amongst working ladies, as are shoulder bags used by professionals as well as students. These can accommodate anything from a laptop to a T-shirt and have a separate space for stationery as well.
When it comes to the evening, little multi coloured bags that could not hold anything more than a small wallet are popular amongst teenagers. They are either decorated with pearls and sequins and come in colours such as maroon, green and orange which are more on a fashion line.
For party wear, bags seem to be bright ones, in gold, silver or with a mixture of both or the time honoured black. White bags with a good name are also in style.
Most people are still a little careful about purchasing bags, mainly due to the high prices. Every bag one looks at seems to say a thousand things. So it's fashion vs price for most of us. But if you want to keep up with the latest trends what most of these shop keepers advise is getting your own bag custom made. This might be cheaper and undoubtedly unique.