---
Cut cut cut
Gamini Fonseka's 'The Judgement' can't go ahead. But he says "there are other avneues"
By Tharuka Dissanaike
The Judgement was de livered. The film could not go ahead because the issues it addressed "were not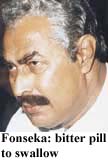 appropriate at this time when the country was at war and many soldiers were sacrificing their lives for the integrity of the motherland."
For Director Gamini Fonseka it was a bitter pill to swallow. The latest in a string of films addressing the war and communal politics in the country, The Judgement was a prediction, a culmination of many years of research, a renewed effort to bring down communal barriers that separate people, his vision of a solution, of the futility of a solution.
His earlier films, Sarungalaya, Koti Valigaya, Sagarayak Meda and Nomiyena Minisu, all were subjected to varying degrees of censorship but never was a project shot down at script stage.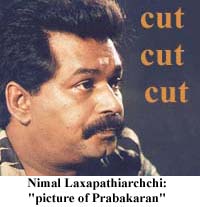 "We film makers are barred from creative thinking," he lamented.
The Judgement was all ready to take off. The cast included some well-known names like Sriyantha Mendis, Yashoda Wimaladharma, Tony Ranasinghe and amateurs like Nimal Laxapathiarchchi
"I just made him shave off his beard and added a bushy moustache. He looks a picture of Prabhakaran," said Fonseka.
Over a million was already spent on scouting locations, sets, hiring the technical unit, and costumes when the letter of rejection came from the Ministry of Defence.
Work on the high-budget English film began last August when script writer, Janaka Perera took pen to paper. By March the story was written.
Even the President had a look at the script. She had liked it and asked Gamini Fonseka when Sri Lankan audiences would be able to see it.
Then the script was submitted to the Defence Authorities for perusal. Why? we asked.
"Because there were certain scenes in the film which involved military presence, genuine arms and ammunition. Air Force helicopter gunships were also for one scene."
For a month and a half there was no reply. Gamini Fonseka personally telephoned Secretary of Defence Chandrananda de Silva, who "was very sweet and ordered an answer within three days." On the third day, the Production Manager and Gamini Fonseka received a very polite refusal. "They have misjudged The Judgement," Fonseka stated.
The controversial film is set in the years 2006-2008 and revolves around the life of a retired Army General. Gen. Dunuwila is "an aged cynic" who loves his grandchild, his dogs and the woman he was never able to marry.
Dunuwila played by Gamini Fonseka is requested by the government (no party mentioned) to save the country (by now deteriorated drastically- economically and otherwise) from the bottomless pit. Although reluctant at first Dunuwila is persuaded to take on the job. But he lays down one condition.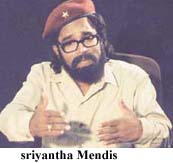 His methods cannot be questioned.
"You see, lifelong, Dunuwila suffers with the complex that he has been unable to do anything right (like marrying the woman he loves). Now he thinks, "at last I can set something right."
Dunuwila has the answer. He establishes "something like a military government."
He does solve problems but later falls victim to his own system-to "other people's thinking." He is arrested, taken before court and a case cooked up. The trial is a well planned "transparent one." When the Judge asks if he has anything to say for himself, Dunuwila says, "I do not defend myself or my actions. I know what your judgement is," Gamini Fonseka imitates the General's guttural voice.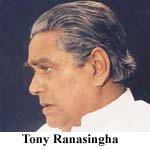 "I won't tell you the end," he smilingly refuses the question. But muses, "I don't believe there is an end in anything."
So he has not given up on the film? "Well, I might just try again. And if I'm refused, there are other avenues, it can be done abroad, "we'll see."
---
More Plus *Explore the magic
Front Page| News/Comment| Editorial/Opinion| Business| Sports | Mirror Magazine