The Rodrigo Friend In Need Society Ltd marks 175 years in service. Upali Salgado traces its beginnings
…a friend in deed
By Upali Salgado
In 1823 eight years before the first mail coach in Asia commenced operations between Colombo and Kandy, and in an age when the palanquin was used to transport people of wealthy respectable families; and when the Sterling Pound was currency used in Ceylon under Colonial rule, Pattinihennedige Warnadheetiya Kurukulasooriya Johannes Rodrigo, also, affectionately known as 'Maha-gedera Loku Mahatmaya,' the doyen of the Rodrigo families of Nalluruwa, Panadura founded The Rodrigo Friend In Need Society Ltd. That was (175) one hundred and seventy five years ago.
It is perhaps the oldest such social services society in Sri Lanka, having the Registration No: S1 under the Societies Ordinance. Perhaps, it is also the oldest active Public Society in Asia. This Society has never received nor accepted any financial grant from the State. However it has always been financially sound to meet social obligations, and its assets today exceed one million rupees.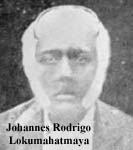 Johannes Rodrigo who had considerable wealth lived an exemplary life. He was deeply concerned about the less fortunate. People beset with numerous problems often sought his mature advice and help. He believed that meritorious acts performed in his own lifetime would inspire future generations to act likewise.
With this thought he summoned his six brothers and close friends of the Rodrigo families at Panadura, to gather at his residence to a lunch, where they sincerely resolved to band themselves in great fellowship and form the "Rodrigo Friend in Need Society", to assist families in distress, provide education of destitute children, and any similar charitable acts.
They also decided to meet once a year at the Mahagedera, and to distribute dry rations and cloth to the poor. At the first meeting a collection of Sterling Pounds 30/10 Shillings was made from the invitees, which was taken over by the Trustees.
After nineteen years of operation which was considered to be a 'trial period in fellowship,' in 1842, on a suggestion by the Founder, Johannes Rodrigo, a Promissionary Deed bearing No. 34, certified by Carolis Rodrigo, Notary Public was signed by every member.
The accumulated cash balance in 1838 was Sterling Pounds 223 and 10 Shillings. As there were no public Banks at that age to grant loans, a percentage of the funds were given on interest for short periods to augment funds.
The poor relief programme was later extended to meet funeral expenses of the destitute and to aid the repairing of dwellings often damaged due to cyclones and sea erosion. Grants were also given to Pirivenas.
The Centenary celebrations were held at Panadura, with Sir Andrew Caldecott, Governor, being the Chief Guest. On that occasion a special guest of Honour was Mrs. Jeramias Dias nee Rodrigo. On the occasion of the 130th anniversary of the Society, a large library built by the members was donated to the Sri Seevali Maha Vidyalaya, Nalluruwa, Panadura in memory of the Founder, Johannes Rodrigo.
As members met each year without a break at the Mahagedera for their AGM, more funds came in, and this enabled the Society to extend the bounds of its activity by contributing in 1866, to the Indian Famine Commission. Bombay; the Influenza Epidemic in Ceylon of 1919 and to the great Malaria Epidemic in the Kegalle District in 1933/1934, when thousands died. It is known that to control this epidemic the Government imported thousands of blankets and over eight tons of quinine tablets!
In recent times two medical students who lived outside the Panadura district received full scholarships.
The fellowship within the Rodrigo families with their unostentatious munificence have over very long years made the poor of this land, live in contentment. Their concern for others' wellbeing is a song to remember.
---
Some well known Rodrigos
Associated with this re- markable society of great strength and activity are several well known personalities, who in diverse fields have contributed to our nation's welfare. Mudaliyars P.S. Rodrigo and Thomas Rodrigo of Panadura, Gate Mudaliyars John Rodrigo (Chevalier) and Gate Mudaliyer Sir Philip Rodrigo of Mattakuliya were honoured by the State. Mudaliyar Thomas Rodrigo founded the popular Pagoda Tea Rooms, at Colombo Fort. Dr. Wilson Rodrigo, Prof. J.L.C. Rodrigo M.A. (Oxon), CMG, Dean of the Faculty of Arts, Peradeniya University was a Classics scholar, who took to journalism in early life and was Editor of the Morning Leader. Later, he wrote under the pen-name Adonis for the Sunday Observer, light satirical material which delighted her readership.
His brother J.B.C. Rodrigo (B.A. Lond) served with distinction as Principal of Prince of Wales College Moratuwa, for about two decades. Dr. Nalin Rodrigo Mrcog is an internationally honoured Gynaecologist, and was onetime head of the Sri Jayawardenapura Hospital. Mrs. Swarna Salgado nee Rodrigo has been an educationist of distinction attached to Ladies College and Tennyson Rodrigo, a reputed Banker.
Perhaps the most talked about person of the clan was Miss Selestina Rodrigo (later Mrs. Jeremias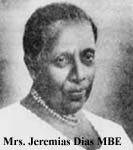 Dias) the founder/benefactor of the Buddhist Girls College in 1917 at "The Firs" Turret Rd. (now Dharmapala Mw.) The school was later renamed Visakha Vidyalaya, when it was moved to spacious four acre surroundings at Vajira Road.
Mrs Selestina Rodrigo was a remarkable woman, who was born to give her weath to the needy. She became a national figure, when decorated with the MBE. Manel Tampoe in her book The Story of Selestina Dias says,
" Her charitable impulses did not diminish with age. As a woman she was not entitled to membership in the "Rodrigo Friend In Need Society", though she was the most illustrious member of the family at that time. (Later, membership became open to both males and females of all Rodrigo families). But, it did not deter her from making donations to the Society. She thoughtfully donated a handsome lump sum to be used to provide dowries for daughters of the poorer members. It is also known that, she had built a hearse, which was given with Petrol free of any charge, to poor people who asked for it; and this proved to be a boon to people of diverse ethnic groups."
In the field of sports, Mahes Rodrigo and Lasantha Rodriog played Cricket at national level against foreign teams. Our lion hearted 'emperor' of the cricket turf today, Aravinda de Silva's mother is Mrs. Indranie Rodrigo. Wilmot Rodrigo was a great philanthrophist who donated valuable medical equipment to the Cardiology Unit of the Panadura Hospital. He was also a leading "Dayakaya" of the historic Rankot Vihare. Many of the Rodrigo ladies have often married into the Panadura Dias, Salgado, De Fonseka, Cooray, De Silva, De Mel and Peiris families, and have given support to their husbands in business and in fields of social welfare.
---
AGM 175
The 175th AGM of the Rodrigo Friend In Need Society will be held today August, 23 1998 at 9 a.m. at the residence of Mr. S. Rodrigo, Sri Maha Vihara Road, Panadura. All members are invited to be present.
The present office bearers are: Dr. Mohandas Rodrigo (who has held office as President for 12 years), Vice Presidents Mr. Lal Rodrigo, Devasiri Rodrigo, Ms. Mallika Rodrigo (de Silva) Hon. Treasurer Mr. Kumudu Lal Rodrigo.
A few of the better known or remembered names of those who served the Society with distinction are Suduna Rodrigo (a pioneer hotelier at Beruwala) Dr. Wilson O. Rodrigo, R. James Rodrigo, Rienzie Rodrigo (who served a President for 20 years), Percy Rodrigo, and Stanley Rodrigo.