---
International exposure for 'Anthima Reya'
'Anthima Reya' has participated in several international film festivals since it was approved by the Public Performances Board (PPB)It also enjoyed the privilege of being shown to thousands of Sri Lankan expatriates in many parts of the world.
A comment made by the Washington DC International Film Festival '97 states 'The National Film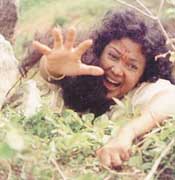 Corporation of Sri Lanka submitted seven Sinhala movies to the above competition .The selection committee previewed and selected 'Anthima Reya' (Night of Destiny).Twenty five countries participated in the competition by sending entries to the international film festival committee.Japan and India were the only successful countries from South Asia and South East Asia.
'Anthima Reya'was selected to be screened at the final round of the film week and was well received with a lot of appreciations from the packed audience.Selection of the film was informed to its producer and director through NFC and leading stars Malani Fonseka and Lucky Dias appeared in person during the festival.
Mr Eddie Cockrell of Washington Post Daily says 'Night of Destiny'is an atmospheric melo drama that draws inspiration from American gangster films.,but speaks directly to Sri Lanka politics by virtue of writer -director -star Gamini Fonseka's election to Parliament in 1989 and his current stint as governor of the Eastern Province. Fonseka plays an underworld kingpin Linton Cooray,who rules his empire with an iron fist His world is starting to unravel ,as his wife (Malani Fonseka) gravitates toward his protege Devendra (Lucky Dias).But the men confront each other a dozen years after the fact (with a final retribution that would make Peckinpah proud).Night of Destiny is a fascinating window on political machinations that are essentially not unlike those in the United States.
---
The Judgement overruled.
'By Kumaradasa Wagista
Gamini Fonseka'has clearly indicated his capablities in the craft of film making ever since he made Parasathumal'. This film followed many others made by this producer actor director whose latest film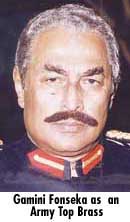 'Anthima Reya' (Night of Destiny) is now entertaining our filmgoers.
As a rule Gamini Fonseka devotes more time to study the screenplay before filming. However there were times when he had to face obstacles with the Public Performances Board (PPB) authorities. The present situation he faces is different.The script of his latest work 'The Judgement' an English dialogue film is nipped in the bud .The international recognition 'Anthima Reya' received when it was screened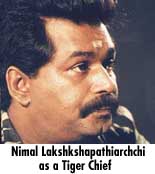 in several countries and at film festivals encouraged Mr Fonseka to dabble in a film like 'The Judgement'.
The theme in 'The Judgement' was explained to the President and her help sought to iron out any problems that could arise in the filming.
As the production unit was of view that to shoot certain scenes in the film the Defence Ministry had to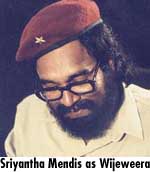 be consulted, steps were duly taken in this respect. But the unusual delay in granting us permission caused interest among artistes, technicians and the production unit to gradually wane.
But a few days before we were to start work we were informed by letter that permission could not be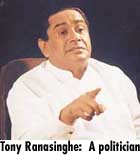 granted to shoot the film while there was an internal war being waged in the country.Mr Fonseka said.
The letter further elaborated on the ill effects the country would have to face if this film was allowed to be made.Mr Fonseka's contention is that the bureaucracy has prevailed in withholding permission.
Mr Fonseka feels sorry that the initial work has come to nought. Costs incurred up to the point of the ban of the script is estimated to be about Rs 1 million.
---
Lanka-Japan film wins recognition
By Kumaradasa Wagista.
The first Sri Lanka - N.H.K.Broadcasting Corporation Japan feature film 'Death On A Full Moon Night '(Pura Handa Kaluwara) has been selected for participation at two international film festivals in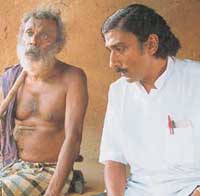 Montreal and Pusan.The Montreal fete is scheduled to commence on August 27 and conclude on September 9..
It will be screened in the competitive section ,'Cinema of Today. 'The Pusan fete in Korea is slated to start on September 24 and will go on till October 1,where it will participate at 'A Window on Asian Cinema' section..Feature films made by the most significant Asian film makers of the time are entertained in this category.
Prasanna Vithanage has written the script, directed and co-produced it with HNK Broadcasting. Montreal Festival directorate has confirmed the selection but has not yet invited its main actor Joe Abey-wickrema.
Filmed in the arid north central province by cinematographer H..D.Mahindapala., it unfolds a story based on the present war waged in the country.
The film has been selected to be screened in New Delhi at a celebration held to mark the tenth anniversary of 'Cinemaya',,edited by Dr (Mrs)Aruna Vasudev.The event will be held from September 2 to 6.Celebrations will open with the screening of 'Death On A Full Moon Night' 'Cinemaya' quarterly film journal is the official organ of the Network for the Promotion of Asian Cinema (NETPAC).Director Vithanage is expected to attend the celebrations.
---
Shanthi: dream girl of many aching hearts
Millions of television viewers in Asian countries like Sri Lanka,Singapore,Malaysia ,Mauritius and in UK outside Asia, may not know who Shanthi Bedi is.But they will have no trouble in recognising her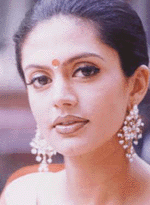 as Shanthi in the soap opera which will complete 750 episodes shortly.
Mandira Bedi is in Sri Lanka presently visiting several towns meeting her fans.
She will visit Galle making stops at Moratuwa, and Kalutara and appear at a musical show in Galle.
She has been nominated for the best performance by an actress in a leading role for the 'Asian Television Awards '97.Her nomination is for her performance in 'Shanthi'the only Indian serial watched by over 200 million viewers in the three continents across the world.
Mandira Bedi is hailed by her co-stars and critics as traditionally an Indian woman with Indian morals and also outlook.
"She is a character every man would love to marry and every father would like to have her as his daughter"says Amit Behl who plays Vijay in Shanthi." She doesn't drink or smoke,she is fighting for what she believes is right. Further she says "Shanthi is a character women look up to ,and want to be.She is not fictional like Superman."
Mandira Bedi reveals that some of the sub plots in the drama are suggested by actors themselves". Shanthi is very dear to my heart. However she plans to stick to 'Shanthi' until she gets frustrated with the role.
Mandira Bedi was born in Calcutta on April 15,1972 but raised in Mumbai.
Although Mandira Bedi has not played in many feature films she played a character in 'Dilwale Dulhaniya Le Jayenge which was a box office hit and won several Filmfare Awards..
A variety of sarees have been given the trade name after her.She is also tipped to begin a beauty care newspaper column and a food column also.She will not appear on tin cans or birth control pills but there is a talk of her being converted into a comic strip heroine.
'Shanthi ' director Kabeer Bhatia says "we prefer newcomers from the theatre.That's because people from the theatre have faster reaction time and emote better."
---
by Bandula Jayasekera
Grover: bad man turns good
Gulshan Grover is no stranger to Sri Lanka. He was in Sri Lanka a few years ago shooting for Film Location Services in Jungle Book II. But he is the bad man of the Indian cinema. This bad image helped him to bag some international movies. Our Chandran Rutnam will vouch for Grover. In an interview to the society magazine recently Gulshan Grover praised the professionalism of the Sri Lankan technical people.
He is not a rejected hero. He is a genuine villain. Grover boasts that he never had any fancy for playing a hero and no illusions about being the hot favourite of teenage girls. He has survived all kinds of onslaughts and survived heroes who experimented with villainy. But he openly admits that he lost sleep when heroes like Sha Rukh Khan and Nana Patekar played the bad guys in 'Darr' and 'Agnisakshi'. They used to have a lot of rivalry before but now all is settled as there is enough work for everybody each one fitting into a slot.
Kids and girls are reluctant to meet him. Once a female journalist had gone to interview him with her father. Gulshan Grover states that after doing so much evil acting on the film sets he finds it difficult to even hurt an ant outside the studio. In Grover's latest movie Angar' he plays the role of an underworld don who has psychic powers.
National Award winning producer of Bhagvad Gita Dr. Subbi Rani Reddy's latest film "Swami Vivekananda" will be shown on India's National Television, Dooradarshan, from this week. It is estimated to cost Rs 10 million and is directed by G.V Iyer. Swami Vivekananda in hailed for espousing the cause of religious tolerance and universal brotherhood.
A very disciplined actor of Telegu and some Hindi films, Sarvadaman Benerji plays the role of Swami Vivekananda with Mithum Chankraborty, Jaya Parda, Hema Malini, Rakhi, Debashree Roy, Shammin and Sashi Kapoor, Meenakshi Sesahdari and Tanuja. It is said that Mithum Chakraborty has become a vegetariam and given up alcohol, after acting in the film.