Needle Point on canvas
By Roshan Peiris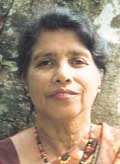 Nalini Colonne lives at Pepiliyana in a beautiful house which is in harmony with the picturesque and charming surroundings. It is an idyllic setting for one who creates beautiful scenes in needle point on canvas.
Nalini, armed with a degree from the Colombo University, travelled extensively in Europe and the U.S. and came back to be the first Sri Lankan Chief Librarian of the much valued British Council. She resigned in 1994, and went to live among her plants, fruit and flowering trees and vegetables in Pepiliyana.
What she sought was a life of tranquillity and so she learnt from her daughter Samanthi to do needle point on canvas. Her tranquillity is abundantly conveyed in her intricate work which has a subtle quality and delicate workmanship which together spell restfulness and peace to the eyes of the beholder.
There is a Swiss cottage scene with sunflowers or maybe large yellow daisies and foliage standing in friendly surroundings. There is a parrot with head held high in red and yellow with white flowers to give it a background. It would embellish the wall of even the most sophisticated home.
There is a also a Victorian type sampler with nature in a colorful flow with birds and bushes and across it embroidered "Nature never betrayed the heart that loved her."
She has also done colourful cushion covers depicting country scenes, and nursery motif which would be appropriate for a child's room.
There was an unusual wall hanging of a seaside scene with a blue ship and orange boats surrounding it, blue white waves lapping at them.
There were special wall hangings for a children's room with clowns in comic postures in bright blue and burnt sienna.
Nalini Colonne has made an easy transition from being a very active career woman to a housewife who amidst her peaceful rural surroundings finds rewarding pleasure.
---
Harry says cheese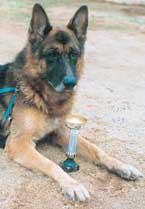 "He loves posing for photos," .......and unlike other celebrities who employ bodyguards to keep away the fanfare, Harry's fondest hobby is meeting his fans.... Chamintha Thilakarathna and Ayesha R. Rafique meets Sri Lanka's Champion German Shepherd
Malta Night King alias Harry leapt down from his chauffeur driven car. The door was held open by his caretaker and master, SI Nandana Munidasa, he stood smiling, as only a happy dog could, until he got orders for his next move. As soon as Harry figured out that he was free to do anything he liked, he put his strong leg muscles to work with a bouncy run.
It was not easy meeting the world champion German Shepherd. Not in the least. One had to fix an appointment well in advance. Appointments here, appointments there, its not a smooth life even for a dog. With cameras being flashed and duty calls and interviews, Harry has become the busiest and most wanted dog in Sri Lanka. But he enjoys it.
Completing his duties in Galle, Harry arrived at the Kandy Police Kennel pound for an interview with The Sunday Times. Defying his hefty outlook Harry was more eager to get a pat on the head than converse.
"He loves posing for photos," says his trainer, SI Munidasa, "As soon as he arrived from Helsenki in Findland where the World Dog Show was held, he was photographed so much at the airport and Harry took much pleasure in posing for them." Harry was placed seventh among 34,000 dogs at a sniffer dog Championship in Helsenki recently.
But unlike other celebrities who employ bodyguards to keep away the fanfare, Harry's fondest hobby is meeting his fans. "Most often when we go to local dog shows he walks upto people there to get himself a petting," said the SI. The long haired furry big dog with sharp ears, a long waggy tail, and smiling deep brown eyes is a bundle of mischief as well. Sitting with his recent trophy next to him, he was playing with it. Then, later on Harry tagged behind the SSP of the Kennels and SI Munidasa trying to attract their attention. For, we are told, he is equally jealous of them petting other dogs in his presence.
Of course, the life of a celebrity dog could be difficult at times. Maintaining one's appearances and living upto expectations has always been on top of Harry's and his trainer's priorities. Brushing his teeth, fur, paring his nails, cleaning his ears and nose and keeping a general good look is not easy.
At the same time professional training starts at about 6.30 a.m. on weekdays and his expert training is from 9-11a.m. with over forty other dogs. Be it narcotics, explosives, and other special assignments allocated to Harry, he is one of the best sniffer dogs the Kennels and the country is proud of.
Although some say that beauty and brains don't go together, Harry's achievements are not limited to beauty pageants. "One day there was an incident where a father and a daughter were killed in Matale and there was no trace of the murderer. When we were informed of this, we took Harry and several Dobermans there immediately, although the weather and the atmosphere was so dull and wet that we didn't think the scent would have remained. But after a two mile track on foot through forests the murderer was found and taken into custody. And the credit must go to the dogs, for it would've been an impossible task to identify the culprit otherwise," SSP Fernando said.
Running about with his tongue perpetually hanging out, face alert and ears popped up, seemingly without a care in the world, Harry the German Shepherd is a defenitely a ladies' man. "Sussie is his girl friend and it is easy to get him to do anything when Sussie is around," said SI Munidasa.
This was the first time that a Sri Lankan dog took part in a World Dog Show. "The championship is very competitive and Harry is the only Asian dog to come into the first ten finalists. The kennel experts check everything from teeth, hair, pose, tail, action, ears and even height and weight. It's just like a beauty queen contest only that this is judging dogs," said SI Nandana.
However, Harry is a humble celebrity. Winner of many awards, the Kennel Training Centre in Kandy has a special showcase allocated to display his achievements. Best in the Show at the Sri Lanka Ladies' Kennel Association on several occasions, he is one of ten German Shepherds brought in for detection of explosives and narcotics about five years back.
But, none of this could have been possible for Harry if it was not for his trainee who is a man with thirty four years of experience SI Nadana Munidasa, he is the man behind Harry's success.
He has committed his life to the Pound and to him, Harry is his own child. "Sometimes his family complains that he spends too much time with Harry and with the pound but he doesn't mind," said SSP Jayantha Fernando, Director in charge of the Kennel Institute.
A devoted police officer at the Kennel Training Centre, SI Nandana Munidasa has shared the joys and sorrows of being a dog care taker, which has become his first love. "I don't feel the time when I am with Harry. He is such a friendly and affectionate dog, that my life seems to revolve around him rather than myself," SI Munidasa said.
The beef, rice and greens loving dog protects and guards SI Munidasa as if he would guard his own kith and kin. The bond and understanding between them is so strong. While it is a pleasure to watch how they communicate and play about.
However, Harry will have other affairs of a personal nature to take care of in the near future. For the six and a half year old who will be celebrating his birthday on the eighteenth of next month, SI Munidasa, SSP Jayantha Fernando, and DIG Central Range, H.M.S. Herath has a surprise in store. He is to be wedded to another champion bitch, before he retires from his duties for sometime, to take on a bigger responsibility- that of bringing up a Harry Junior.