What more can I say
By Goolbai Gunasekera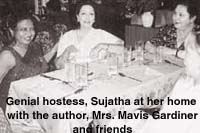 Sujatha Jayawardena - one of my oldest and certainly, dearest friends passed away just a short time ago. In the days following her death I was to learn with near disbelief of the length, breadth, height and scope of her admirable life.
That she should have been universally popular was to be expected for the warmth and unaffectedness of her personality guaranteed such popularity. That she would have been universally respected was also to be expected for her achievements - (the building of the University Hostel to mention just one) - assured her a place in the collective memory of academics, but that she has been so totally loved by people in ALL walks of life has been a heart warming experience to the dearly beloved family and friends she left behind.
Here is a weeping old man. He was Sujatha's old driver who, after he left her service needed special optometrical attention. "She sent me to the best doctor and paid for everything... my spectacles, my bills - everything."
An old University friend had reason to thank Sujatha for seeing her over a horrendous personal problem when no one else would do so. A Tamil classmate in India has cause to bless this great hearted lady for her constant and ongoing concern for her welfare. On all sides and from all people Sujatha's praises have been sung ceaselessly these last few weeks. My own tribute is a far more personal one for I have known her all my life.
Sujatha was 7 years old when my American mother, Deshabandu Clara Motwani, took over the Principalship of Visakha Vidyalaya - the new Buddhist School to which so many Buddhist patriots were beginning to send their offspring. Sujatha's father, the famous Mr. D.N.W. de Silva, had much influence with the Daily News and Visakha, along with her very young new Principal, was given much publicity.
For the little 7 year old Sujatha, a pupil of Visakha, it was love at first sight. My mother had an influence over her that was long and far reaching. "Your mother made me the good Buddhist that I became," she often told me. "She guided me right through my student days and even after." It was inevitable that my own mother turned to the de Silva family for friendship and companionship in this island which was going to be her future home. Four years later I put in an appearance and from then on, Sujatha was held up to me as a model to be copied, respected and yes ....even revered.
"Sujatha has become the perfect woman," mother would observe years later. "She epitomises the ideal Sri Lankan wife and mother." Mother would fix me with a steely glare. "I trust you intend following suit my dear?" As it turned out, mother hoped in vain for there is no one I know who has been able to encompass so many inestimable virtues in one lifetime.... and if this sounds like going trifle overboard it cannot be helped. What was most appreciated by all of us who knew Sujatha was her boundless compassion.
This one quality is what I remember most about the wonderful lady of whom I am writing. She entertained no negative thoughts. Her amazing ability to sweep people along engulfed, as it were, in the river of her kindness, will never be forgotten.
Shakespeare once said "It is kindness in women and not their beauty that will win my love" and Sujatha's outstanding virtue was that she was always kind. It was a bonus that she was also beautiful.
When my mother went away to India or was out of Colombo for a night or two, it was always with Sujatha's family that I was left. "You can learn a lot from being with such an example before you," mother would tell me dropping me off at "Fellowsleigh", the large, sprawling family home of the de Silva's. What the de Silva's felt about having me as such a constant and regular visitor has never been recorded.
On one such extended stay I was was riveted to find that whenever Sujatha or her two brothers, Sidath and Sampath, left the house they would bend down and worship their parents. "Can I do the same Auntie?" I asked Mrs. de Silva.
"You can do it to your parents," she replied. Came the day when, for some reason, I (aged 7) was leaving the house while mother was at home. It was usually the other way around. Mother was quite thunderstruck when I fell at her feet and copied Sujatha's gestures faithfully.
Highly entertained by my foray into Sinhalese mores and customs, Mother called Mrs. de Silva to tell her that she was glad to note I seemed to be following in the right footsteps.
Nor was it only these little ways that Sujatha influenced quite a few youngsters of my age. These were the days before the founding of the Kalalaya School of Dance. Bharatha Natyam classes were started at Sujatha's house and all her little satellites followed her in learning the intricacies of Indian classical dancing on the back verandah of "Fellowsleigh." One of my own partners was Mary Esufally who, to this day, recalls how we would sit on the side lines watching in open mouthed admiration while the stars of the school - namely Sujatha and Sita Parakrama (nee Jayawardena) went through their paces.
"You see," Mother would tell me when I complained that dancing was eating into my reading time, "You must always have a second string to your bow. Sujatha can follow an academic career or a dancing career. She has a choice." And so it was that Sujatha took her Degree in Geography with Honours and taught under my mother at Musaeus College while at the same time she could teach Dance to students at Visakha and elsewhere. She married Stanley soon after they both finished their degrees. At her wedding I met her husband, Stanley, for the first time. They made a highly compatiable pair and as time went on were one of the most distinguished couples in Colombo.
Eventually I grew up, took my own Degree and married. Sujatha had very little free time. Stanley's burgeoning career and her own brood of 5 energetic and achieving children occupied much of her time but she kept tabs on me. My husband, Bunchy and I, often formed the "younger" section of her dinner table for VIP guests. Stanley was, by now, high up in the Mercantile echelons of power and Sujatha had often to take entertaining in her stride while running a house and carrying on with all her own activities. And then, Stanley was appointed to the Chairmanship of Levers - the first Sri Lankan to be so honoured. Naturally my husband and I called to congratulate him.
"You must be so happy today," I remember saying to Sujatha. What an honour indeed." Her reply bears repetition. "In the midst of all this tamasha Gool", she told me, "I keep in mind that happiness, like all sorrow, is only passing. The day will come when Stanley will retire from Levers and I hope to be able to face retirement with the same equanimity as I now face worldly success." It is a lesson I have never forgotten. If there be one thing that Sujatha has taught me in the long years of acting as my mentor, it is this. Fame passes. Prepare for the time when others take your place. Be happy at all times regardless of great name or great fortune for they are illusary.