Fifty....and more to go
By Roshan Peiris
A simple wooden cross hangs over the doorway of the magnificent old house. It symbolizes the life of two people who have spent fifty years married to each other. "What we have been and are, is due to God's grace," says Siva Obeysekere. "We are instruments of God's plan."
"Our religion means a lot to both of us. As Christians we have shaped the basis of our lives," said James Peter Obeysekere.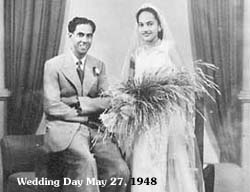 On May 27 this couple celebrated 50 years of life together. Both blessed with a sense of elegance and style, they have lived a life of love and service for those less blessed than themselves.
"Our incentive is working for people. The tradition of social work which we are carrying on, comes down three generations," said JPO. JPO and Siva have been politicians in the past. She has been Minister of Health, but he explained that to them this was just one way of serving those who were most in need. "We were not professional politicians," explained JPO, " but became politicians as a means of serving the people."
After twelve years spent in London, of which eight were during the Second World War era, JPO returned to Ceylon. "I remember," he said smiling to himself, "how mothers had their eligible daughters queued up for me to select. But I chose Siva much to their dismay."
Talking of their early life, JPO was thoughtful as he said, "Siva joined me in this worthy task when she was twenty, giving up a possible career at the University." Their life together from the start has been different from the normal stereotype of syrupy love stories.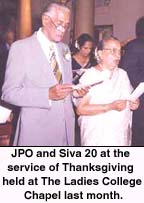 Siva, then a Miss Dassanaike was at Ladies College and was captain of both the netball and tennis teams. They were an unusual couple, since their wedding, recalled JPO, was sandwiched between a netball match scheduled for the day before the wedding and a dog show a day after the wedding.
The strict disciplinarian Principal Miss Opie told Siva she would have to forego her pre -nuptial party and buckle down to her duty as captain of the netball team to play in a match with another school.
"Our honeymoon was no better, for the day after our marriage we had to be present at a dog show as both Siva and I are dog lovers," added JPO.
Even today in the broad verandah of their home at Race Course Avenue there is the small office of the Kennel Club.
JPO himself is an unusual man. While other foreign students packed their bags to leave Britain when the Second World War began, he wrote to his parents saying he would stay behind, since this was a chance to see a first class world War. "I did not want to miss a ringside view of the war," he said.
JPO was an only child of his parents, but yet they, like him being adventurous people did not ask their son to come back. "I am deeply grateful to my parents for their understanding and their courage in allowing me to stay back. They knew I would not do anything wrong."
"Three generations of the family had been to Trinity College, Cambridge. I started my flying career during the war when I became a member of the Cambridge University Air Squadron. I was engaged in the Royal Observer Squad to help spot alien planes flying over Britain. I also helped to ferry aircraft."
So when finally JPO earned a place in the country's aviation history as the first Sri Lankan to pilot a plane from Britain alone, it was to him just another event and not so much an adventure. As he landed his plane at Ratmalana he was met by another small plane and from it emerged his mother who had quietly followed him. She too was of an adventurous spirit and one recalls seeing her in her eighties driving her car with sureness and aplomb.

JPO said, "I owe a great deal in my life to Walter Stanley Senior whose birthday was on May 10. I was greatly privileged to come under his influence since he stayed with us while teaching at University College."
The equanimity, tolerance and style which Siva so obviously appreciates came easily to JPO due to the poet Rev. W.S. Senior's influence. On Sunday afternoons Rev. Senior took a cushion, said JPO, sat on it at the top of the Race Course Grandstand and penned some of his most moving poetry.
JPO closed his eyes and recited....
A voice on the verdant mountains,
A voice on the golden sea,
Rise Child Lanka and answer
Thy mother hath called to Thee.
It is these refinements in their lives that have made Siva's and JPO's lives such a success.
When JPO returned to the country S.W.R.D. Bandaranaike tried to persuade his relative to join the U.N.P.. "I refused because I was very much left- of -centre as were Nehru, Pieter Keuneman and the like. I thought it undesirable to join a party that would perpetuate a group that consisted of the upper crust."
"My warning to Bandaranaike was prophetic in that he too left the U.N.P and formed the Sri Lanka Freedom Party in 1951 of which I was a Founder Member. We lost in 1952 but won with a terrific majority in 1956."
Through these changes Siva stood by his side supportive and understanding.
After SWRD's death JPO was nominated to represent the Attanagalla electorate which he won with a vast majority on two occasions.
"Siva was a housewife but she helped me organize the electorate and helped train women to take up a livelihood which they could carry on at home. So she opened up twenty-four sewing centres some of which she took over to Mirigama when she contested from there".
Siva has finely honed artistic tastes which made her introduce hand woven sarees for the first time in this country. She also has an affinity for our culture and hence did much to resurrect local crafts some of which may be seen at Lakpahana, the shop behind her home.
She was also responsible for setting up Laksala and made history by being the first President from a developing country to be on the World Craft Council.