---
Murali, Niro bamboozle Kiwis
Sri Lanka outplay them by 164 runs to take series 2-1
By Bernie Wijesekera
On a pitch which had plenty of bounce and turn Sri Lanka's ace spinner Muralitharan (5 for 30) and 'new find', Niroshan Bandaratilleke (left-arm), 4 for 52, demolished New Zealand for 131 in their second innings.
Sri Lanka won the match by 164 runs and the series two-one on the fourth day of the Third Test at the SSC Grounds yesterday. It was all over at 2.28 pm with more than four sessions to spare.
The Kiwis, a young and inexperienced team led by Stephen Fleming found it an ordeal to counter the turning ball and were made to grope in the dark as most of the batsmen played from the crease.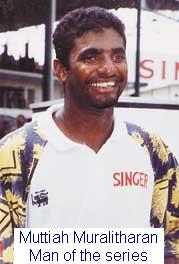 This was evident at Galle in the Second Test when they crashed to an innings defeat and at the SSC pitch too, they repeated the performance to lose by 164 runs and the series where Murali had a rich haul of 19 wickets (Man -of-the-series), while Bandaratilleke had 16 wickets in the three Tests. The duo were ably supported by Kumar Dharmasena, who bowled well in the Galle Test.
It was a good baptism for Bandaratilleke at the start of his career on helpful pitches, but the lad has to work hard for a better future, as he may not find it easy on pitches that will not really respond to spinners and against seasoned batsmen. Manager Ranjit Fernando, endorsed this view.
This is the second Test series Sri Lanka own after conceding the first Test in a three-match-series. In August 1995, repeated against Pakistan away from home, after losing the first, to ultimately win 2-1.
The Kiwis resumed their innings from the overnight score of 10 for no loss, chasing a victory target of 296, made a slow start with openers Bryan Young and C.Spearman batting with assurance. The pair put on 44 runs, the best for the series. Young, who has had a disappointing tour in SriLanka, showed some charm and aggression to his batting, when he beautifully cover drove Aravinda de Silva to the pickets twice, in the bowler's first over.
But Murali, coming into the attack for the first time from the Press Box end, broke the stand with his first delivery. Young, lunged forward to be brilliantly stumped by Kaluwitharana for 24 (with three fours in 56 balls) the highest on this tour to average: 20.66.
With 13 runs added to the total, consistent run-getter, skipper Stephen Fleming on three, went on the back foot against Dharmasena and was charging down for a leg by,but he was surprised when he was ruled out leg before by umpire Peter Manuel. Further disaster befelled the Kiwis, when Spearman was superbly caught and bowled by Murali for 22 (with three fours in 109 minutes), in the bowler's sixth over.
Nathan Astle and Matt Horne saw them to lunch without further loss - 8 for 3.
Afterlunch it was a double disaster for the Kiwis when they lost two wickets for the addition of four runs. Horne was the first to go at 82, caught by Kaluwitharana off Bandaratilleke for 12 (with a four).
Then followed Craig McMillan when he was caught at silly-point by Jayawardena for one - 84 for 5. The writing was on the wall. Gusty Adam Parore was bowled by Bandaratilleke when the batsman failed to offer a stroke, for one - 93 for 6.
Chris Cairns (son of Lance, who hammered Vinothan John for four sixes in one over at the Sara Stadium) threw caution to the wind.He smashed a quick-fire 26 in 40 balls with two huge sixes over long-on, off Bandaratilleke and had two fours, the only two strokes to clear the ropes in this Test.
Finally he was bowled by Banda when playing back. The last seven Kiwi wickets fell for 51, 75 minutes after lunch, when their middle-order batsmen were all at sea against Murali and Banda when the duo had the Kiwi batting falling on the wayside - thereby helping SriLanka to win handsomely.
Pint-sized Romash Kaluwitharana, who performed a king-sized job for Sri Lanka in a last ditch record stand of 71 with Muralitharan (26 n.o) was awarded the Man-of-theMatch.He took heavy toll on the wayward Kiwi bowling to notch a breezy 88, to steer the Lankans to safety after being 201 for 9.Besides his batting, 'Kalu' had a good day behind the sticks and played a dynamic role for the Lankans towin the Singer-Akai sponsored Test series.
At the press briefing after the match, skipper Fleming commended the Sri Lankans for winning the series. "They played better than us and they deserved to win. We are a talented young side.I am confident that the Kiwis will perform better in the triangular one-day series", added Fleming.
The newly elected manager Ranjit Fernando said he was happy that SriLanka was able to win against the determined young Kiwi side.But we have a long way to go. The Lankans must win more Tests, especially abroad.Sri Lanka cannot afford to depend solely on experienced players. Young talent must be infused for a better future at international level. The game has to be further developed at domestic level with better competition and improved facilities. This means a lot of hardwork and added smilingly, skipper Ranatunga will agree with me.
Arjuna Ranatunga said he was not happy with the batting performances of the seniors in the side. We can't depend solely on them all the time. The striking feature of this series was the batting of young Mahela Jayawardena. He batted with grim determination in the second Test - 167 and was the backbone for Sri Lanka's win at Galle.
Sri Lanka cricket needs a lot of planning and grooming for the next World Cup, where we will be playing under varying conditions unlike here he added. I am happy it was a spirited team effort with improved fielding that enabled us to win the series 2-1.
Sri Lanka first innings - 206 (Chris Cairns 5 for 62) and 282 (R.Kaluwitharana 88, A.Ranatunga 64; D.Vettori 6 for 64).
New Zealand first innings - 193
New Zealand second innings (overnight 10 for no loss)
B.Young st.Kaluwitharana b Murali 24 (Brought foot back too late)
C.Spearman &b Murali 24 (Went for drive)
S.Fleming lbw Dharmasena 3 (Going on the back foot - leg stump)
N.Astle c &b Murali 16 (A hard drive, held it, his third attempt)
M.Horne c Kaluwitharana b Bandaratilleke 12 (Lunged forward)
C.McMillan c Jayawardena b Murali 1 (Defensive shot at silly-point)
A.Parore b Bandaratilleke 2 (Played from the crease)
Chris Cairns b Bandaratilleke 26 (Played back)
Mark Priest b Bandaratilleke 2
D.Vettori b Murali 3 (Attempted to swing to the leg)
P.Wiseman not out 0
Extras - (B-6, LB-10, NB-4) 20
Total (in 54,3 overs, 220 mts) 131
Fall: 44 (Young),57 (Fleming), 63 (Spearman), 82 (Horne), 84 (McMillan),93 (Parore), 105 (Astle), 128 (Cairns),131 (Priest), 131 (Vettori)
Bowling: P.Wickremasinghe 6-2-5-0; N.Bandaratilleke 17-3-52-4; Aravinda de Silva 3-0-14-0;K.Dharmasena 10-2-14-1; M.Muralitharan 18.3-8-30-5 (3 nb).
---
Front Page| News/Comment| Editorial/Opinion| Business| Plus | Mirror Magazine