When the blades go 'Taka taka.....'
It's spicy, and delicious. Chamintha Thilakarathna is hot on the trail of koththu ...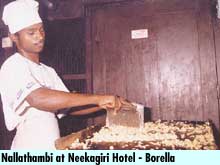 It's hot. It's spicy. It's mouth watering - it's probably the only dish that can compete with the ever popular Chinese.
What is it? What could possibly be all this at the same time but the famous 'koththu roti.' Beef, chicken, mutton, egg, vegetable, spicy, non-spicy, mixed, non-mixed, it can be prepared to the fancy of your taste buds. This is probably why it has become a hot favourite among the public, a quick takeaway, a delicious family meal or even worthy enough to be served at dinners and parties.
Although said to have originated in Trincomalee where the Muslim restaurant owners came up with a way not only provide a full meal but also to attract foreigners and locals alike with the rhythms they play on the hot plate, its popularity has spread in Colombo and its suburbs. With koththu reaching the outer cities, almost every town in the island has at least three or four koththu outlets of its own.
Wherever one may go it's difficult to avoid a colourful sign which spells that koththu is near. No need to worry about chopsticks, curries, or even making a mess trying to eat, just enjoy it, that's how koththu goes. And, just why do we find it so hard to resist day or night? The Mirror Magazine spoke to a few koththu lovers to find out.
"I love koththu!" exclaimed Indrajith Samaranayaka, a twenty two year old from Gampaha, "I don't mind having it as often as possible but what stops me from doing so is my budget, for koththu is quite expensive to have daily. But it's one of my favourites."
Thilak Dharmapala, a businessman from Battaramulla said that when he was a bachelor he used to have it so often that he knew the varieties, tastes and the places where one could get the best of koththu. He is unable to resist the lure of the Koththu for several reasons. "It's quick, it's tasty, it's easy to eat and to get. One does not need to make curries to have it with. And, most often I have koththu as a bite when having a drink in the evenings with my friends, rather than as a meal," he said.
"Koththu comes in a number of varieties so, we have a choice of what we want to eat. Besides, now many places serve string hopper koththu as well. Who knows in future they might introduce rice koththu or pittu koththus, at the rate it has become popular. But personally for me, it's like an addiction. I seriously do not know why I like it so much, but I could eat it anytime," said Dilrukshi from Angoda.
Belgian, Alan Vanaverbake who has been living in Colombo for sometime and who described the dish as 'that taka takataka' thing with a gesture of familiarity, said that he simply loves it. "Believe it or not, I have it almost everyday. I think it's healthy because you get vegetables, meats, eggs spices almost everything in it. It makes a good balanced meal, especially for those who don't have time to cook at home," he said. And from his gestures it was obvious he is also an admirer of the method of preparation.
| | | | | | |
| --- | --- | --- | --- | --- | --- |
| | | | | | |
Parents of young Anjana Ranwala from Dehiwela, a student of Sirimavo Bandaranaike Vidyalaya said that whenever they go out in the evenings, it is very difficult to stop their daughter from having a koththu. "Just mention it and she gets worked up. But often she is unable to eat it as often as she would like to because she is vegetarian and most koththus have egg in them" her parents said.
Chrystie Rathnayaka said, "I am somewhat of a fan, I would say. But, although tempted to have it, it is not possible to have it on a daily basis. When I do get to have one, which is about twice a month, I admit it I enjoy it thoroughly."
But for others doubts about how and what it's made of has kept them from enjoying a hot koththu.
Gamini Silva, working at Sri Lanka Rupavahini Corporation Production Unit is one of them. "I feel that it is not made in a hygienic manner. I have doubts if they use fresh vegetables to make koththus and the sight of a bare bodied sweating man touching the vegetables and meats with his hands to make it totally puts me off" he said.
It is true however, that while many of us are put off by the hygiene factor which hangs at the back of our minds this does not seem to stop quite a number of us from indulging in it.
Walking into a number of popular koththu joints in Colombo, we realized that the hygiene factor crops up only in a few shops whereas those who have been in the business for many years are still reliable.
At Neelagiri Hotel on Maradana road, Borella, the smell of koththu on the hot plate tantalises passers-by anytime after six in the evening. Nallathambi, who is the koththu chef at the hotel, said that his 'guru' was 'Paris' of the Hotel Dawalagiri in Fort. "It is not easy to chop the koththu on the hot plate. It is an art and has to be taught and trained. If not there is a possibility of getting one's hand and the koththu burnt," he said.
Amongst koththu makers, there are various rhythms and styles that are unique to each cook. Nallathambi, who has four years experience said that he can chop the koththu in three rhythms or styles. "The music that we make with our steel chopping instruments attracts many customers, including foreigners. At the same time, we do it for our own pleasure so that we don't feel the heat of the plate or tired," he said.
The job of a koththu chef is not at all easy, although well paid, especially that of a conventional koththu maker. This is because he has to be quick with his fingers and careful at the same time. He gets only a few minutes to prepare the entire meal. A slight delay could mean a burnt dinner. The secret of a succesful koththu depends on pre planning.
Raheema Hotel on Thurstan Road is another famous koththu parlour. Although they do not make it the conventional way, it is one of the spiciest and tastiest in town.
"We make it in a frying pan," said Mr. Mohammed Hussein, Manager of the hotel, "this way not only can you make it clean and tidily but it's tastier. When it is made on the hot plate, the koththu has to be made faster because the plate is pretty hot and it is difficult to add spices or other ingredients or to control the heat when adding flavour, he opined. People may have noticed that when koththu is made on the hot plate, there is a fan placed nearby. This is due to two reasons, one because of the heat and the other to avoid the smell of oil from reaching the customers," he said.
And for all you hungry koththu fans, here's a tip:the frying pan method is one which can even be tried out at home, whenever you pine for koththu and only koththu.
How to make Koththu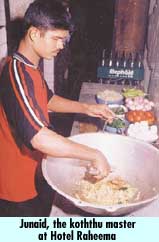 Junaid, the koththu master at Hotel Raheema explains:
First, heat the pan and add a little cooking oil to it. Then, add chopped ginger, cardamom, green leaves, chopped Bombay onions, carrots, leeks, capsicum, tomatoes at short intervals in between so that the ingredients absorb the spices. Add eggs to the mixture and scramble and mix well with rest of the items already in the pan. Then, add chilli powder, salt and the chopped roti which have been prepared ahead.
Add the meat or fish, which ever one prefers, and then finally add the gravy of the special curry which has been prepared ahead of time. If one prefers the meat or fish can be chopped and added to the mixture or if one wishes to have the meats separately then, just mix the meat with the mixture without chopping it and then take it out of the pan before switching off the pan. If you wish to have a vegetarian koththu, you can add boiled gram to the mixture.
Note that for one portion of koththu, three 'godamba' rotis and 100 grams of each vegetable is required. As for the spices, it has to be added through instinct and to suit the individual palate.
---
Miraculous bond
IT is the world's most miraculous bond between man and dolphin. A deaf-mute fisherman called Abdullah was locked in lonely silence until he untangled the beautiful animal from undersea nets. The grateful dolphin - which he later called Olene - faithfully followed his boat wherever he sailed.
Now Abdullah, who has neither spoken to nor heard a human since a boyhood accident, can 'speak' to Olene with whistles. And the underwater clicks Olene makes resonate inside Abdullah's head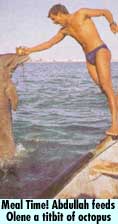 where no voice can reach.
Tourists and marine experts the world over are queueing to see him talk to Olene like a modern Dr Dolittle.
The miracle has also transformed the lives of those around him in the Bedouin settlement of Sharm El Sheikh on the shores of the Red Sea in Egypt.
The Bedouins charge tourists £2 to swim with Olene — a small fortune for them - and call Abdullah a hero because they can afford food, clothes and medicines for their children.
With the help of an English-speaking interpreter named Ahmed, Abdullah communicated with the News of the World in sign-language.
"I love her,'' he gestured to Olene, his eyes shining. "She is my gift from God. She is worth 20,000 human beings. And I can hear her — underwater I can hear her clicks."
Abdullah is so besotted with Olene he gets up early each day to hunt for her favourite breakfast . . . octopus.
The dolphin responds immediately when Abdullah taps the side of his boat, no matter where she is.
Within seconds, onlookers spot the familiar black fin cutting through the water. Although there are often children swimming nearby, Olene is careful not to bump into them.
The pair then perform the most graceful acrobatics in the water. She carries him on her back down to the ocean bed, playfully flips him over then takes him back to the surface.
One tourist remarked: "The guy only has to whistle, and the dolphin is scooting across to him on her tail. You'd think they were reading each other's minds. I've never seen anything like it in my life."
Thirty-year-old Abdullah gestured frantically to make us understand how he first met Olene. Pal Ahmed continued to interpret, saying: "Four years ago I was fishing in my boat a few miles south of where I live. I found a dolphin trapped in a net tangled on the coral 35ft below.
''I dived, freed her and carried her to the surface. I returned later to see if she was OK, then I began to swim with her each day.
"After a while she started to play with me, she recognised my boat. I banged the side and Olene would leap out of the water."
"One day, I found her by a dead dolphin, harpooned through the head. It could have been her mother or her mate — but Olene was now totally alone.
"She followed my boat back to the village and now she lives here with me. At first she was quite jealous — when I swam with friends. She would push them away."
"Now, each morning I go hunting to feed Olene. She likes octopus best — there are no bones." Renowned marine expert Oz Goffman is astounded by the bond between them.
He said: "She displays the same behaviour with Abdullah as she would with another dolphin. But she knows she has to swim slower for him. He spends a lot of time with her and she has great affection for him. He makes her happy.
"People pay to swim with Olene, but Abdullah isn't interested in the money for himself. If he were, he'd be a millionaire."
Abdullah may not be a millionaire, but Olene has brought him a lifestyle he could never have dreamed of. With money from tourists and scientists he is building a cafe.
He has already bought a new pick-up truck is proud of his Timberland boots and likes his coffee in his special Disney mug.
He has put up a sign on the beach: ''Maximum 7 swimmers a time. 15 minutes swim. Don't chase dolphin."
If swimmers get too boisterous Abdullah takes her away. He simply heads out to sea in his boat, whistles, and she follows.
To be fair, Olene has been a little fickle in her attentions.
The year before last a male dolphin caught her eye and she became pregnant
"When she was pregnant she needed much more food," explained Abdullah, signing through Ahmed. "She would come with me to my nets to fish." Olene's baby was named Jimmy — but sadly, he was not destined to live long.
Jimmy seemed fine on the morning he died. He was leaping from the sea, playing with children and looking for octopus.
HALF an hour later a young Bedouin girl found him dead. Heartbroken, Abdullah carried the baby dolphin's body from the sea.
After Jimmy died Olene only wanted to be with Abdullah. She would even butt other people who came near them.
"We don't know why Jimmy died," said Oz Goffman.
"But there's a high mortality rate in baby dolphins."
Now Olene seems to have returned to her old self - and on one of her rare trips from Abdullah's side, she has become pregnant again. We are very happy," signed Abdullah. ''She is my best friend in all the world."