---
Tears of Mary: to believe or not
Blood rolls down the cheeks of a Virgin Mary statuette at Katuwapitiya. Devotees believe it a miracle. But the Catholic Church wants more evidence. Chamintha Thilakarathne reports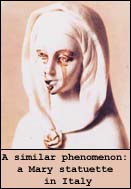 In Ellen Caldera's mind there is no doubt- it is indeed a miracle. She even offers an explanation. "It has come to a stage where people have almost stopped worshipping Virgin Mary. She is questioning this and helping us to further build faith in her," Caldera said.

She was one of the throng of devotees who keep coming, endlessly to have a peek at the statue of the Virgin Mary that shed tears of blood. The statuette is now at St. Sebastian's Church in Katuwapitiya.
Although there are only stains to be seen on the statuette, this has not stopped the hundreds of visitors, who in faith or mere curiosity continue to throng the church. Despite its popularity with the masses the Catholic Church and the Legion of Mary have decided not to support, encourage or accept it as a miracle or even a noteworthy phenomenon.
"We don't want to jump into conclusions," said the Vicar General Rev. Joe Wickremesinghe. His views were echoed by the President of the Legion of Mary, Maurice Lord.
"We are not ruling out the possibilities of Our Lady sending a message to us but we don't want to rush into things," he said.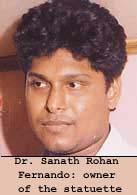 The excitement began when Dr. Sanath Rohan Fernando woke up to get ready for work on May 20 and found something unusual on his bedroom floor. The blessed thread that he had placed before the statuette of Our Lady was rolled up on the floor.
These he had brought home after mass the previous night. Not being particularly perturbed, he picked them up to place on the statuette again. Only then did he look up to see the statuette which had been hanging on the bed room wall for years seem to shed dark red tear of blood. Amazed, he took what seemed like blood onto his finger to examine it.
"My first reaction was to call my wife and mother. I couldn't believe what I was seeing. I identified it as blood," Sanath who is an ayurvedic doctor by profession said.
"When our son called us into his room, we had no idea as to what he was going to show us. Neither were we prepared. But then, as we watched the tears of blood rolled down the cheeks of the statuette. We couldn't understand what was happening. Of course we have heard of such miracles but to find one in our own home was unbelievable," said Rohan's mother, who claims that they are strong believers and this is probably why the 'miracle' took place there.
The house, the 'Weda gedara' of Katuwapitiya, the scene of a possible miracle, was shortly afterwards attended by priests and prayers.
The statuette had been gifted by a close family friend when their daughter received her first communion. A symbol of friendship and faith, the Fernando family had not considered the statuette to be any different from others that is...until this incident.
"There were crowds gathering at our home and we thought the rightful place for the statuette was at the church. Now we only have a photograph to which we pray and recite the rosary to," they said.
Since then, the word of the blood-teared statuette got out, Katuwapitiya has been the centre of many a pilgrimage.
Although Rohan and his father, both ayurvedic doctors, are equally confused about the incident they are sure that it was blood that they found on the statuette. Though permission was granted to place the statuette at the Katuwapitiya church, the clergy have disassociated themselves from it.
"The Archbishop's office has made a statement and there is nothing left for us to say or do," said the St.Sebastian's church Parish Priest, Rev. Rathnasekara.
"The priests even told us to wipe the blood away and not to allow too much publicity," said family members.
But enthusiasm is high amongst the people who travel great distances to catch a glimpse of the statuette- now with just a stained face.
"We came all the way from Thalgaspitiya to see the Blessed Mother. She is warning us not to commit sins and that the world is too full of terror. This is the miracle we have been waiting for," said Lily Margaret and Anne Perera.
P.V.Dixon said that it is a miracle and not a fake. "Mother Mary is reminding people not to lose faith in her and that she is still alive," he said.
"She is speaking to people. There is so much trouble that children cause to mothers, and she is here to console mothers in their grief," said Richard Appuhamy, whose faith has brought him from Katana to Katuwapitiya to bear witness to this strange phenomena.
Ann Kotuwila, a strong believer in Mother Mary, said that it was never mentioned anywhere that she died.
"We still believe that she is alive somewhere looking down on us and on our sinful lives. This is a message to say that it is time that we prayed to get over our sins. This proves her presence," she said.
Mary Josephine from Mankuliya is positive that this is a miracle and that this incident clearly shows Mother Mary's disappointment in her believers.
Many of those who came to see the crying statuette wanted confirmation from the Church that it is a miracle. But the Church reserves its opinion on the matter. The hundreds of devotees return disappointed by the lack of response by the parish priest or Church officials. They write down their demands on pieces of paper and lay it by the side of the statuette where a candle is kept burning.
No blessings are made to the devotees nor do the priests visit the small area which has been allocated for the statuette, according to residents. The isolated area is looked after by volunteers who do it out of faith and love for the Blessed Mother.
"Around 6000 such incidents have been reported over the years in connection to Mother Mary but only around 200 have been scientifically proven. This could therefore very well be either one of those instances," said the Vicar General, Rev. Joe Wickremesinghe.
He said that it is foolish to gather around the statuette saying that it is a miracle. The Catholic Church definitely does not wish to accept this incident as a miracle until it is proven beyond doubt. But there have been little or no moves to find out the truth on the part of the Church.
"It is only through curiosity that people are gathering. It must be scientifically proven beyond doubt for us to make a statement that it is indeed a miracle. Even if you do test it, and find blood, how can you say that it has not been planted there or whether it is divine blood or human blood. There will be another controversy. If there are more incidents then we will look into the possibilities," the Vicar General said.
The Legion of Mary is not only satisfied with the standpoint of the Archbishop's office but has gone a step further in agreeing and tailoring a similar view. "We don't want to rule out the possibilities of a miracle neither do we confirm that it is either. It is not clear to us what this is. We have to be extra careful in what we say so that we don't make fools of ourselves if this is proved false," said Maurice Lord, of the Legion of Mary.
Officials of the Legion of Mary, which is a lay organisation devoted to worship of Mary showed no interest in the incident neither have members visited Katuwapitiya to find out the truth.
However, it is clear that this incident has brought up the question: how strong is your faith? With authorities turning to science for an answer and the devotees turning to the Church for confirmation, a tug of war between faith and science has left many, including priests who have been advised to keep mum, in simple confusion.
---
More Plus * A little help and they're on the way
Front Page| News/Comment| Editorial/Opinion| Business| Sports | Mirror Magazine