---
Sanath Jayasuriya cleared to play in today's crucial match
Lanka confident to match skills with South Africa
By Marlon Fernandopulle
A buoyant Sri Lanka team, bubbling with confidence after recording two successive victories, take on South Africa in the last of the preliminary round games in the Standard Bank Tri Nation Tournament today.
The World Champions must win today if they are to qualify to meet South Africa in the Finals on Wednesday.South Africa are on top of the table with eight points while Sri Lanka and Pakistan have four points each.Although Sri Lanka are currently ahead of Pakistan on the net run rate ,if Sri Lanka lose today's game they will be out of the final since they lost twice to Pakistan in the first round.
Rising from the depths of defeat , Sri Lanka dished out two super performances inside three days to get the better of South Africa and Pakistan and set the stage for an interesting finish in the tournament.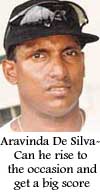 Three defeats in a row made the Lankans more determined to prove their true capabilities in the game they reign supreme. They marched past the South Africans and Pakistanis to inflict heavy defeats and surprise their opponents.
After a lacklustre performance in the first half of the tournament, it required a sterling performance from Sri Lanka to get the better of their opponents.
The team responded to their task gallantly with Captain Arjuna Ranatunga leading the way. The left hander showed glimpses of his form in the past as he stroked two monumental half centuries and held the crumbling batting together to pave the way for the Lankan victory.
In addition they improved their levels of fielding and reshuffled their batting order successfully to record back to back victories.
However vice-captain Aravinda De Silva seems to have hit a bad patch, but is expected to come out of his shell. The stylish right hander has the ability to rise to the occasion and it will be the hope of all his teammates and fans in Sri Lanka that he shrugs off his failures and strikes it rich today and help Sri Lanka to enter the Final on Wednesday.
Opener Sanath Jayasuriya has realized that he is not batting the way he likes to, and is playing well within himself. A wise move by the left hander, on whom the Lankan batting depends for that rollicking start. However Jayasuriya's partner Kaluwitharana seems to be relishing the position as opener once again. He has played a few cameo innings but has perished when set for a good score. The wicket-keeper must be more selective with his shots especially against bowlers of the likes of Allan Donald and Shaun Pollock.
The three defeats experienced by Sri Lanka has made them reshuffle their batting order, which has already paid rich dividends.
Mahanama batting at number six has added strength to the middle order after the exit of Hashan Thillekaratne from the One day team, while Marvan Atapattu's entry at number three is also a very wise move considering the batsmen's technique and temperament.
Kaluwitharana re-joining Jayasuriya as the opening partner was another prudent move by the Lankan tour management.The pair have sent shivers down the spine of many opening bowlers in the past and are once again proving to be lethal with their explosive brand of play.
This strategy innovated by the Lankan openers must be persisted with although it does not succeed in every game.
Another redeeming factor for Sri Lanka is the return of Pramodya Wickremasinghe.The right arm medium pacer was struggling lately but has finally found his rythmn and is bowling a tidy length.
If Wickremasinghe continues in the same vein Sri Lanka's bowling attack comprising the usually reliable Vaas, Muralitharan and Dharmasena should be able to attack and contain the South African batsmen.
---
Speculation quashed
Sri Lanka Cricket Board officials last night denied widespread speculation that Sri Lanka's star player, Sanath Jayasuriya was ill and would not be playing in today's key match against South Africa.
One official said that he had spoken to manager Duleep Mendis, and that nothing had been mentioned of any sort of illness to Jayasuriya.
The speculation is said to have arisen after a local radio station reported that Sanath Jayasuriya was out.
---
Sri Lankan women in commanding position
By Bandula Jayasekera
After a catastrophic start to their tour of Sri Lanka in the one-day series, against their local counterparts, the Pakistan women's team consolidated itself to lock horns in the one-off Test match, which started on Friday.
The Sri Lankan captain, Rasanjali de Silva, won the toss and prefered to bat. Rasanjali's decision to bat first paid immediate divends, as the home side posted an imposing total of 307/9 dec. on the first day.
The visiting Pakistani women cricketers got a huge blow, when they lost their first wicket, with the scoreboard displaying 4 runs, to end the first day at 4/1.
The Pakistani women were reduced to 176 all out, on the second day of their Test Match, at the Colts Cricket Grounds yesterday. Kiran Baluch effectively contributed for the Pakistani's with a well made 76.
The local lass from Anuradhapura, Chamani Seneviratne, continued her good form by taking 5/31. Skipper Rasanjali de Silva captured 4/28. At close of play on the second day, the Sri Lankans were reduced to46/2, an overall lead of 170 runs safely tucked away. Dedunu Guneratne made 29. Shaiza Khan took1/18.
Sri Lanka- 1st innings- 307/9 dec. and 46/2.
Pakistan- 1st innings- (4/1 overnight cont.) 176 all out.
Chamani Seneviratne 5/31, Rasanjali de Silva 4/28).
---
Kandy rep's agree to selection
At a confab with the Minister of Sports, S.B. Dissanayake the officials representing the Kandy SC and Central Province to iron out certain problems between the SLRFU, said that they were quite pleased with the selection of the team for the final game against Taiwan, where the selectors have done an excellent job.
Eleven of the 23-member team were all from Kandy, including the captain. KSC and Central Province were represented by Iswan Omar, Dharmasiri Madugalle and Dr. Kapuwatte.
While the Rugby Union was represented by Dr. Maiya Gunasekera (President), Anton Benedict (Vice-President), Brig. Jupana Jayawardena and Lionel Almeida.
Dr. Gunasekera said, the SLRFU regretted the omission of a KSC rep. in the tournament committee, but steps will be taken for the inclusion of a member from KSC in the tournament committee.
At this pow-wow with Minister Dissanayake the KSC and C.P. rep's stated that they were not happy the way the foreign players changed clubs.
If they wanted to move out from one club to another they must be barred from playing in the local tournaments for one year before they joined the scrum with another club.
Dr. Gunasekera stated that all foreign players were on contract with their respective clubs. Once the contract is over he has the right to play for another club of his choice.
According to Dr. Gunasekera, the Minister, too found that it was nothing wrong of a player joining another club after completing his contract if he desires to do so.
The earlier rule was that any player if he wants to change the club he had to be away from the domestic tournaments for one year.
But the SLRFU Ex-Co at a Council meeting held recently after much discussion revoked its earlier regulation by a majority vote giving the foreign players the right to play for any other club after completing their contract, Dr. Gunasekera added.
Dr. Gunasekera said that everything was settled amicably with Minister Dissanayake chairing the meeting.
- BW
---
Sanath 122, still in the lead
Sanath Jayasuriya, Sri Lanka's top all rounder who, although he is having a lean patch with the bat, is still in the lead in the CEAT Cricket Rating for the CEAT International Cricketer of the Year 1997-98. He has scored 122 points.
In the second spot is his teammate and off spinner Muttiah Muralitharan who has scored 107 points.
But with a fortnight to go before the CEAT Year 1997-98 comes to an end, everybody would be interested in how the Indian champion Sachin Tendulkar, who is in 3rd place with 98 points would fare.
India have still to play five matches, while Sri Lanka have two matches, if they reach the finals in the triangular in South Africa.
Tendulkar has 5 matches to go and is 24 points behind Jayasuriya for the coveted CEAT International Cricketer of the Year Award 1997-98. Tendulkar has a chance of overtaking Jayasuriya, if he takes the desert by storm with his willow.
The top 10 as on the 16th of April 1998, in the CEAT Cricket Rating for the CEAT International Cricketer of the Year Award which carries a cash prize of half a million Indian rupees are:
Sanath Jayasuriya - 122 points,Muttiah Muralitharan - 107, Sachin Tendulkar - 98, M. Azharuddin - 95, Shane Warne - 90, Aravinda de Silva - 88, Saurav Ganguly - 83, Carl Hooper - 75, Saqlain Mushtaq - 74, Shaun Pollock - 64. (Courtesy R.S. Hartley & Company Limited)
---
De Silva, Wijesekera hoist Lanka to Group 2
Sri Lanka defeated Malaysia by two matches to one in their Davis Cup Asia/Oceania zone Group 3 round robin play-off, at the National Tennis Centre Courts at Jalan Duta, Kuala Lumpur, yesterday. This result ensures their promotion to Group 2.
Accompanying Sri Lanka in the promotion to Group 2 is Kazakhstan.
Rohan de Silva won the first singles over Vasuthevan Ortchuan 6-2, 6-2, while Jayendra Wijesekera, the No.1, was beaten by Selvam Weerasingham in the second singles 7-5, 6-1.
De Silva and Wijesekera clinched the match, winning the doubles over Ramiah Chandran and Selvam Weerasingham 0-6, 7-5, 6-3.
Earlier Sri Lanka defeated Singapore 3-0, and Kazakhstan beat Syria 3-0.
In Group B, Tajikistan beat Malaysia 2-1, and Saudi Arabia beat Kuwait 2-1.
(A.F) .
---
Moors SC fight back against Bloomfield
By Bernie Wijesekera
Moors S.C, chasing a massive Bloomfield C and A.C first innings total of 351 all out, gave a spirited performance, thanks to to two productive stands- one for the first wicket (60) between S. Wijesiri 20 and M.Z.M. Shiyam 33. This was followed by a second wicket stand of 97 runs between Sri Lanka all rounder Chandika Hathurasinghe 74 (with 14 fours) and A. Hettiarachchi 28, helped them to reply with 236/6 at the close of play on the second day, in the the three-day P.Sara Trophy semi-final match, at the SSC grounds yesterday.
On a pitch, tailor-made for batting, batsmen from either side revelled to rattle 587 runs for the loss of 16 wickets in two days. Bloomfield, who were 304 /7 overnight, added 47 runs for the last three wickets. Hathurasinghe picked up 3/88, and bowled a tight line and length on a bone hard pitch.
Moors S.C were 41 for no loss at lunch, but lost two wickets after the adjournment. Intelligent batting by skipper Hathurasinghe, who stroked the ball confidently, aided and abetted by young A. Hettiarachchi, saw them reach 176 /2 at tea.
Bloomfield fought back with some splendid fielding. Hathurasinghe, batting with authority, fell to a sharp catch, taken at point, for a well made 74. The Bloomfield side picked two more wivkets before the end of play, but are still a further 115 runs away from the target, with four wickets in hand.
Bloomfield-304/7 (overnight) cont. 351 all out in 107.1 overs. (S.K. Perera 75, T. Gunaratne 66, N. Nawaz 40, R. Kalpage 58, P. Dassanayake 25, H. Boteju 22, R. Palliyaguru 25). Rasika Priyadarshana 3/105. C. Hathurasinghe 3/88, R. Sridhar 2/53.
Moors S.C- 236/6 at the close in 78 overs. (S. Wijesiri 20, M.Z.M. Shiyam 33, A. Hettiarachchi 28, C. Hathurasinghe 74, Nilan de Silva 37 n.o., K. Jayasinghe 10 n.o. P. Gunaratne 2/36 and H. Boteju 2/11.
---
Carlsberg Champions to be awarded the Clifford Cup
By Saif Izzadeen
Although the glamorous Clifford Cup knock out rugby tournament in Kandy is not being played this season, the name will still linger as the Carlsberg Inter-Club Division A League Champions will be awarded the Clifford Cup.
When contacted by The Sunday Times to clarify about this matter an official said, "The Clifford Cup is awarded to the league champions and will not be played as a different tournament".
The first round of the Inter-Club tournament will kick off with last years League runners up CR and FC locking horns with Air Force. The local rugby Derby which is the match between Havelocks and CR and FC will be played on June 13.
The second round of the Carlsberg inter club league tournament will be played from June 26 to July 24th. The Plate championships will be played between the last four teams in the league standings starting from July 10 to 24.
In the league tournament all A division clubs must play against each other once in the first round. The first five teams of the league standings will then play each other once in their own group in the second round. The teams who are hosting their matches in the first round shall be the visiting team in the second round. The points table will continue upto the end of the second round irrespective of the re-grouping of the teams at the end of the first round.
The B Division matches will start with Moratuwa University scrumming down with Police Griffins in group B and Air force coming up against Army Colts. Both these matches will be played on the 29th of this month. In the C Division where, the hill country teams are involved will kick off with DMMC taking on Uva SC.
The prestigious President's trophy will be played from August. 6-15.
It is going to be another action packed rugby season this year and some swashbuckling rugby will be in store.
---
Indians in a close victory
SHARJAH, United Arab Emirates, April 17 (Reuters) - India produced a disciplined performance to expose New Zealand's brittle batting line-up to win the opening match of a three-nation limited overs tournament by 15 runs on Friday.
Defending a modest total of 220, the Indians bowled with fire in their bellies to reduce New Zealand to 33 for 3 after eight overs before captain Stephen Fleming struck a stylish 75 from 97 balls.
Fleming and Craig McMillan put together 85 for the fifth wicket and New Zealand needed 51 runs from the last 11 overs with five wickets to spare.
But the Kiwi tail buckled in the face of disciplined Indian bowling, with Ajit Agarkar taking four for 35 in a spell that earned him man of the match award and New Zealand slumped to 205 all out.
Earlier, India built their innings around a fine century from Saurav Ganguly, whose 105 was his third century in 59 one-day internationals. The left-hander hit eight fours and one six during his 140 ball knock and shared a 76-run partnership with Sachin Tendulkar, who scored 40, and a 72-run partnership with Mohammed Azharuddin. Cruising at 148 for two after 31 overs, New Zealand's bowlers tore through the final eight Indian batsmen for just 72 runs. Dion Nash was the pick of the bowlers, taking four for 38.
---
Merc. 6's on April 25, 26
The 22nd annual Mercantile Six-a-side cricket tournament, conducted by the Mercantile Cricket Association and sponsored by Union Assurance Ltd., will be held on April 25 and 26.
This tournament will be played at four venues, the MCA, Health grounds Castle Street, Wesley College grounds and St. Joseph's. Fifty teams will be in the pray. Trico Maritime are the defending champions with Coats Tootal runners-up.
Some of the teams participating are: Hatton National Bank A&B, Maritime Holdings A&B, John Keells A&B, Commercial Bank A&B, Pelwatta Sugar A&B, Union Assurance A&B, Sampath Bank A&B, East West Information A&B, Acess Group A&B, Tristar Apparels A&B and Singers A&B.
Other than the champions and runners-up trophies, awards will be made to the Best Batsman, Best Bowler, Best All-rounder and most number of sixes.
---
Front Page| News/Comment| Editorial/Opinion| Business| Plus | Mirror Magazine