---
PC elections
UNP decides on four, three more to go
By Dilrukshi Handunetti
With the stakes and backstage wrangling for office hotting up for the coming Provincial Council Elections the main Opposition United National Party has reportedly come to a consenus on four chief ministerial candidates — but three others are still open.
Party sources at UNP headquarters Sirikotha said it was likely that Colombo's Mayor Karu Jayasuriya would be the candidate for the Western Province, Percy Samaraweera for Uva, Nimal Bandara for North Western and Jayasena Dissanayake for the North Central Provinces.
While Mr. Jayasuriya is moving from municipal to provincial politics, the others are incumbent chief minsters. They said the race was still open for the southern, sabaragamuwa and central provinces with most attention focussed on the hill capital where chief Minister W.P.M.B. Dissanayake is facing a vote of no confidence this week.
But party sources said the NDUNLF member Keheliya Rambukwella was also being mentioned in the Chief ministerial stakes, but he will have to join the UNP if he wishes to get the top slot.
---
Tiger TV on again: army jams telecast
Government may start Tamil entertainment channel for north
Security forces in Jaffna have thwarted an attempt by the LTTE to beam television transmissions to the peninsula.
The move was discovered on Friday when hazy pictures of a popular Tamil film appeared on the television screens. Immediate checks had revealed that the LTTE was beaming the signals from an unknown location in the direction of Pooneryn.
The matter was immediately brought to the attention of the Security Forces Commander, North, Major General Lionel Balagalle. He ordered that the broadcast be jammed and action taken to locate the point from which they were being made, an Army Headquarters source told The Sunday Times yesterday.
For obvious reasons he declined to spell out the measures taken to prevent any further broadcast.
However, the source said the LTTE plans were to re-establish what the LTTE called Nidharshanam, its limited range TV station which functioned in the peninsula when the area was dominated by it.
Intelligence officials believe the equipment has now been shifted to an area in Pooneryn from where attempts had been made to resume TV broadcasts. They said the modus operandi was to run popular Tamil films to draw viewer interest. Thereafter they would broadcast propaganda material including its own news programmes.
Whilst preventing such LTTE moves, security forces have sought the help of relevant government agencies to establish a Tamil entertainment TV channel for the benefit of residents in the peninsula.
---
US calls for all-party peace talks
Ready to offer help, if requested, say special envoys
By Imran Vittachi
Visiting United States special envoys yesterday called for a negotiated end to the ethnic conflict, but said it was up to the concerned Sri Lankan parties to seize the initiative.
Bill Richardson, the U.S. Ambassador to the United Nations, and Karl F. Inderfurth, the Assistant Secretary of State for South Asian Affairs, told a news conference in Colombo that Washington would consider helping to bring about a political settlement to the 15-year old war, provided the Government, the LTTE and others make the first move towards peace and ask for American or international mediation.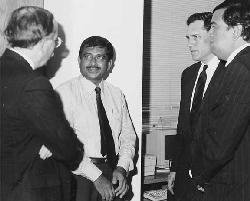 "We don't get involved in mediation unless we are asked," Mr. Richardson said, after meeting with President Chandrika Kumaratunga for 90 minutes and discussing a range of bilateral and multi-lateral issues. "We believe this is a decision and an outcome that Sri Lankans need to settle."
Mr. Inderfurth, who accompanied Ambassador Richardson on his day-long stop-over in Sri Lanka urged an end to the war, adding it was up to the LTTE — branded last October by Washington as a terror group — to lay down its weapons first.
"We very much want to see the conflict brought to an end," Mr. Inderfurth said. "We urge the LTTE to come to the table, put down its arms, and see a peaceful resolution of this conflict."
The special envoy, in elaborating on greater US engagement and US concerns about stability in South Asia, also reiterated Washington's backing of the Government's proposed package for constitutional reform.
"We believe that the Government is on the right track with its devolution proposals, and we encourage all democratic parties here to engage constructively on proposals for constitutional reform," Mr. Richardson said.
The envoys also called on the main opposition UNP to foster a bilateral approach to the peace equation by working with the government towards resolving their differences over the package.
"We are hopeful that the opposition will look again at this reform proposal and deal with it constructively," Mr. Inderfurth said. "That is terribly important."
Ambassador Richardson also spoke at length about American concerns over human rights abuses and media harassment in Sri Lanka, mentioning specifically the case of The Sunday Times Consultant Editor Iqbal Athas.
Mr. Richardson said: "Simply put, the present Government, under exceptionally difficult circumstances stemming from Sri Lanka's ethnic conflict, has done much over the past year to improve the human rights situation here.
"While the Government should be applauded for its efforts, much still remains to be done in terms of aggressively pursuing cases of human rights abuse and prosecuting those responsible. Everyone is a loser when human rights abuses occur, especially if they go unpunished.
"Tamils and other minorities must have equal rights both in law and in practice..."
---
Horror-scopes for Lanka
By Chris Kamalendran
The planetary changes on Friday are expected to bring a mixed bag of results — adverse effects on the country and dramatic political changes, leading astrologers predicted.
Sri Lanka's lagna (ascendant) is Aquarius and its Lord is Saturn. Saturn's transit from Pisces to Aries occurred on Friday at 1.29 p.m.
Severe droughts and crop shortages have been predicted by the astrologers in the coming few months. The period will also not be favourable to opposition parties including the UNP and even the LTTE.
Astrologer Kingsly Goonetillake said: "This planetary change is taking place after 30 years.
When the last planetary change took place in 1969, the then ruling government (UNP) was powerful. But a year later it was brought down and the United Front coalition Government came to office. But its victory was followed by the JVP insurrection".
"This period will continue for two-and-a-half years," he said.
Well known astrologer Daniel Gamaariya said the agricultural sector especially would be affected in the next two years and women would suffer from many illnesses. He said that adverse effects will be experienced throughout the world.
He explained that whenever there had been a similar planetary change it had been a bad period. He said after a similar planetary change in 1909 there was a war. In 1939 when the change was experienced the Second World War began and again following the 1969 planetary change, the JVP made an attempt to overthrow the then government.
Ven. Waskaduwe Vipula Kanthi Thera of the Thala Rukshanaramaya in Waskaduwa who is known for his skills as an astrologer has a different point of view on how the planetary changes would influence Sri Lanka.
He said the economy would improve during the next few months and the planetary changes would be generally favourable to the country.
T.M. Senaratne, another leading astrologer, said Sri Lanka would be under the "Neecha Grahaya" which is bad for the country.
---
Richardson, Athas meet on media freedom
As an expression of US support for the free media in Sri Lanka, the visiting American special envoy Bill Richardson yesterday held a meeting with The Sunday Times Consultant Editor and Defence Correspondent Iqbal Athas.
On the eve of Mr. Richardson's arrival, the US embassy in Colombo had contacted Mr. Athas to tell him that the roving diplomat who is on a special mission for President Clinton wished to meet him.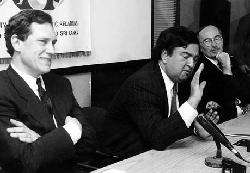 During a 15-minute meeting at the USIS office, before addressing a press conference, Mr. Richardson told Mr. Athas the Clinton administration was concerned about recent attacks and threats against him and other journalists in Sri Lanka.(See pictures on page 2) Mr. Athas told the US envoy he felt he had been targetted mainly because he was exposing corruption and malpractices in military procurements.
President Clinton's special envoy asked Mr. Athas whether he felt safer now and the journalist said the situation was better.
Mr. Richardson said he had raised such human and fundamental rights issues at a 90-minute meeting he had earlier in the day with President Kumaratunga.
Also present at the Richardson-Athas meeting were Karl Inderfurth, the US Assistant Secretary of State for South Asian Affairs and US ambassador to Sri Lanka Ambassador Shaun Donnely.
On a warm note, though in a lighter vein, the special envoy asked Mr. Athas whether he was known among friends and colleagues as 'Iqi.' Mr. Athas asked how he knew that and the envoy quipped he had figured that out.
At the news conference later, the America's UN ambassador who has cabinet-level status in the US administration referred to the meeting he had with 'Iqi.'
He said, "The US is concerned about reports of media harassment, and we welcome the Sri Lankan government's efforts to identify those responsible for such abuses. It was my distinct pleasure to meet a few minutes ago with Iqbal Athas who has had some unpleasant experiences in this regard as you all know."
---
Millions paid as rent
Ghost office for two
Ever heard of paying Rs. 8.5 million a year as rent for an office just for two — and that too of a now defunct state organisation?
The National Development Trust Fund (NDTF) which was wound up last January, however is still in operation with two officers on the job.
To accommodate these two officers, the government had thought it fit to rent out an office at the Twin Towers in Fort at a colossal Rs. 8.5 million upto December this year, a Finance Ministry official said.
Prior to its closure, the NDTF had its offices at Unity Plaza at Bambalapitiya.
The official said the sudden closure of the NDTF which had been set up in 1991 had resulted in the loss of a World Bank loan of Rs. 1.3 billion while some 160 employees were thrown out.
Vehicles belonging to the fund are now being used by other parties while queries raised by the Auditor General on these and other matters have run into a blank wall.
---
News/Comment | Editorial/Opinion | Business | Plus | Sports | Mirror Magazine