---
Four committees for rural cricket development
By M.Ismeth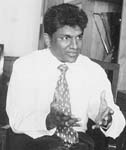 The new President of the Board of Control for Cricket in Sri Lanka Thilanga Sumathipala in an exclusive interview with The Sunday Times at his office at the Board said that he had plans to set up four National Development Committees in four regions. They will be each given Rs. 18 million this year for the development, promotion and encouragement of cricket in the outstations. The regions are as follows: Galle, Matara, Hambantota with Galle as the centre. Anuradhapura, Polonnaruwa, Kurunegala with Dam-bulla as the centre. Kandy, Nuwara Eliya, Kegalle, with centre in Kandy. Moneragala, Ampara, Badulla centred in Badulla. Lastly Chilaw, Gampaha, Kalutara, Ratnapura, Colombo.
Under the new plan the four committees will be given the authority to utilise the Rs. 18 million given to each of them for the preparation of turf wickets, turf side wickets, concrete side wickets, matting wickets, good score boards and grass cutters etc.
These committees will report directly to the Board about the progress they make. Indoor nets and a fully equipped office will be set up in the four regions complete with fax machines and telephones.
Q. What about the development of grounds in the outstations?
A. The committees will have to look into all these matters. Of course, we will be building a stadium in Galle and Dambulla and restructuring the Asgiriya Stadium.
Q. Will boys in the outstations get an opportunity of exposing their talents?
A. Yes, there will be tournaments including the four regions, at Under 15, 19 and Over 19 levels. This would bring out the hidden talent in the rural areas. We do not want talented youths to get the idea that they cannot get to the top in cricket. Our main aim is to scout for talent and give them the necessary training, to develop that talent.
Q. Will you be setting up a cricket academy?
A. We will send an official to England, South Africa and Australia to study how the cricket academies in those countries function. I have asked for a project report to be submitted by June 1.
Q. What have you got to say about the WorldTel alleged scandal?
A. The Justice Ministry will handle the matter.I have requested the Attorney General's Department for their advice. If the contract could be cancelled, we could call for fresh tenders. I am also concerned about getting the 2.5 million US $ for our Independence Cup in June. This will be sufficient for our Development Programme for the next couple of years.
Q. Are you in favour of clubs engaging foreign players like in rugby?
A. Yes, If the clubs can afford foreign players they are welcome to engage one or two at the most.
Q. What are your other plans?
A. I have set up a Cricketers Benefit Advisory Committee headed by Michael Tissera, with Ranjit Fernando, Harold Andradi and Saliya Ahangama. There are about 172 cricketers of the pre and post test era, who have given their bit for the country. This committee would look into the possibilities of arranging benefit matches for them.
There is also another committee which I have appointed who will look into the laws of the game whenever there are changes made by ICC. They will study them and report to the Board. This Committee will also look into the timing of future 'A' tours as well.
The committee will comprise Abu Fuard, A. Polonnowita, Du-leep Mendis, Arjuna Ranatunga, Ranjan Madugalle, K.T. Francis, Saliya Ahan-gama, Dhammika Ranatunga, Roy Dias, and Dr. Ranjith Fernando. This is the first time ever such a committee is set up, Thilanga Sumathipala said.
---
Rasanjali leads Lankan women
By Bandula Jayasekara
Rasanjali Silva has been appointed the new Sri Lanka women's cricket captain in place of Vanesa Bowen who had not attended regular practices due to pressure of office work. However, she will play for the women's one-day internationals and one four day match this month.
Shaiza Khan who was the first non British captain of the University of Leeds, and a pioneer in introducing women's cricket on national and international levels, leads the strong Pakistan women's team.
The venue for the 3 one-dayers has been changed from Radella to Colombo. The first match will be played at the SSC grounds on April 11. The remaining two matches will be played on April 13 and15. The four day match will be at the Colts Cricket Club, Grounds.
---
Traditional rivalry ends in favour of Bens
By Marlon Fernandopulle
An entertaining 209 run stand for the 4th wicket between Pradeep Hewage (111) and Rally Tissera helped St Benedict's to beat traditional rivals St Joseph's by 49 runs in their annual limited over encounter, and regain the Bishop Bonjean Memorial Trophy, at Kotahena yesterday.
The two former captains Hewage and Tissera came to the wicket when St Benedict's were tottering at 28 for 3 wickets, after being invited to take first lease of the wicket. The pair showed little respect for the Josephian bowlers as they were hit to all corners of the field. Hewage completed a glittering century in 120 balls with the help of 9 boundaries and 2 sixes, while wicket-keeper Tissera scored a gritty 92 which included a six and 8 boundaries, as the home side finished on an imposing 264 for 9 in 50 overs.
Needing to score over five runs an over, the Josephian openers Ian Daniels (80) and Johannes Jayasuriya (36) gave their side a solid start, adding 82 runs for the first wicket in 16 overs. But with the exit of Jayasuriya the Josephians failed to keep up the momentum as the Benedictines began to tighten the screws. Daniels struck a run a ball 80, but failed to get any support from his team mates as the Josephians were eventually bowled out for 215 in the 47th over.
It was the second win for St Benedict's in the short series which now stands at two each.
St Benedict's - 264/9 in 50 overs (Rally Tissera 92 Pradeep Hewage 111 Roshan De Silva 2/62 Danuka Pathirana 2/52)
St Joseph's - 215 all out in 46.5 overs(Ian Daniels 80 Johannes Jayasuriya 36 Asiri Gunathileke 3/42 Shahein Perera 2/14 Pradeep Dassanayake 2/35)
Man of the Match : Pradeep Hewage (SBC)
Best Batsman : Rally Tissera(SBC)
Best Bowler : Shahein Perera (SBC)
Best Fielder : Malka Fernando
---
Mr. Novices on April 18
The 18th 'Mr. Novices' Bodybuilding Championships conducted by the Physical Culture Association of Sri Lanka will be held on April 18 at the National Youth Centre Hall at Maharagama at 5 p.m.
In the morning of April 18, at 8.30 a.m. a cricket match will be played between two teams drawn from actors and actresses and others.
---
Talking Point
Bogus claim
Who is this leading Cricket Board official who has promised to repay a big sum of money to the claimer from Kandy on expenses incurred in the last World Cup matches.
Earlier this request was turned down by the Exco since no receipts were attached with the claim.
On the warpath
A leading athlete in his day and an official now, is on the warpath, abusing whoever he meets for his defeat. - by Rover
---
Coca-cola knockout final at SSC
S. Thomas' has the edge over Ananda
By Saif Izzadeen
Cricket lovers should have not wished for a better feast, and a finale as the curtain comes down on the inter school cricket season this year, as S. Thomas' Mt. Lavinia go out favourites against Ananda, in the Coca-Cola bottlers trophy inter school knockout cricket tournament final, at the SSC grounds today.
it will be a match where there will be no quarter asked nor given with both teams going all out to win the title .Both teams will be at full strength and a keen contest is in store. S.Thomas' will be led by Sri Lanka youth player Upeka Fernando and wicketkeeper batsman Lahiru Chaturanga will leading the Anandians
S.Thomas' will be open their batting with Upeka Fernando who is in cracking form and Sidath Medonza. The opening pair will be supported by Janaka Siriwardena, Nilanka Pieris, Sumudu Peiris, Meshad Peiris, Zakir Kanake.
The Mt.Lavinia school's bowling attack will be spearheaded by Sri Lanka youth player Naren Ratwatte and will be supported by Lakmal Fernando, Sumudu Peiris, Meshad Pieris and Nilanka Pieris. S.Thomas' will be looking for their skipper Upeka Fernando to make a big score. Ananda who will be playing in the finals after lapse of two years will be firing on all cylinders to clinch the title. Last year St. Joseph's carried away the title beating Isipatana.
Ananda will open the batting with skipper Lahiru Chaturanga and Lakshan fernando. Mutumu-
daliage Pushpakumara,Sri Lanka youth player Thilina Kandhambi and Jithendra Perera will support the opening pair to pile up a big score.
Akalanka Ganegama will open the attack for Ananda and will be supported by the deadly spin twins Sajith Rupasinghe and Nuwan Jayawardena. There will also be some useful bowling by Maduranga Mallawarachchi and Mutumudaliage Pushpakumara, If the Anandians are to have any chance of winning they must quickely get rid of Upeka Fernando and Nilanka Pieris who are two players who could take away the game from them.
It will be a battle royal between two evenly balanced sides and the match should produce exciting fare.
---
Natasha, Gheffari win titles in Pentathlon

Natasha Kodituwakku of St Bridget's and Gheffari Dulapandan of the Royal College Union emerged champions in the women's and men's open swim races at the 23rd Aquatic Pentathlon Championships concluded at the Sugathadasa Indoor Stadium Pool.
Finishing second in the men's section was Gihan Ranatunga of the Asian International School with Marlon S. De Lano third.
Melanee Baumann of the Colombo International School was second in the women's section followed by Theekshana Ratnasekera of Musaeus.
Mahamaya Girl School with an aggregate of 113 points won the girls' overall championships with St Bridget's second with 27 points and Visakha third with 25 points.
The boys' championships was won by Royal with 49 points with St Joseph's second with 36 points and Ananda third with 32 points.
The age group champions are:
Girls under 10: Hasithi Dissanayake (Mahamaya) 1152 points. Uma Kavya Dharmadasa (Mahamaya) 1132 points. Tharaki Siyaguna (Bishops) 948 points.
Boys under 10: M. I. Fahim (S. Thomas' Pre) 1057 points. Mangith Thamanegama (S. Thomas) 946 points.Bilal Hassen (Royal) 928 points.
Girls under 12: Sharma Dissanayake (Mahamaya) 1709 points. Nimendra Mawalagedera (Mahamaya) 1414 points. Gayasiri Rishanthi (Sujatha BMV) 1370 points.
Boys under 12: T. Siri Chandrasekera (Royal) 1104 points. C. L. B. Wijeratne (Trinity) 1050 points. Saliya Gunaratne (Royal) 945 points.
Girls under 14: Zoe Sandya Veera (Anula Vid) 2164 points. Menaka de Silva (St Bridget's) 2035 points. Shanika Wimalnatha (Mahamaya) 1998 points.
Boys under 14: R. T. Perera (Ananda) 1740 points. Akahayen Rajasingham (Otters) 1533 points. Naveen Karunaratne (Wycherley) 1482 points.
Girls under 16: Ravika Fernando (Mahamaya) 2223 points. Harini Jayasekera (Visakha) 2180 points. Amodika Sumithrachchi (Mahamaya) 2017 points.
Boys under 16: Rukshantha Fernando (St Joseph's) 2296 points. Jayamal Wijeratne (Ananda) 2237 points.
Girls under 19: Niluka Fernando (Mahamaya) 2024 points. Tharindu Hettiarachchi (Gothami BMV) 1904 points. Amali Perera (Bishops) 1795 points.
Boys under 19: Yasanka Samarawickrema (Trinity) 2477 points. Ajith Weerakody (Dolphin Austic Club) 2306 points. Gayan Bogollagama (Asian IS) 2268 points.
Women's open: Natasha Kodituwakku (St Bridget's) 3019 points. Melanee Baumann (Colombo IS) 2669 points. Theekshana Ratnasekera (Musaeus) 2642 points.
Men's Open: Gheffari Dulapandan (Royal UCA) 3301 points. Gihan Ranatunga (Asian IS) 3093 points. Marlon S. Delano (St Joseph's) 2768 points.
---
Sri Lanka prepares to win one–dayers
By Marlon Fernandopulle
Battered and beaten in the two tests, Sri Lanka prepares for another showdown against the South Africans as they take on the hosts in a Tri-nation limited over tournament game in Johannesburg today, and begin their quest to clinch the championship. Smarting from their lacklustre performance in the longer game, the Lankans will be eager to prove their dominance in the One-dayers and take sweet revenge from the South Africans.
The world champions have it in them to beat any team in the One day version. However, the South Africans will not be easy prey as they have always been one of the better sides. Especially after their triumph over the Lankans, the South Africans will have their tails up raring to rub salt to the Lankan wounds.
Sri Lanka will no doubt be looking to redeem lost prestige on the tour. They need a victory today to lift their morale for the rest of the Triangular tournament and be in contention for a place in the finals.
The World Champions will once again turn to their batsmen to bring them success in the one-dayers. Although most of them failed to deliver the goods in the Tests, Sanath Jayasuriya, Aravinda De Silva, Arjuna Ranatunga and Romesh Kaluwitharana will be hard pressed to make sizeable contributions with the bat.
Jayasuriya in particular is expected to pulverize the South African attack in the early overs to pave the way for the rest of the batsmen. However the left hander will have to mix caution with aggression and be extra careful against the South Africans, who are certain to have done their homework on Jayasuriya. They will be keen to see the back of the left hander in the initial overs, before he gets destructive.
With one dayers becoming more a mind game today, the Lankans will have to do a lot of thinking and planning in all aspects of the game if they are to get the better of Bob Woolmer's South Africans.
The former England opening batsman is renowned for his coaching techniques and planning strategies which have been largely responsible for the South Africans' success.
It is very likely that the hosts will rest two of their main strike bowlers, Allan Donald and Shaun Pollock for today's game. However they still have the ammunition to trouble Lanka's batting. On the other hand Ranatunga is also burdened with a few injuries to his bowlers and will turn to the spin of Dharmasena, Muralitharan, Jayasuriya and De Silva to see through the 50 overs. The Lankan spinners will have to maintain a tidy line and length if they are to contain the home sides batting.
Today's game is a day game and begins at 2.30 p.m. local time.
---
Chamara is best batsman
Chamara Soysa of Dharmasoka College Ambalangoda has been picked as the best batsman in the Coca Cola Inter-School cricket season by the Sri Lanka Schools Cricket Association. Sajith Rupasinghe of Ananda has been picked as the best bowler with Sanjeewa Devapura of Dharmapala the best all rounder, in group A.
Chamara Silva of Royal, Panadura, has been picked as the best batsman in Group B with Ranil Dhammika of Lumbini MV as the best bowler, Mahesh Palliyakkara of St Anthony's, Katugastota, winning the best allrounders award.
C. Kumarage of Holy Cross College, Kalutara, has been chosen as the best batsman and best allrounder in Group C with P. Wickremasinghe of Bandaranayake MMV Gampaha winning the best bowlers award.
---
Ananda, Lumbini shock favourites
By Saif Izzadeen
In a tournament where upsets were galore, Ananda 'A' and Lumbini 'A' humbled S.Thomas' 'A' and Trnity 'A' respectively. These matches took pride of place as the quarter-finalists were selected in the Inter-School ten-a side rugby tournament. Matches were worked off at the Royal and Thurstan grounds yesterday.
The tournament is conducted by the Sri Lanka Schools Rugby Association and sponsored by Milo.
Two top rugby playing schools Trnity 'A' and S.Thomas' 'A', unable to qualify for the Cup quarter-finals, took spectators by surprise. However, Trinity and S. Thomas' redeemed some of their lost prestige when they booked their places in the Plate quarters.
Ananda 'A' vs Isipatana 'A', Trinity 'A' locking horns with S.Thomas' 'A' and D.S.Senanyake 'A' scruming down with St.Joseph's 'A' will be three interesting quarter-final matches in the Cup, Plate and Bowl respectively.
The final day of the tournament commences today at the CR and FC Grounds. Matches will start at 8 a.m.
The Line Up: Cup - Isipatana 'A', Ananda 'A', Sri Sumangala 'A' Kandy, Kingswood 'A', Zahira 'A', Thurstan 'A', St,Sylvester's 'A' and Lumbini. Plate - Trinity 'B', S.Thomas' 'A', Dharmaraja 'A', Isipatana 'B', S.Thomas' 'B', St.Anthony's 'A', Nalanda 'A' and Trinity 'A'. Bowl - Mahanama, Vidyratha 'A', St.Thomas' Matale, Science 'A', Prince of Wales 'A' and Carey 'A', D.S. Senanayake 'A' and St.Joseph's 'A'.
---
HNB triumph
By Bernie Wijesekara
The Hatton National Bank 'A' team, comprising some of Sri Lanka's 'best sevens' players in their fold, outplayed John Keells by 22 points to nil, to win the championship final, in the inaugural Mercantile ten-a-side rugby tournament, at the CR and FC grounds yesterday. It was organised and sponsored by Hatton National Bank.
At the start of the game, it turned out to be an evenly contested match. John Keells were dominant at first, but were unfortunate in having to lose out on some good chances.
However, HNB brought things under control and led 10-nil, with two converted tries by Anura Dhammika.
In the second half, Ruski Faiz broke through the Keells' defence to score the third try. Sudath Sampath added icing to the cake, after hobbling over to pick up his second try of the game.
Aitken Spence, led by Roshan Opatha defeated Seylan Bank by 26 points to 5. Sampath Bank skipper Asela Weerasinghe displayed outstanding ball-passing skills, and was influential in their 22 points to nil win over Tri-star to bag the Plate.
The inaugural ten-a-side rugby tourney, a brainchild of HNB Sports Club's President, Chris Obeysekere and Vice-President Prins Nayagam, proved an instant success.
Mr. Rienzie Wijetilleke, Managing Director HNB, was the Chief Guest, and Upali de Silva, Senior Deputy General Manager, Admin. and Marketing, was the guest of honour and presented the main awards.
---
More Sports * Nuwara Eliya horse racing in 'hot pursuit' * Weaver weaves a magic spell in the 'Lincoln' Handicap * Army Service Corps takes rugby title * President's vs Mahanama 10th limited-over today * Viraj and Pushpa crowned king and queen of the sea * The Test drubbings in SA: Some food for thought
Front Page| News/Comment| Editorial/Opinion| Business| Plus | Mirror Magazine