---
Critics beaten by Mirage
Gamini Akmeemana, a journalist attached to the Midweek Mirror won the 1997 Gratiaen Award for creative writing in English for his manuscript Mirage. Rajpal Abeynayake had a chat with Akmeemana over a pint of bitter at a Colombo water-hole last week
Akmeemana, shod in sneakers and sport ing a coloured shirt is incongruous even in a journalistic establishment where there is no real sartorial consensus.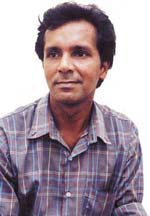 But there it is. A day in the life of Akmeemana starts at Eliot Place, Colombo 8, which the man swears is not elitist. ( Stuff for a novel here — he says the beggars use the Eliot Place pavements as a location to ease themselves, euphemism used being mine….)
Akmeemana who wrote "Mirage" based on the life of Rajini Thiranagama, a writer and activist who was shot dead while riding a bicycle home in Jaffna, wrote his Gratiaen award winning novel (still in manuscript ) in a four month marathon.
He calls others hardworking, but Akmeemana himself is a fairly disciplined maverick.
But as mavericks go, Akmeemana also would remember that he paid a price for being on the outside looking in.
Quintessentially, the man is an artist, though he started life as a scribe almost 16 years ago in the Jordan Times. But, then he took to photography, and started living the life of "clean suit empty pocket''.
That did not sit well with one of Gamini's previous bosses, and once he was informed that photographers are not meant to be writers. That meant that Gamini was toting camera for a longtime, remaining from the outside looking in, or rather from the darkroom looking into the light.
The editorial ostracism he faced was a spur for his literary long march.
Gamini was not a renegade; so he was not used to swimming against the tide. The alternative was to become a recluse of sorts, and to channel all the angry young man energy into novels, scripts and short stories.
Anyway, Gamini crossed that sort of hump long ago, and today, he probably could turn his nose up at some of the scribes, but, that necessarily brings him into conflict with different realities. Akmeemana has to contend with the angst of being the writer in a milieu in which writing in English is appreciated in an ambivalent sort of way at best.
For instance he is a free spirit, weighted down by the writers market. He is not, for example, ingratiating towards the people who bestowed the Gratiaen award on him, contending that it was unfair for them to withhold the money until he got his book published. He also says that they do not take any of the trouble that they should to see that the book is published.
In a way, it's good that there is this angst in Gamini's life, as he is a person who has had to rely almost entirely on imagination for his literary effort. Mirage for instance empathizes with a situation in the North, to which he cannot relate in any direct and tangible sense. (Gamini grew up in the South, going to school in Sri Sumangala before graduating to the more urbane and sophisticated Ananda College.) Says he that "life finds one's own way of saying things'' while asserting that he enjoys Hemingway and Fitzgerald, but not necessarily contemporary authors who have to rely more on form rather than content for their literary jollies.
That's a new breed of writer, and in a environment which generally throws up Mercantile executives who specialise in mouthing rugger-bugger inanities, being a writer who imagines almost everything he puts down on paper is an unusual achievement.
Nothing succeeds like success can describe Akmeemana 's literary success in a more than cliché kind of way. That's probably because he doesn't put his story, his adolescent experience and his entire life's essence into the story he writes. Writers who do that usually write a good first novel and crash badly on the sequels.
In Akmeemana 's case, he won the Arts Council Award many times, even though the Gratiaen is the most respectable feather in his cap because the Arts Council award was a token prize that was shared among a generally circumscribed literary circle, even though Gamini managed to get into that inner circle as well.
Gamini has, it has to be mentioned, beaten the critics also in a more concrete kind of way than most would first imagine.
Shortlisted along with him for the Gratiaen this year was one of Colombo's oldest and respected literati, who had the honour of a star studded book-launch and a review by a faithful Editor fan. Gamini's book was unobtrusive, a manuscript which hadn't even bloomed into a book when it won the prize over our critic's much ballyhooed effort.
Scribes would be proud of him, and even old bosses might be repentant, but Gamini's challenge now is to enliven the English literary milieu here, which is plodding on, apathetically almost. Gamini does not look like a mover and a shaker – but he can do it.
His style is to come in from the cold.
---
More Plus * Swinging lemurs of rustic paradise
Front Page| News/Comment| Editorial/Opinion| Business| Sports | Mirror Magazine