---
Perils on the Peak
Despite all the reverence attributed to Sri Pada and the pilgrimage, the symbol of unity of the country does have a dangerous side to it. Imran Vittachi reports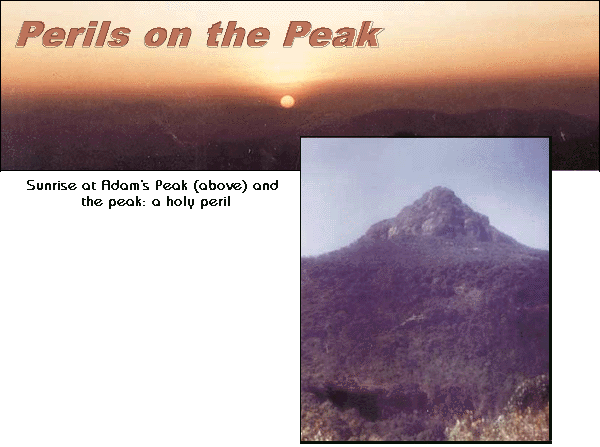 Going up and down God's staircase can be hell.
The path to the top of Adam's Peak is paved with hazards to the body and spirit.
Its countless steps aren't much less punishing, either, on the way down. As statistics show, they can even be fatal.
Newcomers who dare chance their fate at the height of the pilgrimage season — which runs from Poya day in December until the arrival of the southwest monsoonal rains in May — need to be warned about the risks. However slight they may prove to be, when measured against the sheer numbers who swarm there over that six-month stretch, those who have never climbed the 2224-metre high mountain should come ready to meet their maker.
According to local estimates, up to 20,000 people scale Adam's Peak on weekends during the pilgrimage season. In one week alone, when The Sunday Times visited in late February, a reported 300,000 swooped down on the place, once described by English writer John Still as "one of the vastest and most reverenced cathedrals of the human race."
But the peak — revered for centuries by Sinhala Buddhists as Sri Pada (Sacred Foot), by Tamil Hindus as Sivanolipatha Malai (Lord Shiva's Footprint on the Mount) and by Sri Lanka's Muslims as Al-Rohun (Soul) — continues to claim a steady death toll among its many visitors.
On average, at least five people reportedly die on the peak per pilgrimage season. In the 1993-94 season alone, according to the Grama Niladhari at nearby Maskeliya, up to 20 people died from physical stress and exhaustion, catching cold at the summit after sweating it out during the climb, or merely falling to their deaths.
"This season a 53-year old Frenchman died there of a heart attack," Ravi Weeraperuma told The Sunday Times.
Like the yellow butterflies that descend on Adam's Peak to die there in waves, the odd jilted lover goes there too to end it all, Mr. Weeraperuma added.
But, according to shopkeepers stationed along the Hatton Road path, others, who rush down the mountain after sunrise, sometimes trip on the poorly maintained steps smashing their heads against stones or tree trunks. By the time they are evacuated to the nearest hospitals in the district, most of them have died from haemorrhages.
When the Times visited, no first aid stations were seen anywhere, an observation corroborated by shopkeepers' reports, despite official contradictions from local and national governmental authorities.
For those not familiar with Sri Lankan languages, there is the added danger of getting lost on Adam's Peak. After all, directions are signposted only in Sinhala or Tamil.
On the same day, two French nationals went missing for 16 hours. Last spotted by this reporter at around 7:00am, the tourists — after having watched as the peak, with the sun rising behind it, cast its eerily triangular shadow on the southwestern plains — accidentally took the Ratnapura road path. It is said to be even more gruelling and longer than the approach from Hatton via Dalhousie, which takes around three hours in both directions. According to the manager of the bungalow where they were lodged, the wandering tourists finally made it back 22 hours after setting off for the summit.
Apart from the physical dangers, those who venture to Adam's Peak for the first time, in search of some inner peace, can banish that illusion. They are in for a shock unless their spirits are so resilient that they can rise above the filth, smells, eyesores, and noises from which there seems to be no escape, and which threaten to turn Mr. Still's mountain-cathedral into a dump.
During the trek from Dalhousie, human pollution and excrement virtually lined the path to the summit. It only got worse at the top, where a pile of garbage — located square in the middle of the cramped temple-observation area — gave off a stench. Not one garbage bin could be seen.
Governmental and local authorities, however, say that action is being taken to clean-up this man-made mess.
Buddha Sasana/Cultural and Religious Affairs Minister Lakshman Jayakody, contacted by The Sunday Times, said his department would move on this, since, apparently for the first time, a complaint was being made about pollution on the peak.
His commissioner of Buddhist affairs, Mr. Jayakody declared, would get in touch with the Ratnapura Government Agent's office and "immediately send instructions to see that it is cleaned."
The Minister added that it costs up to Rs. 6mn annually to clean up other historical sites in Sri Lanka.
"At all the Cultural Triangle sites, the cleaning of garbage is the biggest problem we have," he said.
As for the temple and district governmental officials, tasked with preparing and maintaining the peak for the pilgrimage season, Ratnapura GA Kusuma Wilegoda said they were working with voluntary organisations to clean the peak on a monthly basis.
"Normally there are 15 labourers and public health workers who collect garbage from the bins every month," she said.
Added to the unpleasant reality of the pollution are noisy crowds, drawn from a young, reckless generation who now dominate this pilgrimage, transforming it into a Sri Lankan version of a rock 'n' roll festival.
Some of them, who were obviously drunk, wolf-whistled at women passers-by. This was not surprising. The previous day, on the bus over from Hatton, for instance, a loud group of Baila players could be seen retrieving two bottles of arrack from an overhead compartment, after the passengers passed through a security check.
Others were stoned. On at least two occasions, youngsters approached this reporter, offering to sell him marijuana.
"Want grass?" a hustler boldly asked.
The Adam's Peak of today is not entirely bleak. When this reporter visited, traces of another world could be seen in the faces of the silent ones. From an older generation, they quietly and stoically went about the business of completing their personal pilgrimages.
"It is a bit difficult to climb," said P. Mannatunga of Kandy, a woman in her sixties, who was undertaking her 21st pilgrimage. "But it's devotion that keeps me going and relieves the pain."
K. Peter, 70, from Kelaniya, said he was blessed, having walked away unscathed from a near fatal road accident that morning.
"Our minds were clear coming here," he said. "That helps a lot." But not all the pilgrims were so lucky. Soon after sunrise on the morning of February 23, an unidentified man died instantly, when he stumbled and smashed his head against a rock, while jogging along a flatter section of the mountain trail.
His crumpled body lay there bleeding for all the world to see. He had met his maker.
---
Front Page| News/Comment| Editorial/Opinion| Business| Sports | Mirror Magazine