ARTS
---
That voice, those songs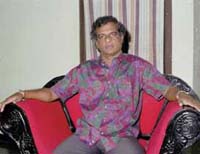 The year was 1969. He was a smart young man of 25, fond of music. It was the heyday of lyricist Karunaratne Abeysekera. Musician Mohamed Sally was equally well known. The young man sang a song written by 'Karu', as he was fondly known, set to the music of maestro Sally. The words began thus: 'Oruwaka pavena re gana andure'. The song was an instant hit. Singer Milton Mallawarachchi was born.
For the past three decades his was a household name. 54 years was not an age for him to say goodbye. But he did last Tuesday leaving behind a voice which fans will continue to hear. Hundreds of memorable songs sung in a style of his own.
'Poojithayo' directed by W. A. B. de Silva was released in 1971. With the film, Milton became a playback singer. He sang in over a hundred films partnering the popular songstress, Angeline Gunatilleka in most of them.
At the 1984 Sarasaviya Film Festival, he was adjudged the best playback singer for 'Kendan Yannam' which he sang in Sena Samarasinghe's 'Aethin Aethat' (Neela Wickremasinghe became the best female playback singer for another song in the same film while Ajantha Ranasinghe was the best lyric writer, also for a song he wrote for the same film).
For many years, Milton was the most sought after vocalist at musical shows. At the Mahajana Sampatha draws when Ceylon Tobacco Company sponsored variety shows all over the country, Milton could not get off the stage singing one or two numbers. It was always a non-stop 'Encore" from the thousands who gathered at these shows. And Milton always obliged. There was no TV then. Seeing a popular artiste live was what fans waited for. And Milton was always among the top two or three.
Milton had a massive backing among young men and women who loved his romantic numbers. They got him to sing them over and over again. That is why his early numbers are still so popular.
A great cricket fan, Milton was often seen at a Test match or a One Day International whenever there was a foreign tour.
Following the father's footsteps, Milton's son Ranil, the eldest of four children, has started singing. We wish he too will be a great success as his father was.
– Ranat
---
You want the truth,here, this is what it is!
An exhibition of the works of Otto Dix-Social Criticism-Prints (1920-1924) and "Der Krieg" (War)-Etchings 1924, will be held at the National Art Gallery from tomorrow to Thursday.

Otto Dix (1891-1969), one of the foremost German painters of this century, is acclaimed for his aggressively realistic and political conception of art known as Neue Sachlichkeit - New Sobriety- for approaching his themes soberly and objectively, without emotion and with an uncommon degree of "Verisimo".
In Dix's own words: " There are things which do not need comment. Actions have always spoken louder for me than words. I am a visual being , not a philosopher. Therefore I always take a stand in my pictures , showing what is, showing what must be told for the sake of the truth."
Dix's nightmarish experiences on the front in the First World War were to stay with him throughout his life. His impressions of battlefields from 1915 to 1918 resulted in over 600 drawings and laid the foundation for a magnificent collection of etchings titled The War, published in Berlin in 1924.
Often compared with Goya's " Desastres de la Guerra", this series of 50 etchings are an authentic portrayal of the horrors of trench warfare and the sacrifice demanded by war.
Prof. Senaka Bandaranayake( Vice Chancellor University of Kelaniya and Director General of the Cultural Triangle) will give an introduction to his exhibition today at the official opening of the exhibition comprising nearly 90 original etchings and prints. The exhibition presented by the German Cultural Institute.
---
There goes Lucy Hamy
By Roshan Peiris
Even now as she walks on the road she is recognised as 'Lucy Hamy', her role in the teledrama Giraya' based on the novel by Punyakante Wijenaike. "Though I played the part of a strict, threatening character, it has still remained with the people," says the actress.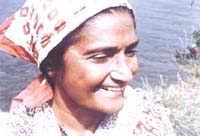 Trelicia Gunewardene recently won the prestigious UNDA Award for Television. She won the award for Best Actress on television for her role in Jayasena Jayakody's novel 'Beddegedera, chosen from among 100 tele-plays both shown and not shown.
Acting and singing are Trelicia's forte. At just five she cut her first disc - the first by a child, named "Surathal nangiye ape amma".
Her debut in formal acting came in Ediriweera Sarachchandra's Maname.
Talking about her role as Lucy Hamy Trelicia said, "Parents were in the habit of threatening children that they will tell Lucy Hamy if they did not study, eat and sleep on time."
Trelicia who has also acted in five English plays under a Belgian Director Rudy Corens, who was in Sri Lanka, is one of our more conspicuous actresses. Yet, she has the humility to admit- "Yes I still have a measure of stage fright and I do expend a great measure of nervous energy."
Trelicia also spoke about "Beddegama" in which she played the role of the stern implacable matriarch. It was for this role she won the UNDA Award.
"With almost diabolical composure the character controls the two sons. The brothers were very close and they did everything together. The mother who wanted life to go on in the same pattern was agitated that when wives came into the scene things might go awry.
"So she arranged a match for the younger son with her niece, her brother's daughter and dictated that she must be a wife to both men."
It was a hard role to play but Trelicia successfully portrayed the role of the conniving, uneducated mother, who ruled with a firm hand and directed her family.
In 'Nari Bena" recalled Trelicia , "I also played the role of a nagging mother whose daughter loved to chase butterflies and look at birds.The despairing mother said her daughter was only good enough to marry a fox who would be her son-in-law!
"I am sorry though that people have forgotten my role as the princess in Maname, which created history in Sinhala theatre.
"Acting is invigorating and I will continue to act as long as I can. It is not physical fitness that is needed, but the ability to understand the character of the role one is cast in. It is a good therapy to bring alive a character portrayed in a novel. Acting is not only in repeating lines, there is a lot of body language involved too. It is time-consuming and I am glad and grateful to have a supportive husband.
"I teach English at the Institute of Aesthetic Studies but many in my audience have expressed surprise that "she can even speak in English!"
Trelicia, lively and hard working considers it a privilege to act. She obviously believes in Bernard Shaw's axiom:"the harder I work the more I live."
---
Sensual eroticism amidst Lankan sensibility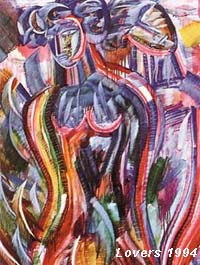 An exhibition of the work of S H.Sarath will be held from March 22 to 26 at the Lionel Wendt Gallery.
S.H. Sarath has just returned from Australia where he has been pursuing art and has held several exhibitions. Sarath has moved, like all artists, through various discernible stages, both in thematic terms as well as in respect of stylistic innovations. Each such stage has accrued to enrich his creative maturity. His early graphic polemical line, for example, which derived something from the Sinhala Sittara and Thai temple art, has been refined over the years and has remained to stabilize and provide a sense of cohesion in his work even when he indulges in exuberant brush-work and colour. His technical mastery over the medium has now achieved sophistication and his travel in various countries has widened the repertoire of expression .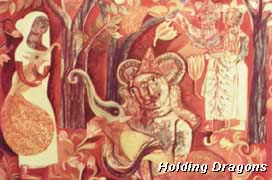 Sarath continues to express a strong Sri Lankan 'Sensibility' at a time when such an articulation is being debunked. Reference to his own roots in Sri Lanka's Ruhunu Rata is unavoidable in discussing his work. Martin Wickremasinghe was one of his earliest patron and opened Saraths's first public exhibition. Despite themes of sensuality and frank eroticism his art reveals a profound concern with the political, social and environmental milieu in which he remains firmly based. He has already achieved a perfection of sorts, but continues to experiment and move into new areas and forms of expression. We can expect more from Sarath in the years to come.
– Nihal Rodrigo
---
Gratiaen prize and creative forum
The Gratiaen Prize has been an annual event since 1993, when Michael Ondaatje created a Trust with the money he received as joint-winner of the Booker Prize for his novel The English Patient. The award is for the best work of creative writing in English by a resident Sri Lankan writer.
Many entries have been received this year, both published work and in manuscript, and cover a wide spectrum of creative writing including novels, memoirs, plays, translations, poetry and short stories.
The short-list for the Gratiaen Prize 1997 will be announced on Saturday, March 21 at 6 p.m. at the British Council. The event will be open to the general public.
The winner will be announced to an invited audience at the Gallery 706 on the following Saturday, March 28 at 7 p.m.
In the coming months the trustees hope to follow up the main event with a series of workshops to encourage critical analysis of work submitted and create a forum for writers in English.
---
Music
Khemadasa 'world premiere' in Prague

Internationally re garded as one of Sri Lanka's finest and most original composers, Premasiri Khemadasa has been commissioned to present a new work for a series of concerts showcasing world premieres of established contemporary composers. The concert will take place this spring in Prague, one of the great capitals of Western culture. Selected to conduct the Khemadasa work is Vitezslav Podrasil, senior assistant to the legendary conductor V. Neumann and specialist in 'serious' music of the East. He will be conducting the acclaimed 'Collegium Musica Sacra' for the concert.
The new work is an elegy in a Minor, scored for mezzo-soprano and chamber orchestra. It is very much 'mysitc minimalist,' a style of expression Khemadasa has embraced with great success over the last 4 years. The music can be loosely described as an unbroken 14 minutes of absolute melody, harmonically bleak but luxuriant in colour and texture over a largely static sometimes pulsating ostinato motif with an odd polyrhythmic interplay. Even in score form, it is already recognizable as archetypal 'new' Khemadasa.
Accompanying the composer is Lakshman Joseph de Saram who has also been invited to Prague by the concert authorities to help in the interpretation and presentation of the new work.
They leave for Prague the end of March to begin editing and rehearsing.
Khemadasa's world premiere very likely is evidence that he has thus created the 'new' Sri Lankan sound, and placed us on that ever elusive map of international high culture.