Veteran's night at the grammys
The recording industry paid homage to a legend by, honoring Bob Dylan with three Grammys including album of the year, while Shawn Colvin's "Sunny Came Home" was named both record and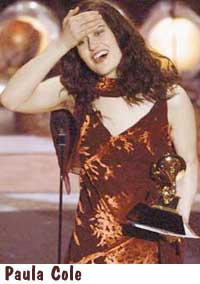 song of the year. Paula Cole, with seven nominations including every major category, was named best new artist at the 40th annual awards. Veteran 56-year-old rocker Dylan won all three Grammys, the U.S. music industry's highest honor, for which he was nominated: album of the year, best male rock vocal performance andbest contemporary folk album.
His son Jakob also won a pair of Grammys, one as part of his band The Wallflowers for best rock performance by a duo or group with vocal for "One Headlight", and another for writing "The Difference", which was named best rock song. Dylan, wearing a silver tuxedo jacket, paid homage to Buddy Holly, saying he heard Holly play when he was 16. "He looked at me and I just have some kind of feeling that he was ... with us all the time we were making this record in some kind of way." Dylan had only won two previous solo Grammys, the recording industry's highest honours presented by the National Academy of Recording Arts & Sciences, and "Time Out of Mind" was his first top 10 album in nearly 20 years.
Colvin, accepting the night's top award, record of the year for "Sunny Came Home", quipped "You like me, you really like me," echoing Sally Field's 1980s Oscar speech. The awards were judiciously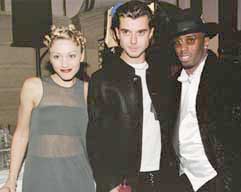 distributed, with multiple nominees Colvin, Cole, Fiona Apple, Sarah McLachlan, Babyface, Puff Daddy, Erykah Badu and R. Kelly, who won three, all taking home Grammys.
Earlier, as Colvin accepted her song of the year Grammy with co-writer and producer John Leventhal, rapper Ol' Dirty Bastard of the group Wu-Tang Clan appeared and, apparently distraught over his group's lack of on-stage attention, commandeered the microphone. "Puff Daddy is good but Wu-Tang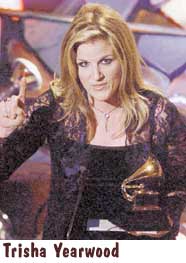 is the best," he sputtered, in a seeming reference to Wu-Tang's loss of the best rap album to Puff Daddy, before being escorted away.
Cole, named best new artist, thanked her parents as well as her music teachers in high school and college, and paid tribute to inspirations Aretha Franklin, Stevie Wonder and Bob Marley.
Only 14 of the 92 Grammys were given out during the broadcast, with an estimated audience of 1.5 billion people in 195 countries around the world. The show got off to a rousing start with actor/rapper Will Smith performing the title track from his hit film "Men in Black." Smith went on to collect the first award, for best rap solo, and dedicated it to "the memory of Tupac Shakur and the Notorious B.I.G.", two slain rappers. Another song from a film, "How Do I Live," won a Grammy for Trisha Yearwood for best female country vocal performance, best male country vocal went to Vince Gill for "Pretty Little Adriana," while Johnny Cash won his 9th Grammy for best country album, "Unchained."
Elton John's tribute to the late Princess Diana, "Candle in the Wind 1997", won a Grammy for best male pop vocal performance. The song is now the best-selling single ever. Grammys also went to producer and artist Kenneth "Babyface" Edmonds for producer of the year, and McLachlan, who won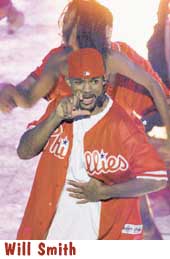 twice, for best female pop vocal performance for "Building a Mystery" and best pop instrumental for "Last Dance." Best pop vocal performance by a duo or group went to Jamiroquai, for "Virtual Insanity." The group was not present.
An absent James Taylor won for best pop album. The best female rock vocal Grammy was won by Apple for "Criminal", while the Smashing Pumpkins took home a Grammy for best hard rock performance for "The End is the Beginning is the End," from the movie "Batman & Robin".
Best rock album was won by an John Fogerty for "Blue Moon Swamp" and Tool's "Aenema" was named best metal performance. Best alternative performance was Radiohead's "OK Computer." Best rap album went to Sean "Puff Daddy" Combs, for "No Way Out", while Puff Daddy and Faith Evans featuring 112 won for best rap performance by a duo or group. Rhythm and blues Grammys went to BlackStreet for a duo or group with vocal, R. Kelly for best R&B song and male R&B vocal for "I Believe I Can Fly", for which he also won best song from a motion picture, and Badu both for best female R&B performance "On & On"and best R&B album, "Baduizm".
Posthumous Grammys were won by both John Denver, who was killed in a plane accident off the California coast last year, and television journalist Charles Kuralt, who won two, both in the spoken word categories. Roy Orbison, who died 10 years ago, was honored with a special life achievement Grammy. Comedian Chris Rock, 1970s disco diva Donna Summer and veteran crooner Tony Bennett all took home Grammys as well. (Reuters)
---

By Yamini Sequeira
So what's a well-estab- lished American painter whose name is one to reckon with in European art circles doing holed up in a remote beach house in the deep south of Sri Lanka? What indeed. Douglas Johnson has been living in Sri Lanka for the last 12 years and he still doesn't quite know what it is that makes him return from his six-month trips from Paris to this island year after year. "It's something indefinable," he shrugs. "Sri Lanka is home for me." He first came to Sri Lanka to visit a friend and has stayed on much after that friend left the island's shores. His beach-front home about two hours further from Galle offers him refuge from the hurly-burly of the commercial art circles in Europe.

Currently exhibiting his collection of paintings and drawings at Gallery 706 in Colombo until March 12, the artist is very excited about this first-ever showing in Sri Lanka. Close friend Geoffrey Bawa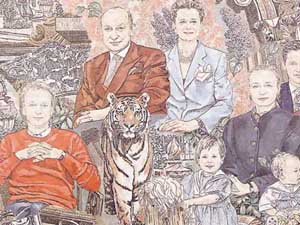 coerced Johnson into having a showing of his works in Colombo. Incidentally the renowned architect makes a frequent appearance in Douglas Johnson's works. Though this exhibition showcases much of Douglas Johnson's talent for portraiture, he actually started out doing paintings with historical themes - the American Civil War, the Pahlavi Dynasty of Iran, the Opera of Wagner in Dusseldorf. "Historic themes always excited me," he says, his eyes lit up with passion. "I see it as duty of the artist to give back something to the world. Many artists would disagree with this view but I feel there should be something we as artists need to pass on to the next generation." And so Douglas Johnson has documented great moments in history for posterity. Today his works hang in museums and palatial homes as silent testimony to a wondrous bygone era.
His current exhibition has oils with pencilled in drawings that offer another dimension altogether. Also some of the paintings are done on paper as against canvas. Motifs of the sea, shells, rocks, sand are evident in almost every frame. Elephants and sarong-clad youths at work or rest; the Colombo skyline - all these images reflect the island's influence on Johnson's artistic mind's eye. But Johnson has succeeded in escaping the cliched rendering of Sri Lanka as a 'touristy' location. The images are rooted in reality and he depicts men of the soil - in effect there are no 'pretty' pictures in that sense. That was probably a conscious effort because Johnson rues the fact that the east is always seen in those stereotyped and cliched terms. "In the West, they have never quite grasped the Asian thing," he says regretfully.
He has attempted to go beyond the depiction of the island as a 'tourist destination'. The east and the west achieve happy communion in his paintings - a Greek or Roman figurehead is always present at the fringes of each of his frames just as images of elephants and the sea. "That comes with having your feet in two different worlds," he says, "there is little of both worlds you are living simultaneously and that quality is evoked in my paintings."
The two largest paintings have been embellished with shells of various hues and forms, some small, some gigantic, and clearly reflect what attracts the artist to this island. "Many a time I take a break from hours of painting to take a dip in the sea and then I'm back to my studio,'' he laughs. In Paris they would think I was crazy!"
Swimming breaks aside, Douglas Johnson is a disciplined artist and debunks the myth that an artist only paints when he is inspired and has to run to the canvas with his palette and brush. He paints everyday for a fixed number of hours and almost never takes a break unless he is coming into Colombo for some work.
Nature and its bounteous offerings are not the sum total of his creative muse - poetry also plays a major role. "When I'm not painting I'm reading, usually poetry," he says. Currently the passion of Dante's fiery verse has caught his imagination and that probably will be his next theme. Ideally, he says, he would paint just what he wants to most of the time, but the exigencies of living costs have also to be considered and so the trips to Paris every year where he manages the less appealing angle of being an artist, according to him - the financial one.
He is delighted with art lovers in Sri Lanka because he says people here appreciate art for what it does for them, how it moves them and not purely as an investment. Douglas Johnson does not seem obsessed with the commercial viability of his art. To him it is a necessary evil that has to be dealt with just so. The rest of the time he is busy leading a serene life that lends itself to a lot of introspection.
Douglas Johnson finally put away his travelling shoes 12 years ago when he stepped into Sri Lanka. Until then he had led a very much-travelled life. Born and brought up in a modest farming community in mid-west America he moved to New York after his university education and consequently to Iran and later Europe. "Living in a small town in America, anything outside was a fantasy world. So when I actually started painting and moved out to New York, I just couldn't get enough of art, literature, the world in general. As a little boy I would wake up to this sense of history. The world was right in front of me and l just couldn't get enough," he says of his past. But somewhere that wonder for art and the simpler things in life are still mirrored in the 60 year old artist's penetrating eyes just as passionately today as it must have been in a young impressionable youth who was to paint his own niche in the annals of art internationally.