---
Suresh magic hits Patana
By S.M.D. Sirisena
Thurstan were 114 for 4 in reply to Isipatana's 187 at the end of the first day's play in the 35th cricket match at the P.Saravanamuttu Stadium yesterday.
Thurstan, in reply to Isipatana's 187, opened the innings with Manushin Wedage and Arjuna Dayananda, but they couldn't stick at the crease for long as Arjuna Dayananda whilst trying to play forward to a delivery off Manoj Fernando, saw the ball going through bat and pad to hit the wicket. The score at that stage was 11. Then Dammika Premadsa joined Wedage but Dammika couldn't stay long as he had to retire with cramps.
Then skipper Tarindu Wickremasinghe (22) on whom a lot depended on, joined Wedage (36) and put on 56 runs for the second wicket which brought the score to 67.
Thurstan lost another two wickets to end the day at 114 for 4, still 73 runs behind Isipatana's score.Idunil Wickremasinghe was not out on 15. He was lucky to be there after he was clean bowled off a no ball by Manoj Fernando when he was on five runs.
Early in the day Thurstan won the toss and put Isipatana in to bat with Milinda Wickremasinghe and Gayan Randiligama opening the innings. But the pair couldn't stay long as Milinda Wickremasinghe was bowled neck and crop by Idunil Wickremasighe for 8 with the score at 15. The second wicket too fell at the same score when Gayan Randiligama was undone by a beauty of a delivery by S.Aponso.
This rut was stopped by the third wicket pair of Manoj Fernando (24) and Gayan Mendis (30), who put on 46 runs to take the score to 61.Then another fruitful partnership bloomed for the fifth wicket between skipper Muditha Fernando (70) and Kanchana Rodrigo (7) which realised 46 and brought the score to 123 for 5. Then Thurstan's right arm off spinner Suresh Perera dished out a magical spell to run through the Isipatana innings with six wickets and bowled out them for 187 - with the last five wickets falling for 64 runs. Suresh Perera ended with six wickets for 54 runs. Fernando who played a captain's innings of 70 had seven well timed boundaries and one huge six.
Isipatana
M. Wickremasinghe b I Wickremasinghe 04
G. Randiligama b S. Aponso 08
M. Fernando ct Sandanayake b S.Perera 24
G. Mendis ct Dayananda b S.Perera 30
M. Fernando b S.Perera 70
K. Rodrigo ct Dayananda b Gamage 7
K.Jayawardena st. Premadasa b Gamage 0
P. Niroshan ct Gamage b S.Perera 30
V. Patabadi ct Dayananda b S.Perera 0
N. Peiris b S.Perera 0
M. Haris not out 03
Extras (b 3, lb 7, w 1) 11
Total ( 71,1 overs all out) 187
Fall - 15, 15, 61, 77, 123,129, 176, 176, 187, 187
Bowling : T.Wickremasinghe 9-3-22-0; A.Aponso 10-4-20-1; I. Wickremasinghe 7-1-30-1; S.Perera 23.1-5-54-6; G.de.Silva 13-7-22-0;
M.Paranawithana 3-0-13-0; N.Gamage 8-2-11-2.
Thurstan
M.Wedage ct K. Jayawardena b G.Mendis 36
A, Dayananda b M. Fernando 02
D.Premadasa retired hurt 0
T. Wickremasinghe ct C.Wickremasinghe b Rodrigo 22
N. Gamage not out 23
G. Sandanayake b G.Mendis 0
I. Wickremasinghe not out 15
Extras( b 4 lb 6 w 4 nb 2) 16
Total (in 34 overs for 4 wickets) 114
Fall - 11, 67, 83, 83
Bowling: N. Peiris 4-1-14-0; M.Fernando 7-0-32-1; K. Rodrigo 7-1-24-1; M. Haris 4-0-12-0; M. Wickremasinghe 1-1-0-0; G.Mendis 7-1-14-2; G.Randiligama 4-1-7-0.
---
Hathurusinghe 7/55
By Marlon Fernandopulle
Former Test opening batsman Chandika Hathurusinghe proved his all-round capabilities when he captured seven wickets and helped Moors SC to hold the whip hand over Antonians SC in a P. Sara Trophy Segment A game at Braybrooke Place yesterday.
Hathurusighe who is making a strong claim for a test comeback bowled his medium pacers and off-cutters to send the Antonians crashing to 252 all out in the second innings,leaving Moors to score 109 runs for an outright victory and a place in the semifinals.
At Havelock Park the game between Table leaders Colts and CCC was evenly poised.In reply to the visitors 352 all out, Colts made a bold reply to be 167 for 3 wickets at the close
At Braybrooke Place: MoorsSC vs Antonians SC
Antonians SC- 118 & 252 (S K Silva 57 P Wanasinghe 57 U Fernando 56 K Dhrmasena 25 n o C Hathurusinghe 7/55)
Moors SC -181/7 overnight 262 (R Priyadarshana 80 R Sridhar 23 n o T Dhammika 3/76 P Wanasinghe 2/61 M Fernando 2/37 Y Tilakaratne 2/14)
At Havelock Park Colts SC vs CCC
CCC 168/6 overnight 352 (C Handunhettige 47 D Arnold 30 A Dalugoda 25 I Gallage 28 n o E Upashantha 5/108 D Hettiarachchi 5/84)
Colts SC-167/3 (D Samaraweera 66 C Mendis 43 S Fernando 33)
Bloomfield on top
Bloomfield were heading for an outright victory against Panadura SC in their P. Sara trophy game at Reid Avenue yesterday.
After hitting 517/7 Bloomfield bowled out Panadura SC for 191. Following on the visitors fared better and were 139 for 3 at the close.
At Reid Avenue:Bloomfield vs Panadura SC
Bloomfield -517/7 decl(R Kalpage 100 n o R Paliyaguru 62 T Gunaratne 108 N Jayalath 2/78 K Silva 3/144)
Panadura SC 191 (D Wickremanayake 34 M Fernando 31 K Silva 81 n o P Gunaratne 4/45 R Paliyaguru 2/30 R Kalpage 2/24)& 139/3(C Perera 49 D Wickremanayake 60)
---
Devapura 1000 runs
Dharmapala skipper Sanjaya Devapura reached 1000 runs for the season as their inter-schools cricket encounter against Sri Sumangala ended in a tame draw at Pannipitiya yesterday.
Devapura scored 145 and 46 in yesterdays game as he crossed the magical figure.
Replying to Dharmapala's mammoth 402 for 4 declared Sri Sumangala were bowled out for 235. Dharmapala batting a second time crashed to 189 all out.
Shiran Gunaw–ardene scored with 46.
Dharmapala 402/4 decl. & 189 (S Gunawardene 46 S Devapura 44 J Sigera 55 A Sudarshana 5/73 A Perera 5/66)
Sri Sumangala 235 ( M Liyanage 42 D Perera 41 N Jayantha 39 S Devapura 4/40 J Sigera 2/14) - MF
---
TCK 'Lion' on par with Olympic Silver
Duncan White told Lakshman Kadirgamar....
By Bernie Wijesekera
"Sports is a marvellous thing. It has to be encouraged by all", said the Minister of Foreign Affairs, Lakshman Kadirgamar, who was the chief guest at the Duncan White Foundation award ceremony, held at the Sri Lanka Foundation Institute.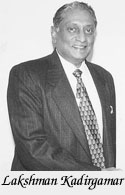 This year's award ceremony, turned out to be a rare occasion. It was Duncan White's 80th birthday, the Golden Jubilee anniversary of Sri Lanka's Independence and 50 years of that historic year (1948), when Duncan won a silver medal at the London Olympics.
White and his wife were there to mark the occasion along with Eddie Gray, Diamond Peiris and Alex Obeysekera, who were some of the members of the Sri Lankan team, who watched that trail-blazing run.
Minister Kadirgamar, who also won a Trinity 'Lion' like Duncan in the 110 Public Schools hurdles, stated the the living legend values the 'Lion' more valuable than the 'silver'. The 'Lion' is awarded to all-round sportsmanship on and off the field.
'He was a model to young people. His elegance in sports, attitude, enthusiasm and simplicity in life is the hallmark of his success", he added. Undoubtedly Kadirgamar now a senior Minister, in the P.A. Government has all the qualities that White possesses. He, too was a versatile sportsman having played cricket and rugby. But athletics paved the way to stardom. Today Lakshman has won much admiration at home and abroad for the country.
He further stated, "Unlike today's sportsmen White's life at school was never a 'bed of roses'. He even found it difficult to buy a pair of running shoes. It was his sheer determination which paved the way to success.
White's secret to overcome these setbacks was his never say die attitude, which paved the way for him to put Sri Lanka on the world map. It was an era, where there were no sponsors and big money in sport. Today times have changed. Present day sportsmen are provided with incentives to hit the top".
Amiable Kadirgamar, a man of few words further stated that all budding sportsmen should emulate the willpower of the legendary Duncan White. For this officer and gentleman nothing was impossible.
Minister Kadirgamar congratulated Susanthika Jayasinghe for winning the award for the third successive year and bringing honour to the country. With the support and encouragement Susanthika should be able to repeat White's medal-winning run in the 2000 year Sydney Olympics, he concluded.
Meaningful
Minister C.V. Gooneratne, yet another outstanding sportsman in President Kumaratunga's Cabinet, rose to the occasion, with a short and meaningful speech. It was a witty speech. He started the ball from the third row as he was a reputed rugby player at Royal and CR&FC.
Minister Gooneratne said he was proud to be in the midst of Duncan White, John de Saram and Eddie Gray. The Minister thanked Duncan White and his wife, Eddie Gray and John de Saram who came from abroad to mark the 50th Golden Jubilee anniversary.
Minister Gooneratne, congratulated Susanthika Jayasinghe, who for the third successive year won the Duncan White award, for her excellent performance at the Athens World championships. He advised her to concentrate on the sport and nothing is impossible for her to further improve her skills at the Sydney Olypmics in year 2000 - a repeat of White's feat in 1948.
The sports-loving Minister said that he was proud to say that when he went to India the people asked 'are you from Jayasuriya's country?" I said yes and they all surrounded me, he smiled.
Ken Balendra, President of the DWSF and Eddie Gray, Duncan White and John de Saram also spoke.
---
Fijians to bolster Petersons
A pool of over 30 players are attending practices
Petersons S.C. are sure to hit the top in the major tournaments this year.
This was revealed to the Sunday Times by Fazal Mohamed, the secretary - interim committee.
According to Fazal the Petes were generally tagged as the wooden spoonists, when they participated in the league for the first time in 1986.
We took part in the 'sevens' regularly. Since then despite difficult times the club has shown marked improvement and has offered stiff competition to our opponents he said.
This season we are determined to be among the first three, and will win one of the major trophies, he added.
The team is being coached by M.D Ifthikar a knowledgeable coach, who has served the game well. The team will be led by Colin Denish, a gutty player.
This year the Petes are not a pushover side as the players are determined to give of their best.
H.N.B. a sponsor gave gainful employment to some of the promising players, Bandula Mallikarachchi, Nuwan Suranga, Colin Denish, Kishan Denish, Azam Mohamed, Vajira Gamage and Mohan de Silva. This much needed tonic was a tremendous boost for these players.
There is a pool of over 30 players in training and there are more players joining the Club. This will put much pressure on the players, who are vying for places in the team.
The Petes are grateful to Malik Samarawickrema and Kishin Butani, who have assisted them. The others, who have regularly contributed much to the club's upliftment are :- F.Hameed, of Hameedias, Classic Travels, and Oriental Gems.
By Mid-March three players will join the Petes Apsi Nagata, Opethi Turuwa and Manasa Quro.
Of the trio Nagata, is a shrewd tactician and could help motivate our younger players, Fazal Mohamed concluded. - BW
---
Front Page| News/Comment| Editorial/Opinion| Business| Plus | Mirror Magazine