---
Chemical Hair Straighteners
Chemical hair straighteners are the only products that will produce long-lasting straightening of visible hair. The principle used is just the reverse of that of permanent waving, in that the hair is straightened rather than curled after the chemical bonds have been disrupted. However, stronger chemicals are usually required for straightening than for waving.
The alkaline straighteners contain the strongly caustic chemical sodium hydroxide. The sodium hydroxide causes the hair to swell and induces breakage and alteration of the chemical bonds in the hair fibres. This action is very rapid, and the fibres relax quickly under the tension of combing. The hair is then rinsed with water to stop the chemical action. Because of the rapid chemical action of these products, they must be left on the hair for no longer than 5 to 10 minutes; otherwise the hair may be seriously damaged. The scalp and skin may suffer first - to third-degree chemical burns from contact with the sodium hydroxide, so the scalp and surrounding skin should be covered with a protective cream.
Follow-up care is elaborate and includes successive applications of moisturizers, curl activators, and oil sheen that saturate the hair and scalp. A plastic cap is worn to bed each night.
Hair that has been damaged by prior chemical treatments such as bleaching should not be subjected to straightening. Also, some manufacturers advise against using hair colours that require peroxide on chemically straightened hair.
While chemical straighteners straighten the visible hair, it's necessary to straighten the new hair growth every few months. Care must be taken not to double-process hair that has already been straightened, or severe damage and hair breakage may occur. This is difficult to avoid because of the combing technique that is an integral part of straightening.
---

This selection of dra- matic settings appears in all the shades of darkness from the lightest grey to charcoal and black, and from midnight blue to violet.
Grey is a current favourite and its popularity has ensured that a variety of shades is available from mist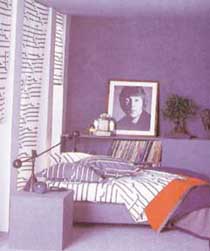 to charcoal grey, which is a strong favourite for carpets and furnishings. In theory, grey is the only true neutral as it contains only black and white, but in decorating you'll find shades which have a definite tinge of pink, green, blue or beige. Grey works well with yellow and red, but for a subtler look team it with honey or blue, or opt for a sophisticated scheme of grey, buttermilk and beige.
Dark blue has been a popular colour for decorating ever since the ancient Britons covered themselves in woad. Modern Britons are equally attached to dark blues in their wardrobes. Denim blue is a colour for work-wear that's found the world over. Thanks to the hardy indigo plant.
Though navy and related shades have always been popular for clothes, they are rarely used in the home, almost exclusively restricted to the front door. Yet navy and royal blues contrast beautifully with peach, they look smart with beige and honey, and with red they're absolutely unbeatable.
Purple is a demanding colour that's either in or out of vogue the last time it was popular in home decoration was the early seventies when a purple carpet was the last word. If the use of dark blue in the home is limited, purple is even more elusive. Full strength it can certainly be overpowering, but don't overlook the appeal of violet-blue and lilac. As purple is made from equal parts of red and blue, the colours derived from it veer towards one or the other so colour matching can be difficult. If a room scheme includes a fabric which mingles violet with mauve, then both of those shades can be used. A plain lilac, however, is best combined with contrasting colours like primrose and green or a more closely related colour such as pink; or even just white; matching tones of the same colour is much trickier.
How can you use dark colours in the home? While in most rooms it's usual to try to increase the amount of light by using pale colours to reflect it, you might consider using dark colours to create atmosphere in rooms more frequently lit by artificial light, like the dining room and bedroom. Don't overlook the potential of dark shades for paintwork in place of white or pastels; reversing the normal arrangement of deep walls and light paintwork gives an impact that's especially suited to modern settings. Capitalize on a room that is naturally gloomy and go for a dark, dramatic decor. But don't forget that sombre colours absorb the light, so it's best to reserve these schemes for rooms you relax in rather than those where good illumination is required for reading or work.
Denim, navy, purple and charcoal area all 'saturated' shades, that is, colours which have been darkened by the addition of black or grey. At the deepest end of the scale, the colours become practically black themselves. When the amount of added black is reduced, the colour range brightens. Navy is transformed into royal blue, purple lightens to violet or mauve, while charcoal pales to mist grey silver.
Decorating with Dark Shades
Don't interrupt a dark wall with contrasting doors or mouldings. Paint them to match the colour of the wall and keep to shades of equal depth for carpets, flooring and fitted furniture to create an impression of space.
Artificial light is especially important in dark rooms. Choose fittings which cast pools of light to illuminate specific areas because general lighting will only make the room seem gloomy. Consider using lights with tungsten halogen lamps which cast a dramatically bright light.
---
Beauty secrets
The world's most beautiful women still look their best when the heat's on. Here, Bonnie Siegler asks eight supermodels to give you their top beauty tips to stay fresh.
Niki Taylor.

Lips have even less natural sun protection than the rest of the face, so they can burn easily, cautions Niki. "Most people don't realise this and they neglect their lips. If you're not careful, they can become dry and chapped." Niki says that whenever she hits the beach, she slicks on lip balm. "Applying it every few hours, as you would a sunscreen, protects my lips."

Linda Evangelista

Linda keeps her cleansing routine simple and gentle when the heat is on."l wash my face with a translucent cleansing bar and then use a natural citrus-based and alcohol-free toner," she says. "And, of course, I always use a moisturiser with a sunscreen." Linda also thinks it is important to keep your lips moist and protected through summer by using a good lip balm.

Christie Brinkley

Sun, sand and surf can make your hair dry, dull and unmanageable."l grew up in Malibu [US]:' says the supermodel mother-of-two."l was a surfer, so I know the elements can take a toll on your hair." Christie advises using a leave-in conditioner or silicon glosser with sunscreen when you're in the sun or swimming, to seal the hair and protect it. To boost her hair's shine, she douses it with camomile tea before sitting in the sun. It will bring out your hair's natural highlights." Christie also deep-conditions her hair weekly, rubbing a hot oil pack into the ends.

Claudia Schiffer

"Most people are careful to slather on sunblock every time they sit by the pool, but how about all the other times they go out during the summer?" asks Claudia. She says you should apply a sunscreen every time you leave your house - even if you're only going to pick up the children or go to the supermarket. Fortunately, many foundations and concealers now come with built-in sunscreens. Why does Claudia think sunscreen is so important?

She says it's because it doesn't take much to damage your skin. Make sunscreen part of your daily summer beauty routine ,' says Claudia.

"It literally can save your skin."

Cindy Crawford

Cindy has a unique alternative to using moisturising creams when the sun's heat dries your skin."l mix very low-fat milk and water in a spritzer bottle,' she says.

"When I'm exercising outdoors or feel my skin becoming dry, I spray on this mixture, taking off the excess with a tissue. It keeps my complexion soft and moisturised. Cindy also sprays this mixture over her sunscreen and foundation. "It's an inexpensive way to save your skin.

Helena Christensen

"Heat enhances the intensity of your perfume, which is all the more reason to try a new sexy scent for summer," says Helena."Fragrance is the one thing I can never stop buying. I probably have about 40 or 50 different ones. I alternate, depending on the mood I'm in". Helena's favourite summer scents are Chloe and Opium, "They are quite old fashioned, and I love putting them on. To help her fragrance last, Helena advises that you layer it. "Sometimes I'll start with a perfumed body lotion, then powder myself from top to toe." Aromatic oils are another good choice for summer as the scent lasts all day. "I rub some on the inside of my wrists or put some in my hair," explains Helena.

Rachel Hunter

Perspiration and certain sunscreens can make your complexion more vulnerable to breakouts. So the New Zealand-born model has her own simple summer cleansing routine. "I just use a milky cleanser and rinse several times with water, making sure I leave behind no residue," explains Rachel. Then she uses a light moisturiser with sunscreen during the day to prevent dryness. But she says that even supermodels have to battle the occasional blemish. "If I have a pimple, I dot toothpaste on it. It's gentle, not too drying and it really works."

Brooke Shields

During the summer, Brooke loves to exercise outdoors. "I play tennis, bike ride and swim," says the star of the Nine Network's Suddenly Susan. Perspiring can deplete your body of the fluids it needs to keep skin looking healthy, so Brooke has her own beauty booster. "In summer, I drink lots of spring water every day", she explains. "It quenches my thirst, takes away my appetite and makes my skin smoother. My complexion looks great." To reap the benefits of water, Brooke says she drinks at least eight glasses a day - more if she's working out. "Water moisturises from the inside out."