30th November 1997
It's something to talk about!
By Kanishka Balasuriya
Mr. Park Nadesan's collection of furniture and artifacts is known to have no parallels in the country. Among the artistic fraternity it is famous for good taste and class. When the "fraternity'' knew that Mr. Nadesan was trying to dispose of this collection, they went into raptures.
Perched comfortably on an armchair, in an almost horizontal posture Mr. Nadesan reconfirmed the story about his plans to get rid of his beloved collection. He embarked on what undoubtedly must be his pet preoccupation, talking about his collection. He held our attention with his steady stare through thick glasses, coupled with sweeping gestures. Nevertheless the anecdotes turned out to be pretty interesting and we soon found ourselves drinking in every bit of what was being said, with the same enthusiasm we were drinking his whisky.
To call his assortment an antique collection would be an under-statement. Most of it are also museum pieces, while some others are rare works of art. Most of them are clearly pieces of value, taking their age and rarity into consideration. In addition the fact that these items had been painstakingly sought after and hand picked by a person versed in the subject and refined in taste, gives it a touch of class.
What strikes as significant is that Mr. Nadesan has not restricted himself to one particular style, type or period of furniture. One might easily find a lively piece of Rococo style Dutch furniture, well complimented with a colourful vase from the 'Ming dynasty' or a calamander Hepplewhite display cupboard, filled with ornaments from the orient. But this cross mixing of styles has been done with finesse and perfect harmony.
Among the assortment of furniture is a set of Ebony Burgomaster chairs, Rococo style, featured prominently. These chairs about twelve in all were finely carved pieces, epitomising the best of Dutch traditions. Next we came across what Mr. Nadesan alluded to as 'The Queen's chair'. One of the more important items of his collection, was a velvet upholstered, genuine Burgomaster chair well over 200 years old, bearing the Sinhala crown and two raging lions hand painted on it. Legend has it that this chair was presented to the Kandyan court by the Dutch court in the eighteenth century. But the unassuming Mr. Nadesan was hesitant to confirm this historic fact without actual proof. But nevertheless this piece of furniture is a treat to any beholder, either amateur or connoisseur. Even for an uninitiatedobserver it would appear an ideal museum piece. (The wood is worn with age but the chair itself is preserved due to the meticulous care of the owner.) Another valuable piece of furniture sharing the verandah was a cocktail cabinet, intricately inlaid with mother of pearl, with an ingeniously designed turn-around door.
Apparently this hunger for refined furniture is something that had persisted in Mr. Nadesan for over half a century. To make his home a shrine to his undying passion for exquisite period art and furniture, Mr. Nadesan had haunted auction rooms and antique shops world over, hungrily hunting for anything from souvenirs of the 'Ming dynasty' to Chippendales.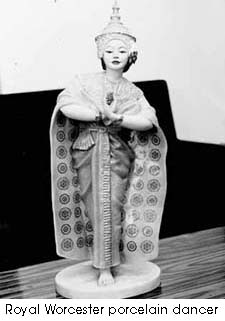 It is more than a little flattering to rest ones feet on a rich Persian carpet, while comfortably nestling in a Grand colonial style Dutch carved Calamander settee. This was the agreeable position we soon found ourselves in, at Mr. Nadesan's living room. Surrounding us were magnificent works of art with their own bit of history behind them. In a glass showcase by the side were two of Mr. Nadesan's most valued treasures, two rare Royal Worcester porcelain ornaments of a Thai Dancer and a Balinese Dancer. (Made by one Agnes Pinder Davis RA, each from a limited edition of 25 pieces worldwide). Among the multitude of price items surrounding us, in the living room, was a valuable painting of an Indonesian Girl by the celebrated Chinese artist Lee Man Fong. Nestling on another corner was an Arabic chest, a rare specimen, with intricately carved brass fittings. In addition, relics from the Meaden collection too were marvellous. Especially, a Canton Enamel Imperial incense burner and a blue and white heraldic wall plate with coats of arms. One end of the room resembles the grand Orient with a gold leaf hand painted Japanese screen over a black and gold commode, with a Chinese flower pot by the side of it and another Chinese tall vase to complete the effect.
If just an hour or two among these furniture made us feel so heady, one can well imagine the sentiments of the owner.
He informed us that the proceeds from sales would be exclusively appropriated for charity and not for his use.
Next he took us on an interesting tour of the dining room which was dominated by a huge calamander dining table with a magnificent finish and twelve arm chairs. Most of the other valuable ornaments in the dining room were neatly stacked into glass fronted display cupboards for better viewing. These ornaments ranged from small jars to emblems, and from incense burners to small statues all made in a variety of precious stones such as jade, amethyst, turquoise, greenstone, rose quartz, agate etc.
The office room also boasted of quite a few Chippendale bookshelves filled with priceless books and ancient maps, all this destined to fall under the auctioneer's hammer. The wall was adorned with various paintings of renowned artists. An original colour sketch by Colletes of the Heads of State and Government attending the Bandung Conference in 1955 added a political touch to art. ( Mr Nadesan was Sir John Kotelawala's former private secretary.)
We asked him in way of a parting question how he could dispassionately part with this collection which was so dear to him. At this Mr. Nadesan got quite emotional and with poignant eyes said his 'collection' had brought him immense happiness so far, and now he would like to see it bring happiness to the lives of others. His two pronged plan to achieve this was on the one hand to auction the furniture to allow other art fanatics to own and enjoy the beauty of his collection. The denoument was to help needy people with the proceeds of the sale.
When auctioneers Shock-man & Samarawickrema were contacted, they informed us that while they were proud to be associated with this kind of special auction, this was ideal opportunity for bargain hunters as Mr. Nadesan had not laid down an upset price for his articles. We were not surprised. Mr. Nadesan, believes that "as the beauty is in the eyes of the beholder, let the beholder, himself decide beauty's true worth.''
---
Continue to Plus page 10 * Expressing disapproval of the Police behaviour and work
Return to the Plus contents page
| HOME PAGE | FRONT PAGE | EDITORIAL/OPINION | NEWS / COMMENT | BUSINESS
Please send your comments and suggestions on this web site to
info@suntimes.is.lk or to
webmaster@infolabs.is.lk